UPDATED NOV. 20, 2020.
I sell digital courses online so I'm very familiar with the whole concept and industry of online course platforms.
I've used a good number of them or did demos.
In the end I settled on Teachable, which I'm pleased with but it's not perfect.
Nothing was perfect.
Here's the thing.  Choosing the best online course platform or software for you is like choosing a WordPress theme for your site.  You'll probably never be 100% happy as they all lack something, no matter how minute.  However, most of the major course platforms are quite good so you won't be disgusted.
Like me, regardless whether you go with Teachable or something else, you'll be reasonably happy.  I'm happy enough with Teachable for now that I stay and have no plans to leave.
But maybe you've taken a course on the Teachable platform and didn't like it.  That could happen.  In which case, you might prefer something else.
Don't overthink this decision. Pick one and go with it.  Too many people get wrapped up with these unimportant decisions.  It's way more important to get your course completed and to start selling.
In fact, you're much better off going through this course on selling courses first before getting wrapped up with the software.  The how is far more important than the what.  This unbelievable course on selling courses gives you the how in spades. I know, because I bought, went through it and am applying most of what was taught.  It's brilliant.
What are some of the popular online learning platforms?  Read on… I cover that in detail next.  First my nifty chart.
Chart showing top online course platforms by popularity
Note – when I needed a new platform for my courses, I spent quite a bit of time doing demos including Kajabi, Kartra and Thinkific.  While good (Kartra was very confusing though), I ended up going with Teachable.  Hence Teachable is number one in this list.
1. Teachable
Try Teachable Here
I use Teachable for all the Fat Stacks courses.
It's safe to say you'll probably be pretty happy with Teachable.  It does what I need it to do.
This is a robust online learning service creation platform that is very robust and has been compared to Thinkific for the way its features work and for the wide range of educational services and products you can create and make available. Teachable focuses mainly on delivering high-quality core features and offers no sales funnel such as can be found on Kajabi. You'll be able to offer multiple types of teaching materials from videos, PDFs, quizzes, and more.
One thing that Teachable does do especially well is to let you deliver your materials to your students on a manageable drip-feed. You control the speed at which students receive new materials to study which gives you a pretty useful way to customize the learning experience to suit their needs. The course player makes delivery easy for you and palatable for your subscribers.
Teachable Pricing
While there is no free package, the basic package is nicely priced at just $39 a month. The premium plan is $119 per month, and Teachable does charge for transactions, but the fees are nominal and not based on how much students pay, just 5% at the basic level and 0% at the premium level. These packages are more feature-rich than Thinkific's free mode and are much cheaper than many other packages offered on other platforms.
Key Teachable Features
Easy to set up and use
Professionally designed and user-friendly course player
Offers quizzes, certificates, course compliance, content dripping, and more
Ability to bundle courses
Syncs natively with ConvertKit email software (I use ConvertKit for this very reason).
Coupons for promotions
Built in email system for emailing students in specific courses.  Note, this is a very simplistic email software.  I strongly recommend getting ConvertKit and syncing it with your Teachable school.
Built-in affiliate portal (and Teachable handles paying affiliates)
Payment subscriptions (monthly or annual)
Has an iOS compatible app
Friendly sales features and support – live chat with higher level plans.
Cons
The major con with Teachable is that you cannot create a renewal or subsequent subscription prices different than the original purchase price.  For example, if year one you set the price to $97, the renewal or subscription cost for year two is also $97.  I've asked repeatedly for the ability to create custom subsequent subscription prices but it's not yet available.
Another con is the sales page builder. It SUCKS.  You'll probably want to use something different on your own domain. I'm in the process of creating my own sales pages with Leadpages.  Not only is the Teachable sales page builder horrible, it doesn't offer split testing so you can't test.  I started with it and used it for a couple of years until my sales were pumping pretty good at which time it was time to up my game with better designs and split testing.
Am I happy with Teachable?
Yes, I am. It's not perfect, but it's easy to use from a creator perspective and it's easy for students.  I know because I'm a student of other courses on Teachable.
Try Teachable Here
Teachable FAQ
Since I've used Teachable for years, I know it inside and out.  Here are my answers to several frequently asked questions about Teachable.
Can students download videos and other materials?
Yes they can. You have the option to let them do so or not.  I choose not to just because I don't want my materials floating around the Web.  As an aside, I use Takedown Czar service to go after folks who rip off my courses and sell them for cheap or give them away.
Does Teachable have a built-in affiliate portal?
Yes, it does.  It's pretty good too.  You can offer recurring lifetime commissions to your affiliates on every course or restrict commissions to specific courses.  Affiliates can create their own links to any URL as well which is a powerful feature.  All in all, I'm happy with Teachable's affiliate portal.  Again, not perfect, but quite good.
Can I create sales pages with Teachable?
Yes, you can but the page builder sucks.  I'm in the process of creating sales/auto webinar on Lead Pages.  The design options with Teachable's sales page builder is very, very limited.  Formatting goes awry.  It just plain sucks.  By all means use it to get started.  I've sold hundreds of thousands of dollars worth with the built-in page builder but it's time to bring my A-game.
Can I drip feed course materials over time with Teachable?
You sure can, but I don't recommend it unless you're running some 7, 30, 60 or 90 day challenge.  I loathe dripfed content.  In fact, I won't buy a course if it's dripfed. I'm impatient. I want the info now.
Can I charge monthly fees with Teachable?  Annual?
Yes, you can charge recurring fees on a monthly or annual basis.  This is akin to a membership.  The one big downside is you can't charge less for subsequent payments which I think is nuts.  I charge annual fees for access to my courses but I don't want to charge the same amount as the firt-time purchase. I've figured out a workaround which is wonky, but it works.  I just create a one-time payment on the sales page but limit access for one year.  If a student wants ongoing access, they receive a coupon just before renewal one year out.  I can do this because I sync ConvertKit email software with Teachable so that when someone buys a course, they're tagged in ConvertKit which will trigger the coupon to be emailed out in 364 days.
Is there a forum or community component in Teachable?
No, there isn't.  I don't care. I created a forum with Discourse software which specializes in forum software and it's amazing.
Can I sync Teachable with an email autoresponder?
Yes, you can and you should.  Teachable offers built-in email so that you can email your students but the email capabilities is very, very limited.  You are much better off syncing with ConvertKit and running all emails through ConvertKit. I'm not the only course seller who has this view.
Can I offer free courses with Teachable?
You sure can. I do.  It can function as a good lead magnet.
Can I put my Teachable school on my own domain?
Yes, you can. I'm in the process of doing this.  I didn't bother for a couple of years because I just wanted to get up and running.  But now that my courses are established it's time to elevate and get everything on a Fat Stacks subdomain.
Is Teachable's customer support good?
Yeah, it's very good. I have the level that includes live chat which I love.  Most live chat reps are knowledgeable and friendly.  95% of my issues are resolved within minutes.
Try Teachable Here
2. Thinkific
This popular online course hosting site lets users build and sell online learning materials under their own name and/or brand. It does not include sales funnel features as Kajabi does. It is more focused on delivering high-quality features, which make your educational products feel more professional and more polished- which is pretty nice.
Thinkific lets you offer a wider range of online educational materials than most sites of its kind. You can add videos, quizzes, surveys, text, PDF, and more. All of your material can be professionally delivered using the built-in course player, giving your learners a seamless learning experience.
Thinkific Pricing
You can use the core features of the service for free. If you want a more feature-rich experience, the more advanced packages cost $49, $99, and $499 a month respectively. Starting with the free package is a great way to get used to the way the platform works, and chances are, moving to one of the paid packages will be worth the investment. Once again, Thinkific does not charge you to accept payments from your customers.
Special Features:
Multiple site themes and an easy to use page builder
Built in support for creating advanced learning products
Users can create a stand-alone community for their subscribers
Flexible course compliance features
Sell in bulk and manage students through cohorts
The $0 per month package is a fantastic introductory mode that you do not have to upgrade from.
Related: Read my Thinkific vs. Teachable Comparison and Thinkific Review.
3. Kajabi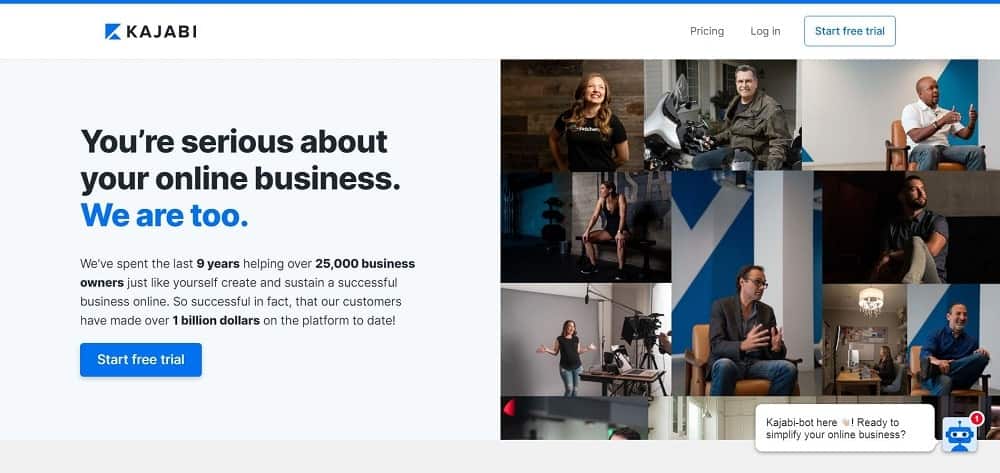 Kajabi is an all-inclusive online learning platform creation and hosting service that enables you to design and build a beautiful, functional learning website. There, you'll learn how to host all manner of online content from video, text, and more. You'll be able to market your courses professionally and effectively. Many users say that Kajabi offers more than any such platform, enabling creators to host their own blogs, manufacture whole work flows, and even supports a sales pipeline to help you to manage your subscriptions and optimize the ways your customers and potential customers interact with your brand.
Kajabi Pricing
Pricing for Kajabi starts at $149 per month. The more comprehensive packages run as high as $199 per month. The great news is that the platform doesn't charge transaction fees, which means you do not have to pay to earn money through the service.
Special Features:
All in one platform; so everything you need is in one place
More than 10 available prefabricated themes make starting fast and easy
Works with an iOS/Android app
Offers useful tools like learning paths and community assessment
Features a built-in sales pipeline and marketing automation toolkit
Offers proactive 24/7 support
4. Podia
Previously known as "Coach," Podia is a more or less newer contender in the online course material hosting world. Podia lets users build and sell courses as well as other online products like e-books and membership packages. Podia does a great job of helping you to create engaging content like audio, video, PDF, text, and more. Best of all, Podia's course player is one of the most seamless and attractive course players in the online course hosting industry.
One of the features that really makes Podia stand out is the building assets for membership sites. It lets you make individual posts that are ideal for delivering one-time content for an entire group of student subscribers. Use it on a regular basis to keep your classes engaged and learning new things all the time.
Podia Pricing:
As one of the most reasonably priced platforms of its kind out there, Podia offers its basic, "Mover" package for just $39 per month and its premium "Shaker" package for only $79 per month. With the exception of Thinkific's free starter package, you're going to have a hard time finding more value for your buck in this space.
Podia Features:
Very easy to use
Access a storefront and student area
Post individual one-off posts to your student community
Free migration from other platforms is available
Friendly and helpful customer support
5. LearnWorlds
This popular online learning service creation platform has a marked focus on giving you the ability to deliver interactive learning materials to students. This is one learning creation platform that has really embraced the idea of "gamification," the injection of competitive play as an integral part of the learning experience. Your students can compete for top of the class actively and in a way that is fun and rewarding for them.
You will be able to engage your learners with LearnWorld's interactive video player, advanced quiz and examination features, the interactive e-book reader, and more. Here's one thing few other such services offer; Copyright protection! That's right. With LearnWorld, you don't have to worry about your subscribers copying your content and making their own learning services based on your hard work. It could give you a great deal of peace of mind to know that you won't be fueling your own competition as you teach your subscribers.
LearnWorld Pricing:
The basic package starts at the low price of just $29 per month, and the premium service is $99 a month. There is a $5 transaction fee for every sale you make, which is a downside. But with all the valuable features and capabilities, it might be worth it to you if you really commit to the platform.
LearnWorld Features:
Supports interactive content of all kinds
Offers certificates and compliance
Edit videos on the fly easily
Access the powerful community builder
Benefit from invaluable Copywrite protection
6. Academy of Mine
This online learning hosting service is sorely under-appreciated. Academy of Mine allows you to built a fully-featured website where you can host all of your online learning materials and sell access to products and services. One useful feature that makes Academy of Mine unique is its robust LMS features. These support the creation of gamification features, certificates, discussion forums, and more.
Academy of Mine Pricing:
The basic package is pretty pricey compared to other similar platforms, but you get the value back. Pricing starts at $199 per month and goes as high as $299 per month for more features.
Academy of Mine Features:
Powerful LMS features
Inbuilt support
Share revenue with other teachers on your site
7. LearnDash
This online program hosting platform's WordPress LMS function is THE most popular LMS function on WordPress- and that's saying something. It is used by many top businesses, universities, and training organization websites. The core plugin is very robust and easy to use, which is why it is so popular. Best of all, it gives you access to all of the core features of LearnDash such as the drag and drop course builder, exams and quizzes, course dripping, prerequisites, forums, badges, and certifications.
Learndash has lots of free and premium add-ons that let you extend the capabilities of your online teaching service. Best of all, even if the feature you want doesn't work with the main plugin, you can easily find one on WordPress that does what you want to be done.
LearnDash Pricing:
Get one learning site licensed for only $159 per year, or access the premium features package for only $189 a year.
LearnDash Features:
The nearly universal LMS plugin for WordPress
Very affordable annual based pricing
Do everything through WordPress
Nearly universal acceptance among employers
8. AccessAlly
This all in one WordPress plugin offers all of the features you will ever need to build and sell online learning materials. The drag and drop course builder is probably one of the easiest to use in all of the online learning creation and hosting space. It lets you craft quizzes, assignments, track user progress, generate certificates, and more. It also features a complete membership management tool set.
When it comes to e-commerce, AccessAlly is easily one of the most functional services of its kind. You'll be able to process one-time and recurring payments, create conversion focused order forms, and more. For a simple to use WordPress plugin, you really cannot beat the sales features of this product.
AccesAlly Pricing:
The basic service is $99 per month, and premium access costs $129 per month. As such, it is one of the most expensive such services put there, but you're paying for ease of sales management and accessibility through the user-friendly WordPress plugin.
AccessAlly Features:
The feature-rich WordPress plugin
Track user progress
Robust e-commerce support
9. LifterLMS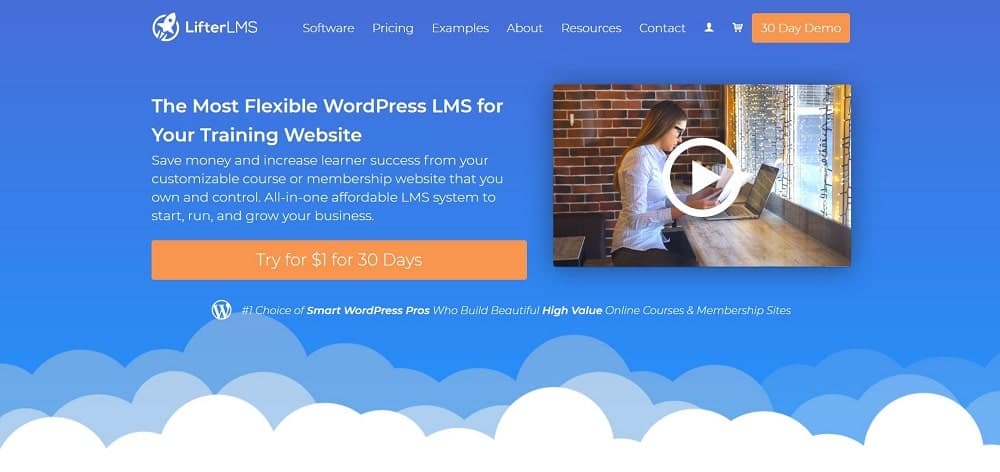 Yet another on the list of terrific options for building online learning assets via WordPress, LifterLMS is designed for those who want to use WordPress to build all of their online learning sites. As such, it is a very popular service, since WordPress is well known for making it easy for anyone to make any kind of website.
LifterLMS features an easy to use course builder to create coursework that supports the creation and dissemination of quizzes, assignments, certificates, learning paths, dripping, community forums, and more. Better still, you always have the option to add new features by applying the many compatible WordPress plugins that are designed to enhance the LifterLMS user experience.
LifterLMS Pricing:
This service is easily one of the most expensive services of its kind with the basic bundle priced at $299 per year and the "Infinity" bundle at just under $1000 a year. That said, LifterLMS is widely used and accepted by academics and the business community alike. This means your job-seeking learners will enjoy better employability based on the certificates and achievements they accumulate on your site. That is an important selling point which can mean better sales and better return patronage for you.
LifterLMS Features:
Useful e-commerce features
Wide acceptance in academics and business
Robust customer support
Very well integrated with WordPress
Advanced features and interactive content
Many would say that we have saved the best for last, as SkillShare is one of the most popular such programs (it's actually a course marketplace with built-in course creation platform) for those who seek to learn salable skills online and those who simply want to enrich their lives by onboarding valuable knowledge. This platform seeks to encourage creators to make learning courses that come in bite-sized segments with videos around 10 to 25 minutes in length.
The idea with SkillShare is to make online learning easily accessible to the busy professional or executive who doesn't have a lot of extra time to commit to studying. As such, it is a very successful and popular learning platform for high-powered executives and successful business people.
The one big drawback is that you have to have a class size of at least 25 students before SkillShare starts to pay. Once you get that number of enrollees, SkillShare pays $1 to $2 per student. That being said, SkillShare is very popular and attracts a fairly wealthy customer base. So, if you create high-quality materials, you can be sure to attract learners. Also, the simplistic payment program is able to be simple due to the fact that the site keeps the number of small transactions down through its learner number requirement.
SkillShare is one of the newer such platforms out there, but its student population is highly loyal to the brand, which is good news for anyone who decides to teach through this platform.
11. Kartra
I gave Karta a real shot.
On paper it sounded perfect.  It offers every feature you could need – email autoresponder, sign up forms, landing pages, funnels, course creation software, payment gateway, robust affiliate program for affiliates and more.
I thought I'd found the holy grail of online course software.
I signed up and that's when the dream died.
It was ridiculously difficult to figure out.
I truly gave it a solid effort. I set up a course, emails, etc.  I simply could not figure it out.
I should preface this with the fact I'm not the most intuitive when it comes to learning software.
I prefer simple over bells and whistles.
I'm sure someone more adept at figuring out software interfaces could make Kartra work great.
For me, I had to bail and go with something simpler.
That simpler was Teachable.
12. ProProfs
Training Maker by ProProfs is an award-winning learning management system. It is a one-stop online training solution designed for businesses of all sizes. It supports end-to-end task management – from creating online courses to sharing and tracking them.
The LMS comes integrated with a virtual classroom software for a centralized and scalable classroom experience. You can also embed different types of quizzes to make learning engaging and simplify testing.
ProProfs Training Maker is used by more than 4 million learners all over the world, and users have created 100,000+ courses and tests so far.
Key Features
Course Authoring: Create online training courses and tests in minutes. Upload existing materials or use ProProfs library of customizable templates.
Collaboration: Collaborative tools enable learners to put their minds together on group assignments. Support for Q&A-based online community and social sharing.
Integrations: Training Maker integrates seamlessly with a number of productivity tools including email marketing software, CRMs, and CMSs.
Reporting & Grading: Automatic reporting and grading in the tool provide you learning data on demand. It saves you from the pain of manual evaluation.
13. Madbright
This new online course platform was founded in 2020, and it's driven by its founder mission to democratize education.
Madbright will host your courses for free as long as they are also free to watch, and you are an expert on the topic.
Personal development, career, entrepreneurship, business, technology & web development are their most important categories.
If you are new to course creation, they offer a comprehensive 5h + introductory course "The Fast Track Guide to Quality Online Course Making", created by Paul Jenkins, a professional documentary filmmaker, and course creator.
Pros:
free to use for both the instructors and the users
a new audience for any free courses that you have already created
instructors can have a "More from" page where they can promote their products and services
being a new platform, you can become easier a top instructor in your category
a simple process to list your course, it only takes about 10 minutes
a clean user experience
a gamified learning experience with badges
Cons:
they only allow free courses, so you won't be able to use it to sell your courses directly.
being a new platform, they have less traffic than the more established ones.
FAQ on making and selling courses online
I've been selling digital courses online for years.  I've sold hundreds of thousands of dollars in courses.  I'll be hitting the millions pretty soon as course sales continue to grow every year.
Here are some FAQ on selling courses online.
What is the best platform for selling online courses?
IMO, Teachable is the best. It's what I use and I've sold hundreds of thousands of dollars in courses. I explain in this article why it's so good. I tried a few a couple years ago and did additional demos.  Teachable was easiest, offered very reasonable pricing options and more and more other folks were selling their courses on Teachable.  I like that Teachable hosts many courses because folks get familiar with the platform.
Is selling courses a good business?
It's amazing.  To date, all sales (6 figures per year) is from free traffic so I literally have almost no expenses.  It's all profit.  I market and sell courses on a very part time basis because I'm busy as a Web publisher running a pile of niche sites.  The amount of profit for time put in is ridiculous. Yes, it's a great business.  I've also come to know many students who are now friends.  I've built a fun community with a forum that customers get access to.  All in all, it's ridiculously lucrative and fun. What could be better?
Is it easy to create a course?
Yes and no.  Assuming you know the material well (and you should), it's still a lot of work.  I launched with very small, low cost courses and added to that over time.  Eventually, I had so many courses and so much content, I could merge them into what is now an epic course on how to make bank blogging.  I'm a big believer in the minimum viable product (MVP) approach which is get something good enough to sell and start selling.  Improve and expand from there.  That's exactly what I did. I think my first course of my current offerings was $27 or $47.  I grew it from there into a 6 figure per year business (still blows my mind).
How long does it take to create an online course?
This entirely depends on the scope of your course.  I launched fast with a 4 page PDF that I prepared in an afternoon.  I scaled up from there.  I added to that and created new courses over the the next 18 months.  I have more planned.  I sell them individually and bundled.  I also update my courses regularly.  If your course is going to be extensive right off the bat, it'll probably take a few months to put together.  It also depends on whether you'll do videos and text.  If so, how much will you put into the videos?  You can be a perfectionist and take 12 months or more like me and rifle it out quickly, get feedback and then improve over time (always increasing the price).  It boils down to pricing. I started with lower prices. The actual content I sold was second-to-none but the presentation was lacking a bit so I priced it low. As I improve the quality and amount of content, I increase the price.
Do you know of a good course on creating and selling courses?
I sure do.  Recently, I bought this course and it's utterly amazing. I learned a lot. The main dude behind that course literally earns 6 figures per month selling his first course.  It was and is such a success that he created and now sells a course on selling courses.  Since he's doing 6 figures PER MONTH, he had a lot to teach me (I only do low 6 six figures per year). The difference between him and me is he figured out (and teaches) how to scale course sales.  I'm madly in the process of applying everything he taught to take my sales from 5 figures per month to 6 figures per month.  Stay tuned.
Should you be an expert on the topic to create and sell a course?
Expert is a bit strong of a word.  You should know the material more than the average person in the industry.  You don't have to be the most expert in the world.  You need only be well above average and share information that will help the average person.
Take me for example.  I actually am an expert in what I do.  I earn a lot of money with niche sites and that's what I teach in my courses.  I've been doing it for years.  I know what I'm doing.  I know more than most.  But, and this is a BIG but, I am not the very best in the world at publishing niche sites.  There are folks who have bigger and better sites than me and based on that they are better.  I just happen to know more than most… not all.
In a nutshell, you do not need to be the foremost expert. You just need some expertise.
How much should I charge for my online course?
As much as you can to maximize profits.  It's hard to know at first.  It boils down to your audience, the competition, quality and scope of your course, your level of expertise (and recognition of expertise) plus other factors.  Play around with various pricing.  For example, if you sell a fitness course, you can't charge as much as someone selling a business-related course like I do.  Courses related to a business usually can sell well for far more than courses to non-business audience such as crafting, fitness, beermaking, etc.
However, where you lack in pricing power, you can make up for in course sales volume. There are more people interested in getting fit than starting a particular type of business.
The range can be $27 to $5,000+.  I think the sweet spot is $97 to $997.
How long should an online course be?
It depends on the course.  It should be long enough to teach what you promise to teach.  I started with a simple 4 page PDF.  I now have hundreds of hours of materials.
Do I have to create video course content?
I'm probably the wrong person to ask.  A lot of my content is text just because I hate learning via video. I much prefer to read but I get the sense most people prefer video instruction.  I do have quite a few tutorial videos but not every lesson is video.  More and more courses are all video. The best courses offer video along with notes for the readers like me.  Ultimately, I want to improve my courses to be all video along with text version.  I figure that'll take a year or two at this point given the amount of material I have.
What's the best format for online courses?
IMO, video and text.  Most are either or.  The best offer both.  I offer some only as video and some only as text and a few lessons with both.  My courses are not yet perfect, but I'll get them there.
How much does it cost to create an online course?
Aside from the cost of your online course platform, it costs nothing.  That's the amazing part.  You can bootstrap with almost no cost into a million dollar business.  I love it.
What marketing tools should I use?
While it's true you can bootstrap spending almost nothing, in time, you'll help your sales by learning and paying for some key marketing tools to help sell your course(s). Here's what I use.
ConvertKit: this should be your first expense and you should get it as soon as you can.  You can sync ConvertKit with teachable so that all your course buyers end up in the ConvertKit email database. You can tag them as buyers.  FYI, I apply a different tag for each course. That way I can email buyers of specific courses any time I like.  It's very powerful.
ConvertKit is also powerful for generating sales.  For me, email is the biggest traffic and sales source. I capture leads on my blog and can then promote my courses.  It's so simple and lucrative.
ConvertBox: While I love ConvertKit, their on-site lead capture forms are not as good as ConvertBox. I recommend using ConvertBox forms on your site to attract more leads that you can promote to.
Deadline Funnel: Deadline Funnel is very powerful because you can set up evergreen, time-limited promotions to new email subscribers.  Nothing sells courses like a promotion with a deadline.  With Deadline Funnel you can create a promotion with a deadline for all new subscribers that's triggered as soon as they subscribe. Very powerful.
Wistia: I'm new to Wistia, but it's what I'll be using for my automated webinar to sell my courses.
LeadPages: LeadPages is my favorite landing page builder and it's what I'll be using for my new course sales pages.   If you're just starting out, LP is not necessary unless you're flush with cash.
Is Zoom good for teaching online?
Zoom is great for live presentations, meetings and coaching but it's definitely not what you want to use to sell courses.  The point of selling courses is you do the work once and earn forever.  The last thing you want to do is present over and over and over.
Could one run the same course on multiple platforms?
You could, but I'm not sure it's worth it.  I suppose you could sell the same course on multiple course marketplaces like Udemy and Skillshare … but you'd want to check their Terms of Service first.  I'm not sure if you're restricted to selling just on one or the other.  I don't care to sell on marketplaces because you lose control. I like having control of everything rather than being forced to run pricing, not having control of buyers' data (i.e. email addresses), etc.
How can I prevent my courses from getting ripped off and sold by other people for cheap?
In a way you know you've arrived when your courses are popular enough that other folks will sell them.  However, that good feeling goes away fast when you realize that you're losing money.  That's blatant piracy and it happens all the time.  In fact, once you launch your course, regularly search in Google with your course name and your name to see if it's being sold or given away somewhere online.  It it is, hire Takedown Czar.   I use this brilliant service that goes after pirates like Julius Caesar on the Mediterannean (Julius, early in his career, was taken hostage by pirates and ransomed.  Fortunately, for Julius his ransom was paid.  Unfortunately for the pirates it was paid because Julius then put together a small fleet, hunted down the pirates and cruelly executed the entire band of pirates).
Happy course making (and selling haha)
Again, don't overthink this decision.  Pick one and go with it.
When you're clearing $100K per month you can get wrapped up in the details and jump ship to another platform if necessary.  At that point you'll be making so much money that you can hire someone to handle the hassle (and a hassle it is switching platforms… I know because I did it once).

Jon Dykstra is a six figure niche site creator with 10+ years of experience. His willingness to openly share his wins and losses in the email newsletter he publishes has made him a go-to source of guidance and motivation for many. His popular "Niche site profits" course has helped thousands follow his footsteps in creating simple niche sites that earn big.