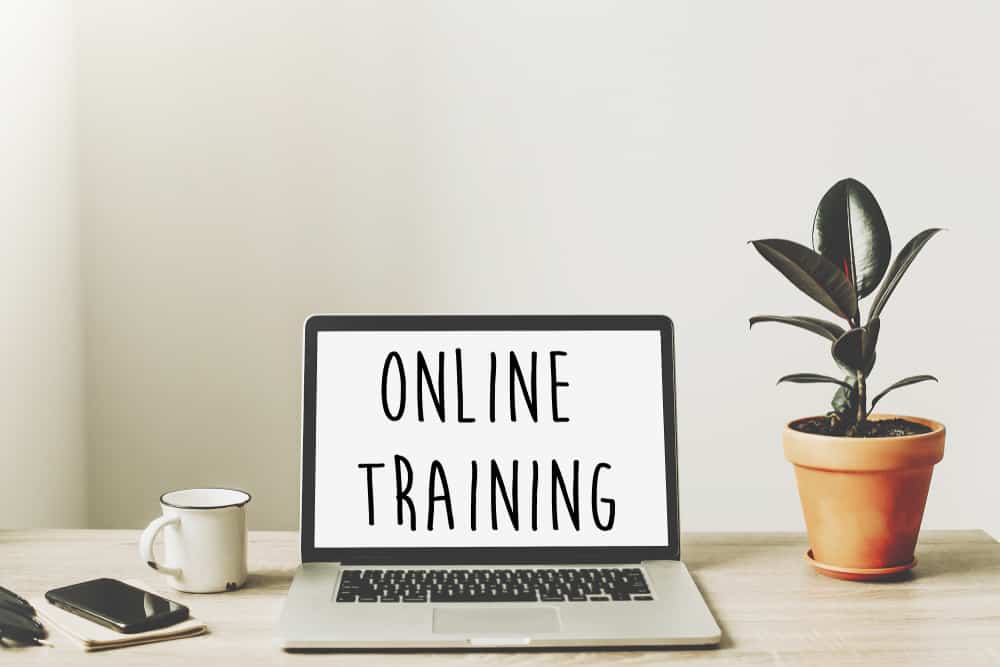 I've been an entrepreneur for a couple of years now, and it's been a roller-coaster experience. Like most business ventures, the beginnings were a bit rough. However, looking at the past, I've grown to value the ups and downs- they've made me appreciate the trip even more.
I currently own several blogs that earn me a passive income- something I had been dreaming of for the longest time. Finally, I can attest to the benefits of having a side hustle. The fruits are absolutely delicious!
As an entrepreneur, the most fulfilling way through which you can earn a living is by making a difference in someone else's' life. The best business ideas are those that give as much as they get. Such an arrangement, in most cases, is long-term and sustainable.
An ideal example would be in creating an online course. If you specialize in a particular skill, you can set-up a business revolving around your experience. Share your expertise with millions across the globe over the internet. Help better individual lives and earn a passive income while doing so.
There are several online course creation platforms making the process of picking the ideal one unnerving- especially as a newbie. During my initial years as a course creator, I couldn't find reliable information regarding the niche I was about to get into.
The result was characterized by a bit of disappointment, loss of time, and money. I signed on to platforms that were not as effective as I had hoped on. That's all in the past. The end result of this experience is this Thinkific review.
It's going to be one of the most detailed reviews out there. It'll heavily borrow from my experience with the online course platform provider, insider tips, and much more. My goal is to ensure that you don't go through similar negative experiences before reaching where I currently stand.
Fair warning: it's going to be pretty lengthy. So, find a comfortable seat, and let's get started…About Thinkific.
Related: Teachable Review | Thinkific vs. Teachable | Best Online Course Platforms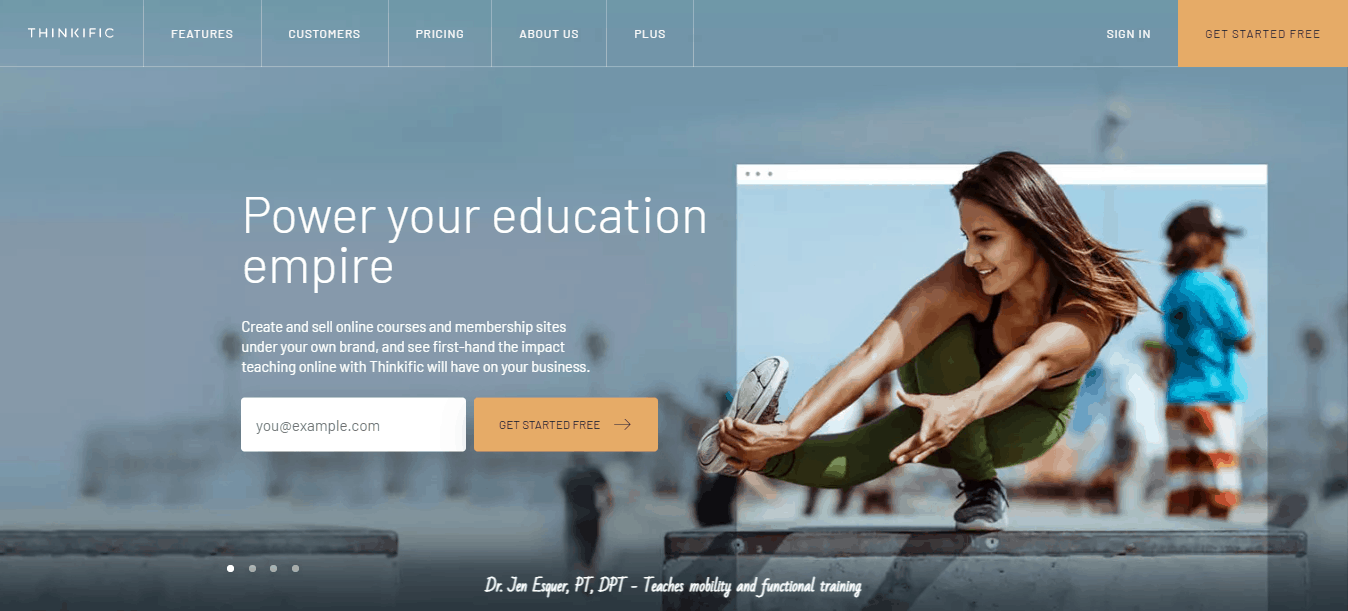 This all-in-one platform allows you to create, market, and sell your educative courses online. One of the reasons they are so successful is that you don't require any programming skills to utilize the Thinkific site.
The course creation platform intends to revolutionize how students learn, and entrepreneurs earn. To do this, they offer the necessary tools to open and run a successful online course business. Despite being new to the scene (Founded in 2012), the platform enjoys immense success.
At the time of writing this piece, the course membership site hosts 500,000+ course creators, with 100+ million courses taken, generating over US$ 650 Million in sales. The figures don't lie.
The educative content platform traces its origins from its CEO- Greg Smith. While working as a corporate attorney, he was also teaching an LSAT course over the weekends to other would-be lawyers.
Naturally, most of his students were motivated and driven to accomplish their learning. And that's when the idea was conceived. He designed his first online course content to help them do just that.
Over time, income from the online course repossessed his attorney salary. The rest, as they say, is history. Greg recognized the platform's potential and never looked back.
Thinkific owes its success to the diversity of its staff. Roughly 50% of the firm's leadership is female. A further one-third of the team are new to migrants to Canada. This wealth of perspectives has been fundamental to the course platform's success.
TIP: Steps to Building A Successful Online Course Business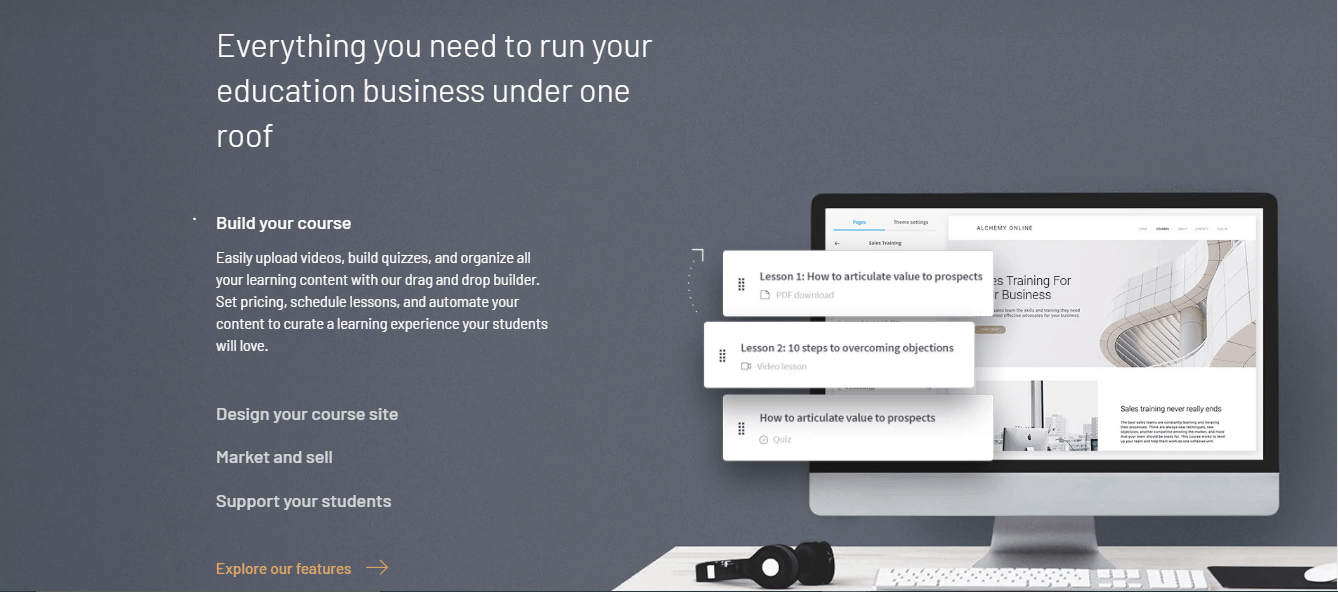 Online learning has steadily gained popularity over the last two decades. Each year, millions of students attend online classes- both free and paid. With the surge in interest, survey entrepreneurs are cashing in on the opportunity by creating educative content.
A 2019 report by Research and Markets states that the online education and course content market will reach US$ 350 Billion by 2025. Thanks in part to the introduction of artificial intelligence and flexible learning technology in the greater education and corporate sectors.
Unlike traditional means of learning, online course platform- Thinkific- enables students to learn when they want, from wherever they are, irrespective of the time. The United States tops the global online education market, thanks to the introduction of e-learning course content and distance learning.
So, if you are looking at venturing into the course content segment, here's how you can go about creating a meaningful course filled with rich content.
Step-1: Decide what you want to teach
A journey of a thousand miles begins with one step. The first thing you need to do is come up with an idea of what you will be teaching. The easiest way of doing this is by looking at what you are good at. Pivoting on your strengths and expertise increases the chances of your success.
Once this is done, you need to figure out your targeted market. Who is going to consume your digital product? Here, it pays to be laser-precise. Be as specific as possible. Trust me on this one; it really pays.
Step-2: Find out the demand for the course
As a course creator looking to break into the competitive online course business, you can't skip this vital step. The last thing you want or need is spending hours creating content that lacks an available market.
To help you with this, try and have a look for any existing competition. What do they offer, and how can you improve on what they are offering? Also, consider conducting keyword research and surveys on your choice of topic.
Step-3: Create a catchy, easy to remember brand name
What do Amazon, KFC, Coca-Cola, Nike have in common? If you thought of great brand awareness, you guess, right. You need to come up with a brand name that's easy to remember and rolls easily on the tongue.
Branding is an easy way of identifying yourself. It makes it easier for customers to locate you. Don't overthink or overcomplicate this step.
Step-4: Market your product
Despite having the product of the century, if you lack an efficient, effective means of marketing it, it'll never be successful. Fortunately, this has become easier and affordable over the years, thanks to the internet.
Marketing will assist you in building a community of loyal patrons. The first thing you need to do is sign-up and creating accounts with leading social media sites like Facebook, Twitter, Pinterest, and Snapchat. They offer a means of communicating with your followers.
Step-5: Create an online course
This is the most essential step in the entire process. It's also one of the most time-consuming endeavor, as it needs close attention. As a newbie, you could end up spending days or even months coming up with the right content.  Don't be in any rush!
Fortunately, with the Thinkific platform, the process has been simplified. All you need is to drag and drop content to come up with the best course material. The process is straightforward; you don't have to possess any programming skills to use this content creation platform.
Step-6: Customer first mentality
At this stage, you already have everything you need to launch your first course. In fact, you've probably launched multiple courses by now. Chances are, you are enjoying a bit of success too. Congratulations! It's essential to celebrate the small wins.
But it's time to take things to the next level. To do this, you should focus on customer excellence and success. For you see, their success equals your success. A happy, contented student is likely to recommend your course to others, therefore increased sales.
Step-7: Scaling and expansion
Naturally, the final step is formulating a way to grow and expand your business. To do this, you will need help. As amazing as you are, you can't do everything on your own. Consider recruiting some help- either permanently or on a gig basis.
I can hear some snarls already. As the adage goes, you need to spend money to make money. Bringing some much-needed help with repetitive aspects of running the business will free you up. This way, you can focus on creating fresh courses, marketing, and enjoying yourself.
Who Is Thinkific Designed For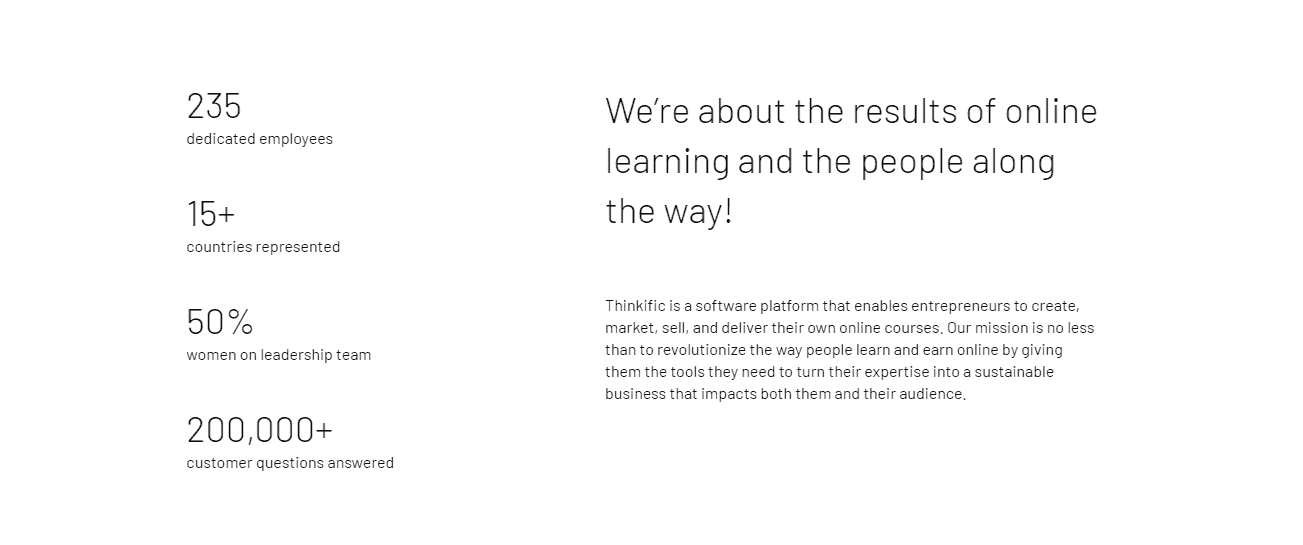 Are you a bubbling entrepreneur that wants to be part of history? Then consider joining the online course platform. Thinkific can aid you to build something that's 100% yours.
Whether you are a football coach, an interior designer, or a carpenter, the platform can help you develop your brand, reach millions of potential clients, and boost your sales revenue. It's basically open to consultants, authors, experts, trainers, professionals, and so on.
Similarly, if you are looking for a flexible, stress-free, affordable means of learning a new skill or improving existing ones, Thinkific has your back. With its countless course builders and content-rich courses, you can rest assured you are getting nothing but the best in alternative education.
The free plan offers you a glimpse of what's possible with the platform without necessarily committing yourself financially. This way, when the moment is right, you can scale up at your own pace.
Please remember Rome wasn't built in a day. Consequently, you need to exercise patience while looking to open your Thinkific account and run your business. With hard work and perseverance, you are bound to succeed.
Packages
True to its goal of revolutionizing learning, Thinkific offers a free plan. This Thinkific course plan allows you to test drive some of the core features on the platform. This way, if for whichever reasons you don't like what you see, you won't lose a thing.
Other than the free plan, the platform offers three paid plan options: Basic Plan, Pro Plan, and Premier Plan. Of the three, the Thinkific Pro plan is the most popular option so far. Please note that these plans are billed on a monthly or annual basis- which saves you up to 20%.
As earlier stated, this serves as an introduction to the platform and its core tools and features. These include limited courses, unlimited students, quizzes & surveys, content hosting, and instant access to your funds.
This is the entry-level paid plan. It starts at $49/month or $39/month annually. With it, you get all the benefits liked to the Free plan along with unlimited courses & students, Email students, coupons, drip content (it schedules your content), affiliate reporting, manual student enrollment & exports, custom domain, email integration, and Zapier triggers.
For the selective client that values a balance between cost and value, the Pro plan is more than suitable to provide this. The Pro plan features unlimited courses & students, 2 site admin accounts, 5-course admins/authors, private & hidden courses, advanced course pricing options, certificates, advanced customization, and so much more. It retails at $99/month or $79/month annually.
This is the most expensive plan on the platform. It goes for $499/month or $399/month annually. Of which, you get the unlimited growth package, unlimited courses & students, onboarding package, single sign-on (SSO), 15 group analysis, 5 site admin accounts.
Getting Started: Building A Course on Thinkific
The first thing you notice is the beautiful selection of themes and colors. The webpages are craft fully designed and are attractive to look at. They convey a feeling of professionalism and order.
Anyway, the process is fairly simple and straight forward. This is where you start.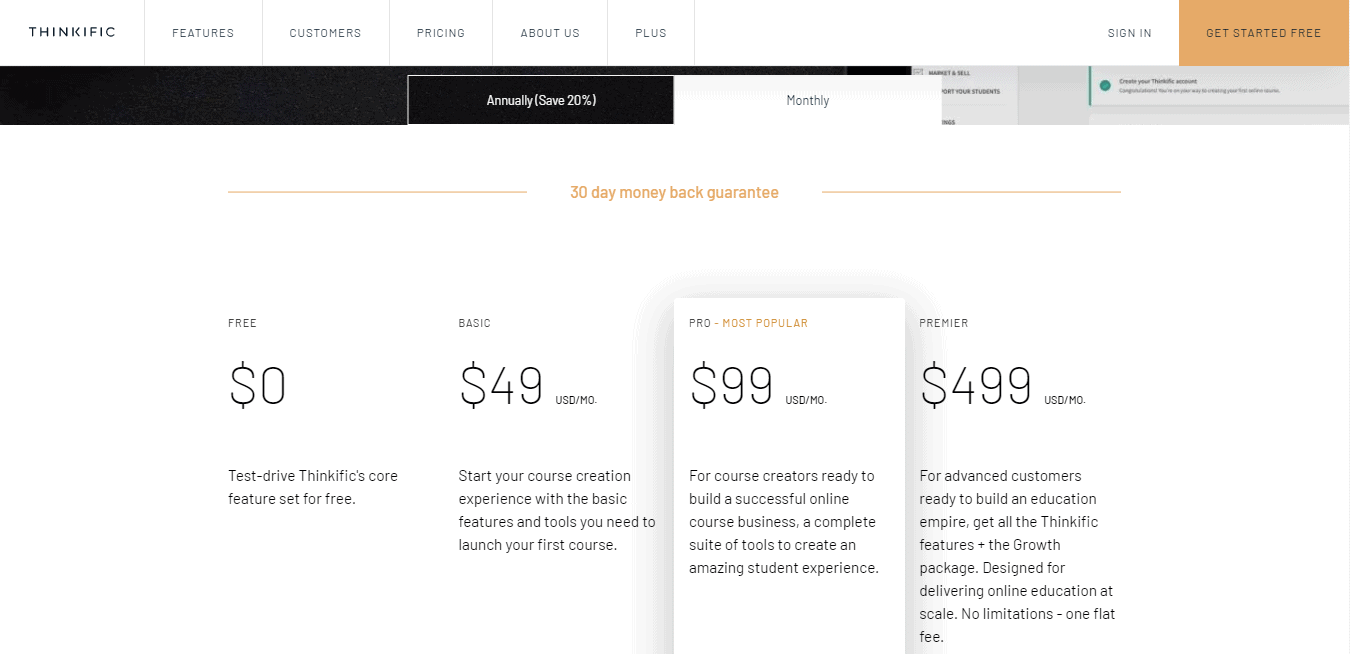 As an aspiring course creator, you have the option of sampling out Thinkific for free. This gives you access to the platforms' basic features. Other than that, you have three paid plans. Please note that these are billed on a monthly or annual basis.
To sweeten the deal and offer more bang for your buck, get up to 20% off (at the time of writing this) with the annual plan. So, with that out of the way, I opted for the Basic plan, billed on a monthly basis. This costs $49.
The next step is account creation. Here, you don't need to provide too much information. All you need are your names, email address, and a password to your newly created Thinkific account. Once you've filled the spaces correctly, click on "create your account."
It's time to make a payment. Again, you have the option of changing your billing to either an annual or monthly basis. I remained adamant and stuck to my initial plan. What I love is that they don't attempt to overly upsell you anything at this stage.
My only qualm with the platform is that they support student payment for the course via Stripe and PayPal, yet only accept plastic from course creators. It Sucks! I hope they read this review. On the right, you get a glimpse of what's included in the Basic package.
This is Thinkific's version of a first date with you…Just kidding. Anyhow, here, you need to select the best description of who you are, where you heard about Thinkific, your experience, the category in which your business falls under, and if you have any ready course material. No pressure.
This serves as a means of introducing yourself to the entire team. Once you are done with filling the blanks, that's it. You've officially joined the platform and will receive an email to verify your account.
Welcome to your admin dashboard. This is the first you will see each time you log onto the platform. Your back-office dashboard is where you can access everything to do with your website. This includes site builder, course builder, site settings, orders, integrations, student progress, and much more. Looks pretty sweet.
There are a couple of short introductory videos you need to watch. They ensure you are well acquitted with the platform. Click on "Get started."
When you click on the get started button, a new window opens, and you will be brought to this page. The videos are short and precise.
Each time you finish up with an introductory video or class, your score on the top left corner increases from 0% to 100%. Here, you need to select the name of your course and the theme color.
As you can see, there's a lot to learn before you get started. But, don't let the classes and videos shake you up. They are pretty short, with most lasting under 3 minutes.  All this is in your admin dashboard.
This is one of those short tutorial videos I have been speaking about. They are simple, easy to understand, and straight to the point. No upsells. If you love what you see, the option of upgrading is entirely up to you.
Once you are done going through the tutorial videos and classes, you will arrive at this point- the end. Now you are ready to go back to your dashboard and start creating your first course. It's as simple as that.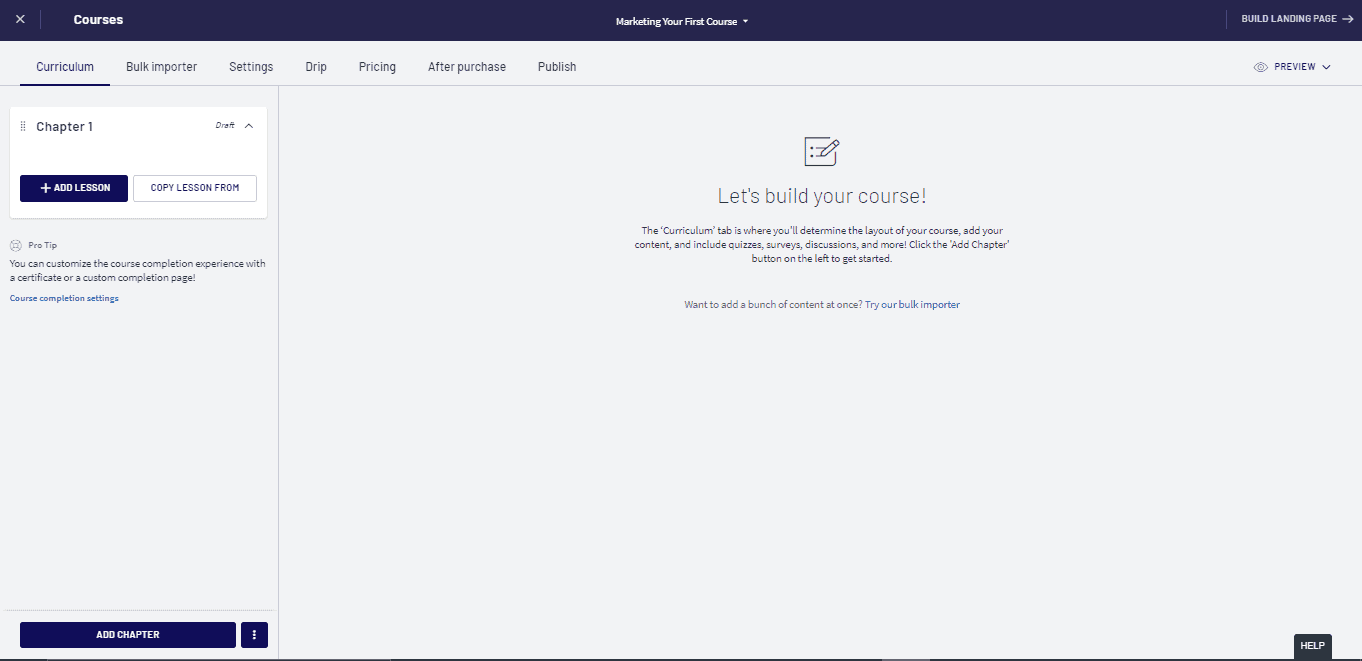 This is the course building page. The interface is simple and smooth. True to Thinkific's word, creating a course is as simple as dragging and dropping the necessary files.
Thinkific Integrations
In order to be successful with marketing and growing your business, you are going to require the right tools and integrations. Such tools include:
To make it easier for you to sell and make money from your courses, Thinkific offers integration with Stripe, Shopify, PayPal, SamCart, and Stunning.
Nearly 80% of the time spent running a business goes to boring, repetitive administrative work. Sadly, this means you won't have enough time to dedicate to other more productive aspects such as growing your business.
Thinkific knows this, and that's why they offer helpful tools meant to allow you to exercise your creative juices. They include Zapier, Keap, and eWebinar.
Any successful business heavily relies on data. With the right information, you will able to tell which aspects of the business require more effort and which new tactics are more efficient. To get here, you require a means of gathering and converting the data into meaningful information.
Thinkific lets you do just that, thanks to integration tools such as Facebook Pixel, Segment, Mixpanel, and Google Analytics.
Email marketing comes second to only affiliate marketing, in my opinion. It's pivotal to the success of your course or courses. The reason why email marketing is effective is that, unlike traditional means of marketing, email marketing has higher conversion rates and is way cheaper.
As a course creator, you have access to email marketing tools such as Mailchimp, Keap, ConvertKit, Constant Contact, AWeber, and ActiveCampaign. Use automated emails to convert leads to repeatable online course buyers.
As previously stated, the success of your business correlates to that of your students. It's in your best interest to ensure that your courses, classes, and communication with them is seamless. Failure in any of the three may lead to the collapse of your business.
To make this all easy, Thinkific offers powerful student access tools like Typeform, Lessonspace, Intercom (by Highways.io), EarlyParrot, Shopify, WordPress, Accredible, and Brillium.
It's every entrepreneurs' dream to grow their business to greater heights. Just like your student's success reflects on yours, so does your success reflect on Thinkific's success. With tools such as Typeform, Shopify, Sumo, Salesforce, MiniOrange, Fomo, and eWebinar.
Support
Support is offered on the free and all three paid plans. You can get a hold of the team via mail: info@thinkific.com. Telephone number: 1-888-832-2409 Mon-Fri 9-5 PST. Additionally, you can find them on leading social media platforms, including Facebook, Twitter, Instagram, YouTube, and Pinterest.
Other than that, they have a F.A.Q page that offers solutions to most of the simple recurring queries. On top of that, the platform runs its Thinkific Help Center, where you can search through its database if you have any challenges.
Like with most businesses, Thinkific operates a blog that's regularly updated with tons of useful information. If that's not enough, the provider also boasts a community page, help center as well as training center- though this will cost you.
Products
Easily build and customize your courses to match your brand. The process is easy and straightforward. All you need to do is to drag and drop. You don't require any coding experience to get started using Thinkific's course builder.
To ensure your classes are engaging and rich in content, you can add videos, text, downloads, quizzes, articulate, Typeform, Google docs, captivate, discussions, surveys into your course material. Thinkific lets you host 100% of your video content for FREE.
To date, Thinkific customers have sold over $200 million worth of courses.  Showcase your courses with expertly designed themes designed specifically for selling educational content. Customize all the aspects to match those of your brand, values, and aspirations.
With Thinkific's site builder, you can create an entirely new course site or link to your existing site.
Tap into the global market by leveraging Thinkific's suite of marketing tools. Create a flexible pricing option to fit every client's size and style of business. Offer your courses however you desire while offering students more payment alternatives and plans.
Attract a broader crowd by implementing coupons and promotional features such as free trials, upsells, custom monthly fee payments. Reach more students with marketing features that allow you to reward affiliates for sharing your courses, easily connect with your favorite email provider, integrate with over 1000 external business and marketing tools.
Additionally, you can consider off-platform alternative means of marketing. This could include starting a blog or website that features a course review. The key is to offer value to your visitors and encourage them to purchase your complete course.
Using advanced features like data analytics, tap into the data of over 16 million students for a better course creation experience. A happy student is a leading factor in your success. Teach with confidence by using features such as a course landing page, customized learning environment to help them get value from your courses.
It's important to celebrate the small wins. Hence, congratulate your students on their accomplishments, no matter how small they are. High five them using customized completion pages and certificates.
Moreover, you can create a course player. This is where your students will spend most of their time, enjoying your lessons as well as holding discussions with other students. Students can come here to take quizzes, watch videos, and much more.
Unlike other Thinkific alternatives, you are always in control of your data- this includes your courses and students' information. Your site your data. You can export your orders, progress data, and student's information at any time.
The platform- Thinkific, has a 99.9% uptime rate. Through secure cloud hosting & daily backups, 24/7 monitoring, access to instant regular updates, and built-in security & SSL, you can rest assured that your data is secure.
With Thinkific's growth package, access high-powered features on an as-you-go basis. This package includes the following features:
Groups: Easily sell your course to organizations or cohorts. Assign analysts for reporting with groups.
Remove Thinkific Branding: Brand your school by removing Thinkific branding from your website, blog, and student course player.
Advanced Segmentation: Organize student communication, reports, and progress tracking by use of bookmarks and filters.
Public API: Allow developers to programmatically access and manage your Thinkific school and website.
Webhooks: This feature allows developers to send Thinkific course data to any tools you prefer.
Community: Easily build a vibrant community around your content to grow more loyal clients.
Infusionsoft Integration: Boost course sales with this automated end-to-end sales and marketing solution.
Zapier actions: Seamlessly enroll students into your Thinkific course based on actions in your other tools using Zapier.
Bulk Emails: Easily send emails to all your students with one click directly through your dashboard.
Import Students: Easily add students from other platforms or databases using CSV or XLSX files.
Bulk Enroll Students: With this tool, you can quickly add or remove students from bundles or courses in one bulk action.
Brillium Exams Integration: Brillium is an assessment service for building more customized exams with features like time limits and attempt caps.
Active Campaign Integration: This email marketing & CRM tool helps you manage sales and marketing contacts with ease.
Thinkific Plus
Thinkific Plus offers your high-volume business the scalability, reliability, and flexibility needed to provide online education the way you want to. Drive additional revenue through direct course sales. Sell individual or bundled courses directly to your audience.
Generate reoccurring revenue through membership programs and course subscriptions.  Build a custom marketplace with guest instructors and contributors. Sell pre-packaged courses to larger B2B organizations or universities.
Marketing Your Courses
Its D-day. It took days, months, or even years, but you are all set. You are done with the first course. It's time to market it. Fortunately, there are multiple ways of accomplishing this. The first method on our list is building an email list.
This is one of the most powerful, valuable things you can take advantage of as a course builder. This list contains past students and any potential leads that opted to hear more from you. To collect these leads, ask people to sign up to your site through Thinkific for free and paid courses.
Apart from your website, you can also leverage YouTube. It's the second largest "search engine" after Google, after all. Add clickable calls to action in your videos. They prompt viewers to get in touch with you.
Using Google ads could help catapult your course business to greater heights. They offer an affordable yet effective means of marketing your brand. As much as the search engine giant controls over 70% of global search results, don't forget to budget for other search engines too.
With Bing's Places for Business API, you can make it easier for local clients to locate and do business with you.  When it comes to marketing, diversity is key. Don't place all your eggs into one basket after.
Get the word out through using scheduled classes and purchase anytime programs. Use coupons & promotions to drive up sales. It's vital that you plan out your launch process way in advance to limit potential mishaps.
Thinkific Partners
Are you an agency, app developer, or marketing expert? If so, you can partner up with Thinkific and unlock exclusive benefits. With the exclusive partnership program, you will always be in the know, grow your business by networking with other individuals and collaborations.
There are several benefits to joining the partnership program. Depending on your partner track, you can access:
In-depth documentation that will teach you how to customize Thinkific for your customers
Earn a passive income by way of referring new clients to the platform
Co-marketing opportunity
Priority support that ensures you and your client's queries are promptly resolved
Unlimited access to Thinkific's Brand Asset and Evergreen campaigns for promotions
Sandbox account for demos and app development testing purposes
To get started, all you need to do is visit the Thinkific Partners page and select which Partner programs you would like to join, i.e., Agency, App developer, or Marketing Partner. Once approved, you will receive an email detailing what you need to do moving forward.
Competition
Here's a list of the 13 best online course platforms.
As a course creator, your choice of platform on which to sell your product matters. If anything, it's almost as important as the course material. A quick search for leading Learning Management Systems yields hundreds of results.
This is good as it offers you variety. As much as Thinkific is a learning powerhouse, there are a few similar companies worth mentioning. These include:
Teachable
Benefits
Superb customer support team
Beautiful looking platform
Superb integration options
Easy to use
Value for money
Cons
Takes time to set-up your first course. Though the same could be said about nearly all other LMS platforms.
Read our detailed Thinkific vs. Teachable write-up here.
Podia
Benefits
Zero transactional fees
Sell and market webinars
Onboard as many students and clients as you wish
Simple, effective to use
Robust email marketing
Cons
Slightly expensive
Limited customization
Kajabi
Benefits
Easy to use
High customization
Reliable customer service
Straightforward onboarding process
Cons
A few bizarre terms and conditions
Some features need time to understand
Udemy
Benefits
Affordable courses make it one of the most easily accessible platforms
Tons of free courses
30-day money-back guarantee
Lifetime access to every course you've purchased
Dozens of courses and sub-categories
Certificate issuance after completion
Cons
No access to student email addresses
Udemy takes a commission on most sales
 Kartra
Benefits
Allows you to accomplish tasks quickly
Scale your business using affiliates
Users are able to host videos
The membership program offers plenty of features
All in one solution to run your business
Cons
Pages are slightly slow to load
Website builder lacks plenty of features
LearnDash
Benefits
You customize the learner experience
Your customers are your own
You keep all of the profits
Access to your client's data
You have full control over your business
Cons
You have to market your own product
The set-up process is a bit challenging
ClickFunnels
Benefits
Easily create landing and sales pages
Mobile optimization
High integration
Hundreds of high converting pre-built sales funnels
Cons
Their customer support is less reliable
Terrible affiliate reports
TalentMS
Benefits
Easy to use
High customization of various aspects
Offers flexible pricing
Offers detailed instructions on creating quizzes and courses
Easy to implement your learning module globally
Cons
The lack of a chat tool is disappointing
Course content variety and set-up option is lacking
Blackboard Learn
Benefits
Mobile support, including mobile phones, iPad, and tablets
Ease of use makes creating your first course easier
Flexible pricing ensures nearly anyone can use the platform
Useful tools to boost learner interaction, and engagement
Cons
Pages tend to lag when there's too much traffic
Buggy new software
Ratings
Despite being a bit new, Thinkific has done well for itself, which is evident by the numbers- they don't lie. Part of their success is owed to their stellar customer support and thoughtfully designed product features.
They offer all-in-one packages that see you create your first online course, market the course, and earn money from your efforts. This is how they performed on leading third-party rating companies:
The software provider scores high on Capterra- an online company that lists and reviews top software vendors. Thinkific manages to score 4.5/5 stars.
The platform also scores high on the Shopify app store- 4.3/5.
Here too, Thinkific scores highly- 4.5/5. Most customers shower the software provider with lots of praise. Despite this, like in most cases, there's the occasional complaint. However, the team at Thinkific is swift to resolve any disputes or complaints swiftly and amicably.
Once more, Thinkific scores a high of 4.54/5 stars. All these paints a picture of a company whose success is rivaled by a few. As an entrepreneur, educator, or course creator, this is what you want to see.
Customer Review
As you'd expect, Thinkific commands the admiration and loyalty of millions of happy clients and students. Thanks to their revolutionary way of teaching, reliable customer service, thoughtfully created product features, and pricing, they enjoy a majority positive customer rating.
This is what some of them have to say about the platform.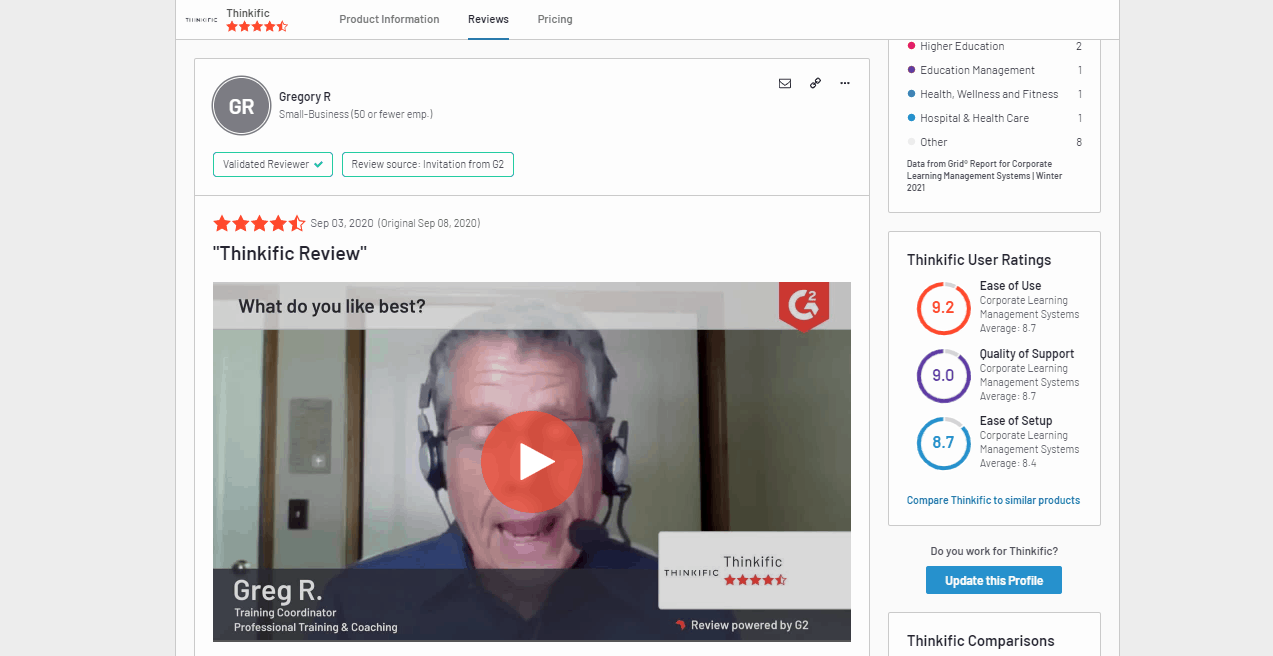 Pros
Discover the benefits of using Thinkific. This will help determine whether they match your current and future needs.
Get access to video tutorials that help you figure out your way around the platform.
The course creation process is simple. All you need to do is drag and drop files. You don't require previous coding skills.
The platform supports various types of content you can upload to your course.
Customizing lesson settings in one go
Schedule lessons and modules through drip content. It allows you to break content into bite-size portions.
Thinkific lets you upload videos to later use in different courses and lessons.
Students can search through the course they are taking by lesson titles.
Easily keep track of your students' progress during learning.
Ease of creating content-rich courses that enhance learner engagement. Offer certificate of completion to celebrate student accomplishment.
The 30-day money-back guarantee ensures your funds are safe
Cons
Doesn't pay out affiliates for course owners – course owners must do this manually.
Paid plans are slightly expensive if not taken on an annual basis
No live office hours
Subscription plans are highly-priced
There's little to zero clarity when it comes to course creation checklists
Conclusion
Customer User Experience

Course Owner UX

Support

Accounting/Finance

Affiliate Platform Options for Course Owners

Sales Page Builder
When it comes to course creation, Thinkific is one of the most highly reputable and sought-after tools. Whether you are a coach, an entrepreneur, NGO, blogger, content creator, or a small to medium company, you are bound to find the platform highly efficient.
The company offers a FREE plan, which allows course creators to sample the platform. This is powerful, considering very few contenders in the niche offer such a deal. Its customer support team and community resources are crucial to newcomers with questions.
Unlike its competition, none of Thinkific's plans charge transaction fees. On the other hand, its FREE plan charges a $1 fee on each course sale.  They don't make any attempts to upsell you the paid plans. They leave that part to you if you find the platform satisfying.
Its ease of use is also another attractive feature of the software company. All you need is to compile your learning materials, then drag and drop to make an attractive, content-rich course for your students.
As we wrap things, I would recommend this platform to any newcomer. However, if you are a seasoned veteran in the online education niche, there are better, advanced platforms. However, the platform is more than capable of delivering stellar results even to the discerning client.
F.A.Q
How can I get in touch with the support team?
Thinkific's goal is to help you on each leg of your journey. From prospecting new customers to growing and expanding your business. You can get a hold of the team through:
Email: info@thinkific.com
Submit a ticket by clicking here
Give us a call at 1-888-823-2409. The team is available Mon-Fri, from 8-5 PST
You can find the platform on leading social media sites also
How is Thinkific different from other platforms?
Thinkific is unique and differs from its competitors. It does this by:
Ease of creating your first and subsequent courses. You don't need any programming or coding skills to use the platform.
From onboarding to the classroom, the platform creates an authentic user experience for your students.
You have access to an extensive pool of resources and the backing of the entire support team throughout your journey with the company.
I'm considering moving to Thinkific from another platform. How do I do this?
Whether you are migrating from a custom site or a similar Learning Management System, Thinkific ensures a seamless process. The support teams will answer all your pressing questions around support with bulk student enrolment, content migration, and so on.
You can get in touch with the team via info@thinkific.com if you have any queries regarding migrating your business.
Can you build an entire website on Thinkific?
Yes. The beauty of Thinkific is that you have the freedom to build and customize your website. The best part is that you don't require prior experience to get started. Thinkific subdomain enables you to build, market, and sell your courses in one seamless end-to-end process.
What sort of content can you put into a course on Thinkific?
To ensure that your courses remain interesting and educative, the platform accepts all sorts of PDFs, presentations, videos, audios, images, quizzes, downloads, and much more. This enhances the learning experience of your students.
Does Thinkific take a cut on course sales?
Absolutely no! Neither does the platform charge transaction fees nor does it take any commissions from the sale of courses. This is great news as the profits are higher on your end- as they should. Course creators get to make millions and keep every single cent.
What is the growth package, and what does it cost?
The growth package is simply an add-on that's available on the Pro plan. As the name suggests, it offers a slew of features meant to help you scale your business. Pricing is fixed at $0.10 per active student, with the initial 100 students being free. Click here to use the cost calculator.
How do I use Thinkific if I don't have any content yet?
This is perfectly fine. You can easily create fresh, new content on Thinkific. The platform is equipped with tools, templates, and lesson types to help you create the perfect curriculum for your broader audience.
Thinkific can guide you toward creating your flagship course and plan the pricing points. The best part is that you can start today- for FREE!
How do students pay for my courses, and how do I receive my funds?
Through Thinkific's integration with PayPal and Stripe, students can easily pay for your courses from any part of the globe. Please ensure that you create both Stripe and PayPal accounts, respectively.
Once a student purchases a course material, the funds are automatically deposited into your Stripe or PayPal accounts, and you can access them instantly.
Which languages does Thinkific support?
Thinkific's goal is to make education accessible to anyone from anywhere. The platform supports 30 of the most widely spoken languages.
Can I become an affiliate partner for the platform?
Yes. Signing onto the affiliate program offers you a great way to earn a recurring commission for new customers joining Thinkific. If you are interested in becoming an affiliate, please follow this link for further information.
Does the Thinkific store, access, or transmit credit card information?
The platform remains compliant with Payment Card Industry (PCI) standards. So, they don't process any payments through Thinkific. Instead, they use external payment processors PayPal and Stripe. Both are PCI level 1 compliant.
Do I retain the rights to any content published on Thinkific?
Of-course you do. You retain 100% ownership of any and all content that's published and hosted on the platform. Thinkific does not claim any intellectual property rights over any of the material.
I already own a website; can I integrate it with Thinkific?
While Thinkific allows you to build an entirely new website to match your brand, you can also choose to integrate your current website to Thinkific. In either case, you'll be able to create a fully integrated domain and URLs befitting your brand.

Jon Dykstra is a six figure niche site creator with 10+ years of experience. His willingness to openly share his wins and losses in the email newsletter he publishes has made him a go-to source of guidance and motivation for many. His popular "Niche site profits" course has helped thousands follow his footsteps in creating simple niche sites that earn big.