The longer I publish niche sites, the more use I have for forms.  Whether email sign up forms, affiliate popup forms, polls and/or multi-step quizzes.
I use all of the above across my portfolio sites.
In case you're wondering, an affiliate popup form is a form that promotes a product or two (or merchant) with prominent buttons that link to the merchant(s) with affiliate links.  These can be ridiculously lucrative. I use them in content, as fly-ins and exit pops.  The key is to target these surgically by category or tag on your site.
Of course email forms are commonly used to get visitors to sign up to the email newsletter.  Some email form creation software comes as part of an email autoresponder platform such as ConvertKit or AWeber.  Other email form software is standalone such as ConvertBox and OptinMonster.
Either way, if you are building an email list, you need to deploy email sign up forms on your site.
If you're convinced that's a good thing to do, read on to learn all about the best email sign up form software options.
While I've used most mentioned, there are few listed at the end I've not used but they are popular so I include them.  I make it clear which software I've used and which I haven't.
Related: Best email marketing software platforms
What Makes a Good Email Signup Form Service?
While the list of recommended services has no ratings and is in no particular order, they were selected for the list based on the factors of form customization, additional features, ease of use, analytics, and pricing.
Form Customization
The way a form looks can have a dramatic impact on whether a potential lead enters their information or even notices that the form exists. A broad selection of themes, colors, styles, reCAPTCHA spam protections, and transition methods that allows you to fit the form to your website should be expected from your form service.
Form Placement by Taxonomy
It's important that any email sign up form I use offer the capability where I can deploy individual forms by category or tag on the site.  While I don't do much of this on Fat Stacks, I do it on my niche sites.  For example, if I have a nail art category, I want to show pop-up forms promoting some nail polish only to visitors of "nail art" category articles.
Form Placement by Location / Action on Site
Another important feature I require is a variety of placement locations and display options based on visitors' actions.  For example, I love using exit pop ups because while intrusive, if someone is leaving, what do I care if I sledgehammer them with one final attempt to make a buck.  On my niche sites I use these to direct folks to merchants with affiliate links or another page on my site.
Other examples include:
Welcome mat/screen
Ribbons
Fly-ins
Timed pop up (based on actual time or percentage visitors' scroll down the page), and
Static embedded forms
Ease of Use
It's imperative that any software I use is easy and fast to use.  I'm not a natural when it comes to figuring out software interfaces so the simpler it is, the better.
Analytics
While not the most important feature, I do like to be able to quickly check lead and user data for each form on each website.  This gives me a quick look to assess whether something is working or not.
Split Testing
I don't do a lot of split testing but it's a feature I require because when I want to do it, it can make a big difference.
Split testing email sign up forms is testing different designs against one-another.  Adding one percent conversion can make a big difference.
Pricing
Don't be penny wise pound stupid here.  If you're in a niche where email marketing is effective, the cost for email sign up form is a pittance to what you can earn.  In other words, the better options are not cheap but the potential revenue you can earn with them is outrageous.
Directly comparing the price of signup form software services is not always the best approach, but you can still compare the list of features and performance to the cost of purchase to split close calls between the services you find interesting. For example, A/B testing might be included in both services, but one might have it locked behind a higher cost subscription tier.
Monthly subscription:  Popular and powerful email sign up forms like OptinMonster charge monthly fees to use the software.  This adds up, but OM works very, very well. I used it for years.
One-time or annual subscription:  Nobody likes paying monthly fees for anything despite it becoming the norm so if you can get software that charges only annually or better yet, a one-time fee, that can be huge.
This is why I currently consider ConvertBox and absolute steal – it's as good (I think it's better) than OptinMonster but you only pay one time for lifetime access.
A. The 3 BEST Email Sign Up Form Software Options
1. ConvertBox
If ever there was an email sign up form software that is perfect in every way (features, ease-of-use and price), it's ConvertBox.  I recently started using this email form sign up software on many of my niche sites including Fat Stacks.
I use it not for collecting emails on my other sites but to promote products with affiliate links via polls, quizzes and pop up boxes.  It works amazingly well.
In a nutshell this software does the following:
Email sign up forms (which you can fully customize design-wise):
Welcome mat
Fly-in
Ribbon
Static embeds
Popups
Sidebar
Here's the form set up process: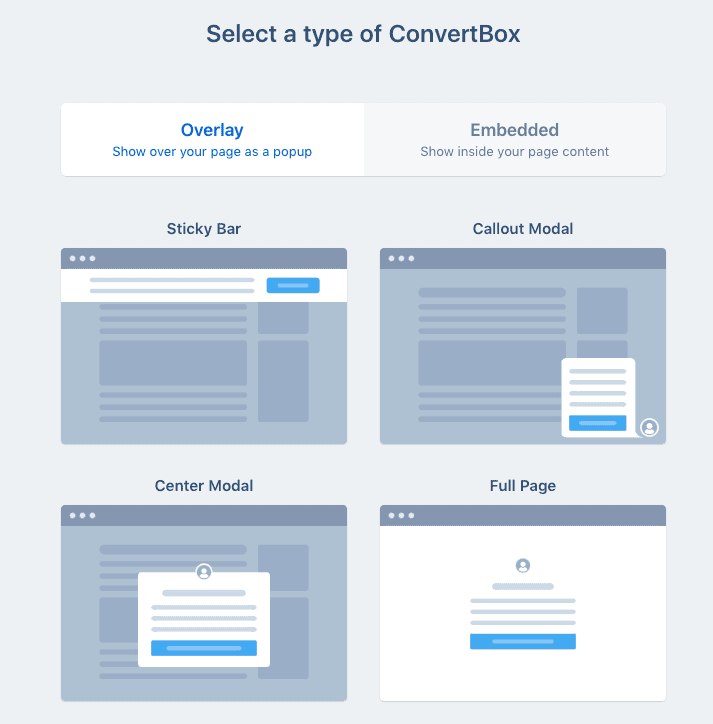 Create high-earning multi-step quizzes and affiliate pop-up boxes:
Plus, you can create highly effective polls and quizzes. I use these like crazy on my niche sites.  I've already more than paid for my lifetime access to ConvertBox with these quizzes.  In fact, today, as I write this article, I generated a $555 commission from one exit pop box promoting one merchant.  I deploy this form on about 20 articles controlled by a taxonomy tag on my site.  This is how powerful this software is.  Check it out:
That one commission paid for my lifetime access to ConvertBox.  The remaining revenue I generate from email forms and affiliate pop-up boxes will be pure profit.
Any form you make can be deployed by category and/or tag.  This is enormously powerful if you run a broad monster niche site like I do.
Instead of droning on and on, you can read my very detailed ConvertBox review here to see
2. ConvertKit
I jumped on the ConvertKit bandwagon a few months ago and don't regret it for a single day.  My biggest complaint is the slow support.  AWeber trounces ConvertKit when it comes to support responsiveness, but for everything else, ConvertKit reigns supreme.
When you start using ConvertKit you can tell it was built from the ground-up to be a very powerful email funnel software.  In fact, it doesn't operate on the old-school "email lists" system but instead is powered by tags and sequences for segmenting.  I've used GetResponse, AWeber and Mailchimp over the years and nothing is as surgical and as easy to use as ConvertKit.
The main reason I jumped ship from AWeber and Mailchimp to ConvertKit was that ConvertKit integrates natively with Teachable which is where I host the Fat Stacks courses.  Before that I used Zapier to integrate with AWeber which was a joke.  I couldn't distinguish buyers of any particular course so all buyers ended up in one big buyers' list.  This is not even close to surgical.
With ConvertKit and can tag buyers of individual courses so that I can restrict emails to individual course buyers.  This is very very powerful.
I have a hunch I haven't come close to fully tapping the surgical power of ConvertKit.
I'm getting ahead of myself though.  I should say that ConvertKit, while a powerful email software, also offers all kinds of email sign up forms and a landing page builder.  The forms look good and I'm sure I could do okay with them but they don't quite have all the offerings that ConvertBox has.
Here's the process for creating email sign up forms in ConvertKit:
3. OptinMonster
I used and paid dearly for OptinMonster for years.  It's good. It's very good.  But you pay dearly for it.  I was paying $59 per month but that gave me very limited monthly page views and use on up to 3 sites.
OptinMonster pretty much does everything ConvertBox does but I must say this… I find ConvertBox easier and faster for creating new forms.  Overall, the interface is better.  I'm splitting hairs here because OM is good too.
Can you create multi-step quizzes with OM?
No, you can't and this is where ConvertBox really shines in comparison.  OM can create simple polls but not quizzes (multi-step, direct your visitors to a purchase type quizzes which can make a ton of money).  This feature alone makes ConvertBox much, much better.
OptinMonster describes itself as the most powerful conversion optimization toolkit in the world. Form popups include lightboxes, floating bars, inline, sidebar, slide-in scroll boxes, and fullscreen overlays. The Pro and Growth tiers can create customized eCommerce forms that can push customers with discounts and limited time offers. Template-based customization makes it quick and easy to create and modify forms. You can have an unlimited number of campaigns, but the number of sites and the number of pageviews per month are limited with the basic tier starting at 1 site with 3,500 form views. If you're unsure of how to manage for your campaigns, subscribing gives access to OptinMonster University is full of useful information in various formats to help you figure it out.
Prices range from $14 to $80 a month billed annually with frequent deals lowering it as far as $9 month to $49 a month. A/B testing, form effects and sounds, and the full suite of analytics are gated behind the second subscription tier, so it's a good place to get a feel for the service's capabilities. The two highest tiers are full of even more attractive utilities like cookie-based lead generation, multi-step forms, and campaign scheduling. Across the board, OptinMonster is attractive past the basic tier for anyone from independent website owners to website creation companies.
B. The next 3 I've used but do NOT recommend
I've been publishing online for years so I've been around the block with software.  Email sign up software is no exception.
While I STRONGLY recommend you stick with one of the three above for your email sign up forms, if none of them do it for you, consider the following other somewhat popular options.
Thrive Leads
Personal experience: I used Thrive Leads for years.  The plus side is the price.  It's a reasonable annual fee for access to everything.  Also, when it works, it works well and has all the bells and whistles you need.
HOWEVER, I found this plugin buggy.  Forms would stop working out of the blue which was the biggest problem.  Eventually I got so sick and tired of dealing with issues (and their support is one of the worst out there) that I bit the bullet and signed up and paid a hefty monthly to OptinMonster (I've since switched from OptinMonster to ConvertBox and don't regret it for a second).
Thrive Leads is a service offered by Thrive Themes, a company that focuses on websites and engagement through tools like WordPress websites, quiz building, and email signup forms. You'll need to have a website running WordPress in order to use Thrive Leads, but making one is relatively easy if you don't have it already. The drag-and-drop editor is lightning fast at putting together new signup forms without much of a learning curve. You can push your signup form in ten different ways, including multiple choice forms and content locking popups on top of all those offered by OptinMonster. You can even tweak exactly how and when the forms will show up via triggers on scrolling or clicking. SmartLinks and SmartExit show the right ads to the right people, so you won't be aggravating your frequent visitors.
To get access to Thrive Leads, you have two options. The first is to purchase the software outright, with a single licensing costing $67 up to $147 for 15 licenses at once. You'll receive customer support and free updates for as long as you use the software. The second option is to sign up as a Thrive Member, which gives you Thrive Leads and all of the other tools for $228 per year. The full suite includes a WordPress editor with plugins and themes, comment and testimonial management, quizzes, and countdown campaigns. There are no other subscription tiers to worry about, so you get everything that's on the box for whichever method you choose.
AWeber
AWeber is really an email autoresponder platform but it includes landing pages and sign-up f0rms.  As an autoresponder it's okay. I used them for years. It's easy to use, but it's antiquated.  While AWeber is striving to improve its offerings, it seems more like a patchwork of solutions to offer what the latest generation of email autoresponders offer.
The worst part is AWeber is just as costly as the newer, far better email services such as ConvertKit.
While AWeber offers forms and landing pages, the forms do not look all that great.  The landing pages are new. I've not tried them.  If their forms are anything to go by, the landing pages aren't that great.
MailChimp
I spent a few months with MailChimp.  I have a love/hate relationship with this email platform.  And yes, they offer landing pages and forms for getting folks to subscribe.
My biggest beef with MailChimp is their ridiculous vague policy about affiliate marketing.  They suggest you can't do affiliate marketing but then say some affiliate links are okay.
Here's the deal.  I build email lists in-part to do affiliate marketing.  That renders MailChimp useless for me.
Moreover, I found the entire interface confusing although it's more advanced than AWeber.
All-in-all, let's just say I'm really happy I'm with Convertkit for email service and ConvertBox for email sign up forms.
MailChimp is an affordable and functional marketing service that includes signup forms, analytics, and CRM tools that has won several awards for the quality of their 24/7 customer service. The free service tier is an adequate option for small sites or testing out the software. You get 2,000 contacts with one target audience alongside basic form templates, single email automations, and minimal analytics. The first paid tier includes all of the email templates, A/B testing, online support, and custom branding for your forms on top of a large jump to 50,000 contacts and three target audiences. The next tacks on more analytics like demographics and purchase likelihood, retargeting ads, custom templates, contacts, audiences, and behavioral targeting automation for your displays.
For most users, one of the first three tiers will be the most likely to fit your needs. An enterprise-level service tier is available, but the price jumps significantly upwards to $299 a month for an increase in testing complexity, reporting metrics, phone support, and another boost to contacts plus unlimited audiences. You won't be able to try out the functionality on the higher tiers without paying, but the free version can give you an idea of the service before you decide to purchase a subscription.
C. The following I've never used but worth a mention so that you're apprised of all your options
FormSite
FormSite is a software service that creates and integrates signup forms, surveys, and polls. Their form customization options are robust, including interesting fields like calculations and conditional logic that can be used for complex advertising. If you want to receive sensitive data, you can include secure forms to comply with payment or health information regulations. Push your app and other mobile services with QR code creation tools and form options. Blend your lead generation with your other CRM and eCommerce software with integrations for Paypal, Google Sheets, Salesforce, and more. API access is a more complex feature, but with the right knowledge, it makes it possible to plug the results from your forms into any piece of software.
With the subscription tier setup, the 14-day free Pro 1 trial has all the relevant features that should be evaluated before determining which tier has an adequate amount of forms, results, and space for your needs. FormSite is one of the pricier options in the list with a starting price of $19.95, but the professional pricing does come with professional functionality.
SendGrid
SendGrid is a marketing service focused on emails, but it does come with an email signup form creation tool. You'll get a basic set of options like coloring, border editing, and reCAPTCHA, but there are few customizations after that. The lead list management tools are handy, but the tracking is focused on the email outreach instead of the signup form. While a bit outside the scope of this list, the email tools themselves are another beast entirely with drag-and-drop email design, email performance statistics, testing for spam filters and readability across devices, and more.
If you want to go above and beyond with your signup form, SendGrid is probably not the service for you. If you are looking to build an email marketing campaign and the limited signup form customizations are enough for you, then you may consider it as a one-stop option. The free tier is ostensibly open forever, but the outbound email limit after a month means you will want to decide within 30 days if you want to subscribe before you make it your dedicated service.
GetSiteControl
GetSiteControl is a dedicated signup form widget service that boasts it can build sales by 170%, so its stuffed with everything that you could want for form creation. A wide range of templates helps get you started, then you can tweak them via the editing wizard or the CSS editor. Mobile devices are kept in mind with adaptive displays based on device detection. Add pop to your pop-ups with pictures and gifs, and the company logo will never show on your forms. In addition to every pop-up style and location that you could want, multi-page forms can guide the viewer through complex form submissions and supply confirmation to them. A/B testing is available and you can target your advertising, but you will need to use the API and a tool like Google Analytics to go further with the reporting.
A simple pricing tier is always a plus, and the small, medium, and large options only modify how many form views you get per month. The small $7 tier has 10,000 views with each tier doubling in price and having ten times more views than the last. Even the highest tier is cheaper than the pro-level tiers of some services, and the widget building is an excellent value. The need to use the API for further analytics does mark against its ease of use, but it is still a viable contender in this list of services if you don't mind a small amount of coding or have someone to do it for you.
ActiveCampaign
ActiveCampaign is a marketing service that includes a simple but usable signup form creation tool. Unlike SendGrid's, you do get the option to add custom input fields, but otherwise it is limited to just four pop-up styles, minor customizations, and trigger-based displays. The full feature list of the service includes email marketing automation, sales CRM tools with lead prioritization, an on-site messenger widget for active communication with visitors, and integration with Facebook ads. The reporting tools also factor in the signup forms, and you'll get standards like A/B testing to test variations in your signup form styles.
The pricing is more complicated than other services on the list with features restricted across four tiers that scale in cost with the number of contacts that you want to manage. If signup forms are your main focus, then the lowest tier provides access to them and starts at $9 a month paid yearly for 500 contacts. Bumping it up to 1,000 contacts makes it $17 a month, and you can go as high as 100,000 for $369 a month before needing to contact them for a custom pricing quote.

Jon Dykstra is a six figure niche site creator with 10+ years of experience. His willingness to openly share his wins and losses in the email newsletter he publishes has made him a go-to source of guidance and motivation for many. His popular "Niche site profits" course has helped thousands follow his footsteps in creating simple niche sites that earn big.