Quality of Landing Page Designs

Ease-of-Use

Feature Diversity

Support
Comments Rating
( reviews)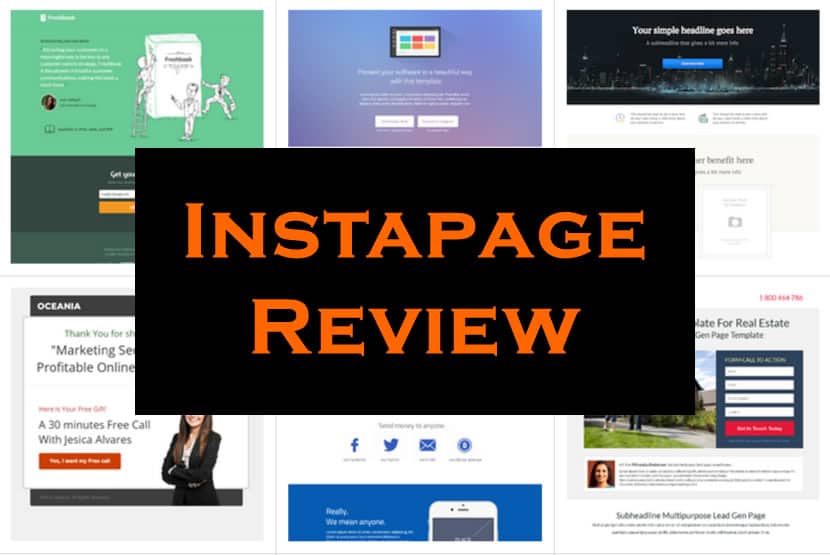 I love WordPress and use it a lot, but I sure do get frustrated trying to create awesome landing pages with it.
To be fair, WordPress was never developed to be a landing page platform. But me being me, I often try to make a silk purse out of a sow's ear to save a few bucks.
In 2015 I took the plunge and started using Instapage for landing pages and am loving it. I've deployed it on this website here. I'm in the process of using Instapage for the Niche Tycoon and Niche Sniper sales pages (not quite done though). I use it on several other niche sites (squeeze pages).
Most importantly, I'm using Instapage to create stunning local business landing pages for my local biz clients. In fact, I'm creating entire local business websites that look amazing with Instapage (great for sending paid traffic to these high-converting local business websites).
What is Instapage?
It's a cloud-based landing page creator. You can create all kinds of landing pages including:
Optin/Squeeze pages
Sales pages
Webinar sign-up pages
Mobile App download pages
Facebook landing pages (easily create a tab on a Facebook page)
Thank you pages
Small business websites (Instapage doesn't set this out specifically, but it's what I use it for).
As I stated above, I create entire local business websites with it.
As an aside, since using Instapage for my local business clients, I've increased their conversions quite a bit, which adds quite a bit of profit in my pocket since they pay me for leads and clients.
See Instapage in Action with My Video Review
Instapage design elements
In addition to the 80 templates, you can customize the landing pages with the following design elements (each element has many customization options):
Create a new section (and/or remove existing sections)
Add headlines
Add text blocks
Upload images
Add video
Create custom buttons
Customize forms (contact, opt-in, etc.)
Shapes (Box, Circle, Horizontal Line and Vertical Line)
Add maps
Add social media buttons
HTML section – you can add custom html code.
It's important to point out that you can layer the elements, which makes it such a powerful design tool. Moreover, each design/content element can be customized.
Here's a screenshot of the design elements you can choose from:
12 Reasons I LOVE Instapage Are:
1. It's a true canvas. I can move elements, images, text, optin boxes, etc. anywhere on the page as if I'm working on a blank canvas. I can layer elements so it's just like working with Photoshop. I find with WordPress landing pages there are zone constraints. If you have a design in mind, you can create it with Instapage – no constraints.
2. Stretch Templates/Designs: Instapage templates are very contemporary. Most stretch across the screen which is great. If you don't like this design, you can turn it off. This is a fabulous feature.
3. 80+ Templates to Start With: Obviously I tweak the templates, but it's sure handy starting with templates. Instapage makes it possible to change anything you like… plus add or remove sections. It truly is a blank canvas.
4. Integrates with WordPress and Facebook: With the Instapage plugin, you can bolt an Instapage landing page to your site in under 1 minute. Same thing with creating a landing page as a tab on a Facebook page.
5. Plenty of customization options… but not too many. The benefit to this is it's easy and fast to use. I've checked out Unbounce which is pretty sweet, but it has so many controls I found it a bit unwieldy for me. Instapage has a simpler interface. It offers all the controls and tools I need. If you like a lot of control, it's worth checking Unbounce out. That's a really good landing page creator too.
6. Creates great landing pages for desktop AND mobile: You can customize both the desktop and mobile views so you get your landing pages to display exactly as you want them to display on both types of devices.
7. A/B Testing: Most landing page software offers this so it's not that big of a deal. However, Instapage has this too and it's easy to use. One aspect I like is you can choose what counts as a conversion – whether it's a filled out form and/or click of a link/button.
8. Built-in Meta SEO: You can specify the basic meta-SEO info for each page (i.e. meta title and description).
9. Cloud-based: I love cloud-based software even though it usually requires a monthly fee. This way the software is always up-to-date and doesn't require any updating by me. Moreover, it's not a bulky plug in that needs to be installed.
10. Integrates with AWeber: I use AWeber for email marketing and the integration between Instapage and AWeber is really simple.
11. Easy to link on-page: If you create a long landing page you can easily create links to other sections of the page. I do this extensively with my local business pages.
12. Duplicate Across Domains: Because Instapage builds landing pages on the cloud, when you create a duplicate, you can easily add it to other websites. This feature is invaluable for me when using a similar design across multiple small business websites. Yes, you can edit a duplicate design if you wish to change just a few items (which can save a boatload of time compared to creating from scratch).
Cons
More built-in images/icons: It would be great if it came with more built-in images and icons. It has some, but could use more. Specifically it would be great if it included sales page features such as testimonial boxes (some templates have these), star ratings (for reviews), pricing table, etc.
Price: It's expensive. The unlimited views package costs $179 per month. Fortunately if you get 5,000 page views or less per month it's $29 per month. The plus side of being expensive is it makes you focus on using landing pages that will generate a return. I find whenever I have anything with unlimited use I can waste time on things that don't end up making money.
FAQ
Does Instapage work with WordPress?
Yes. You upload the free Instapage plugin and can manage Instapage landing pages in the backend of your WordPress website.
Can it be a Facebook page tab?
Yes. It's easy to create an Instapage landing page tab (or several).
How much does it cost?
There's a free version, but it's pretty limited. The pro versions start at $29 per month and go to $179 per month.
Can you create a landing page from scratch?
Yes. While you can start with any of the 80+ templates, you can create landing pages from scratch. As stated above, you can layer elements on the page so there are really no design constraints.
Does it have A/B tracking?
Yes.
Does Instapage create opt-in forms for sidebars and pop-up forms?
No. It's strictly a landing page creator. For optin forms, I use OptinMonster.
Why didn't I publish this Instapage review with and Instapage landing page?
I considered it, but as a landing page it doesn't enter into the blog loop so it's not categorized. Besides my reviews are best published as blog posts, not landing pages. I can say this though… it would certainly have looked better as a landing page built with Instapage.
Does Instapage offer a free trial?
Not specifically, but they have a limited free version.
=> Click here to try Instapage.
Jon runs the place around here. He pontificates about launching and growing online publishing businesses, aka blogs that make a few bucks. His pride and joy is the email newsletter he publishes that's "the best blogging email newsletter around."
Hyperbole? Maybe, but go check it out to see what some readers say.
In all seriousness, Jon is the founder and owner of a digital media company that publishes a variety of web properties visited and beloved by millions of readers monthly. Fatstacks is where he shares a glimpse into his digital publishing business.