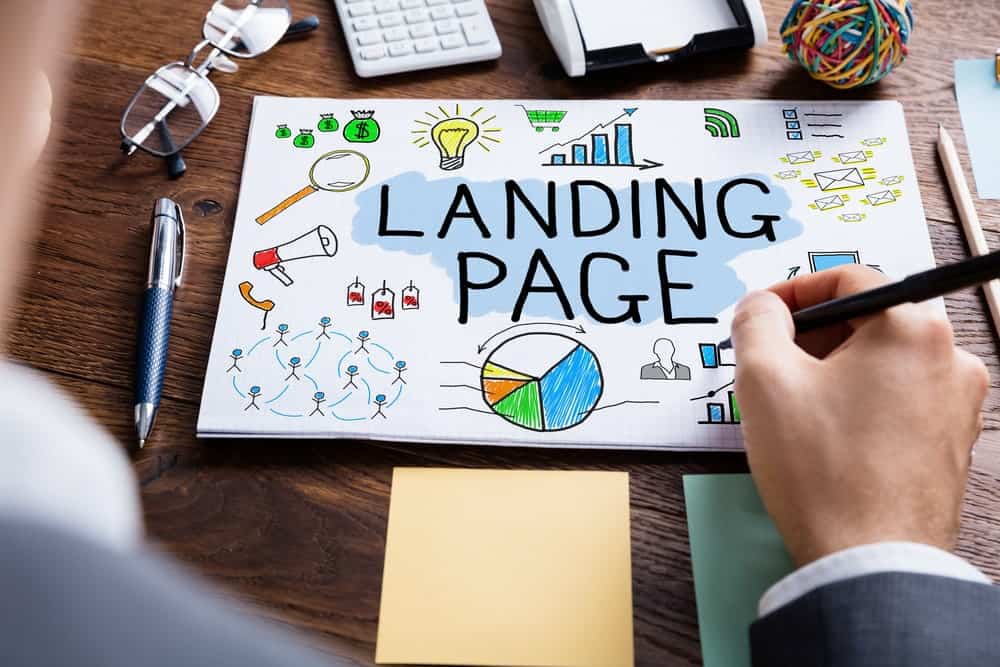 In 2019 and 2020 I've gone a little ape over landing pages.
Not on Fat Stacks (all those annoying pop up forms do the job) but on my niche sites.  Actually, I use landing pages for better sales pages than what my favorite online course platform offers.
I use the landers to promote software and for lead gen.
I have 6 for software promotion and 30 for lead gen.  They work like a dream.  Check out the numbers:
Software affiliate revenue for the last 40 days via landing pages:
Leadgen affiliate earnings the last several months via landing pages:
While I don't use landing pages much for email subscribers, many folks do.  It can be very effective.
I've tried many landing page software platforms.  This article sets out my favorite, why it's my favorite, plus a few other popular options.
Why Can't I Use My Homepage?
This is probably the number one mistake made by businesses. The problem with your homepage is the options it offers. Landing pages work because they don't give options. The customer is presented with the offer you are giving, and nothing else. In fact, simply removing the navigation bar from your landing page will double your conversions because it keeps consumers from clicking away from your offer.
Why Landing Pages are Under-Utilized
If you are attempting to create a landing page from scratch, it requires coding knowledge and a good deal of time. It can be a daunting, frustrating experience. The number of choices can be overwhelming, making it difficult to create a clear vision for your page. This is the number one reason why landing pages are underutilized. They are not easy to design. Add to that the fact they are tied to a specific marketing campaign. They aren't evergreen. They will be used until the campaign is over and then discarded. That's a lot of work for a temporary page.
Of course, you can hire someone to create your landing page for you. If you get the right designer, this is a great option. However, if they do a poor job, you will end up with a very low conversion rate. You won't get a good return on the investment of hiring a professional. A landing page can cost between $200-$2000. Keep in mind that your business will eventually need new landing pages, so this isn't a one-time investment.
Landing page builders give you the tools you need to build your own landing page at a much lower cost than hiring an agency to create your page and give you control over what the page looks like.
Key Components of Effective Landing Page Software
The must-have components of landing page software are:
SEO-friendly
Easy to use
Mobile friendly
Form builder
A/B testing and analytics
Variety of templates (and ways to filter them)
Integration
SEO-Friendly
I totally get that not all landing pages need to rank in search.  However, sometimes they are designed to rank.  My landers on niche sites are designed to rank and promote affiliate products.  If they don't rank, they don't bank.
I mention SEO-friendly because in my experience some landing page platforms are better-suited for SEO than others.  For example, Elementor Pro is the best for SEO IMO.  That's why I switched to it, even though it slows sites down and is a major pain to use compared to landing page software like Leadpages.  Dang it, if only Leadpages could rank.  They don't. I tried.
Easy to Use
Landing page builders are designed for those who have little or no website creation experience. If you are a pro coder, you might still find the tools useful. However, if you don't know Html from CSS, the tools are essential. An intuitive design, access to customer service and technical support, and tutorials all factor into making the software user friendly.
Mobile Friendly
Approximately half of all web traffic comes from mobile devices. If your landing page isn't mobile-optimized, you are missing out on a big portion of potential customers. It's important that the page is easily viewed on a mobile device and that it loads quickly. Pages that take two seconds to load have a bounce rate under 10%. Those that take five seconds to load have a bounce rate of nearly 40%.
Form Builder
Most landing pages are designed to get a prospect to complete a contact form. If this form isn't attractive and easy to use, consumers won't use it. The correct form might be the most important aspect of your landing page.
A/B Testing and Analytics
A/B testing allows you to tweak your landing page and see which version is more effective. Both versions will be shown to different page visitors, and conversion rates for both versions are compiled. This allows you to move forward with the most effective version of the landing page easily. Analytics are essential regardless of whether you are using one version of your landing page or many. You need to know how well it's performing.
Variety of Templates
A variety of templates is obviously important. You don't want your landing page to look like others. You want it to reflect your personal brand. You don't need too much choice. Designing a landing page from scratch can be difficult because there's too much choice. However, you do need plenty of options so you can choose what works for you.
It's also helpful to have ways to filter the templates to save time and help you find what you are looking for. They are often divided into categories based on the purpose of the landing page (accept payment, free trial, lead generation). They may also be filtered by industry. Tech landing pages will generally differ from healthcare landing pages, for example.
Integration
Everything is connected these days. In a world where your watch can communicate with your home thermostat, integration seems like a standard feature. When it comes to landing page software, it should integrate with your CRM or analytics program, email marketing program, and a wide variety of widgets. You can have the best looking landing page on the net, but it won't be effective if it doesn't play well with your other tools.
The Best Landing Page Software Options
I've tried many landing page platforms.  Here are my thoughts.  Note, I have not used Clickfunnels or Hubspot. I hear they're quite good so I included them.
1. Elementor (Best for SEO)
I'm a total cliche in recommending Elementor as the number 1 landing page software.
But I have reasons for doing so.
That reason is SEO.
Many landers I create, especially on niche sites, I do so with the intention to rank in Google.
Elementor pages can rank well.
Others like ConvertKit and Leadpages don't rank.  I know Leadpages says they're search friendly, but they're not.  I recognize not all landing pages need to rank.  If that's the case, Leadpages rocks. I loved that platform except nothing I created ranked. I don't think it even indexed.  It was a joke. I had created dozens of landers and then I contacted Leadpages asking why they didn't rank and they gave me some song and dance that it was me and not the software.  In due course I showed them that title tags weren't being applied which was one signal. They still ignored me.  So I switched every lander to Elementor, cancelled my Leadpages subscription.  Now that my landers are built with Elementor, they rank. Go figure.
One-third of the entire internet runs on WordPress, and Elementor is the only landing page builder devoted exclusively to the WordPress platform. Many of the features are offered by third-party developers, which has its own pros and cons. Elementor offers design options that you won't find anywhere else. These include animations and interactions, lots of image settings, color customization, and full design placement freedom. If you want to create an outstanding unique page without coding, Elementor might be the right choice.
Elementor doesn't charge based on features. Instead, it charges based on the number of websites. Some features, including support, theme builder, pop up builder, and Woocommerce are only available on paid plans, but Elementor offers a free version that can be used on an unlimited number of sites. At $199 a year, even the expert plan, which allows 1,0000 sites, is incredibly affordable.
Pros:
Over 50 widgets
Over 300 templates
customer support
WooCommerce builder
Pop up builder
Many customization options
Extremely affordable
Split testing available with plugin
Cons:
Many add ons are provided by 3rd parties
The number of options can be overwhelming
A limited number of Elementor integrations, more provided by 3rd parties
2. ConvertKit (best for low cost option if you use ConvertKit email software)
While ConvertKit is known as an email autoresponder software (the best I've ever used), it also offers landing pages.
While the landing pages are merely okay, the fact that the email service is unbelievably awesome, renders the landing pages feature worth mentioning.
NOTE: I would not create landers with ConvertKit if you were looking to rank them in search engines.  However, if you just need a lander, these pages will do the job.  If you're using ConvertKit (and I strongly recommend you do – make the switch NOW), then it costs nothing extra to use the landing pages.
I do like how easy and fast they are to make landers, but the flip side is you don't have a whole lot of design/content control.  They certainly aren't like Elementor, Instapage or Leadpages which makes it possible to create pretty much anything you want.
3. Leadpages (Best for design and ease-of-use)
I'm including Leadpages despite dumping it because if SEO is not a concern, it's my favorite landing page software.  I love the designs. I love how simple it is. I love the unlimited aspects of the package.  I love everything about Leadpages except these suckers don't rank in search engines.  I explain all that above in my write-up on Elementor.
Leadpages is a great budget option, particularly if you are looking for the bare minimum from a page builder. If you want full functionality, you'll need to be prepared to pay for it. It's still relatively low priced, however. In addition to building landing pages, you can build pop up bars and alert bars and add them to your landing page.
They offer all the basic tools you need, including drag and drop functionality, over 200 templates, and mobile optimization. It offers integration with over 100 applications, including CRM and social media. Payment integration makes it easy to accept payments on your page. A/B testing is shown in real-time, and all performance reports are created with small business owners in mind. High tier plans offer unlimited publishing, leads, and traffic. Leadpages claims to have industry-leading load times and allows you to preview your content across different devices.
There's little not to like about Leadpages. Lower-tier plans don't offer all the features you will probably need and limit your customer service and tech support options. However, all the tiers are reasonably priced and it gives you the option of choosing the bare minimum if that's all you need.
Pros:
Reasonably priced
Pay for the level of features you need
A/B testing
Payment integration
Integration with more than 100 applications
Over 200 templates
Drag and drop
Cons:
Lower-tier plans are light on needed features
Customer service options are limited with lower-tier plans
4. Instapage (Best when you need a ton of customization options)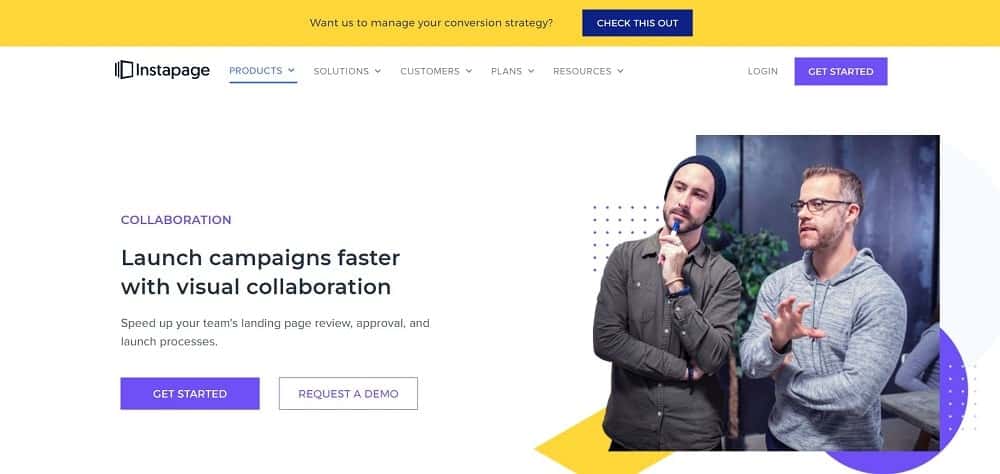 Instapage is one of the most user-friendly landing page builders on the list. The templates are so well designed that you can build your landing page (almost) instantly. They place a lot of focus on collaboration. If your landing page will be a collaborative effort, it's a great choice. Feedback is on-page in real-time. Edits are real-time, and you can securely share with stakeholders outside your team.
Instapage offers customization and drag and drop functionality with Instablocks which can be page specific or edited across different pages at once. They have over 200 templates that are sorted by purpose, including lead generation, thank you, two-step, and webinar. Forms are fully customizable, and Instapage provides Amp functionality.
It offers integration with the most commonly used applications, including CRM, analytics, automation, email marketing, e-commerce, and live chat. Admap allows you to easily connect ads to your landing page and track analytics. You can also publish live edits and updates.  Personalization and A/B/ testing are also provided.
Pros:
Collaboration
Lots of integration tools
Drag and drop and amp functionality
Personalization
A/B testing
Over 200 templates categorized by purpose
Admap makes managing and connecting your campaign easy
Cons:
Personalization and Amp are only available for enterprise plans
Enterprise plans require a custom quote and can be expensive.
5. Unbounce (also best when you need customization)
I've given Unbounce a spin several times over the years.
In one way it's the best landing page software option and that is if you need every possible bell and whistle imaginable for crazy detailed and custom design.
You can pretty much do anything with Unbounce, which makes it awesome as well as terrible.
I say terrible because it takes longer to create landers with this software.  For my purposes, I like simple and fast. I don't need bells and whistles.  I often just use templates, change out some colors, change the text and call it a day.
But then I'm not some mega online retailer where .01% increase in conversions can add another $4 million in my pocket.  I'm not that big.  For me right now, time is more important to work on other things than tinker for weeks on end creating landing pages.  I simply do not have enough traffic on any site where such tinkering can impact my bottom line.
However, if details, landing page design customization and reporting are important to you, Unbounce is worth a try.
6. Hubspot (All in One Marketing)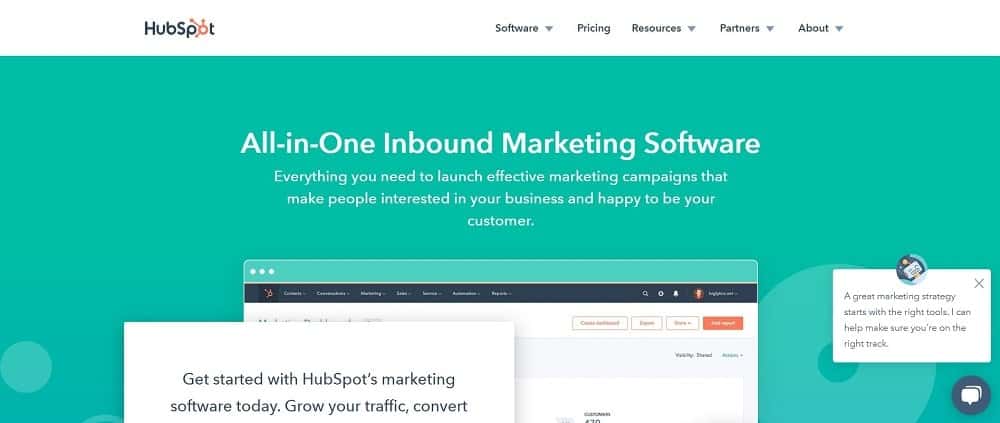 Hubspot has been around for a long time, and they have a reputation for reliability. They offer a full suite of marketing tools, including live chat, blogging, and email programs. The big advantage of Hubspot's landing page software is that it integrates with its suite of marketing tools, including CRM and email marketing. It also allows for personalization. This can include name, location, and industry for a personalized customer experience. It has the ability to A/B test every element of your landing page, so you end up with the best performing page possible. It's also mobile optimized. Hubpage only offers 11 templates standard, but there are 100s available in the marketplace.
Hubspot works well if you intend to use the other tools from their marketing suite. If you already use other marketing tools and don't want to change, you may run into problems. It is mobile optimized but doesn't offer the Amp page builder. Pricing can be a bit complex, but the sales team is always available to help you make the right selection. Hubspot is more expensive than others on the list, but it offers other worthwhile tools as well.
Pros:
Integrates with other Hubspot tools
Personalization
Complete A/B testing
Mobile optimized
100s of templates available for purchase
Cons:
Limited use if you don't use other Hubspot tools
No Amp Mobile pages
Can be expensive ($350-$800 a month depending on scale)
11 templates available without purchasing
7. ClickFunnels (Best for Beginners)
Clickfunnels is the best out of the box solution for beginners. It doesn't have the customization options of the other software on the list. However, if you simply need the basics and don't want to be overwhelmed with options, Clickfunnels might be just what you need. Clickfunnels landing pages are designed for three purposes. These are generating leads, sales, and online events.
It offers a wide variety of pre-built options to choose from, sorted by purpose. It also includes A/B testing. You won't find the advanced customization options offered by other builders, but it can allow you to create a landing page that aligns with your brand easily. It offers plenty of easy to use integrations. You can duplicate pages and save templates. Clickfunnels is designed to get you up and running so you earn more money as quickly as possible. If you use WordPress, it offers a reliable WordPress plugin.
It only offers two pricing tiers. $97 and $297 a month, which isn't a bad price for the features. There are two issues with click funnels. First, many of the pages created with Clickfunnels look similar. If you want to stand out you'll need to spend a little more time with customization instead of relying too heavily on the template.
The second complaint is that the builder is very closely connected with the founder and his philosophy. If you want to learn Russell Brunson's marketing techniques, which he has used to great success, it's not a problem. However, Clickfunnels can feel pushy and promotional when it comes to the founder's techniques. You may find yourself attending seminars and taking online courses without stopping to consider if the methods are right for you.

Jon Dykstra is a six figure niche site creator with 10+ years of experience. His willingness to openly share his wins and losses in the email newsletter he publishes has made him a go-to source of guidance and motivation for many. His popular "Niche site profits" course has helped thousands follow his footsteps in creating simple niche sites that earn big.