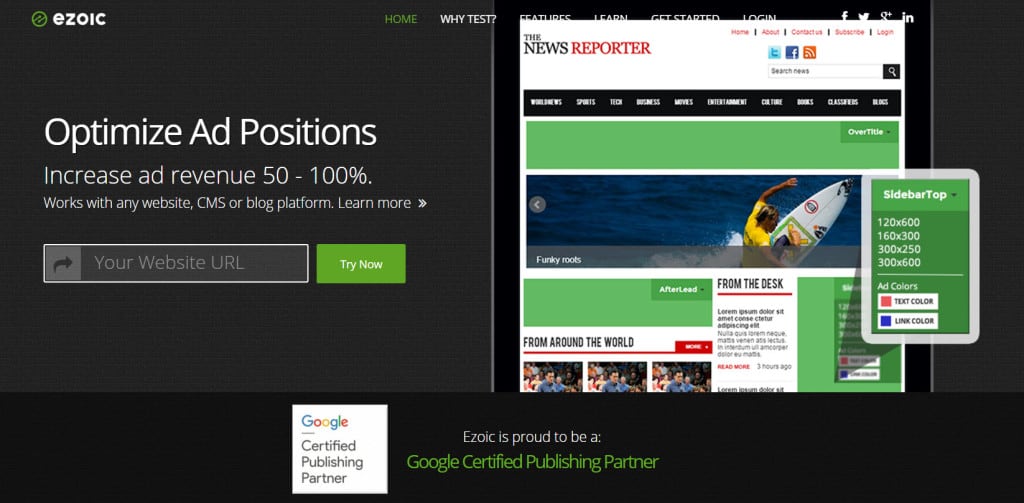 This Ezoic review and case study update is a long time coming.  It's 2019.  At the beginning of September 2019, I slammed two of my mid-sized niche sites onto Ezoic and flipped the switch.
The million-dollar question was whether Ezoic could out-earn my other ad networks.  I was also geeked to see detailed ad revenue analytics from the new "Big Data Analytics" capability (many screenshots below).
Let's dive in.
Effectiveness

Ease-of-Use

Reporting Data

Customer Service/Support

Flexibility (i.e. User Control over Sites)
Summary
The hardest criterion to rate is effectiveness. By effectiveness I'm referring to Ezoic's ability to improve your site's performance (increase revenue and/or improve user experience). Ezoic has improved performance for many sites, some with really impressive revenue increases. Therefore, I rate them highly. However, if they don't improve your site's performance, obviously it's not good.
I'm currently using Ezoic. This is my third go-around with the service. I decided to use them again because they're completely revamped their offerings. Now I have far more control over site design and ad placement – yet enjoy all of their benefits (see below).  I particularly like the upgraded revenue and EPMV data reports.
Overall, Ezoic is worth trying. If it doesn't help your site, stop the service. If it does help, it could put a lot of dollars into your pocket.
Related: My article about Ezoic Premium Ads | My testing results with Ezoic Site Speed Accelerator
A. What is Ezoic?
Ezoic is an ad platform that makes it possible to split test different types of ads from different ad networks (including AdSense) and many ad placement configurations on your website.
You can split-test against your current ads or just use Ezoic ad placeholders and let Ezoic place ads optimally.
You can optimize for revenue, time on site, page views and/or bounce rate.  I put the emphasis on revenue.
If that weren't enough, Ezoic also provides insanely detailed and awesome revenue reporting for your sites.  You can break down revenue by article, device, country, etc.  This is very powerful. I set out screenshot examples below.
B. Case Study Results (2 Niche Sites)
This is how the case study was set up. Actually, it wasn't designed as a case study.  I just wanted to try Ezoic again to see if I could get better results with it.  Results are below.
IMPORTANT:  What's very interesting with the different results is that the two sites I put on Ezoic had the exact same ad mix and placements before and with Ezoic.  Yet, results were so different.
What that tells you is that you never know how sites will perform with various ad options.
Video Version
Listen to the podcast version
On September 2, 2019, I put two of my mid-sized niche sites on Ezoic.  They get approximately 186,000 (Site 1) and 43,000 (Site 2) visitors per month respectively.  That kind of volume is more than sufficient for case study results.
Pre-Ezoic Revenue
Pre-Ezoic revenue is from AdSense and Monumetric.  I restricted the dates from the 2nd to the end of August because I only have 29 solid days of Ezoic data.
Site 1 August 2 to 31, 2019:
Total Revenue: $1,461
EPMV (earnings per 1,000 visitors): $8.20
Site 2 August 2 to 31, 2019:
Total Revenue: $495
EPMV: $12.29
Ezoic Revenue
Ezoic revenue is based on the 29 days (September 5 to October 3, 2019).
I set Ezoic optimization to 85% revenue (i.e. big focus on revenue instead of page views, bounce rate or time-on-site).
Note, that some revenue accrued to my AdSense account via Ezoic's mediation platform for both sites.
Site 1:
Ad Revenue: $1,553 (6.3% increase) – additional revenue accrued to AdSense account via Ezoic Mediation.
EPMV:  $8.61 (5% increase)
Site 2: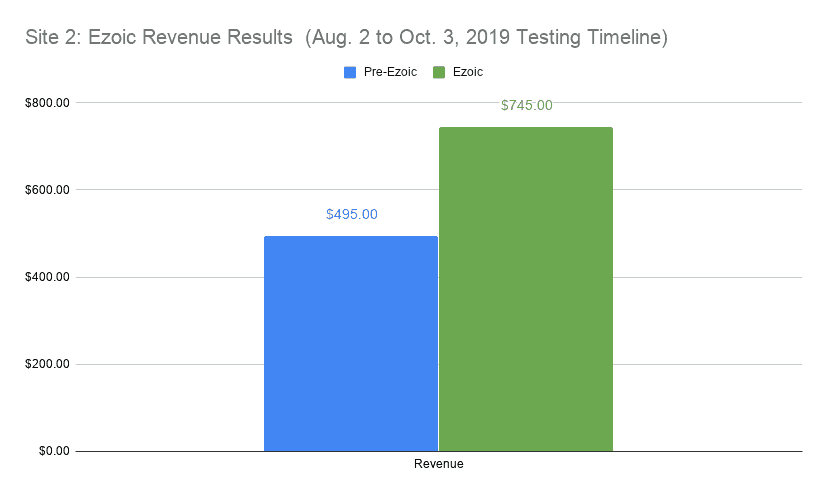 Ad Revenue: $745 (51% increase) – additional revenue accrued to AdSense account via Ezoic Mediation.
EPMV: $18.35 (49% increase)
Please note that these sites also earn affiliate revenue and video ad revenue separate from Ezoic.
Winner:  Both sites improved, but one definitely improved more.
C. Key Features
1. Automated Ad Split Testing: 1st Best Feature
Ezoic's main function is to split test ads in a variety of ways including:
Against your current AdSense configuration
Placement
Ad types
Over time as Ezoic uses many different ad configurations on your site for every URL it figures out the optimum ad layout for EACH URL.  This means you may have different ad layouts for different pages on an ongoing basis.
2. Analytics: 2nd Best Feature
Even if my Ezoic testing resulted in breaking even with my other ad set up, I'd stick with Ezoic because the testing and data is helpful.  Here's a series of a few data reports you can pull from Ezoic's new Big Data Analytics dashboard.
a. Revenue and EPMV by page or post (my favorite)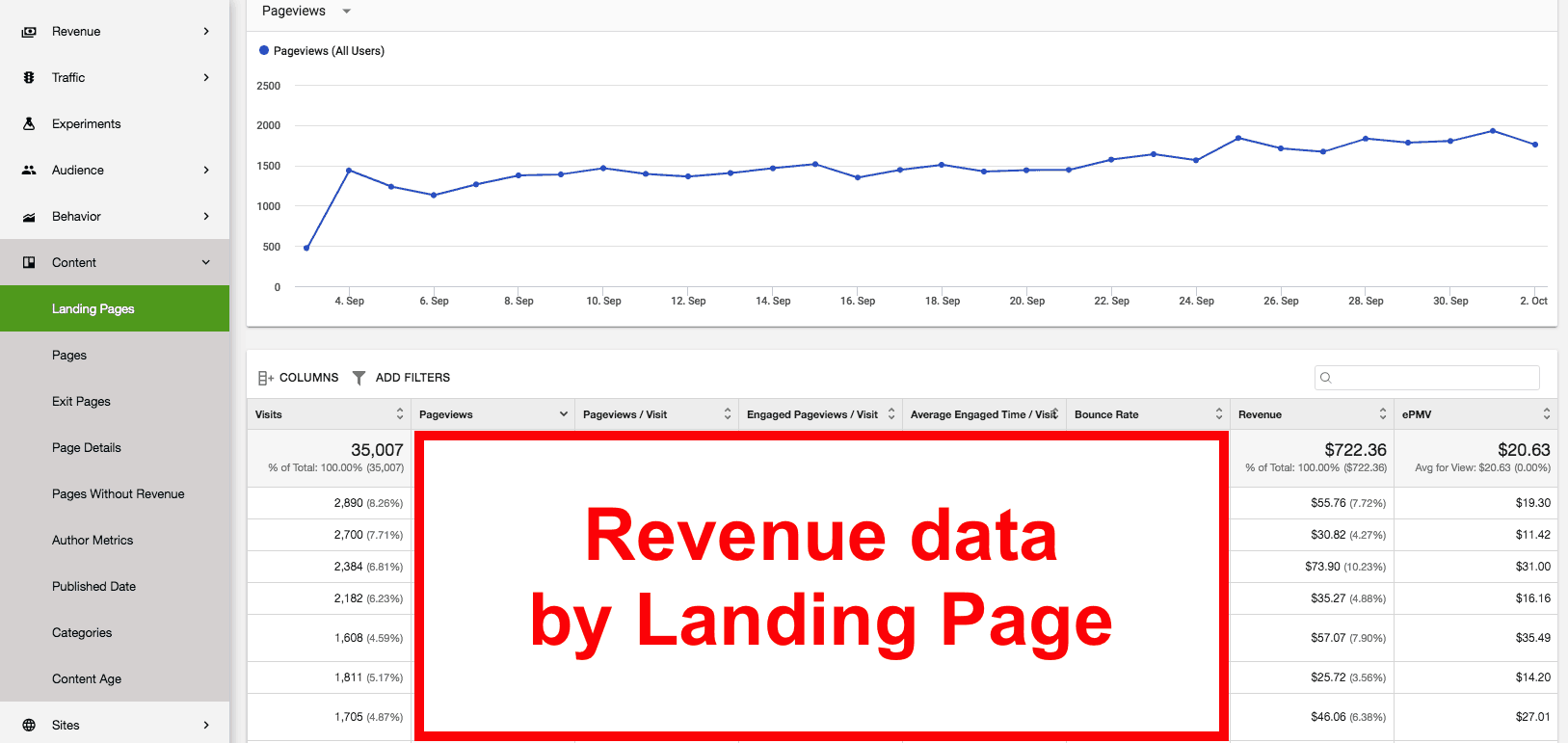 b. By device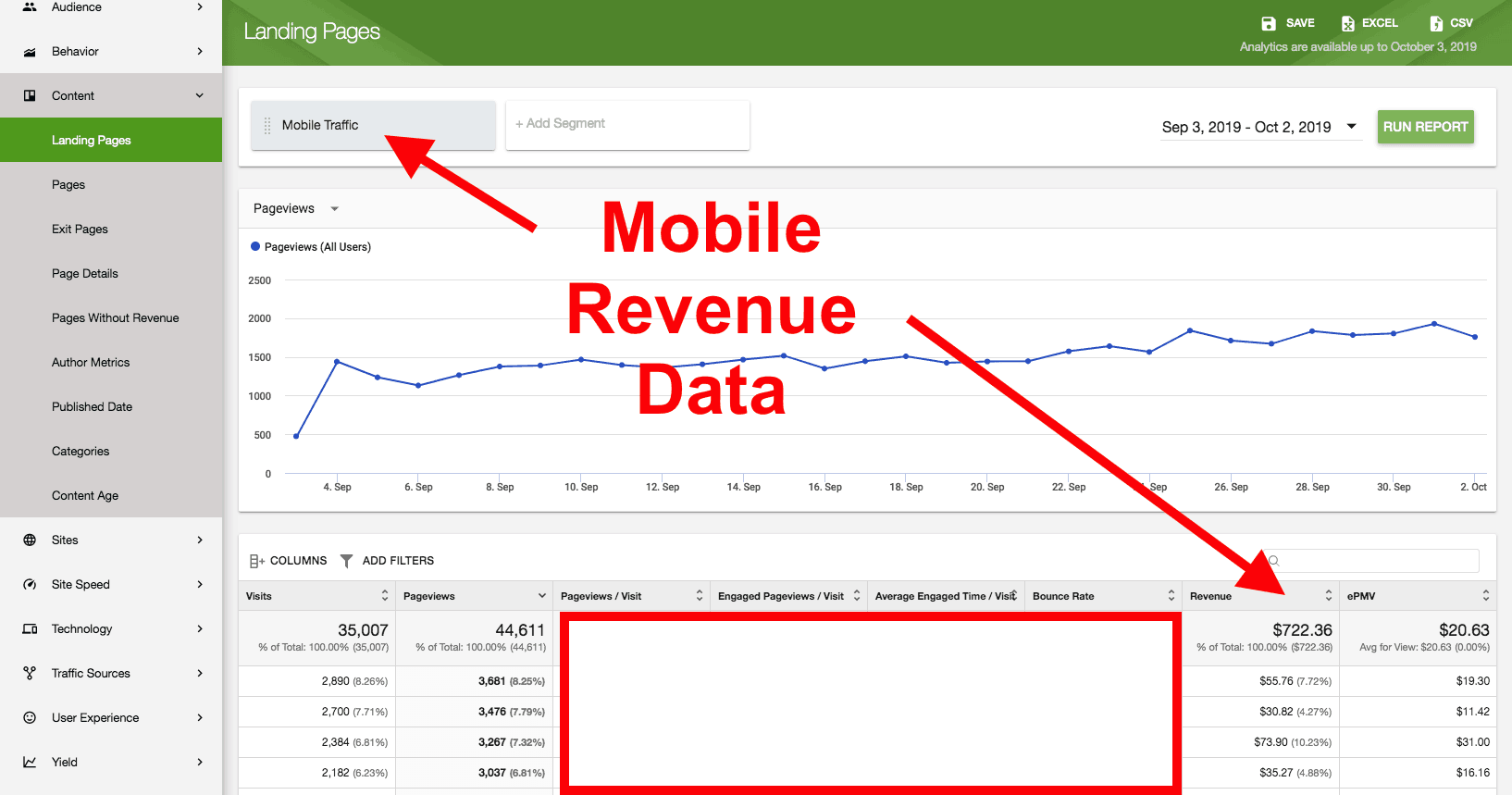 c. By traffic source
FYI, EPMV data is also provided but it was cut off in my screenshot.

d. By UTM Medium tracking URLs

e. By country

D. Ezoic Ad Types
1. Ad Types Offered
Banner ads: While not responsive, Ezoic offers a full suite of sizes, including mobile ad units.
Sticky ads (sidebar and inscreen)
Link ads: the problem is that these are not responsive so they're kind of useless.
Native ads:  These are the clickbait grids that can work well at the end of articles.
Here's a screenshot of ad options:
2. Ad Types NOT Offered
Video ads
Gutter ads
Pop-up ads
In-image ads
Responsive link ads
E. Pros (in a nutshell)
Split testing:  Even if it doesn't result in higher revenue, you gain confidence in your other ad configuration.  If you earn more, obviously that's a huge plus.
Analytics: I LOVE the detailed reporting Ezoic offers. I can determine what kind of articles earn more and therefore do more of them.
Sticky ad units:  With Ezoic you can use sticky sidebar and sticky inscreen ads.  These are big earners (you definitely want to turn these on).
F. Cons
No responsive ads:  I find responsive AdSense link ads can perform well on websites yet while Ezoic offers link ad units, they aren't responsive so they don't work as well.
No more live chat support: For a while Ezoic offered live chat support which I loved.  Now it's a ticket system.  The customer reps are super helpful, knowledgeable and friendly, but there's a longer delay for a response than there was when they had live chat.
G. How to get best results with Ezoic?
The best way to use Ezoic is to load your site up with dozens of ad placeholders so that Ezoic can split test more configurations.  The more testing, the better results.  I loaded up around 75 ad placeholders on each site.
Then wait.  Don't pull the plug after a week.  Give it at least 30 days for Ezoic to do extensive testing.  The more traffic you have, the faster the results which means if you don't have much traffic, you'll need to let it run longer.
H. How much does Ezoic cost?
Ezoic isn't a charity.  They gotta eat and squirrel away a few bucks in profit like the rest of us.  So how does Ezoic get paid?  More importantly, do you have to pay Ezoic?
Ezoic's main revenue from publishers is the revenue earned from ad unit placed low down on your site.  In other words, they don't take a percentage of all revenue earned (unlike other ad networks).
Another Ezoic revenue source is from publishers paying for access to premium advertisers.  This is a relatively new service, one that I haven't tried yet, but many larger publishers do use.  You pay a fee stipulated by Ezoic and earn more profit from the premium ads.
I. Is Ezoic worth trying?
Yes, it is worth trying.  I managed to increase revenue and EPMV for both sites within 30 days.
My Original (older) Ezoic Reviews and Case Studies
I've been using Ezoic on and off for year.  Below you can read my ongoing saga, results and case studies from using Ezoic for various niche sites I own.  Please note that the information below is older and some of it may no longer be relevant.
However, the case study and review information above is up-to-date – all taken in 2019 from two niche sites I own.
Ezoic PWA update
-December 26, 2018
Ezoic rolled out a new feature that is its best feature yet.  Arguably better than its core functioning which is split testing ads or very powerful ad revenue reporting on a URL by URL basis.
This new feature is the ability to turn your mobile website into a progressive web app (PWA).
What is a PWA?
It gives your mobile website app features and loads your mobile site faster.  I love the app features such as visitors' ability to swipe to next posts.  With Ezoic's PWA, users can add your site to their mobile home screen like an app, but doesn't require you to create an app from your website.  It's awesome.
Does a PWA help a website earn more money?
Implementing PWA technology to my sites increased mobile revenue considerably.  Also, my on-site mobile metrics vastly improved because PWAs make navigating mobile sites so much easier.  Plus, my sites load faster.  I've experienced no downside to using a PWA.  I strongly recommend you give it a shot.
Check out the massive boost in mobile page views per visitor I got after implementing PWA technology:

Here's a screenshot showing how PWA technology increased time-on-site from 45 seconds +/- to 1:15+/-: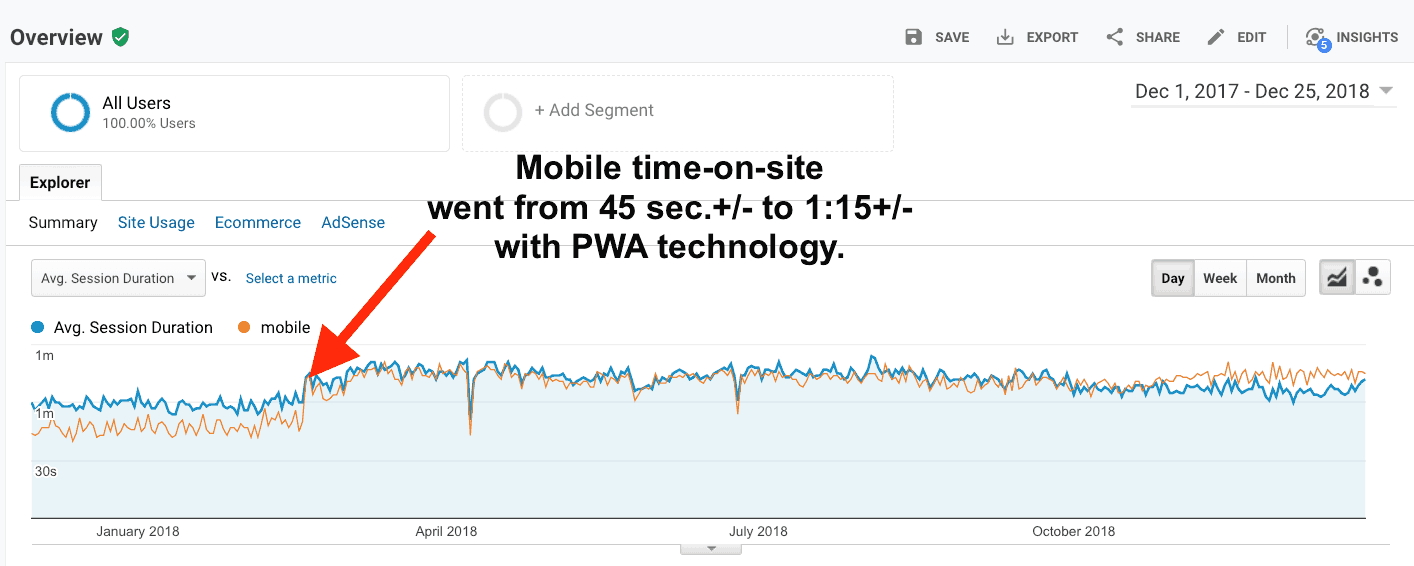 The problem with other PWA platforms (i.e. non-Ezoic options)
The problem with other PWA platforms is you need a lot of monthly page views to use them.  There's some set up involved so they only want to work with decently-earning websites.  I use one of these premium PWA platforms for my sites (I got in on the PWA before Ezoic rolled theirs out and I don't care to switch).
But for lower traffic sites that don't qualify for premium PWA providers, Ezoic is a brilliant solution.
Check out Ezoic's PWA technology here.
END UPDATE Dec. 26, 2018.
---
UPDATE FEBRUARY 1, 2017:
Ezoic revenue is incredible in 2017.  They've added more ad networks, function perfectly with SSL certificate on the site and overall my earnings per 1,000 visitors (EPMV) just keeps on getting better and better.  Check it out:
In December 2016 I split test Ezoic against my own AdSense/Media.net configuration.  After 2 to 3 weeks, Ezoic was earning quite a bit more and so I now have Ezoic running 100% on all niche sites.  It's so good, I've added Ezoic ads to fatstacksblog.com.
Below are past updates and then my main review of how this ad testing platform works.
END OF FEBRUARY 1/17 UPDATE
---
UPDATE MONDAY FEB 1/16:
I'm using Ezoic again. New features are a game-changer for website publishers using display ads (including AdSense).  I'm talking huge. Early results are great.
New Features in a nutshell (this is huge):  You can run 5 Ezoic ads PLUS ads from other ad networks.  Before when I used Ezoic it was just 5 Ezoic ads and nothing else.  Now I'm using 5 Ezoic ads plus Media.net, Criteo, GumGum and Altitude Video (I have long pages on my sites).  It's a win/win.  You gotta try it here.
---
UPDATE FEB. 4/16:
Ezoic revenue has now surpassed revenue from just AdSense ads (it took about 1 week).  I've now set Ezoic to display 100% so it's no longer split testing with my AdSense ads.  FYI, I'm only using the Ezoic Ad Tester which lets me use my site's design.  I simply place ad placeholders throughout my site in locations I know ads tend to perform well.
---
UPDATE FEB. 8/16:
Ezoic revenue and EPMV (earnings per 1,000 visitors) continues to climb. I don't expect EPMV to climb much more.  I'll be very happy if it remained at this level indefinitely.
Here's the updated screenshots through Feb. 7/16:
A few things to note about the screenshots above:
1. On Feb 4, 2016 I stopped split testing Ezoic against my AdSense ads.  This obviously resulted in Ezoic revenue growth.
2. On Feb 5, 2016 I noticed I had the optimization goal at only 70% revenue.  This was an oversight.  On Feb. 5/16 I changed revenue optimization to 100%.  I suspect this accounts for a little of the dramatic revenue and EPMV increase starting Feb 5, 2016.
3. The more important graph above is the EPMV graph, which has grown decently since starting with Ezoic.  I don't expect it to grow much more.  I believe it's pretty well optimized at this point, which is pretty cool since I haven't been running Ezoic longer than 2 weeks.  But who knows, maybe EPMV will go up.  Realistically, EPMV will fluctuate since display ad revenue per 1,000 visitors tends to fluctuate over the course of a year.
END FEB. 8/16 UPDATE.
---
This entire review is thoroughly updated – now includes exactly how I configure Ezoic for my sites.
I've logged a lot of hours testing ads on my websites.
It's tedious work.  If you don't have loads of traffic it takes time to see results.
There's so much to test; the variations are endless.  You can test the following:
Ad design (color, font, borders, backgrounds)
Ad placement
Ad sizes
To make it more complicated, you can test all of the above on desktop, mobile and tablets.
It makes me tired just thinking about it.
This is where Ezoic comes in.
Ezoic tests all of the above automatically.  Over time the ad testing software tests thousands of ad variations and narrows down what works best for your site.
Early Ezoic Results (Earnings Screenshot)
To date I'm testing Ezoic against AdSense ads in my account to see if Ezoic will match or exceed current revenue.  As of Sunday, Feb. 1/2016, which is 3 days into testing, Ezoic matched revenue I earned with my own AdSense ads.  That's quite good given Ezoic takes a few weeks to optimize.
Here's a screenshot of Ezoic revenue:
A few things to note about the above Ezoic earnings screenshot:
That's only Ezoic revenue.  It does not include revenue from my AdSense ads (which I'm split testing against Ezoic ads), Media.net, Criteo and GumGum ads.  For the first several weeks, I want to see how Ezoic measures up against my AdSense ads.
I blocked out visit volume and EPMV (earnings per thousand visitors) pursuant to Google Ads requirements that this data is not permitted to be revealed.
This is still early testing, but so far it looks very, very good.
With the new Ezoic platform (i.e. Ad Tester), I'm able to use my site's design instead of Ezoic templates.
With the new Ezoic platform, I'm able to manually place Ezoic ad tags instead of letting the Ezoic system place ads.  Please keep in mind I'm very familiar with where ads will perform well so I chose to manually place Ezoic ads.  If you are new to display ads and have no idea where ads will do well, it may be a good idea to let Ezoic insert ads in additional places.  You can do this by setting the following option to "on":

What is Ezoic?
Ezoic is one of a few AdSense certified partners that offers an ad testing and optimization software platform.  It was founded by Dwayne Lafleur and John Cole.  It's self-directed, which means testing and optimization is done via software, not manual implementation.  That said, the customer service and support is excellent.
On the date this Ezoic review was published, Ezoic reports its system has handled 214,865,798 website visitors (last month alone), 7,380 improved websites based on an average 140% increase in revenue and average 41% user experience improvement (source).  That's impressive.
FYI, the Ezoic founders are also serious website publishers.  They have some websites they own that gets some serious traffic so they know firsthand what it's like to be a website publisher monetizing with ads.
Ezoic has 2 offerings.  They are:
1. Ezoic Full Version (Using Ezoic Templates)
Ezoic Full (now called Ezoic Layout Tester) is their original service.  It's now implemented by using the Ezoic Layout Tester app, which is set up by turning on the following app in Ezoic (note, I do NOT have this installed because I prefer using my own site design):
This is the service I started with and used for about 3 months starting April 2015.  It's the fully automated ad optimization software.  The software will use its own design templates and put ads in literally thousands of configurations working hard (can software work hard?) to optimize your goal (see "But we're getting ahead of ourselves here" below about optimization goals).
Over time, Ezoic Full will filter out design templates and ad configurations displaying more and more that best meet your optimization goals.  Eventually you'll reach peak performance (but the software continues testing beyond that as new designs are rolled as well as new ad formats).
With Ezoic Full you don't need to do anything except open an account and set up your website with the service.  After that the software does its thing without intervention from you.  Yes, there are some settings you should go through, but that takes about 20 to 30 minutes.
2. Ezoic Ad Tester
This is the version of Ezoic I'm currently using.  Here's a screenshot (you install it with 2 clicks – very easy):
The Ezoic Ad Tester enables ad optimization but gives you more control.
First of all, you can use your own site's design.  You don't need to use Ezoic's templates.
Second, you manually insert ad tags into your site.  You can place many ad tags where you'd like to test ad performance.  Ezoic will only display 5 per page (or fewer is choose to display fewer ads).  Over time, Ezoic Lite will test and discover the optimal ad configuration based on the ad locations you specify.
What if you want to keep your site's design, but let Ezoic test ad placements extensively?
You can do this too.  I actually do this for one of my sites (the one I purchased recently).  I'm doing this because I'm not sure where the best ad placements are.  You can do this by turning on the option "Let Ad Tester automatically test additional ad locations" in the Ad Tester section as follows:

Anchor Ads and In-Line Ads:

How to create Ezoic ads
The following is a series of screenshots setting out how to create ad placeholders with Ezoic's Ad Tester App once the Ad Tester app: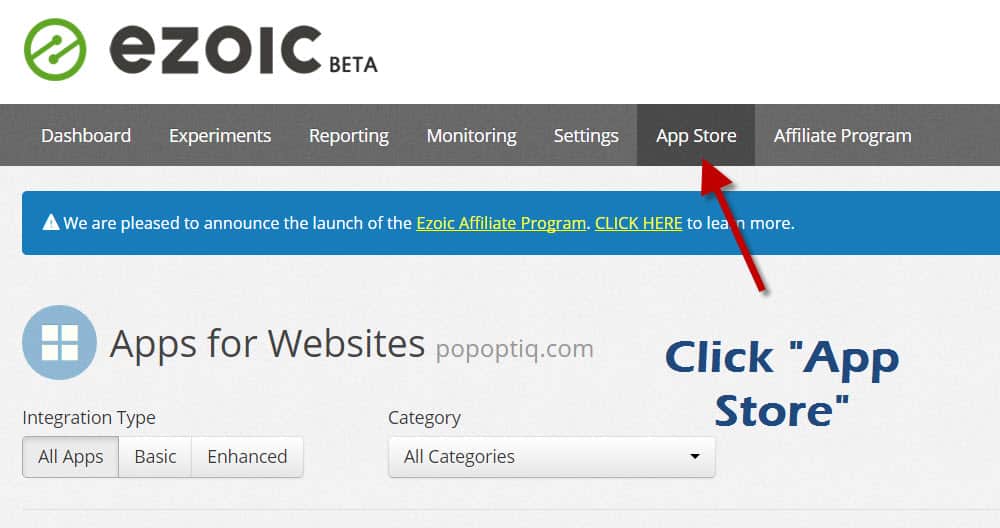 Then install and open the Ad Tester app:
Once installed, go through the following steps to create an Ezoic ad:
Step 1: Click + Display Ad Unit
Step 2: Select an Ezoic Ad Preset 
This is an important feature.  See the IMPORTANT EZOIC AD TESTER TIP box below under Step 7.
Step 3: Name Your Ad Unit
Step 4: Choose a device(s) on which  your ad will show
I normally allocated one ad to one device.  It takes longer to create more placeholders, but this way you can ensure ad sizes are correct for each device.
TIP: If you use WordPress, I use the WP Mobile Detect plugin to ensure desktop ads show up on desktop, tablet on tablets and mobile ads on mobile devices.  I published a tutorial on this here.
Step 5: Choose relevant sizes for your ad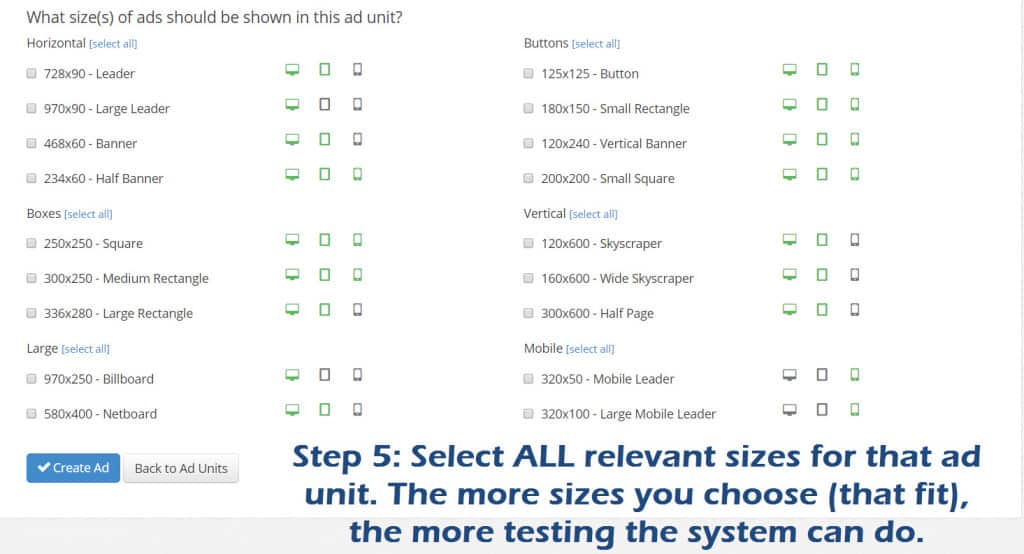 When choosing ad sizes, pay attention to which ad sizes pertain to specific devices.  If gray, it's not an ad size you should use for that particular device.
Step 6: Click "Create Ad"
Step 7: Copy provided code and place in your site where you want the ad to show up
How to wrap Ezoic placeholder ad tags around other ad tags:
IMPORTANT EZOIC AD TESTER TIP
This is a tip you'll only get from a user of Ezoic.  It's nuanced, but very important for testing without violating Google's ads TOS.
Ezoic has preset locations such as Sidebar, Top of Page, Under Page Title, Under First Paragraph, Under Second Paragraph, Mid Content, Long Content and Bottom of Page.  They are found at:
These options are very important because you can use them to test ads very close to one another yet avoid stacking ads.
The best way to make this clear is with an example.
Suppose you want to test leaderboard ads above and below a post title.  Obviously, you don't want your page to show both ads (i.e. an ad above and below at the same time).
To figure out which ad will perform the best, when you create each ad, choose the same preset for both ads.  In this example, choose "Top of Page" for both.
Then insert into your website the generated placeholder tag for one ad above the post title and the other placeholder tag below the title.
Because both ads are "Top of Page" Ezoic will only show one of those ads at a time.
This is also an important tip if you do want 2 ads to show up on the page at the same time – in this case you ensure you create each ad with a different preset location (i.e. Top of Page and Under First Paragraph – or whatever presets make the most sense).
But we're getting ahead of ourselves here.
When you start with Ezoic, you must choose your goals.  The options are revenue optimization, user experience optimization or a mix of the two.
Most people opt for a mix of the two.  For example, you can tell the software to optimize for revenue at 70% and user experience at 30%.  It's a sliding balancing scale so you can choose any percentages for each goal that you want.
Here's a screenshot of adjusting goal optimization:
Show me the money – why would anyone optimize for user experience?
When I started with Ezoic, I went full throttle revenue optimization setting it at 100%.  However, John Cole, the COO of Ezoic, suggested to set a small percent for user optimization because of diminishing returns.
What John means by this is if a particular ad configuration will earn just $.01 more than another configuration, even if that other configuration would offer a much better user experience, the system will display the configuration paying only $.01 more at the cost of a much better user experience.
What is user experience?
User experience is measured by duration of time on site, number of page views per visitor and bounce rate.  These are important metrics, especially if you're seeking to improve organic search traffic.
It makes sense.  Google wants to offer the best sites for visitors.  This is largely measured by time on site and bounce rate (for the most part – it's not perfect).  Therefore, if you have good user experience metrics for the traffic Google sends your way, Google is more prone to give you decent rankings.
Does user experience matter?
Yes it does.  The longer I'm a website publisher, the more I realize how important user experience is.  Don't get me wrong, I'm not going to cut down to one ad on my site.  I need to eat.  However, since launching my B2C sites, I've eased up on ad aggressiveness for the sake of user experience.
What are my current optimization goals?
Because I'm manually placing ads via the Ad Tester service, means I've exercised a lot of control over where ads will display, I set optimization goals to 100% revenue.
If you choose to let Ezoic place ads for testing, you might want to have user experience set anywhere from 10 to 30%.
What Does Ezoic Test Against?
This is a good question.  It tests against your site's initial performance.  When you start with Ezoic, you can run it 50% of the time (or whatever percent you choose – it doesn't have to be 50%) so it runs against your site's initial AdSense configuration.  The system will automatically track performance and report whether it's improving or not.  It's cool watching it trying to catch up.
However, it doesn't track against other ad networks.  In my case I also used Media.net ads which it couldn't include in its calculations.  Therefore, I had to calculate the comparisons.
Additionally, another feature Ezoic recently added is the ability to add other ad networks to bid for displays in the 5 Ezoic ad spots.  Initially, Ezoic simply placed AdX ads on your site.  However, if you have accounts with other ad networks, you can add those accounts in your Ezoic account to also bid for displays.
Here's a screenshot of the additional ad networks you can add (to increase bidding competition):
I don't have to tell you the benefits here could be enormous – more bidding and access to some premium ad networks that you may not normally have access to.
Another measurement item to note is that Ezoic reports revenue as EPMV which stands for "earnings per thousand visits".  Most people are familiar with RPM (revenue per thousand page views).  The 2 are dramatically different.  For instance, if you average 2 page views per visit, your RPM will be lower than EPMV.
Technically, EPMV is a better figure to use because you view traffic in number of visits instead of page views.  This is especially the case if you buy traffic.
Ezoic Benefits
PWA technology: Implement progressive web app technology to your website to improve mobile website performance metrics (page views per visitor and dwell time) as well as ad revenue.
Up to five ads per page (5 on desktop, 4 on mobile devices).  Yes, you read that right.  With Ezoic you can have up to 5 Google ads displayed on your page (4 on mobile).  The reason for this Ezoic uses AdX for display ads, which permits up to five ads per page (even Google ads).  Moreover, I'm told more advertisers participate with AdX than AdSense so there's more competition bidding for ad spots.
Mobile anchor unit.  The Ezoic service includes use of a mobile anchor unit, which is a sticky ad on the bottom of mobile devices that floats down the screen as website visitors scroll down a web page.
AdX ads:  AdX is an Ad exchange that includes Google ads.  It's a huge ad network with loads of advertisers bidding for ad spot.
Peace of Mind.  If you use the Layout Tester service, you can be confident you won't have ad placement problems.  However, if you manually place ads, you're still responsible for placement.  That said, Ezoic can offer feedback about your placements – it's always good to have a sounding board from knowledgeable people in the industry.
Extensive optimization testing (across desktop, mobile and tablets).  In the introduction above, I wrote that testing is tedious these days because you must test ad optimization across 3 types of devices.  Desktop ad configuration will not necessarily be the best configuration on mobile and tablets.  This is tedious work. Ezoic's testing platform tests automatically on all 3 devices.
Possible user experience and/or revenue improvement.  I say "possible" because it may or may not improve your site's performance.  They've helped a lot of website publishers so it's a proven service.  All I can say is it's worth trying.  If it helps your site, that can result in a lot of revenue for your over the years.
Fantastic reporting.  When I used Ezoic, the reporting was bad.  Since then they've dramatically improved their reporting options.  You can now track revenue and EPMV (earnings per 1,000 visitors) by traffic source, on a URL by URL basis, country, traffic source and device.
Use it a little or a lot.  If you're lukewarm to the concept, you can use Ezoic only a little.  By this I mean you can set it so Ezoic functions on a percentage of page displays.  It can be as little as 5% or any percent you choose.  In fact, when starting, it's a good idea to run Ezoic only partially so the system can measure its performance against your site's original AdSense peformance.
Make your site mobile friendly.  If you don't have a mobile responsive site, you can use Ezoic's "Mobile Friendly" app to turn your site mobile responsive automatically.
Can your site for objectionable content:  AdSense has rules about displaying ads on non-family-friendly content.  If your site has non-family-friendly content, you don't want AdSense ads on that content.  Ezoic has a setting "Objectionable Content" which scans your site for objectionable content.  If any, you can add those URLs to the "Excluded Pages" app.  Ezoic will then not show ads on those excluded pages.
Scan for Error Pages:  Ezoic has a settings screen that scans your site for broken internal links.  While there's other software that does this, it's a handy feature to have in Ezoic.
Max. Ads Per Page:  If you don't want 5 ads per page, but still want to test for optimal placement, you can tell the Ezoic system to display anywhere from 0 to 5 ads per page.  You can also choose to have Ezoic choose how many ads to display, which it does based on a page's length.  Here's a screenshot of the Max Ads Per Page function.
Pay only $4.95 per month to get an ios app version of your website.  Ezoic handles getting it onto the ios app store and monetizes it for you.  I'm doing this for all sites.
Ezoic vs. AdSense Auto Ads
On February 20, 2018 AdSense rolled out it's own ad testing feature called AdSense Auto Ads.  I used it.  I liked it until Ezoic sent me some alarming information about problems that could arise in some situations with AdSense Auto Ads.
Ezoic Testimonial from a Relieved Ezoic Customer
On March 24, 2016 I received the following email from a Fat Stacks reader:
Hi Jon!
Thought I'd give you a quick update.
I had left Ezoic because their ad platform just wan'ts performing well for me. But after reading your post, I thought I would give them a shot in the future and was planning on doing so.
However, today I got an email from them. Turns out I had forgotten to delete them in my adsense account as a MANAGED ACCOUNT. Lucky for me I forgot.
The rep who I was dealing with on a one to one told me that one of my ads was flagged by Adsense. They gave me the EXACT URL and told me EXACTLY why. There were videos I used on the page that violated their TOS. It wasn't obvious when I put that video in, but now I can see why. If I didn't have Ezoic, I really wonder if they would have given me this much detail or flat out banned my adsense account.
Anyway, to me this is probably one of the BIGGEST reasons to use a service like Ezoic. The fact that they filter this and help protect your Adsense is a big safety cushion. I'm happy I forgot to remove them! haha.
Anyway, to get to the point. I'm happy you wrote about Ezoic again, because it motivated me to get back with them.
Please don't construe the above testimonial as being bulletproof from Adsense troubles, but one big reason I go with Ezoic is additional protection from Adsense issues… often in the form of warnings and more importantly, details as to the problem.  Often Adsense problems are inadvertent such as the case in the above example.
Max Five Ads Per Page Settings App in Ezoic (Screenshot):
Ezoic Settings
One of the things I like about Ezoic is how easy to use the backend is.  It's so simple.
While the system is hands-free, it's a good idea to go through the settings options so you get things set up just the way you want them.
The settings screen is as follows:


For more features and settings, you go to the Apps screen, which is as follows (the checked apps below are the ones I'm using):

Other Ezoic Offerings
PWA technology
I use PWA technology on 2 of my biggest niche sites and highly recommend it.  I discussed this in detail in the update here.
App Creation and Submission:
Recently Ezoic rolled out an option to have a mobile app of your website created and submitted to the Apple app store.  Unfortunately it's only the Apple app store right now.  I'm sure they'll get Google Play going soon.
This costs $4.95 per month, which is a really good rate for an app.  I pay $48 per month per app.  Had Ezoic had the app service earlier, I would have used it.  I may use it for new sites.  Creating apps and monetizing them is a hassle.  I like the idea of Ezoic handling it all for me.
Automatic internal linking
Ezoic has an app called "EZ Links" which will input internal links throughout your site.  I'm not too keen about such automated features, but you might like it.
CDN
Ezoic system includes the use of a CDN which can increase your site's speed.
Does Ezoic Slow Down Your Site?
A concern many web publishers have is site slowdown from ad networks.
The folks at Ezoic were kind enough to weigh in.  Here's what they told me about any perceived slow down issues:
Speed

1. Ezoic DOES NOT slow sites down… ever. I do not want this out there; as many common tools wrongly will make it seems as though this is taking place — because they measure TTFB as the core "speed" metric. This is a terrible way of measuring speed. If Ezoic IS slowing down your site in any way, there is likely an issue with setup and we can help you solve this. This is something we have been battling from publishers that do not have a sophisticated understanding of page speed.

2. UX is the most important metric here, but I also understand people with concerns about raw speed (which people seem to believe is somehow a substitute for revenue or traffic — which to me are far more important). Nevertheless, 95% of publishers are not measuring speed right. They need to be opening up developer tools and looking at their waterfall to determine WHAT IS ACTUALLY LOADING SLOW. Most publishers will see best practices like -lazy loading and async-loading "slow down their sites" in common tools, but their DOM interactive rates — which is what Google and users see — actually improve. The waterfall will show you this. If you have a very fast DOM, that means the stuff that matters, content, scripts, user-ability-to-interact, all are very fast. Google Pagespeed tools DOES NOT MEASURE your actual page speed (this is the key takeaway).

3. Basically, if you are measuring site speed right — many don't know how or won't take the time to learn — AND it appears Ezoic is slowing down the site, even a little bit, you should contact our account management team to help troubleshoot the problem. In most cases, it is a script on the publisher's site — unrelated to Ezoic — that is conflicting with something and causing the slowdown. This can be fixed easily.

Nameservers integration

1. Many publishers try to integrate with JS, this is slower. It causes slower site speed and will not allow Ezoic to operate to its fullest. It is only recommended for small sites that cannot access their nameservers.

2. Nameservers may seem intimidating; as it is not common for many Wordpress CMS publishers that are used to plugins and scripts, but it is the fastest form of integration and is actually the safest form of integration available. Because…. it allows Ezoic to proxy traffic so you can split test and never makes any actual alterations to your site or its content. We are simply treating the Ezoic version and learning from the data. JS can mess up the way your sites runs, etc. — same thing with plugins. We see it all the time.

3. Nameservers is the least intensive way to integrate. It doesn't change hosting for a pub, or do anything that could ever harm their site. It is actually the safest form of integration to remove as well, simply change your nameservers back, and everything on your site goes back exactly the way it was 🙂

Traffic:

We do have traffic requirements. It is extremely rare that we would work with someone less than 50,000 pv/m. That is the absolute low-end of publishers using Ezoic. Most are 1 million +.

Lots of ads

1. Not sure of your colleague's experience, so I can't speak to it; however, the number one reason we see complaints of too many ads, or a lack of control, is when publishers do not have Ezoic properly configured — i.e. they do not have all ads "wrapped"

2. Wrapping ads give Ezoic the ability to see all the existing ads on your page. We turn these ad locations into potential ad placements and will show them in some experiments, and not others. If they remained unwrapped, they will always show; causing Ezoic to not see them. This means ad density will be higher than intended. This also really can mess up ad rates and overall revenue.

3. Often publishers think they won't wrap ads — and think that Ezoic will just optimize all "Ezoic ads" — that's not how Ezoic works. Ezoic optimizes towards total session revenue, not ads. All ads affect the value of other ads. Bidders in the RTB see that there are other ads on the page and will adjust bids lower. Ezoic needs to see this too. We did a study on publishers that didn't have ads wrapped, then wrapped them and they saw a 300% increase in ad revenue. This is also why we offer split testing. If your current ads are REALLY earning you SO MUCH money, then you will see that in the split test (guess what, it never works out this way, Ezoic always wins).

4. One of our greatest challenges as an organization is educating our publishers about the value of the platform and how it all works. Many publishers do not have a sophisticated understanding of RTB, ads, or the impact of visitor segmentation. That's OK, that's why we built Ezoic; however, this often means publishers get frustrated and leave prior to working with our team properly to sort out issues in their understanding or configuration.

In 100% of studies we've done, when configured properly, Ezoic always provides value in the form of revenue uplift vs. anything else the publisher may have been doing before (we've even seen this on some of the largest sites in existence with very large ad ops teams).
Ezoic FAQ
How long does optimization and testing take?
With Ezoic full (i.e. the Layout Tester) it can take quite a while (5 to 8 weeks) because there are so many configurations the software runs.
Ezoic Lite (i.e. just the Ad Tester) optimization is much faster because there are far fewer configurations tested (since it uses your site's design and tests only ads you manually place on your site).  That said, if you choose to let Ezoic test ad placements in addition to your manual placements, optimization takes longer because more variations are tested.
What ad networks are used with the Ezoic system?
AdX, native ads (Taboola) as well as pop up ads.  You can choose to turn on/off native and pop up ads.  You can also choose how many display ads to display on your page (0 to 5).
Can you buy traffic to websites using Ezoic?
Yes you can.  I did and do.  The Ezoic team was fully aware that I was.  However, they do require that the traffic sources be high quality.  If you send junk traffic to your site, either Ezoic will intervene or you risk problems with AdSense and perhaps other ad networks.
That said, the founders of Ezoic believe organic traffic is best.  They'll tell you as much.  However, it's hard to beat paid traffic if it's profitable.
Can you use other ad networks separate from Ezoic?  
I'm delighted to answer this with a resounding "yes".  One of the main reasons I stopped using Ezoic in the Summer of 2015 after 3 to 4 months was I missed Media.net ads which earned a lot of money.
However, with the new Ezoic options, you can now place ads from networks separately and in addition to the 5 Ezoic ads.  This is a game changer for me and I think for many people who decide to use Ezoic.
Is it easy to be accepted into Ezoic?
Yes. Unlike many ad optimization services, Ezoic accepts most sites.
How much does Ezoic cost?
It's free for info sites, but you agree to a small ad on the bottom of your site.  Or, you can opt for pricing based on the revenue your site generates.
Lastly, if you use a business or corporate site, it's $19 per month.
Regardless of which pricing plan you go with, you can try the system for free for 30 days.
Can you exclude ads on individual pages?
Yes.  You simply input the URLs on which you don't want ads.
Do you have to sign a contract?
No.  You can stop using the service any time you like.  It takes seconds to disengage the system.
Is there customer support?
Yes, and it's excellent.  You can ask questions any time (via email support or live chat). They respond very quickly.  They'll provide all kinds of information as well as help you with your account settings.
How do I insert Ezoic ad tags onto my site?
I use the Ad Inserter WordPress plugin for site-wide placements (read my Ad Inserter tutorials here).
My Ezoic Settings
Now that you're familiar with what Ezoic has to offer, you probably want to know how I configure Ezoic.
I'm currently using Ezoic for 2 websites.  The configuration is the same for both, with one exception.  I set out the exception below.
Here are my settings and how I'm currently using Ezoic.
Layout Tester (using Ezoic templates and ad placements):  No
Ad Tester:  Yes.  Site #1 I does NOT enable Ezoic to place additional ad placements.  For Site #2, I do enable Ezoic to place and test additional ad placements.
I've set up 8 placements on Site #1 and 4 for Site #2.  I'm careful to place ads in Google acceptable placements.  Ezoic will not make your site bulletproof if you manually place ads.
IMPORTANT:  I create separate placeholders for desktop, tablet and mobile.  I then use WP Mobile Detect plugin to control with ads show up on which device.
Maximum Ads Per Page:  I choose 5 ads per page.  I do NOT select the "Automatic" option.  I want 5 ads on every page.  By default "Automatic" is selected.  If you want 5 ads per page, you must install the "Maximum Ads Per Page" app and select "5 ads per page".
Anchor Ads:  Yes, I turn them on for all sites.  Anchor ads are mobile footer ads and can earn a lot of money.  Here's a screenshot in the Ad Tester app:
Optimization:  Custom, with Revenue at 100% (keep in mind I'm using the manual version of Ezoic so I have more control with the ads.  If you use the Layout Tester, I recommend you set User Experience to a minimum of 10%.
Here's a screenshot of how I configure Ezoic's goal optimization:
Ad Categories App:  By default, Gambling, Drugs and Sexual & Reproductive health ads will not show on your site.  If you want any and all ads to show, you must install the "Ad Categories App" and then select them to show.  Here's a screenshot:

That's about it for my Ezoic settings and configuration.
Ezoic Ad Colors Testing
As of February 3, 2016 Ezoic rolled out a new feature that enables you to split test ad colors.
Here's the screen where you create ad color styles in Ezoic:
In a nutshell, for each site you have using Ezoic, you can create custom ad colors.  You assign a weight to each color design.  The weight totals for all color designs should not exceed 100%.
At this stage, I've set up ad colors as set out in the above screenshot.  I've set the weight of each ad style at 17%, totaling 85%.  The remaining 15% will test ad colors dictated by Ezoic.
I chose the blue because that's the blue throughout my site.  I chose the red because red often performs well.  For my other site on Ezoic, I also use the red, but the color style of the other ads is in the same color as the dominant color on the site (seen in the logo, links, etc.).
Ezoic will split test the color designs and once it has enough data will show more of the best performing color styles.
Ezoic Reporting Options
When I first used Ezoic, the reporting wasn't very good.  I was left guessing on a lot of key metrics.
Since then, Ezoic dramatically improved their reporting.  In fact, their reports offer more details than AdSense (when connected to Analytics).
In a nutshell, Ezoic reports can tell you the following information by month, day or custom range:
EPMV (earnings per 1,000 visitors) by device
EPMV on a URL-by-URL basis.  This is absolutely key if buying traffic or running social media campaigns.
EPMV by UTM tracking codes (i.e. traffic sources), which is also key if buying traffic or running social media campaigns.
EPMV by country.
You can also cross filter results.  For example, you can see what the EPMV for mobile phones is for individual URLs.  Or take it one step further, check the EPMV for desktop for traffic from Canada.  This is an amazing feature.
Here's a screenshot of the advanced reporting filter options:
Is Ezoic Good?
I recommend anything and everything that helps you achieve peak performance with your website.  This requires testing and trying all sorts of monetization optimization tools, software, etc.  So yes, I recommend trying Ezoic.
I'm not suggesting Ezoic will in fact improve your site's performance (revenue and/or user experience).  However, the fact that it might improve your site's performance makes it worth trying.  They have thousands of website publishers using their service, so it clearly works for some publishers.
The way I look at it is your website is likely a long term project and revenue source.  Therefore, if Ezoic helps, even if it's only a 10% improvement, that's a lot of money to you in the long run.
If it doesn't help your site, stop the service.  That takes all of 2 minutes.
IMPORTANT: One of the most compelling reasons to use Ezoic, in my view, is the fact their ad configurations (used on the Layout Tester app) are approved by Google AdSense, which means you're far less vulnerable with having ad placement problems with AdSense.  You can still violate AdSense TOS if you send junk traffic to your site or participate in click fraud, but ad placement is not a risk.  This is a huge benefit because many AdSense TOS violations involve ad placement.  So if you worry about your ad placement, Ezoic Full can give you peace of mind.
Please note that the same protection does not apply to manually placing your ads.  The folks at Ezoic will give you feedback about your placement if you ask, but you're ultimately responsible for your ad placement with the Ad Tester app.
Jon runs the place around here.  He pontificates about launching and growing online publishing businesses, aka blogs that make a few bucks.  His pride and joy is the email newsletter he publishes.
In all seriousness, Jon is the founder and owner of a digital media company that publishes a variety of web properties visited and beloved by millions of readers monthly. Fatstacks is where he shares a glimpse into his digital publishing business.