Without a doubt, I consider myself extraordinarily fortunate to have an income report like the one below given the economic catastrophe happening.
Yes, ad rates per 1,000 visitors are down.  However, traffic is up quite nicely. I wouldn't say it's a wash, but it's close.
Video version:
March developments
The most notable development in March was the rapid growth in traffic from Pinterest.
In February I noticed Pinterest traffic picking up.  That piqued my interest.  For many months until then I didn't bother with Pinterest.  I enjoyed a stable 2,750 to 4,000 daily visitors from Pinterest resulting from website visitors pinning from my site and old pins on my boards.
However, with traffic higher than normal in February (not much but noticeable), I decided to be more proactive.
I fired up my stale Tailwind account and started testing new pins.  I took Pinterest's desire of "fresh pins" to heart.
Once I pinned down a few design concepts that were working, I hired a full-time pin creator.  That explains the increased VA cost.  She now runs Pinterest for me with results beyond my expectations.
Here's a screenshot showing the Pinterest clicks to my site for the past 90 days:
Note, for some reason the number of clicks reported in Pinterest is a tad higher than that reported in Analytics.  Check out the same dates from Google Analytics:
Regardless, the growth in Pinterest traffic is very, very good.  It's probably the biggest development in a long time.
Other than that, I've just been publishing new articles, fixing up old articles and kicking along a few smaller sites.
Here's the income report.
The Usual Disclaimer
This income report only reports revenue and expenses for my niche sites.  It does NOT include any financial information from fatstacksblog.com.  
Let's dive in.
Revenue for 7 niche sites I own (March 2020)
Click here to learn more about each niche site featured in my income reports.
All figures are in USD.
Niche_Site_1″>Niche Site 1 Revenue: $37,978

(mostly display ad revenue, some affiliate revenue)

Niche Site 2 Revenue: $5,261

(mostly affiliate commission revenue)

Niche Site 3 Revenue: $1,430

(mostly display ad revenue, some affiliate revenue)

Niche Site 4 Revenue: $707

(mostly display ad revenue, some affiliate revenue)

Niche Site 5 Revenue: $31

(display ad revenue only)

Niche Site 6 Revenue: $41

(display ad revenue only)

Niche Site 7 Revenue: $100

(display ad revenue only)
Total Revenue all 7 sites: $45,548 (February revenue was: $47,970)
Expenses for all niche sites
I lump together all expenses for all 7 niche sites because it's difficult, impractical and unhelpful to spend the time allocating each expense to each site.
Total expenses for 7 niche sites: $7,799
Net Income: $37,749 (February was $41,113)
Content investment in March 2020
I continue to pour money into content, including products for product reviews as well as podcast content for niche site 1:
WriterAccess: $5,500
In-House writers: $900
AskWonder: $960
Podcast content: 0
Content Strategist: ,520
Total content investment for March 2020:  ,630
Net income after content investment: ,119 USD
I explain here why I extract content costs from expenses.
Proof-is-in-the-pudding screenshots
AdThrive (Site 1)
Ezoic (Sites 2 to 7)
Amazon Commissions
Amazon makes up a small percentage of revenue, but it'll get worse with lower commission rates taking place starting April 21, 2020.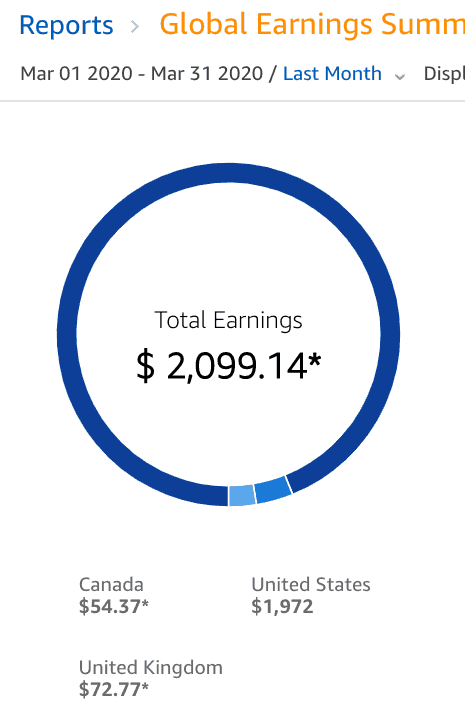 Merchant
Below is a quarterly affiliate commission check received in Feb. 2020.  My income reports amortize this check and it falls under niche site #2.  This course teaches how I generate this quarterly check like clockwork.
Jon runs the place around here.  He pontificates about launching and growing online publishing businesses, aka blogs that make a few bucks.  His pride and joy is the email newsletter he publishes.
In all seriousness, Jon is the founder and owner of a digital media company that publishes a variety of web properties visited and beloved by millions of readers monthly. Fatstacks is where he shares a glimpse into his digital publishing business.