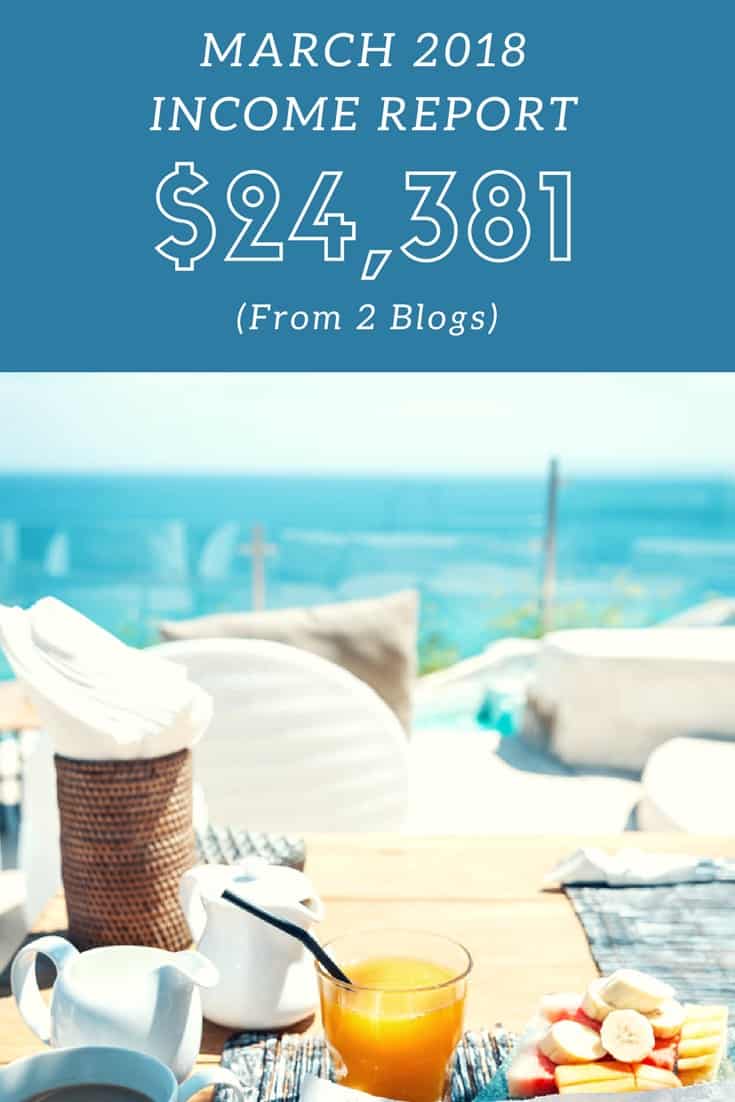 It's been a while since I got around to updating income reports.  I'm quite a few months behind.
I'll get them caught up but thought it best to start with most recent because that's the most relevant.
Important:
My income reports only report income for 2 niche sites.  This does NOT include Fat Stacks income or revenue.  The point of these reports is to illustrate that niche sites outside of the "how to blog" or "how to make money online" niches can earn well.  
I choose to report on two sites because one is what I call a B2C niche and the other is a B2B niche (serves a business industry… again, not this site).  The two site models are very different so I think it's helpful to discuss both in these reports.  I have other niche sites that aren't included.  The point is not to divulge all income, but instead to show that individual niche sites can do well.
Most of 2018 has been good for my B2C niche site, but not so great for B2B niche site.
In 2017 I restructured much of my B2C site by improving existing content and adding new content.  It consumed most of my time and so I pretty much ignored this site (Fat Stacks) for much of 2017.
My focus in 2018 is to ramp up content, organic search traffic as well as Pinterest and other traffic sources.  However, my focus will continue to be organic search traffic by publishing a lot of long tail keyword targeted content.
My B2B site has not fared well in 2018 because the main merchant I promote cut my commission by nearly half.  While my income from that site is still excellent given I put very little time into it, it's still a big drop.
Income sources:
My B2C niche sites earn from display ads and affiliate commissions.
My B2B niche sites earn from only affiliate commissions.
Income report numbers
B2C Site:
Display ad revenue March 2018*:  $17,157
Affiliate commissions March 2018**:  $5,576
* Ad networks include AdSense, Monumetric plus 2 others I won't be revealing for now.
What about Media.net?  I stopped using them and use Monumetric instead, but I will be starting some testing of Media.net with a new type of unit in a week or two.
**Includes CJ.com merchants, Shareasale merchants, Skimlinks and Amazon.  I started using Skimlinks extensively in 2018 because it saves me a boatload of time by not having to input affiliate links.  I suspect (hope) the Skimlinks revenue will grow.
B2B Site:
Affiliate commissions March 2018:  $4,898*
*If you look atw older income reports, you'll see this number was much higher.  The main merchant I promote reduced the commission by almost half.
Total Income March 2018 (2 Niche Sites):  ,531 USD*
*I live in Canada, so earning the lion's share of revenue in USD results in a nice bump when income converted to CAD.  
Expenses
My approximate expenses attributed to the above 2 sites were as follows:
Content: ,500
Hosting: $650
VA's: $1,500
Software (AWeber etc.): $400
I say approximate because I have several other sites not included in this income report which also incur expenses.  I'm attributing expenses from my overall expenses to the two sites in this income report.
Total approximate expenses for March 2018: $4,050
Net income:  $24,381
Proof: Screenshots
Below are a series of screenshots supporting most of the income totals above.
1. AdSense
3. Display Ad (Network not revealed)
4. CJ.com
6. Amazon

Jon Dykstra is a six figure niche site creator with 10+ years of experience. His willingness to openly share his wins and losses in the email newsletter he publishes has made him a go-to source of guidance and motivation for many. His popular "Niche site profits" course has helped thousands follow his footsteps in creating simple niche sites that earn big.