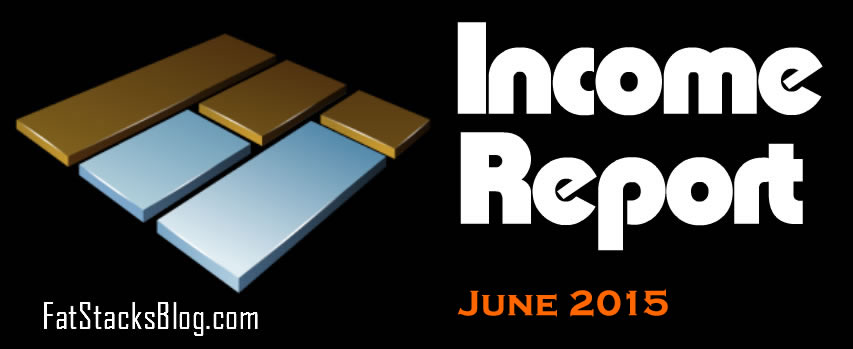 June profits were worse than May's.  There are 3 reasons for this:
1.  I took the entire month off (we welcomed a newborn into the family and I wanted to hang out with our new little guy and 3 year old son).
2.  I stopped all paid traffic campaigns because I took time off (paid traffic campaigns require diligent monitoring) and testing with the ad management service simply wasn't increasing RPM at a rate sufficient enough to render paid campaigns profitable without much monitoring.
It also didn't generate all that great of an RPM for organic search traffic.  Without paid traffic, profits were from organic search traffic only and with a substantial outsourcing budget, profits plummeted.
3.  Amazon decided that my B2C site was not a good fit for their CPM ads.  This resulted in a significant loss of revenue.  They wouldn't tell me why, but reading their guidelines, I suspect they don't care for websites that are largely image-based sites.  That's my best guess.
On the plus side, despite taking the entire month off and paying over $7,800 in outsourcing costs, I at least managed to earn a profit, which is pretty cool.
Here are the numbers.
Disclaimer:
Please note this income report pertains to 2 niche sites of mine.  It does NOT include net income from Fat Stacks (which is growing very quickly due to the popularity of my authority website course (now called Niche Tycoon) or my local offline marketing clients.
June 2015 Income Report:
Niche Site #1 (Large B2C Magazine Style Website):
Revenue:
Display Ad Revenue:  $9,504 (stopped all paid traffic – see comments below)
Affiliate Commission Revenue:  $2,389
Total revenue for site 1:  $11,893.92
I explain how I generate this revenue from these types of sites in my guide here.
Niche Site #2 (Targeted Niche Site):
Affiliate commission revenue:  $8,028 (this is total revenue for site #2).
explain this model here.
TOTAL REVENUE BOTH SITES:  $19,921
Expenses (Both Sites):
Total Expenses in June 2015 (both sites):  $9,761
Net Profit for Both Niche Sites:  $10,160
Comments:
1.  Time off and lackluster ad performance:
Ad management service testing didn't generate the necessary results in June.  Moreover, because I took the entire month off, I couldn't deal with it.  I decided to take a hit and deal with it when I returned to work.
Because of a lower revenue RPM and the fact I didn't work to address the low revenue RPM, I cancelled all paid traffic campaigns because I didn't want to go in the red for the month.  The result, as you can see, are much lower profits than previous months.
2.  Outsourcing Costs:
I maintained my big outsourcing expense ($7,800) because my team is cranking out a lot of great content so I consider this substantial expense an investment into the future.  My investment in content is paying off.
3.  Amazon CPM Ads
It's never pleasant when a decently earning revenue stream dries up over night.  That's what happened with my Amazon CPM ads I was displaying on my site.  For some reason, Amazon decided my site was not a good fit for their CPM display ad network.  I didn't have an opportunity to appeal.  I asked the Associate customer service about it and read the guidelines again.  The best I can decipher is that Amazon didn't care for the fact my B2C site has so many images.  It's purely speculation.  Nevertheless, it's a 4 figure per month loss in revenue.
4.  It wasn't all doom and gloom
In June, my B2C niche site hit a great organic search traffic milestone of over 10,000 sessions in a single day.  This is where my investment in content is paying off.  Organic search traffic continues to grow steadily each month.  Now I just need to get my revenue RPM up so that I can decently monetize all this free traffic.