It's April 9 as I write this.  February was another age when restaurants and bars were crowded, kids were in school and unemployment was very, very low.
Ad revenue was climbing nicely after the January doldrums.
Then Coronavirus hit.  Within weeks thousands more people got sick, the economy cratered bludgeoning ad budgets and wiping out millions of jobs.
My oldest attends class via iPad.
I can now navigate Doordash blindfolded.
It looks like I'll be working until I'm 90 based on recent stock market losses.  I suppose if I work until I'm 90 that's a good thing because I'll still be alive.
I'm bracing for yet lower ad revenue.
On the BIG plus side I still have substantial revenue along with a very flexible cost structure that I can reduce instantly.  Many people have no income.
As for February publishing developments, I don't recall.  I guess not much happened.  It's a good reminder that I should punch these reports out sooner.
Here are the numbers.
The Usual Disclaimer
This income report only reports revenue and expenses for my niche sites.  It does NOT include any financial information from fatstacksblog.com.  
Let's dive in.
Revenue for 7 niche sites I own (February)
Click here to learn more about each niche site featured in my income reports.
All figures are in USD.
Niche_Site_1″>Niche Site 1 Revenue: $39,794

(mostly display ad revenue, some affiliate revenue)

Niche_Site_2″>Niche Site 2 Revenue: $5,355

(mostly affiliate commission revenue)

Niche Site 3 Revenue: $1,694

(mostly display ad revenue, some affiliate revenue)

Niche Site 4 Revenue: $954

(mostly display ad revenue, some affiliate revenue)

Niche Site 5 Revenue: $41

(display ad revenue only)

Niche Site 6 Revenue: $42

(display ad revenue only)

Niche Site 7 Revenue: $90

(display ad revenue only)
Total Revenue all 7 sites: $47,970 (January revenue was: $40,061)
Expenses for all niche sites
I lump together all expenses for all 7 niche sites because it's difficult, impractical and unhelpful to spend the time allocating each expense to each site.
Total expenses for 7 niche sites: $6,857
Net Income: $41,113 (January was $32,700)
Content investment in February 2020
I continue to pour money into content, including products for product reviews as well as podcast content for niche site 1:
WriterAccess: $10,000
In-House writers: $3500
Podcast content: 0
Total content investment for February 2020:  ,250
Net income after content investment: ,863 USD
I explain here why I extract content costs from expenses.
Proof-is-in-the-pudding screenshots
AdThrive (Site 1)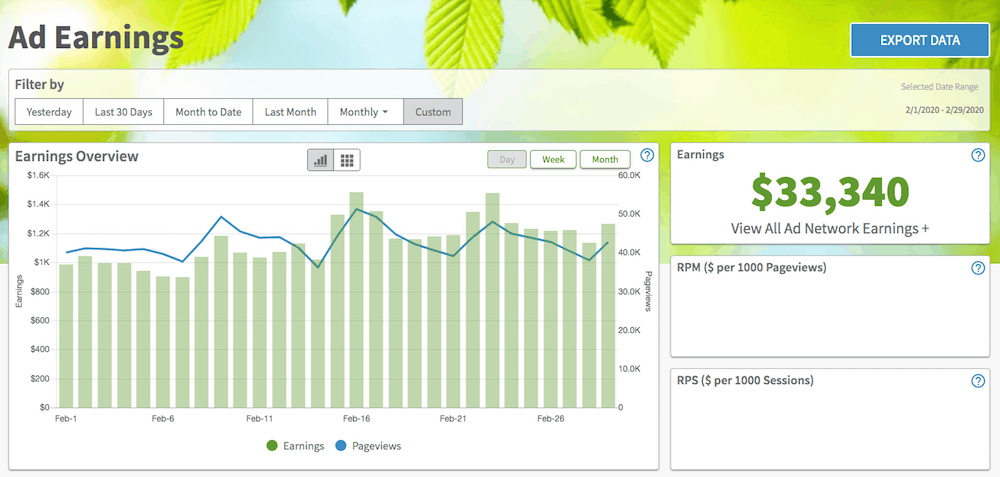 Jon runs the place around here.  He pontificates about launching and growing online publishing businesses, aka blogs that make a few bucks.  His pride and joy is the email newsletter he publishes.
In all seriousness, Jon is the founder and owner of a digital media company that publishes a variety of web properties visited and beloved by millions of readers monthly. Fatstacks is where he shares a glimpse into his digital publishing business.