YouTube has now expanded to over millions of channels, many of which are producing amazing content every single day. The best thing about YouTube is that it is one of the most powerful content marketing tools available online at this moment. Many viewers are able to get valuable content on-the-go. This content is also free and many people who don't want to spend money on guides, books, courses, and tutoring often spend their time on YouTube to gather information.
However, not everyone's content is worth exploring and spending time on. Everyone with a YouTube channel has something to say but you have to follow the right users if you want to get the most from your time. You want to follow users who dedicate their time and energy at sharing useful educational content instead of subpar opinions.
As a blogger, you can definitely benefit greatly from viewing the right content. There are a lot of reliable, relevant YouTubers who can help you in your journey as a blogger or internet business owner. Blogging is a tough job due to the immense amounts of competition. However, once you get the hang of it, you may be able to make it a primary source of income.
There are many amazing YouTube channels that can teach you how to blog. This will allow you to improve your experience, get tips, learn new things, and even end up making some money.
1. Neil Patel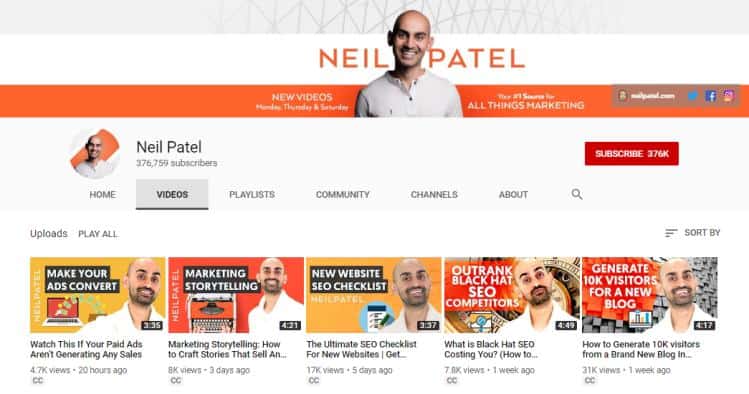 Neil Patel has a really popular platform with almost 400,000 followers. He is a New York Times best-selling author and has been named top influencer on the web by Wall Street Journal. President Obama named him a top 100 entrepreneur under 35 while United Nations recognized him as the top 100 under 30.
His videos are seamless and really fun to watch, which makes it easier to learn from them. He has detailed informative videos on many different topics such as SEO, marketing, traffic, eCommerce, entrepreneurship, online tools, social media, tips, and much more. His channel has hundreds of videos and is updated regularly, so you should definitely hit the subscribe button.
2. 2 Create a Website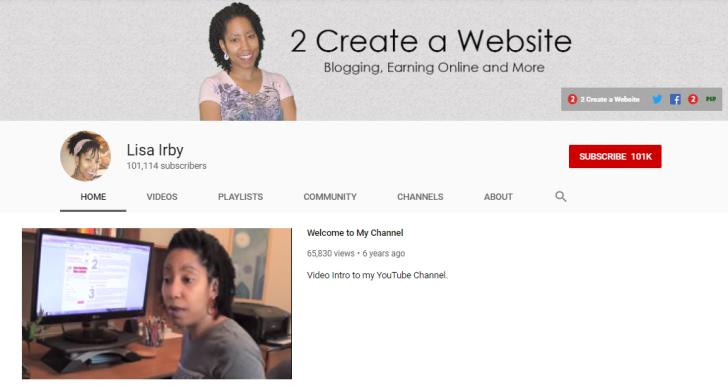 2 Create a Website has been created by Lisa who is a successful professional blogger. She has over 100,000 subscribers since she encourages people to do more than just create a simple website. She has several videos on how to turn the website into a full-time business. The videos are really thorough and helpful since they include all the information you would need to turn your blog into a profitable business. The topics she covers include blog monetization, blog marketing, case studies, traffic, promotion, blog development and more! She updates regularly, so you should definitely subscribe.
3. Ms. Ileane Speaks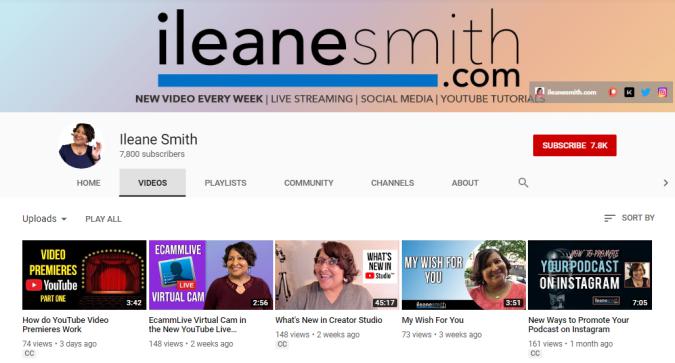 Ms. Ileane is popular in the blogging world due to her strong knowledge base of SEO, blogging, and podcast development. The topics she covers include WordPress, social media, Google Analytics, traffic generation, website reviews, podcasting, online tools, and a whole lot of others. She has been making videos to guide bloggers since 2009 and has thousands of followers. Her videos on Google Chrome extensions and using social media have helped hundreds achieve their dream of blogging.
4. Chris Ducker
Chris Ducker has an amazing YouTube channel that can help you manage your time better and organize yourself. This can be really helpful if you are working from home, regardless of the type of online business you have. Chris Ducker can help you no matter what type of online business you have. He is an authoritative blogger and a successful entrepreneur who regularly shares his tips and tricks.
As a known virtual CEO and author of Virtual Freedom book, he covers many different topics. You will find content on online business, virtual assistance, outsourcing, reviews, blogging tips, and a whole range of other topics.
5. James Wedmore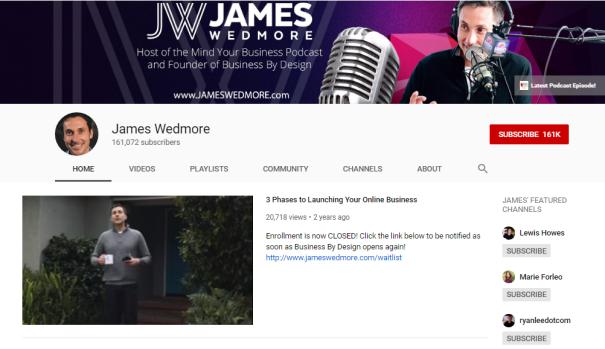 James Wedmore's YouTube channel is the best thing you can watch to learn more about traffic generation and video marketing. It is truly packed with information in useful and amazing videos. These can help you harness the true power of video marketing so that you can promote your personal brand more effectively.
6. Google Webmasters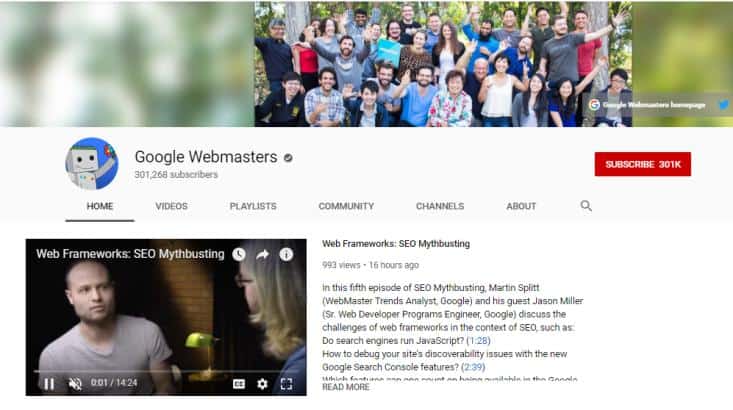 Google Webmasters can help you understand and use SEO in the most effective way possible. It is a powerful tool that forms a massive part of your website marketing strategy and blog creation. However, for new bloggers, SEO can be a little confusing and daunting. This is why Google Webmasters can really help you out. It features a lot of detailed videos of the events, trends, updates, and news in the SE0 world, especially with Google.
7. John Chow
John Chow has one of the most popular blogs online that many people have been following for years. He is a really inspirational individual to many bloggers since his personal story of success is really amazing. He learned how to make a solid living through affiliate marketing and since then has become a really popular name in the business. He often talks about useful information like blog monetization, affiliate marketing, and blogging, as well as lifestyle, money, success, and strategy.
8. Derek Halpern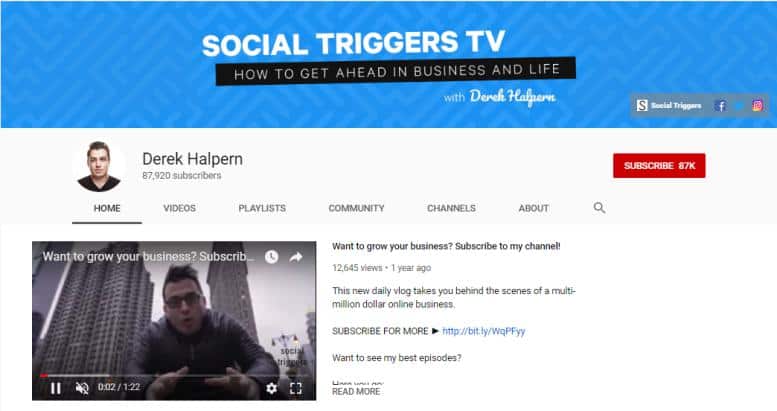 Derek Halpern started his YouTube career by talking about his life as a blogger, successful entrepreneur, public speaker, and owner of the popular online marketing strategy platform called SocialTriggers.com. He has more than 80,000 subscribers and remains really active on YouTube. There are hundreds of videos on his channel with handy networking, productivity, and marketing tips for entrepreneurs and bloggers.
9. Nathalie Lussier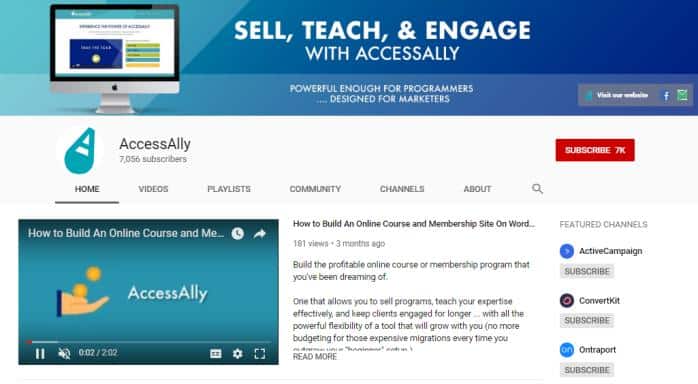 AccessAlly is an amazing YouTube channel by Nathalie Luss. She is a talented digital visionary, blogger, and master business strategist, who has helped hundreds achieve their goals. Her own blog NathalieLussier.com is really popular and her YouTube is packed with information and advice. She has many educational and insightful videos on time management, productivity, online business advice, selling products and services, creating a brand, self-improvement, goal setting, motivation, WordPress SEO, book review, and a lot more!
10.  Website Learners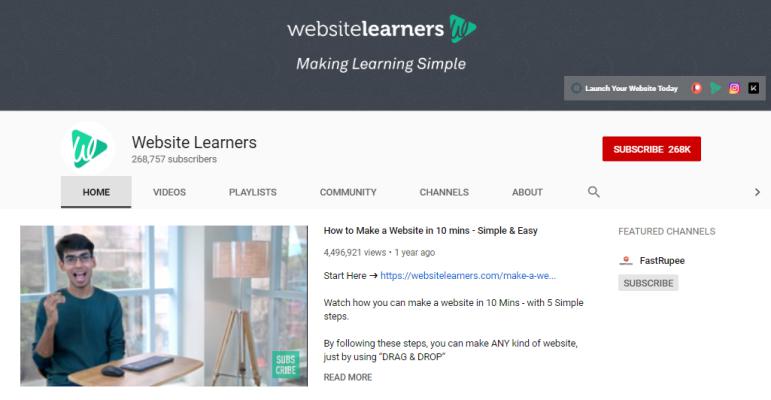 Website Learners is run by a team of 12 people and has amazing videos on blogging and running a website. It is the best place for beginners to head to since it will help you with everything from creating your website to maintaining it. It teaches people how to use WordPress effectively and integrate it with other platforms in the most efficient and effective way. You will also be able to learn how to use analytics successfully. There are also plenty of videos available for people who want to make a solid eCommerce website.
11.  Smart Passive Income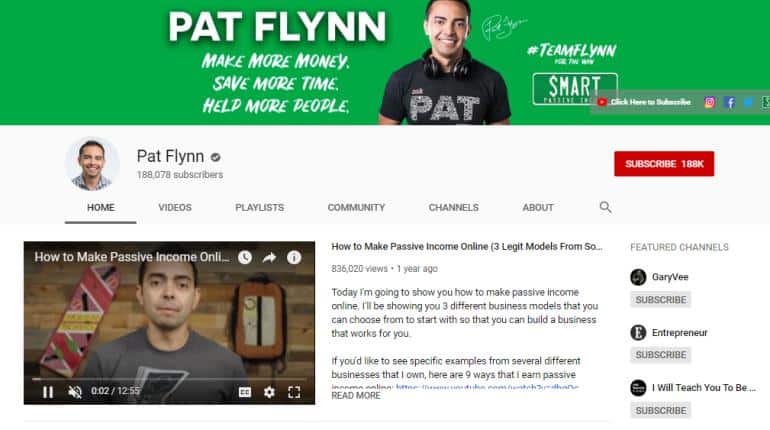 Pat Flynn is a really famous blogger who has a really popular podcast as well for bloggers. His videos are some of the most educational and valuable ones that you could watch as a beginner or budding entrepreneur. He is a big deal in the online business category because of his supercharged passion for encouraging bloggers. He has a lot of actionable content that you can apply to your everyday life as well.
His income reports are one way to show how affiliate marketing and online business can actually help you develop a strong financial base. You will find a range of helpful topics such as online business strategies, conversion, traffic, podcast tutorials, business tips, and interviews. He has almost 200,000 subscribers and you should definitely become one of them.
12.  SixFigureBlogger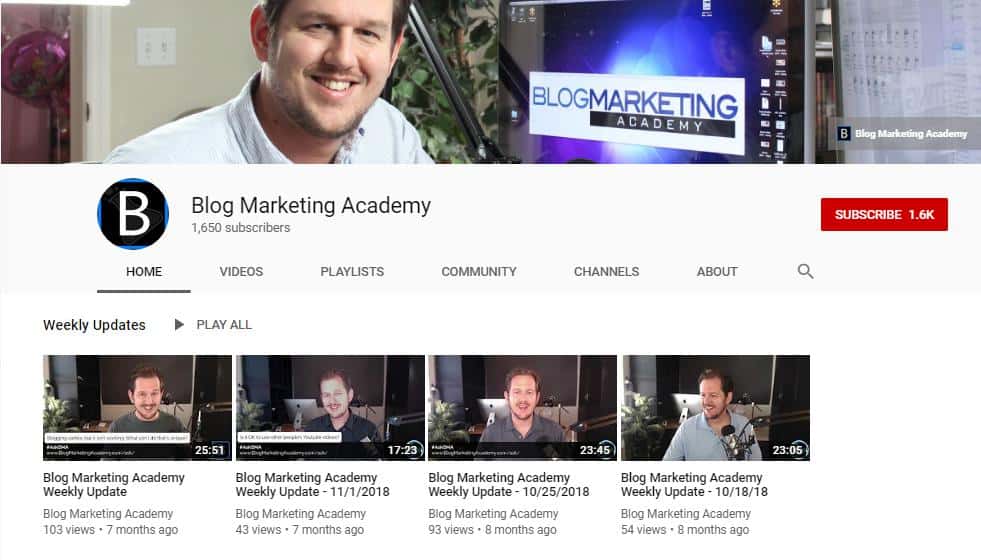 Blog Marketing Academy is also known as SixFigureBlogger. David Risley has been part of this game for a while now and became a full-time blogger a while ago. He also encourages people to invest with the right approach and tools so that they too can earn a six-figure salary like him. He often does critiques on his website which are really popular and informative. They can really help you develop a solid blogging platform.
13.  MyBlogGuest
For people who want to invite guest authors and bloggers, you will be able to learn a lot from MyBlogGuest. The channel is dedicated to giving you helpful tips on guest blogging, as well as features and contests. There are also plenty of funny videos on how to create a guest blogging pitch that might help you get creative with guests.
14.  For Bloggers, By Bloggers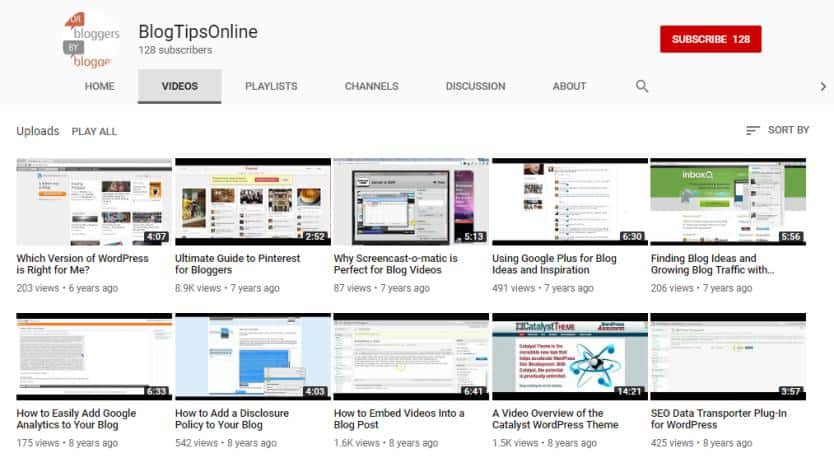 For Bloggers, By Bloggers only have 13 posted videos but there are really amazing quick-fire tips that you will enjoy. They cover a lot of important topics that modern bloggers should listen to such as how to properly use social media applications like Pinterest. You will also be able to learn more about product reviews, developing trending topics, and using Google Analytics effectively.
15.  ProBlogger Blog Tips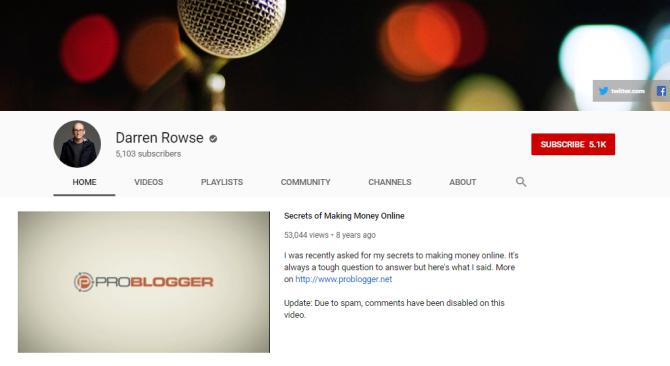 ProBlogger was started by Darren Rowse as a way to offer his expertise on blogging. He makes videos on any topics that could be relevant to professional blog owners who want to expand their empire. He even includes case studies on mind maps, affiliate marketing, money marketing tips, and a lot more so that you have a well-research knowledge base.
16.  Blog Your Passion
The Blog Your Passion channel is dedicated to helping bloggers grow their websites and ideas into bigger business platforms. You will be able to pursue your passion if you have detailed, thorough advice from this platform. This platform is perfect for those people who are just starting and may be unsure about where to begin. They can help you deal with topics like increasing reader interaction, royalty free images, finding content topics, generating traffics, and a lot more.
17.  Blog Squad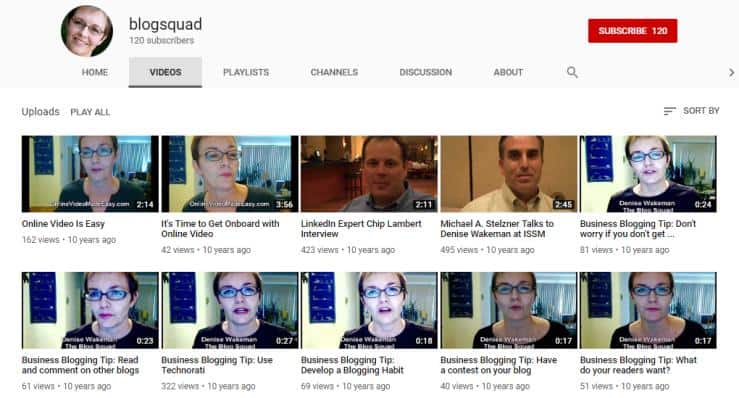 Blog Squad is a really amazing YouTube channel for blogging beginners. It can help you a lot in your journey to start your own empire. The channel is run by a duo called Denise Wakeman and Patsi Krakoff who are experienced and successful in online business words.
However, their YouTube isn't active anymore, so there isn't much use for you to subscribe. Their old videos are still there and can really help you out in your endeavor.
18.  Dream Home Based Work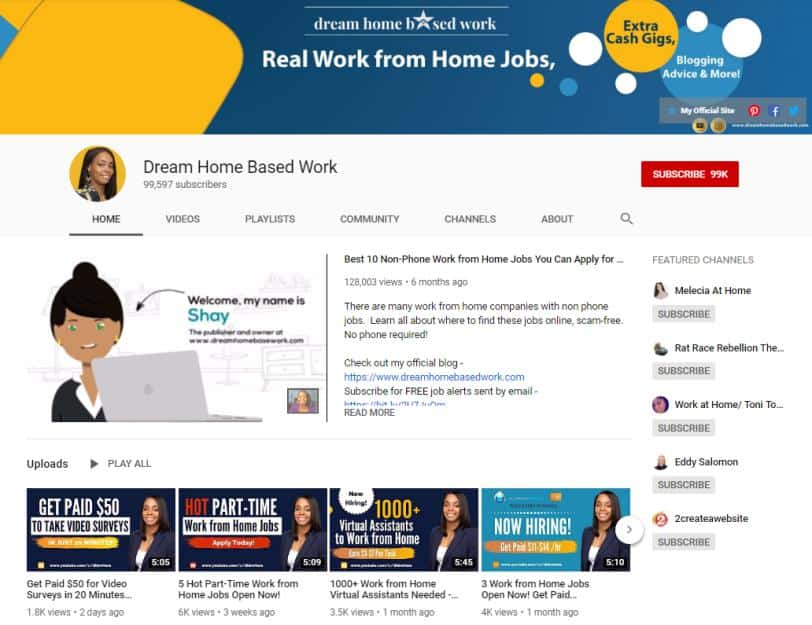 Lashay Hudson created Dream Home Based Work to share her experiences and strategies for customer service, data entry, creative writing, freelancing and more. She has dedicated her channel to help people find legitimate ways to earn money online no matter where they are in the world. She has many videos dedicated to finding new ways that can help people earn money from their homes. Lashay Hudson has many tips on blogging, freelancing, and generally on different ways to kick-start your work from home platform.
YouTube is the best platform to learn from since it allows you to expand your knowledge base in an interactive way. If you want to learn how to blog, YouTube is a great way to find out more about this field in detail. Since there are many aspects of blogging, you will be able to find vast sources of information on these YouTube Channels.
Jon runs the place around here.  He pontificates about launching and growing online publishing businesses, aka blogs that make a few bucks.  His pride and joy is the email newsletter he publishes.
In all seriousness, Jon is the founder and owner of a digital media company that publishes a variety of web properties visited and beloved by millions of readers monthly. Fatstacks is where he shares a glimpse into his digital publishing business.