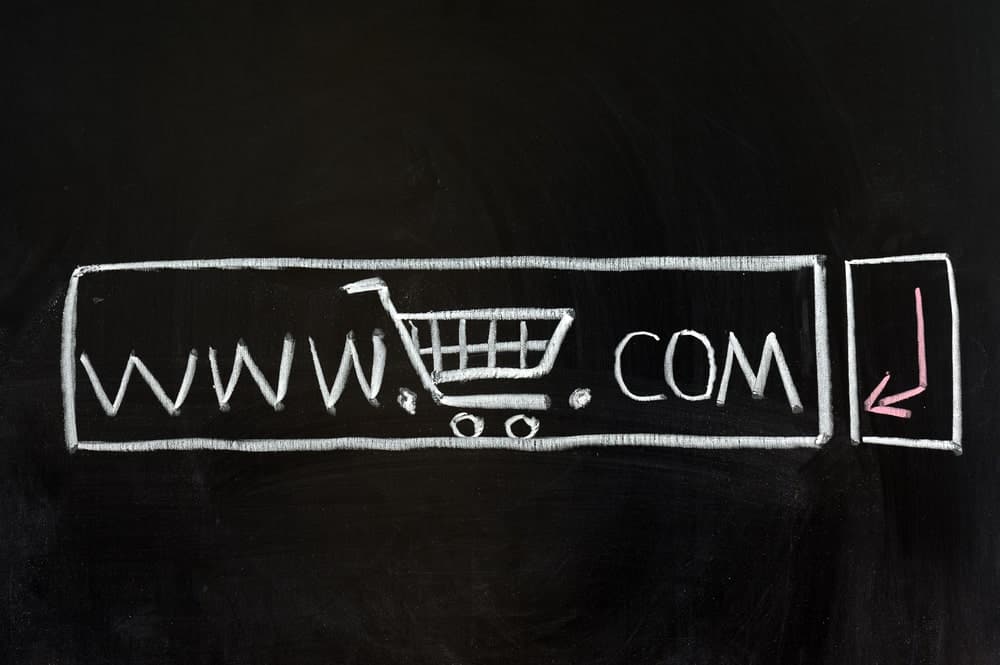 eCommerce, also called electronic commerce is the ability to buy and sell things online. It is the ability to sell products and services through your Website or the Internet. According to Statista.com, in 2019 eCommerce retail sales of tangible items came to over 365 billion dollars and that number is expected to grow to close to 600 billion by 2024. Clothing and accessories are expected to generate 194.4 billion dollars by 2024. eCommerce is an essential tool for businesses, especially these days with more people opting to stay home and not visit retail establishments.
Is eCommerce right for you?
If you're reading this and you've read other info on this site or read my popular email newsletter, you might be thinking that me talking about e-commerce is strange because my main business is content publishing monetized with display ads and affiliate offers.
However, recently, I launched an e-commerce business attached to one of my niche sites (but under a different brand).  I'm now blogging about e-commerce because we're hitting some decent revenue numbers and I'm convinced it's a great way to diversify a content publishing business.  Here's a screenshot of monthly revenue:
Yes, I'm excited about this even if it's a small fraction of my ad revenue because it's growing fast and the potential is huge.  We're proven the concept; now it's some to promote and grow sales.
This is where our new Shopify site comes to play.
While most of our sales are from our products listed on Amazon, it's very important to also have an e-commerce site dedicated to our e-commerce brand.  Not only are profit margins higher (no Amazon fees), but it builds brand exposure and with Shopify we can publish content to haul in free organic search traffic.
While there are many great e-commerce website platforms out there, we went with Shopify.
eCommerce, What Is the Right Platform for Your Business?
There are many companies whose business is based on eCommerce, just think of the big ones like eBay and Amazon. They do not have a brick and mortar business yet sell a seemingly endless number of products for consumers that prefer to make purchases from the comfort of their home. Before the popularity of eCommerce, businesses were reliant on sites like eBay and Amazon to sell their products and thereby reducing the percentage of the money they received from the sale because a percentage would go to the end seller.
eCommerce platforms enable businesses to recoup those dollars and well worth the investment.
If you are interested in adding an eCommerce platform to your Website, due your due diligence and make sure you are choosing the right sales tool for your business.
Here are some popular eCommerce Website builders.
Top eCommerce Providers
Here are some popular eCommerce providers and the services they offer plus my favorite for my relatively new e-commerce platform
Shopify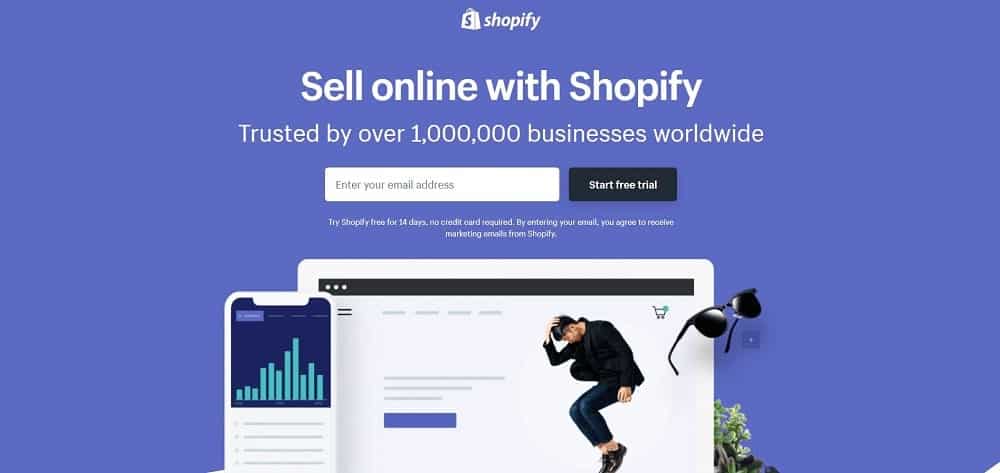 I'm Canadian, so it was a no-brainer to go with Shopify, a Canadian company.  It's a tech darling in Canada.
In all seriousness, I didn't choose Shopify because it's Canadian. That's a bonus for sure, but I chose it because after reviewing Shopify alternatives, I was convinced Shopify best met our needs which are simple, handles e-commerce processes efficiently and creates a beautiful-looking store out-of-the box.
I should also say Shopify isn't all that expensive either for what it provides.  This is not some simple blogging CMS.  Instead, it's a robust platform that gives you everything you need to QUICKLY launch an online store with product listings, buy buttons, shopping cart, inventory control, payment gateway options, blogging platform (yes, we're adding content to the store), excellent reporting, mobile responsive and so much more.
The best thing is it does all this simply so that you don't need to know any coding or have design skills (neither of which me, nor my partner have).
WixStores
With WixStores you are in control of everything. You choose your template that best positions your products and brand. When the platform is complete, you will be able to track orders, get paid, promote sales and specials, and manage the collection of tax and shipping details. Those that like to be in control of every aspect of their business will be a good fit for WixStores.
SquareSpace
Like WixStores, SquareSpace puts you in control of choosing the look and feel of your site. They have a start-up tutorial that will help you choose the right design for your business and to achieve your goals. SquareSpace has a whole array of products that go beyond just sales. They offer several tools that let the consumer schedule appointments, create email marketing, blogs, and even provide site analytics so you can see what impacts sales. You may also collect payments, coordinate shipping.
Site123
Site123 claim to have the easiest eCommerce builder. To see what they offer; you need to start the process of starting the Website. Unless you do this, there is not a lot of information about what they offer on the home page. This is another provider that puts you in the drivers' seat in creating the site.
Big Commerce
Big Commerce lets you take a trial before you commit and pay for the eCommerce site. They offer a series of different plans so you can easily choose the one that is best for your business. The standard plan is $29.95 a month, the highest level, Pro plan is $299.95. They also offer a variety of tutorials, Webinars, and videos to help you design your eCommerce site. Like other providers, they enable you to accept payments, fulfill orders, and will work with a variety of other business software. One benefit of Big Commerce is that they enable you to utilize other services to sell your goods including Amazon, eBay, Facebook, and others.
ShopifyPlus
ShopifyPlus appears to be the real deal! Unlike other sites, they offer a lot of information on their software products. They offer a very versatile product. Their eCommerce software products are scalable so you will not have to change providers as your business grows, they will scale along with growth. They also claim to get your site up and running quickly. From ideation to design and implementation is often around 90 days. They also work with other custom apps like Shopify Flow, Launchpad, and Scripts.
NetSuite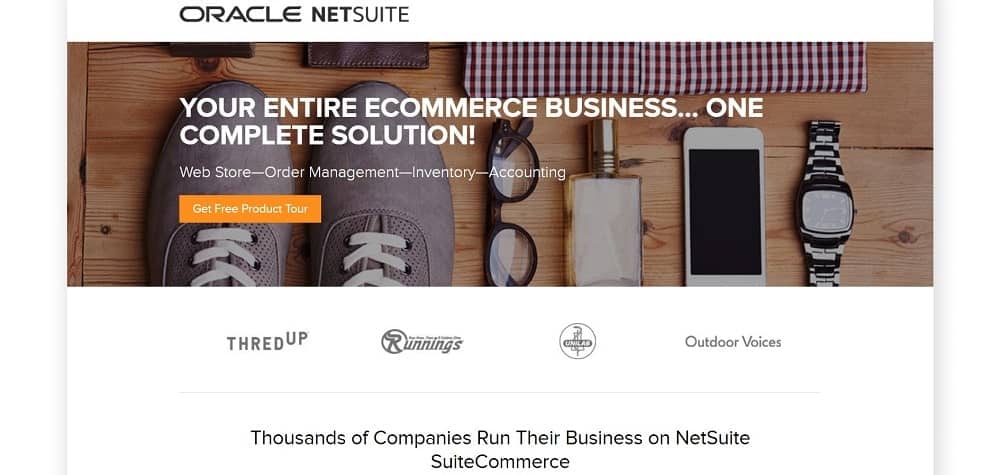 NetSuite is a popular provider of a wide range of enterprise-level cloud-based software solutions. That said, eCommerce is a key element of their software offerings. Because they offer cloud-based services, business owners can have access to all their data any time and any place that has an Internet connection. Unlike many other eCommerce platforms, NetSuite offers Websites in different languages, different currencies, and can work with multiple online stores. A key benefit is the ability to track inventory as well as order management and sales tools. Like some of the other providers, they offer a free product tour.
WooCommerce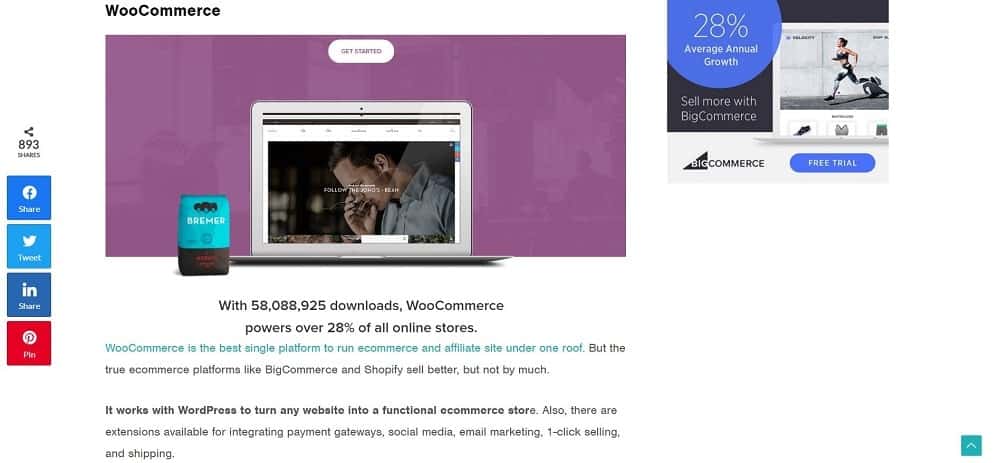 This is a free service. With WooCommerce, as long as you know how to use WordPress you will know how to use their eCommerce solution. They offer tutorials to help you set up the platform with themes and plugins. While it is customizable and offers many integrations and marketing options, many have said that the program slows down as your customer base and sales increase. There also appears to be nearly no technical support should you run into issues.
What to Look for in an eCommerce Platform?
Inventory control:  The platform should provide accurate inventory control so you know precisely when to order new inventory.  Cash flow management is critically important with e-commerce.  You want sufficient inventory to meet demand but you don't want to tie up too much cash.
Payment gateway: You must have a fluid and reliable payment gateway that makes it easy for customers to buy with their preferred payment methods.
Reports:  E-commerce requires knowing your numbers including sales, profit margins, COGs, shipping costs and more.
Scale: Choose a platform that will scale as your company's online sales grow. The platform you choose should be easy to use, affordable, and scalable. If your provider can't grow with you, you will need to change the platform and migrating platforms can be time-consuming and cause you to lose sales if your site needs to shut down during the migration process.
Beautiful design: Your site design should be eye-catching while being easy for your customers to navigate. If your storefront is not designed well, it can negatively affect your conversion rate and you may lose sales. Bad user experience can impact organic search rankings. Some of the most important design elements to your store platform include navigation, ease of product searches, checking out easily, and customer support.
SEO friendly: You need to optimize each page so it will show up in product searches. You need to think of SEO when you're choosing an eCommerce software provider. Do not keyword stuff…in other words, do not keep repeating your keywords over and over again. This offense could get you removed from Google searches altogether. You need to think about a variety of different words that may be used in search tools for the product or service you are offering. You need to consider the proper product descriptions, title tags, and heading tags to make it easy for your customers to find you.
Custom product descriptions presented in a way that gets the sale: Write unique, customized descriptions for each product and do not rely on the manufacturer descriptions. Many manufacturers offer generic product descriptions, don't be one of the few that cut and paste those descriptions. Writing descriptions for every item on your site is an arduous task but it worth it in the long run. Using the manufacturer's description may cause Google to cite duplicated content. You could be penalized by Google and to recover from this fate you will be faced with an investment in both time and dollars.
Key cart conversion features: Watch for abandon shopping carts and do something about them. According to a study from the Baymard Institute, the shopping cart abandonment rate is currently 68%. That means that one in four consumers purchase items in their carts. You need to remarket or retarget the product to the consumer to encourage the sale. Remarketing means your shopper will receive relevant ads to encourage them to make a purchasing decision. You will never completely get rid of cart abandonment but using remarketing may reduce abandonment and increase sales.
Shipping control: Give customers several shipping options including free shipping. Those that offer free shipping can often lead to positive bottom-line results. One-third of consumers abandon their shopping carts because of shipping charges. If you offer free shipping, your customers may actually buy more products. While free shipping does reduce your profit, many customers will buy more items if they are getting free shipping. If free shipping is not an option for your business, at least give shoppers an option to choose from several shipping options.
The eCommerce platform should be easy to set up and design. Choose templates wisely and pick a platform that is easy to use and make changes and updates. This way you don't need to hire a designer to create and manage your site which can be very expensive.
The site should be easy to navigate. The purchase process should be easy from using search tools to find your product through the check-out process.
Your Website needs to be secure, so consumers aren't risking having their credit card information stolen or having improper charges. Choose platforms that support HTPPS/SSL to ensure a safe, secure check out process.
Make sure the eCommerce provider offers SEO resources. You need to be sure to optimize your site so your customers can easily find your product through search engines. You can help your SEO rankings by posting customer reviews, adding a blog, and other marketing efforts.
Your site MUST be mobile-device friendly. With most people owning a cell phone, more and more people are opting to do business on their mobile devices. In fact, according to Statista by next year, 2021, mobile retail revenue is expected to reach $3.56 billion, up from 2017 when the revenue was $2.2 billion. If potential customers cannot access your Website, you will undoubtedly lose business.
Choose an eCommerce provider that offers great tech support. A responsive customer service support team is critical. You cannot sell goods if your site is not-functioning. Remember, its easier to talk to a human than try to solve issues with virtual assistance.
Make it easy for your customers to pay for their purchases. Having a variety of payment gateways like PayPal and Apple Pay makes it easy and secure for customers to complete their purchase.
Make sure you have a budget and stick to it. Most platforms have fees associated with their services. They may offer flat rates, monthly fees, and fees per transaction. Make sure you know exactly what your getting and how much it will cost.
Jon runs the place around here.  He pontificates about launching and growing online publishing businesses, aka blogs that make a few bucks.  His pride and joy is the email newsletter he publishes.
In all seriousness, Jon is the founder and owner of a digital media company that publishes a variety of web properties visited and beloved by millions of readers monthly. Fatstacks is where he shares a glimpse into his digital publishing business.