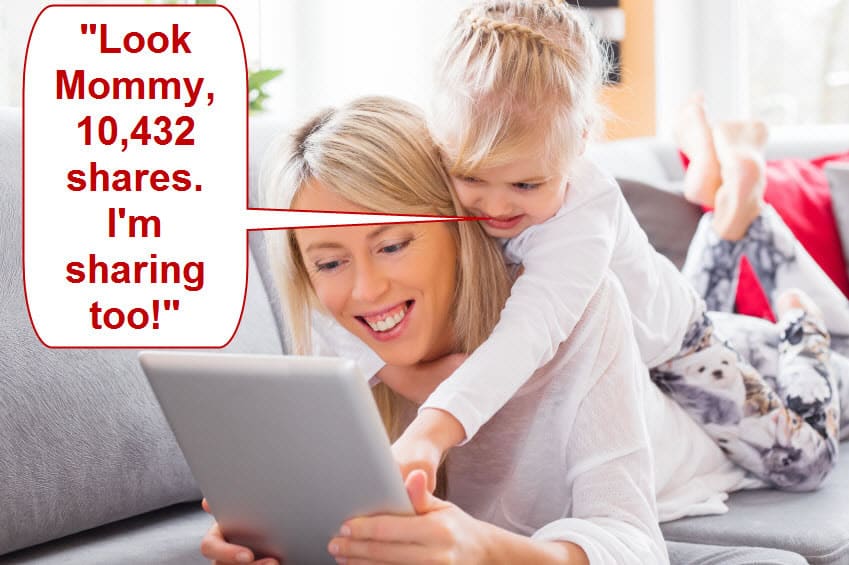 This is an important post if you like free traffic.
Amazingly, I've read a post recently that suggests not using social sharing buttons at all.
I agree that if you get no shares whatsoever, remove the social sharing buttons. However, if you do get shares, like I do on my niche sites, get the best social sharing tool set you can.
With my new website purchase, I've been doing plenty of testing, including testing social sharing buttons.
I pulled out the old wallet and paid for 4 of the latest and greatest social sharing plugins. I'll go through those plus a few others.
1. SumoMe
I'm going to tell you right off the bat that no social sharing plugin comes close to SumoMe's performance, design and ease-of-use.
Most importantly, I've never had an issue with SumoMe's total share count.
Total share count is when next or above the share buttons is a total share count for a particular web page. This is an important number for me because it screams social proof when a post has been shared a lot.
Here's a screenshot of some awesome share counts reported with SumoMe from one of my sites: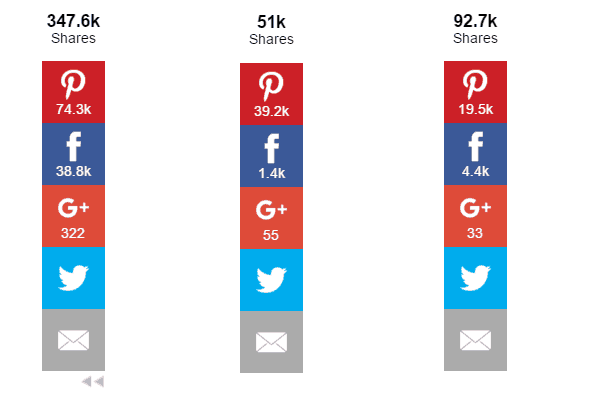 In fact, even if the buttons don't generate much traffic, the social proof is still worth it.
Pros:
Easy to use.
Total share count works like a charm.
Customize both desktop and mobile buttons.
Smart option which orders the buttons according to which is clicked the most.
Excellent reporting so you can see which social networks sitewide perform the best on your site.
Cons:
Display options are okay (Monarch is better… but overall I prefer SumoMe for the other features).
The free version is decent, but if you wish to customize the mobile display, you need to pay. To add insult to injury, the fee is $20 RECURRING for ONE site only.
I've been frustrated deploying SumoMe on multiple sites. In the end, I create a new account for each website using a custom email address set up for each website. I'd much prefer a more central database that includes all of my sites in one account.
To date, I'm paying for the premium version for only one site because for that site it's important to be able to customize the mobile display. For all other sites on which I use SumoMe, I just use the free version.
FYI #1: Fat Stacks (this website) uses the free version of SumoMe.
FYI #2: SumoMe products rock, but you can end up spending a lot of money monthly if you get several premium products across 2 or 3 sites. Before you know it, you're in for $120 per month or more.
FYI #3: If you use images on your site that have the potential to get shared, you must use the SumoMe image sharer. It's the best image sharing plugin I've used as well. What makes it so great is it actually shares the specific image in a post instead of the post itself. I generate 500 to 1,000 shares per day with Image Sharer alone.
Here's a screenshot of share volume for one of my sites with SumoMe Image Sharer:
2. Monarch Plugin
Boy do I wish the Monarch plugin by Elegant Themes did a better job of consistently displaying total share counts, but it doesn't do it well. I've deactivated and activated this plugin several times on 3 sites trying to get it working properly, but it just wouldn't consistently show total share counts.
Aside from that, this plugin rocks. I love the style of the buttons and the myriad of locations you can display the share buttons.
Pros
Beautiful social sharing buttons
Full control over placement including fly-ins and pop ups (which I wouldn't use for any website, but it might be worth using depending on the site)
Mobile display control
Price: Pay one time (although you can pay annually to retain support access).
Super easy to set up. One of my favorite aspects of SumoMe is how easy they make it to get their tools up and running. You can tell they put a lot of thought and engineering into the user interface. This goes for all the SumoMe products (free and paid).
Cons
Inconsistent total share count (if it weren't for this, I'd use Monarch on all of my sites).
The Monarch Image Sharing Button
Great idea, but poorly executed. Unfortunately the image sharer with Monarch shares the entire post, not specific images. This is an important deficiency because if you have multiple images on a post, visitors likely wish to share a specific image – not the featured image of the entire post.
I think Elegant Themes is a fantastic theme developer and company. I've used several of their products over the years and they're top notch so it pangs me to give one of their premium plugins second billing.
3. Social Share & Locker Pro WordPress Plugin
Social Share & Locker Pro is an outstanding share plugin for a great price EXCEPT, like Monarch, the total share count is inconsistent which is a dealbreaker for me.
Otherwise this plugin has it all – it's the most feature rich option of all the social sharing plugins listed here.
Pros
Fabulous social follow buttons: If you wish to post social media buttons linking to your social channels, you can with this plugin. Moreover, the buttons will display how many fans/followers you have with each channel. This alone may be worth using this plugin. I don't use it because I actually prefer keeping people on my site so while I do offer icons linking to my social channels, they're not very prominent.
Several button designs.
Full control over social networks, placement, mobile vs. desktop – the amount of control is exceptional. With shortcodes you have even more control.
Locked content: You can force shares in order for visitors to access content.
Reasonably easy to use, although because it's so feature rich, it takes some time to set up.
Includes image sharer. I did not test this so I don't know if it shares individual images or just the entire post. This is an important distinction.
Cons
Total share count not very good. I deployed it on 2 sites and it failed to register all the shares I had.
Many settings means it takes above average time-wise to set up.
4. Social Warfare
I was excited to learn about Social Warfare because it's a cloud-based social sharing platform which means I can set it up through their website portal.
While easy to use, I found the buttons didn't display very nicely on my site (personal opinion). That was enough to bail on this recurring cost social sharing service.
It's not terribly expensive, but I personally didn't care for the look of the social sharing buttons.
Other than that it performed well. It's worth testing on your site because it may be the right solution for you.
What About Free Social Sharing Plugins?
I've used Shareaholic and AddThis.
They're fine as a free service. They do the job.
However, if you want free, I prefer the free version of SumoMe. It's the best on the market (for my sites).
Conclusion
Free or paid, SumoMe Share is my preferred social sharing button platform for all the reasons set out above.
The biggest influence in my conclusion is how well SumoMe Share reports total shares. This is super important to me because of the social proof factor.
One additional bonus with SumoMe is the founder's emails can be funny. In fact I've learned a lot about email marketing from his emails – he's punchy, straight-to-the-point and funny.
Jon runs the place around here. He pontificates about launching and growing online publishing businesses, aka blogs that make a few bucks. His pride and joy is the email newsletter he publishes that's "the best blogging email newsletter around."
Hyperbole? Maybe, but go check it out to see what some readers say.
In all seriousness, Jon is the founder and owner of a digital media company that publishes a variety of web properties visited and beloved by millions of readers monthly. Fatstacks is where he shares a glimpse into his digital publishing business.