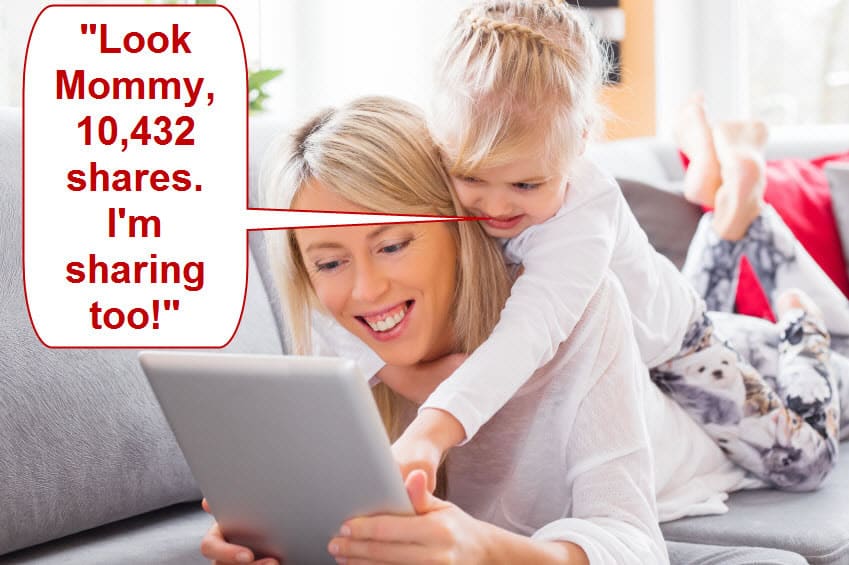 UPDATED August 4, 2020.
This is an important post if you like free traffic.
Amazingly, I've read a post recently that suggests not using social sharing buttons at all.
I agree that if you get no shares whatsoever, remove the social sharing buttons.  However, if you do get shares, like I do on my niche sites, get the best social sharing tool set you can.
With my new website purchase, I've been doing plenty of testing, including testing social sharing buttons.
I pulled out the old wallet and paid for many of the latest and greatest social sharing plugins. However, I spent a fortune on a site speed consultant who suggested on social sharing plugin above all others.  It's the first one listed below. I love it (as much as one can love such a benign plugin).  I strongly suggest you get it as well.
While I list out most available plus the kitchen sink, do yourself a favor and get the one I use.
Here is a list of the top nine current social media sharing button plugins for WordPress websites:
Novashare is the social sharing plugin I now use on ALL my niche sites including Fat Stacks.  I use it for one reason and one reason only.  It's the lightest social sharing plugin on the market.  I switched to this plugin on advice of my site speed consultant.
When it comes to sharing buttons and counts, Novashare just may be the plugin you have been searching for. You can increase your social visibility when you add share buttons to your website's most popular content, including pages, custom posts, and blog posts.
This plugin makes it easy and simple to encourage your visitors to share your posts with their friends and followers and will give you, and them, the share counts from some of the most used social media sites, such as Twitter, Buffer, Pinterest, and Facebook.
Pros:
Lightweight:  This is the biggie for me.  At the end of the day social sharing buttons don't account for too much traffic but I still want to offer them for visitors that wish to share, so I opt for the lightest plugin out there.
Simple: It doesn't have a ton of bells and whistles, but it does what I want it to do without slowing my sites down… much.
Cons:
Costs money:  This sucker costs money which is a tough nut to swallow when there are free options.
2. Monarch Social Sharing Plugin
The Monarch Social Media Sharing Plugin was created by and is available through Elegant Themes. It offers over 20 social sharing networks that you can share on your website.
It even gives you the option to add or arrange a number of available networks in any way that you choose to, depending on what works best for you and your situation.
Placement is everything when it comes to the usefulness and effectiveness of your social sharing buttons and Monarch allows you to choose the location. Another very useful feature that the Monarch plugin offers is the image sharing option.
Sharing photos and other images are extremely important when it comes to promoting your business or blog through social media platforms. Most of the time, you will need another WordPress plugin to be able to share media files on social networks, but the Monarch plugin can do all of that for you!
Boy do I wish this plugin did a better job of consistently displaying total share counts, but it doesn't do it well.  I've deactivated and activated this plugin several times on 3 sites trying to get it working properly, but it just wouldn't consistently show total share counts.
Aside from that, this plugin rocks.  I love the style of the buttons and the myriad of locations you can display the share buttons.
Pros
Beautiful social sharing buttons
Full control over placement including fly-ins and pop ups (which I wouldn't use for any website, but it might be worth using depending on the site)
Mobile display control
Price: Pay one time (although you can pay annually to retain support access).
Super easy to set up.  One of my favorite aspects of SumoMe is how easy they make it to get their tools up and running.  You can tell they put a lot of thought and engineering into the user interface.  This goes for all the SumoMe products (free and paid).
Cons
Inconsistent total share count (if it weren't for this, I'd use Monarch on all of my sites).
The Monarch Image Sharing Button
Great idea, but poorly executed.  Unfortunately, the image sharer with Monarch shares the entire post, not specific images.  This is an important deficiency because if you have multiple images on a post, visitors likely wish to share a specific image – not the featured image of the entire post.
I think Elegant Themes is a fantastic theme developer and company.  I've used several of their products over the years and they're top notch so it pangs me to give one of their premium plugins second billing.
3. Social Warfare
Social Warfare is an amazing WordPress social media sharing button plugin that offers plenty of customization. This plugin will even assist you in creating create in-post tweetable quotes that make it even easier for your readers and the visitors to your site to share the custom messages you create and post.
The Social Warfare plugin also provides you with the option to upload very specific descriptions or messages with images to the very popular Pinterest social media platform.
This will help drive traffic for you, increase your site's standing for SEO, and even comes with a widget to help you feature and highlight your most popular content that is based on the number of social media shares of each post.
This plugin also gives you a complete analysis of social media data and automatically adds UTM tracking to every single link you share. This will allow you to see first-hand how your social shares are performing.
4. Revive Old Posts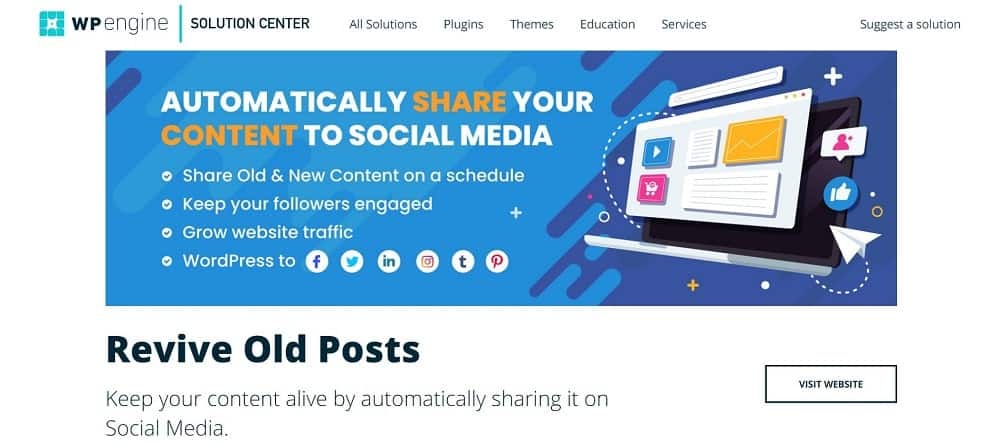 Revive Old Posts a great social media sharing button plugin that will assist you in driving traffic to the older posts on your blog or website. It even allows you to schedule older posts and add hashtags to them without ever leaving your WordPress dashboard.
Sharing older posts can be a very time-consuming process but with Revie Old Posts, you can ensure that your accounts are always rife with fresh content. It allows you to share your posts on all of the popular sites, such as Twitter, Facebook, Tumblr, Linkedin, and more.
5. Grow by Mediavine
Grow by Mediavine is one of the easiest to use social sharing plugins on the market and allows you to add very customized social media share buttons that will blend well with the design of your site which will help increase your social media shares and increase interactions with visitors.
The free version of the Grow by Mediavine comes with five of the most popular social media platforms, including Facebook, Google+, Pinterest, Twitter, and LinkedIn.
The premium version allows you to connect 10 or more social media sites, including the most popular ones mentioned above and others, such as StumbleUpon, Reddit, Telegram, Flipboard, VK, Yummly, WhatsApp, Buffer, Pocket, Tumblr, and more.
You even have the option to customize each share button to match your preferences and the layout and design of your site. You can opt for a simple social media icon, a bolder one that stands out more, or one that includes a social share counts option.
You can even place the social sharing buttons before or after the content of your posts or allow them to follow your visitors as they scroll up and down the page. In other words, you have the option of a floating social media icon that continues to encourage people to share the blog post, image, or article to their friends and followers.
6. Kiwi Social Sharing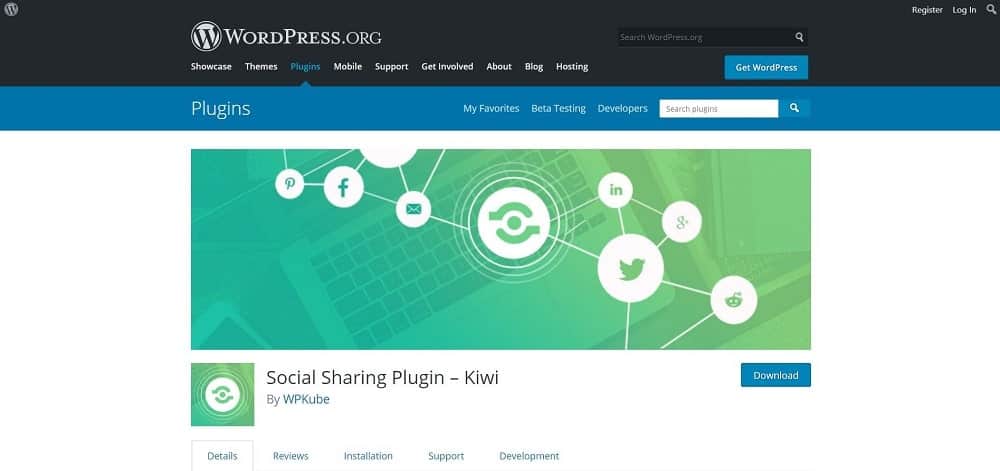 Although it is easy to use, Kiwi Social Sharing also offers an all-inclusive social sharing plugin experience. It is detailed enough to attract visitors to your website and hold their attention. There is a free version as well as a premium version of Kiwi Social Sharing available which means it will fit with any budget.
It also supports all of the most popular social media sites and can be set up quickly to begin increasing your social media traffic right away. And the best part if, Kiwi Social Sharing will not slow down the loading time of your website.
This amazing plugin even offers you the "ready tweet" feature. This means your users can simply click from your site and share your post and information on their Twitter account quickly and easily.
This plugin also comes with a drag and drop feature that allows you to rearrange the sharing elements. It also offers you four different options of button styles that you can choose from.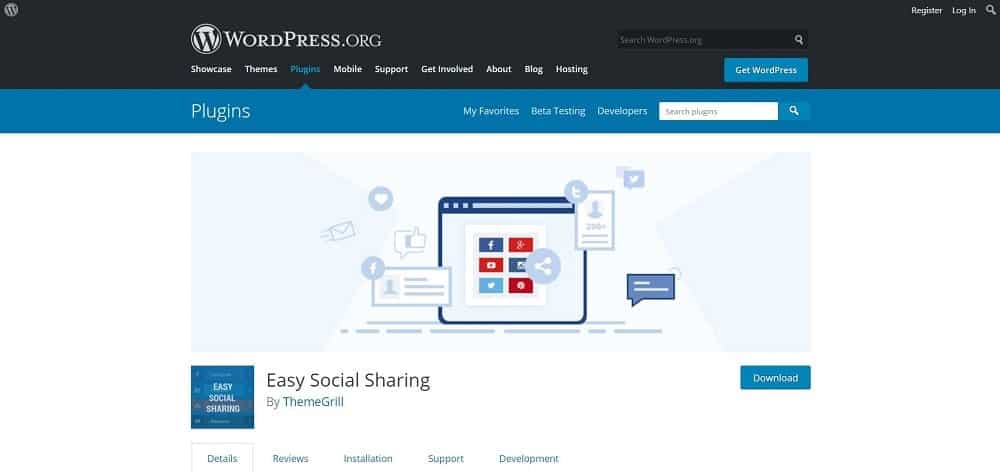 Easy Social Share Buttons is another social media plug-in for WordPress that offers an extremely long list of features to fit a variety of preferences and needs. It supports more than 50 social networks and you can place it in 28 or more different positions on your website. It also offers you 52 or more premade templates and more than 25 animations. I
This amazing plugin will also allow you to customize tweets for Twitter, use open graph data, and much more. It allows you to avoid the negative social proof issue by specifying a minimum number of share counts of your choosing. It can help you to create a custom message that people will see after a user shares your content.
This option could include the display of a like button or even an email option. It offers analytics in A.B. testing and allows you to display a list of your most popular pose according to social shares.
This social media sharing button plug-in will even help you recover lost share accounts if you need to change domains or move to a different HTTPS. It also offers you the option of allowing your visitors an email opt-in through a pop-up form and it will let you have live chat as an option for Facebook Messenger or Skype Live Chat The best thing is that the Easy Share Social Buttons social media button plugin will not break the bank as it is not very expensive to purchase.
8. WP Social Sharing
WP Social Sharing could be considered a lightweight option when it comes to the top social media button plugin options for WordPress. This one is, however, a great option if your main goal is to simply ensure that you have workable and viable social share buttons on your website or blog.
It offers social media share buttons for the most popular sites, such as Twitter, Facebook, Reddit, LinkedIn, Pinterest, and Xing.
This social media button plugin for WordPress is super easy to install. Everything is very responsive and it uses CSS3 buttons versus images. This one is a great option when it comes to the purchase price since this social media plugin is free to use!
9. SumoMe
UPDATE: I no longer use SumoMe for anything.  I used to use SumoMe on every site, but have since switched to Novashare.  Below are my old comments and while still true, SumoMe slows down sites more than Novashare.
I'm going to tell you right off the bat that no social sharing plugin comes close to SumoMe's performance, design and ease-of-use.
Most importantly, I've never had an issue with SumoMe's total share count.
Total share count is when next or above the share buttons is a total share count for a particular web page.  This is an important number for me because it screams social proof when a post has been shared a lot.
Here's a screenshot of some awesome share counts reported with SumoMe from one of my sites: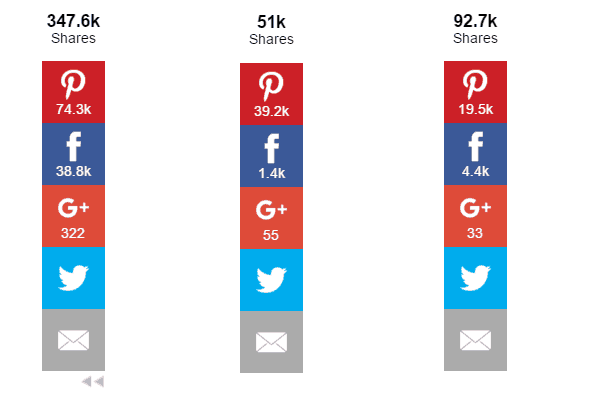 In fact, even if the buttons don't generate much traffic, the social proof is still worth it.
Pros:
Easy to use.
Total share count works like a charm.
Customize both desktop and mobile buttons.
Smart option which orders the buttons according to which is clicked the most.
Excellent reporting so you can see which social networks sitewide perform the best on your site.
Cons:
Display options are okay (Monarch is better… but overall I prefer SumoMe for the other features).
The free version is decent, but if you wish to customize the mobile display, you need to pay.  To add insult to injury, the fee is $20 RECURRING for ONE site only.
I've been frustrated deploying SumoMe on multiple sites.  In the end, I create a new account for each website using a custom email address set up for each website.  I'd much prefer a more central database that includes all of my sites in one account.
To date, I'm paying for the premium version for only one site because for that site it's important to be able to customize the mobile display.  For all other sites on which I use SumoMe, I just use the free version.
FYI #1: Fat Stacks (this website) uses the free version of SumoMe.
FYI #2: SumoMe products rock, but you can end up spending a lot of money monthly if you get several premium products across 2 or 3 sites.  Before you know it, you're in for $120 per month or more.
FYI #3: If you use images on your site that have the potential to get shared, you must use the SumoMe image sharer.  It's the best image sharing plugin I've used as well.  What makes it so great is it actually shares the specific image in a post instead of the post itself.  I generate 500 to 1,000 shares per day with Image Sharer alone.
Here's a screenshot of share volume for one of my sites with SumoMe Image Sharer:
Social Share & Locker Pro is an outstanding share plugin for a great price EXCEPT, like Monarch, the total share count is inconsistent which is a dealbreaker for me.
Otherwise, this plugin has it all – it's the most feature-rich option of all the social sharing plugins listed here.
Pros
Fabulous social follow buttons:  If you wish to post social media buttons linking to your social channels, you can with this plugin.  Moreover, the buttons will display how many fans/followers you have with each channel.  This alone may be worth using this plugin.  I don't use it because I actually prefer keeping people on my site so while I do offer icons linking to my social channels, they're not very prominent.
Several button designs.
Full control over social networks, placement, mobile vs. desktop – the amount of control is exceptional.  With shortcodes you have even more control.
Locked content: You can force shares in order for visitors to access content.
Reasonably easy to use, although because it's so feature-rich, it takes some time to set up.
Includes image sharer.  I did not test this so I don't know if it shares individual images or just the entire post.  This is an important distinction.
Cons
Total share count not very good.  I deployed it on 2 sites and it failed to register all the shares I had.
Many settings means it takes above average time-wise to set up.
What About Free Social Sharing Plugins?
I've used Shareaholic and AddThis.
They're fine as a free service.  They do the job.
However, if you want free, I prefer the free version of SumoMe.  It's the best on the market (for my sites).
Considerations when choosing a social media buttons share plugin:
Speed: One thing you should consider is that the button should have only a minimal effect on the load time of your page.
If it tremendously slows down the load time of your page, it will annoy visitors to your site and you would actually lose potential customers or clients rather than add them. A longer load time on your website can also cause increased bounce rates and decreased conversions. You do not want your social media plugin to have a negative effect on your website since that will defeat the purpose.
Mobile friendly: You will also need to ensure that the social media plugin button you use on your website is fully mobile optimized which means people can easily use it when viewing your site on their smartphone, tablet, or other mobile devices.
Cost: You will also want to consider pricing options when it comes to social media sharing button plugins. There are some on the market that are free or very low in cost but are they as good as their higher-priced counterparts? You will need to consider this when choosing which option to choose.
Social proof: Negative sharing proof is another trait you need to be paying attention to so that you will not have a big fat zero showing on your site as to the number of times an article or post has been shared. This means you need to choose a social media sharing plugin that will allow you to set a minimum amount of shares before the number of shares is shown to visitors.
A large number of shares will make others want to read the article or post then share it, which is a good thing, but if it says zero, it can have the negative effect in making visitors think the article or post is not worth their time in reading it, much less sharing it with others. Be sure to choose a social media plugin that allows you to set a minimum number of shares.
Social platforms available: Another trait you will want in a social media sharing button plugin is which social media buttons are available and how many are offered. If you want to drive traffic to your Twitter account but that is not one of the social media sites the plugin you choose will take them to, it really has done much good to install the plugin for your site.
There are many options available that offer more than 25 or even 50 social media sites but you need to decide which platforms you actually use or intend to use in the future. You do not want to purchase a social media sharing button plugin for your WordPress site that empties your wallet simply because it offers the most popular social media platforms as well as ones you have never heard of. Researching your audience or potential clients or customers is imperative in helping you determine which social media plugin you really need for your site.
Restrict social sharing options: You will also not want to overload your share button with sites you do not care about. This means you need to put in the time to do some research before choosing your social media plugin for your site by finding out which social media sites your audience shares on. This will take a little time and effort but will be worth it in the end.
Conclusion
If site speed is a concern for you (and it should be), use Novashare. 'Nuff said.

Jon Dykstra is a six figure niche site creator with 10+ years of experience. His willingness to openly share his wins and losses in the email newsletter he publishes has made him a go-to source of guidance and motivation for many. His popular "Niche site profits" course has helped thousands follow his footsteps in creating simple niche sites that earn big.