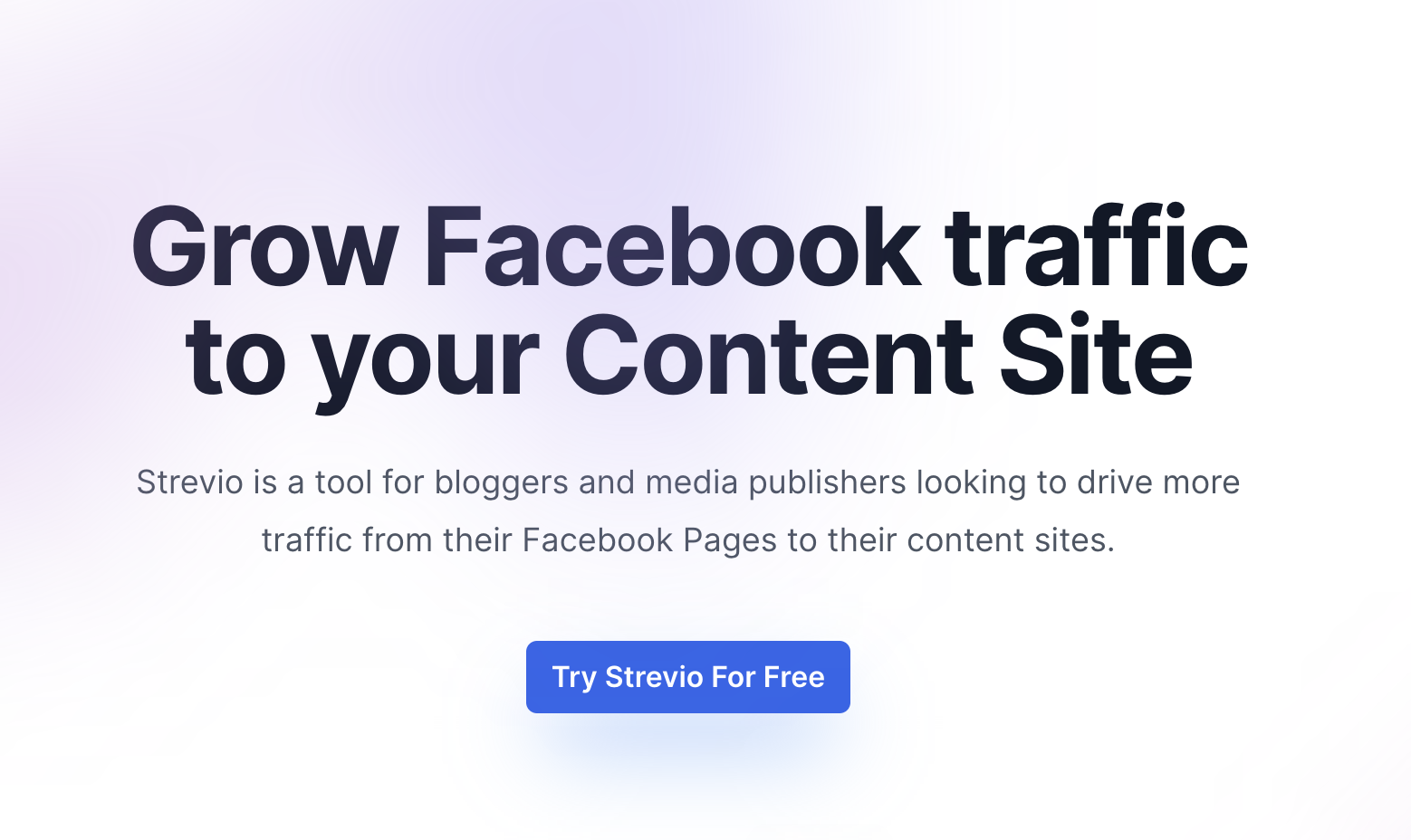 I've long enjoyed decent organic Facebook traffic. It's been consistent, lucrative (good ad RPMs) and doesn't require all that much effort.
It's been worth doing because the content is already there so it costs me almost no time to slam some posts to a FB page.
Recently, a friend of mine contacted me asking if I would like to try his new Facebook page software.
He's long done well with Facebook.
My first question to him was "how much organic FB traffic are you currently driving to your sites per month?"
I didn't want to waste my time on something that's not knocking it out of the park.
He replied "4 to 5 million visitors per month from Facebook."
He showed me. I'm floored. It's organic, as in free traffic BTW.
I get mighty interested any time traffic or revenue is north of 7-figs. Often the two go hand-in-hand.
I said "sign me up and show me what you got."
=> Check out this new Facebook software here (aff link)
I set up an account and connected my FB pages. My friend showed me around explaining how to get the most out of it.
BTW, I'm not using "friend" as some marketing ploy. I've known him for years. We've shared so many ideas over the years that have helped one another out, it's ridiculous.
That's how I knew his 4 to 5 million monthly Facebook visitors is a huge improvement from not long ago.
I've now been using this software daily for a couple of weeks. Took a bit of playing around with it and trying a few things to make it work.
Did Strevio work?
Yes. Very nicely. It's helped me a ton.
Check it out. This is just FB traffic:
It's hard to see because of the recent meteoric traffic spike but I had quickly doubled my FB traffic with this software which delighted me. Obviously, the 5x traffic is even better.
I know some of you are wondering whether any of that traffic is paid.
Yes, 10% of it is paid click traffic:
IMPORTANT: I also pay for page followers with page like ad campaigns (my favorite strategy these days).
Page-like campaigns are not direct traffic ads. Instead, it's similar to investing in email subscribers.
What I do is run Facebook ads optimized for attracting more page followers so more people will see my posts. The goal is more traffic in the long run.
I also run a few click campaigns for direct traffic just to test it… it's not very much. My main campaigns are page like campaigns.
So, it's not free but as you can see it can sure off.
Many folks are running this strategy. It's exactly what my friend who launched this new software does.
​Read his detailed guide on this effective Facebook traffic strategy here.
Does Facebook traffic result in decent ad RPMs?
It sure does (at least for me). Ad RPMs are a smidgen higher than organic search ad revenue. Here are ad RPMs for the last 3 days:
So, what does this new software do to help grow organic Facebook traffic?
I use it in five ways:
1. Find my best performing Facebook posts for any time period

 (all time, this year, last 30 days, custom date range etc.).
This is very powerful because I repost to my pages. This way, over time, I repost winners.
Here are filtering options (which you can drill down by date range and/or keyword):
You can also see how posts perform each time you post with a grade score for each posting. I also like how it shows the date the last time it was posted so you don't repost too frequently.
Plus it shows all key metrics for every post over time:
2. Create post roundups that contain the most popular articles.
I then post these roundups to Facebook (which almost always do well).
I can filter all my Facebook posts (thousands of them) by keyword, likes, shares, clicks and so on. This way, I can filter/drill down posts that are themed by topic. I then create roundup posts that contain 5 to 25+ themed articles.
I then post these roundup articles to Facebook which almost always do well (and result in many page views per visitor because they're round ups).
If a post is popular on Facebook, it stands to reason it will do well with my email audience. With this Facebook software I can quickly find successful articles way back in the past and include them in email newsletters.
4. Helps me find paid ad images
This is huge especially for anyone running FB paid ads for more page likes or direct traffic. By finding the best performing posts over many years, I can instantly find images to use for the ads. If they perform well organically, chances are they'll do well as paid ads.
5. Analyze other Facebook pages
I saved one of the best features for last. All the metrics you get for your own page you can get for other Facebook pages, as in Facebook pages you don't own. This is kinda nuts. If there are Facebook pages in your niche doing well, you can input them into the software and filter for the best performing. It's fantastic for content ideas.
Why not just use Facebook Insights?
Have you used Facebook Insights?
It's almost useless; annoyingly so.
You have to scroll and scroll and scroll to find stuff. The data is lacking. While it does provide some okay information, it's nothing like this new FB software platform.
These days I'm using this tool as much as I use Ahrefs.
=> Click here for the software​
I know, I know another subscription. I limit subscriptions as well but I'm always happy to pay for stuff when it's directly helping me make more than what it costs. This is definitely the case with this software.
FAQ
Does this Facebook strategy work in every niche?
No. Facebook doesn't work for every niche but it's worth testing. You never know. Start very small with very low per day budget page like campaigns. Then post to your page and see how those posts do. If it's crickets, Facebook may not be for you.
That said, there are often approaches you can take in many seemingly impossible niches that can work.
This where looking at other FB pages in your niche can help. If they're getting traction then it's worth trying.
Where can you learn more about this effective Facebook strategy?
​This is a great article on the overall strategy (it's exactly what I do). FYI, this article was written by the owner of the FB software so the link to the article is an affiliate link.
Am I still gunning for SEO traffic?
You bet I am. I love SEO traffic. I've recently started a massive new cluster in my niche that is going to be fantastic for SEO. I'm researching it currently and working it with Koala and my own writing efforts. I'm also updating older posts for SEO purposes.
So yeah, SEO is still a major traffic source for me but I have to admit I'm digging the additional Facebook traffic.
Is the time-on-site metric from Facebook traffic good?
Yeah, it's decent. Of course, it depends on the content you share on FB but it works reasonably well for me. It's quality traffic. Here are the metrics for the last 30 days.
Is this software useful for new FB pages with no or little posting history?
The software isn't as useful in this situation because there's no data to crunch and reveal.
However, it is useful for analyzing and providing all the metrics for other Facebook pages (i.e. pages that aren't yours). This provides you insights into what's working in your niche.
Try it out for yourself
=> Click here for the software

Jon Dykstra is a six figure niche site creator with 10+ years of experience. His willingness to openly share his wins and losses in the email newsletter he publishes has made him a go-to source of guidance and motivation for many. His popular "Niche site profits" course has helped thousands follow his footsteps in creating simple niche sites that earn big.