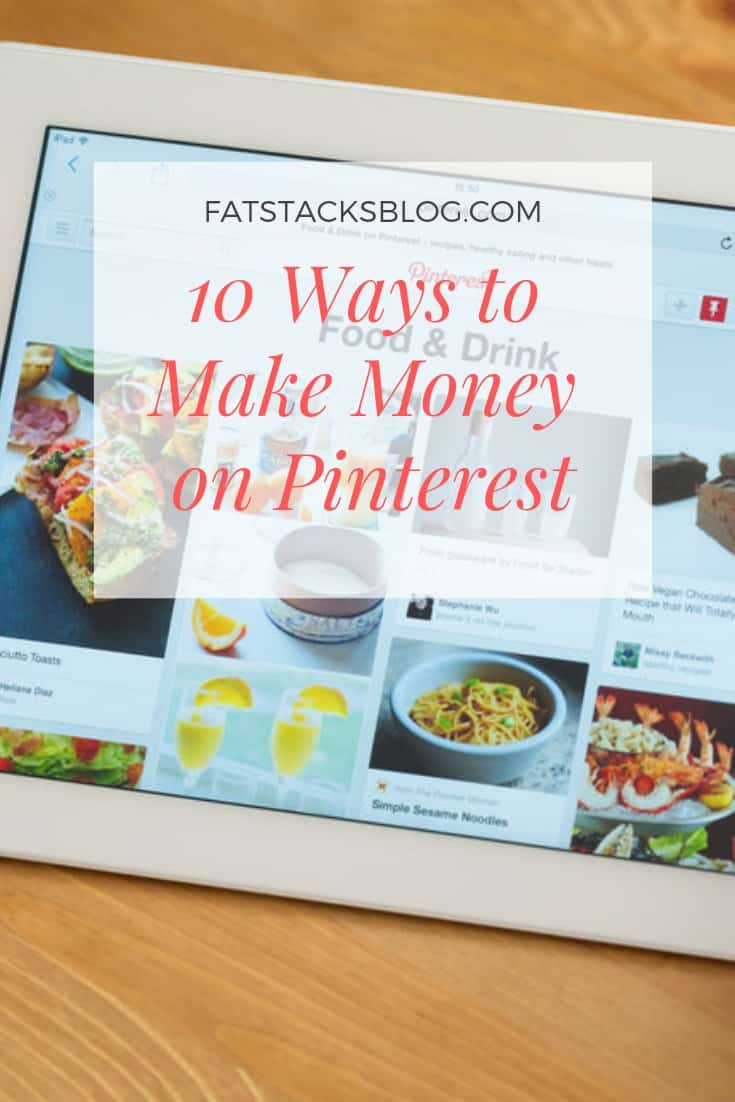 Striking it rich by launching a popular social media platform isn't easy.  Many are launched, few succeed.
Making money on the backs of successful social media platforms is easier.
It's like gold rushes in the olden days.  More people made money selling to the gold miners than striking gold (or so the legend goes).
Some people have made fortunes leveraging social media platforms.
Ever since Facebook kicked publishers in the teeth by eliminating free traffic, bloggers and publishers flocked to Pinterest.  For good reason too.  Pinterest traffic isn't all that hard if you're in a Pinterest-friendly niche.  The payoff for the time required can be good.
While I'm not a power Pinterest user, my biggest Pinterest account gets 10 million monthly impressions (that's total impressions on Pinterest, not my website… an important distinction).
Those 10 million monthly impressions drive over 100,000 monthly visitors to my website. An average Pinterest visitors visits 3.3 page views (it's high-quality traffic).  That's 330,000 monthly page views, which ads up to some decent ad revenue (mid 4 figures per month).
The best part is I spend maybe 2 minutes per day managing Pinterest, thanks to Tailwind.  My Tailwind account costs me $60 bucks per month. It earns me thousands.
While using Pinterest to drive traffic is my preferred way to make money on Pinterest, it isn't the only option.
Below I set out the various ways you can make money from Pinterest.
1. Drive traffic to your website from Pinterest
Using Pinterest to drive traffic is what most bloggers and website publishers do to make money from Pinterest.  The money is made from the traffic, whether it's sales, affiliate commissions, leads or display ad revenue.
No, Pinterest doesn't send me a cheque for the traffic they drive.  Revenue is accrued via my on-site monetization.
My Pinterest Metrics for 1 Niche Site
How do you get traffic from Pinterest?
As you can see in the above Clicks screenshot, I average about 3,500 visitors to my site each day.  With an average of 3.3 pageviews per visitor, that's over 300,000 monthly pageviews.  While 300,000+ monthly page views isn't bad, there are Pinterest users getting many times that amount of traffic.
Here's what you do in a nutshell:
Step 1: Create a board or boards on Pinterest.  A board is a theme or narrow topic within your niche.  If you're in the knitting niche,  it could a knit sweater board.
Step 2: Submit images and/or graphics to your boards.  It helps to write a decent description.  I use Tailwind to dramatically speed up this process.  I particularly like the Tailwind Chrome Extension which allows me to schedule out every pin on a URL all at once.  It's brilliant.
TIP: I put in a lot of detailed text in the Alternative Text field of my images.  When someone pins an image from my site, the text in the Alternative Text field populates the Pinterest description automatically.  This way my pins have detailed descriptions which helps them get some traction.
Step 3: Rinse and repeat.
It takes a little while to gain some momentum and to attract followers so you have to stick with it.  There are methods to speed up the process such as posting on group boards and/or Tailwind Tribes.
I do a little group board posting, but at the end of the day, I just pin to my boards and leave it at that.
I also get some good results from my website visitors pinning images to Pinterest.  I use the JQuery Pin It Button for WordPress plugin which creates a Pin It button to hover on all my images.  When a visitor clicks the Pin It button, they can save the image to their board(s).
I don't put a lot of time into Pinterest, but I do ensure my schedule is full daily.
How do I get images?
These days it's easy.  I use this service for most content these days.  I give them access to my Shutterstock and istockphoto accounts.  They get all the images, optimize the images and add them to my site.  Each day they send me a list of articles they've completed.  I go in and click publish (or schedule them out down the road).
Don't forget to set your website up for hauling in some cash
I'm a display ad guy for most of my sites.  That means I put ads like AdSense ads and these ads on my site.  Together they knock it out of the park for me.
There's no point driving Pinterest traffic if your site isn't making money.
My awesome course dives deep into making money with display ads.
Do I adjust image sizing so they are the best size for Pinterest?
No, I don't.  It costs me some traffic, but I ain't got time for that.  I'm not saying you shouldn't; it's just not something I bother wish.  I pin everything all at once and move on.
2. Pin with affiliate links
You can link your Pins with affiliate links to merchants.  Pinterest permits this but be sure the merchant is okay with it.  Not all merchants permit it.
When someone clicks the Pin and buys something you earn a commission.
I don't do this, but some people do.
3.

Sell access to your board(s)
I once paid a guy $500 for 1-month access to two boards with hundreds of thousands of followers.  I had okay results.
There are many Fiverr gigs selling access to boards.
What this means is if you have boards with lots of followers, you can sell access.
4. Leverage Pinterest success by selling other sponsored options
Recently I bought Making Sense of Sponsored Posts course.  It was good. I've never sold sponsored posts or email blasts or social media posts because it seemed like a lot of hustle and work.
It turns out it is a lot of hustle and work, but the fees can be good… good enough to warrant the hustle and work.
Where Pinterest fits in is the more exposure and traffic you can offer brands and businesses across your channels, the more likely you can sell sponsored options and charge more for them.
For example, if you sell sponsored blog posts for $500, you can sweeten the offer by promoting that sponsored blog post with one or several pins.
5. Sell Pinterest management services
If you have some success on Pinterest, you can charge money to manage other blogger's and businesses' Pinterest marketing.  There are many such services charging quite a lot for this.
While I keep my Pinterest marketing pretty simple and low hassle, I'm also leaving traffic on the table.  My point is you can get better results by going all out with beautiful pins, joining group boards, scheduling, repinning, looping, etc. There are many tactics and strategies to maximize Pinterest potential.  Most business owners don't have time to do this nor the inclination to learn.
That's where you come in.  You charge monthly fees to do it for them.
6.

Sell Pin design services
If you can create beautiful pins that perform well, you can charge for designing pins for business owners and/or bloggers.  There is no doubt that certain designs perform best in each niche.
If you develop a design style that gets results, you can charge good money for it.
7. Sell Pin templates
If you like designing pins but don't want to deal with clients, there's a market for pin templates.  Here's an example of pin templates for sale.
Of course, you'd want to ensure your templates work well and that your customers can easily customize them for their needs.
8. Sell a built-up Pinterest account/website
If you have a knack for building up successful Pinterest accounts that can drive traffic, you can sell them along with the connected website.  People buy and sell Pinterest accounts all the time.  In fact, if you get good at Pinterest marketing, you could buy low-performing accounts/boards, build them up and flip them.
Or you build up the Pinterest accounts, drive loads of traffic to a website and sell the site.
If you can drive traffic, you have an asset or two to sell.
9. Create and sell software that helps people success on Pinterest
Tailwind is an example of software that helps people succeed on Pinterest.  There are many social media management software products that charge hefty monthly fees.  Tens of thousands of businesses and bloggers pay month-after-month because the time saved and profits earned make it a great investment.
For me, Tailwind is a good investment.  It allows me to manage 2 Pinterest accounts and 2 Instagram accounts in a few minutes per day.  I pay $60 per month, which is very much worth it given the resulting traffic.
As you can imagine, developing cloud software is not an easy endeavor.  It's a lot of work and money.  Once you have customers, you're committed.  Worse yet, if you don't have enough customers, you can bleed money every month.  There's overhead such as server costs, developers and marketing.  You need a good base of customers to cover those costs each month.
While I have no interest in developing and selling software, I do acknowledge that it can be very, very lucrative if it's a success.
10. Teach people your successful Pinterest methods
If you succeed with Pinterest and can drive traffic, you can teach what you do by selling info courses.  People love Pinterest and since it's one of the best traffic channels in many niches, there's decent demand for learning how to do successful Pinterest marketing.

Jon Dykstra is a six figure niche site creator with 10+ years of experience. His willingness to openly share his wins and losses in the email newsletter he publishes has made him a go-to source of guidance and motivation for many. His popular "Niche site profits" course has helped thousands follow his footsteps in creating simple niche sites that earn big.