I've been going to town with the new Facebook Carousel Ads. I LOVE them, not because I think they look great, but because for me I've been getting traffic from these ads for incredibly low rates.
What are Facebook Carousel Ads?
They are ads with 3 to 5 images and links in the same ad.
You can see an example of a desktop carousel ad at the top of this post.
As you can well imagine, because there are more links and more images, they have the capability to perform very well.
I also think the ads' novelty at this time helps with excellent performance because it's a new ad format hitting peoples' Newsfeed and so they attract attention.
Regardless, if you do Facebook advertising, I strongly suggest giving these ads a try.
How long have I been running these types of ads?
I've been running these types of ads for about 6 weeks. I've launched at least 100 ad sets and have spent well over $20,000 on these types of ads. Overall, they are excellent performers and I find lately that more and more of my new ads are these carousel ads.
Examples of excellent results from Facebook multiple image ads
A few notes about the above ad sets using the carousel ads:
1. The .01 and .00 per website click ad sets are targeting non-USA countries (I sure wish they targeted the USA).
2. Nevertheless, I do have ad sets costing $.03 to $.06 per click targeting the USA on mobile devices.
3. The more expensive campaigns are targeting people in the USA on desktop computers.
4. These ad sets were launched only 24 hours before the screenshot was taken which means many of these ad sets will likely improve within 1 to 3 days.
How do you create these types of ads?
Fortunately, these ad formats can now be created in the Facebook's main ad editor. Initially they were only available in the Power Editor, but now you can use both platforms to create these ads.
Creating these ads is very, very easy. Because I avoid the Power Editor (I use it only for dark post ads), the following is a series of screenshots from the main Facebook ad creator platform.
FYI: These ads are only available as Newsfeed ads (both mobile and desktop). They are not available as Right Column ads.
Step 1: Start as if you were creating any type of Facebook ad.
Step 2: Targeting and bidding is the same as for single image ads.
Step 3: The Ad Creative – this is where you opt for the carousel "multiple image" (and multiple link" ad.
Step 4: Choose images, text and in-put links for each section of your ad. You can have 3 to 5 images and links.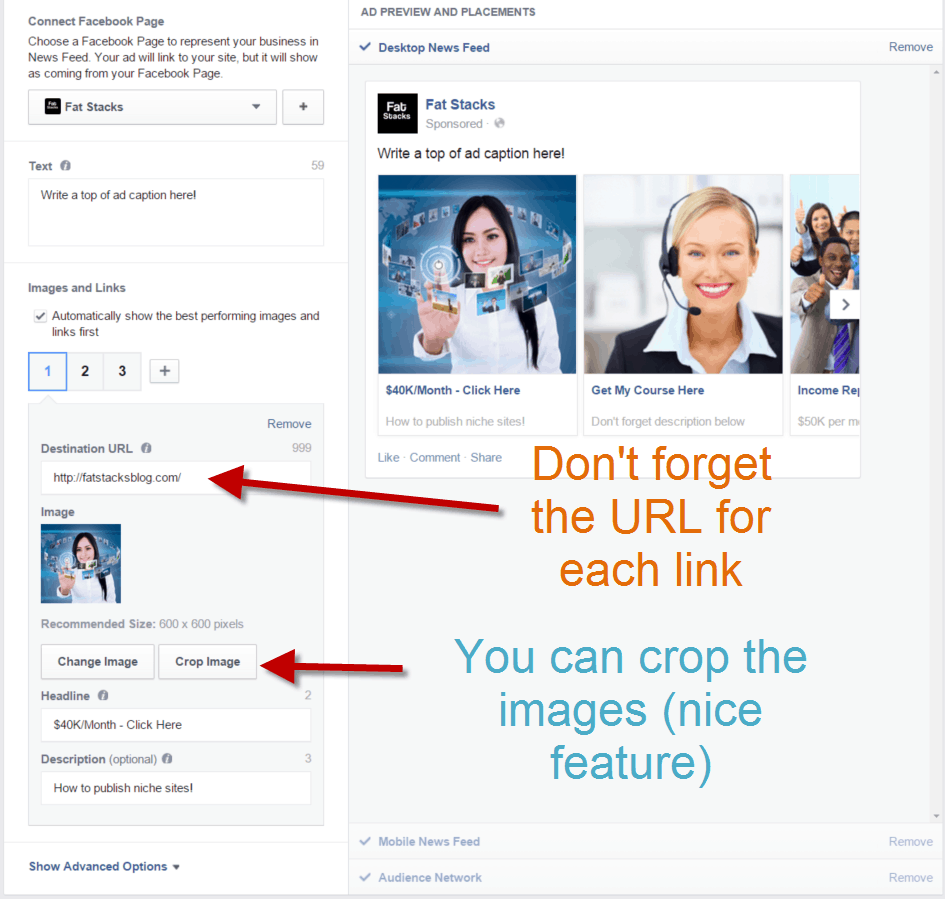 Step 5: Publish the ad.
Facebook Carousel Ad Tips
1. I always check the box "Automatically show the best performing images and links first". You can see this option in the screenshot directly above under Step 4 under "Images and Links" on the left side.
2. To theme or not to theme? By this I mean should all the links/topics be related or can the by different? I've run both and both work. I say test it. FYI, although my links may be on different topics, they still fall under the same niche (which is a broad niche). I do not suggest including totally unrelated links in the same ad such as "gardening", "yachting", etc.
3. As with all Facebook ads, the images you use are very important.
4. By all means test different images and image ordering to the same URLs. I certainly do.
5. These ads are absolutely ideal for promoting quality blog content (that's what I use them for). I suspect e-commerce websites love these ads for promoting products. Also, I bet t-shirt marketers love these ads too because they can promote similar t-shirts to the same drilled down niche.
6. I always run both desktop and mobile ads in the same campaign, but I run them as separate ad sets. In other words, I don't choose both desktop and mobile ads in the same ad set. The reason for this is the cost per website click differs across desktop and mobile. Also ad revenue is different too… so I like to be able to track both the cost of traffic and revenue generated from traffic obtained from the different devices/platforms.
7. Best tip: When I started I simply combined my best performing single image ads into the multiple image ads. That took a lot of guesswork out of it for me and I had success pretty much out of the gate. It's a great starting strategy. Since then I've created new ads not yet tested as single image ads. Some are home runs and others are duds.
Jon runs the place around here. He pontificates about launching and growing online publishing businesses, aka blogs that make a few bucks. His pride and joy is the email newsletter he publishes that's "the best blogging email newsletter around."
Hyperbole? Maybe, but go check it out to see what some readers say.
In all seriousness, Jon is the founder and owner of a digital media company that publishes a variety of web properties visited and beloved by millions of readers monthly. Fatstacks is where he shares a glimpse into his digital publishing business.