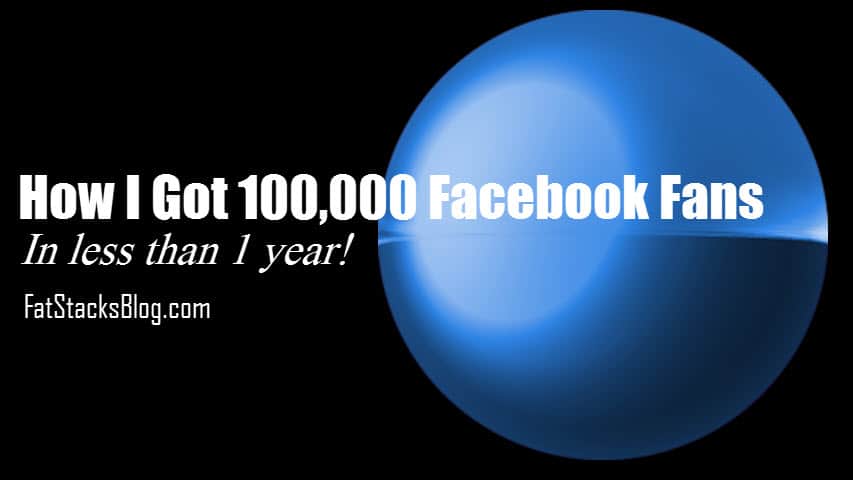 While relying too much (or exclusively) on organic (free) Facebook traffic is not a good idea, incorporating it as part of an overall traffic strategy is a good idea.  The operative words being "part of an overall traffic strategy".
In order to generate free traffic from Facebook, you need fans.  Not fake fans, but real people who are interested in your niche and what you publish on your blog.
Then all you do is publish content your fans like and report it on your Facebook page.  It works great.  It's traffic on demand.  It can generate a LOT of traffic.  It's free.  It's targeted.  It's profitable (see how I generated $107 profit from one blog post in one day here).
BUT…
There's always a "but".  Facebook seems to continually diminish organic reach for page posts.  There could come a day when Facebook stops all reach.  This is why I don't focus on attracting fans.
That said, despite not trying to get fans, I've managed to attract 100,000 of them for one niche site in under 1 year.
This brief post explains what I did.  Sorry, there's no tricks or fancy software involved.
How did I do it?
I spent hundreds of thousands of dollars on Facebook ads.
Before you hit the back button, let me explain.
Not one cent on ads was spent on "Like-focused" campaigns.  Every penny spent on ads were for "Clicks to website" ads which are Facebook ads that focus on sending traffic to my site (where I make the money).
Here's the kicker… even ads designed to send visitors to my blog generates fans.  These ads can be liked, and by doing so they become a fan.  And get this, they can like an ad and still click through to my site.  That's a DOUBLE-WHAMMY!
Here's a screenshot for the Actions for one of my Facebook ads: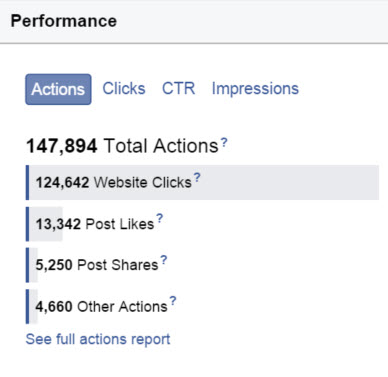 Notice all those likes?  That results in new fans from a "website clicks" optimized Newsfeed ad.  I explain how these ads end up getting you free traffic (in a round-about way) here.
I discovered this by accident.  I had no intention to build up a huge Facebook page.  My intention was always to drive low-cost traffic to my blog.  That's it.  Fan acquisition was and is a happy accident.
Actually it's a triple whammy (and this is the power of Facebook ads).  People that like and share an ad make that ad go viral (to an extent), further reducing the cost per click and generating more traffic to my site.
Before you go out and set up dozens of Facebook ad campaigns…
Don't head over to Facebook quite yet.
While the "Clicks to website" ads work great, there's still the issue of ensuring you'll at least break even with the traffic you buy from Facebook.
In fact, I suggest you not ramp up Facebook ad campaigns until you can generate a profit from the traffic you buy.  That's what I do (and did).
The Key to 1000's of fans almost overnight is…
Ensuring you earn more from your visitors than you spend.  When you can do this, you can spend all you want on Facebook ads, get hundreds or thousands of new fans per day, and most importantly, earn handsome profits.
It doesn't matter how you earn, as long as you earn more than you spend.
It can be from display ads, affiliate offers, CPA offers, selling your own products; it doesn't matter.  I monetize with display ads and affiliate offers.  It works great for me.  But the key was setting up my on-site monetization so that I earn more than I spend.
It only takes one blog post
I'm not a magician.  I send the lion's share of paid Facebook traffic to a handful of blog posts (despite having over 280 published posts).  I explain this in my article $371,835 Adsense Earnings with ONLY 10 Blog Posts in 8 Months – 9 Steps.
The fact is, being able to spend over $1,000 per day on Facebook ads and get tens of thousands of visitors to my site daily, even if it's to a handful of blog posts, has a huge spillover effect.
Some of those visitors become fans (often by liking and sharing the ads themselves)
Some of those visitors join my email newsletter
Some of those visitors follow my Pinterest boards
Some of those visitors (quite a few actually) share my content (hauling in more free traffic)
Some of those visitors check out other content on my page
Some of those visitors subscribe to my YouTube channel
And so it grows, including the Facebook page.
What I don't do for fans
1.  I don't run paid Like ad campaigns
There's a difference between running Facebook campaigns for Likes and campaigns designed to send traffic to your site.  I only run campaigns sending traffic to my sites.
2.  I don't buy fake Facebook fans
Don't do this.  You want real fans who will engage with your page and actually visit your site.
3.  I don't send traffic to my Facebook page (to get more likes)
If Facebook let me monetize my page with ads and affiliate offers, I'd consider sending traffic to my Facebook page.  However, Facebook doesn't let me place display ads on my page.  While affiliate links may be permitted (I'm not sure they are because I don't bother), I avoid doing so in the event it does cause problems with my page.
Note, I'm not saying you can or can't place affiliate links on a Facebook page.  I don't know.  I don't do it.
Since I don't monetize my Facebook, I don't send traffic to it (i.e. from my site, email newsletter, other social channels, videos, etc.).
Instead, as I've said repeatedly, I send traffic from my Facebook page to my blog (which is heavily monetized).
4.  I don't try to get people to like my Facebook page from my site
Many publishers have the Facebook like box pop up or display it in valuable real estate in an effort to get more fans.
I don't bother.  In fact, aside from one small Facebook icon in the top right, there's no other links to or promotions of my Facebook page.  Once a visitor is on my site, I prefer that they click an ad, click an affiliate link, visit another page and/or sign up to my newsletter.
8 Steps you can take right now to get tens of thousands of fans FAST?
1.  Obviously be in a niche in which people engage and share and set up a Facebook page.
2.  Set up your blog (see which WordPress theme I use that's ideal for Adsense and other ads).  Watch my video tutorials on how I set up my blogs.
3.  Publish content people share.
4.  If you monetize with display ads, get your ads set up for optimal earning.  In this free report I reveal exactly where I place display ads, the design and the sizes.  It's well worth your email address.
5.  Ensure you have social sharing buttons on your site (I use Shareaholic and SumoMe).  See how I earned $107 from one blog post in one day here from organic Facebook traffic and social sharing.
6.  Start buying Facebook ads ("Clicks to website" campaigns).  You'll obviously need to test different demographics and interests in the beginning.  Track everything.
7.  Once you have a campaign that costs less than you earn, incrementally increase that budget and create new similar campaigns.
8.  In time you'll discover what types of content work best… keep publishing that type of content and promote it with Facebook ads.  Rinse and repeat.
Optional (but recommended):
Get my full course on this stuff.  In 88 pages along with several video tutorials I tell you everything I do to not only attract 100,000 Facebook fans (who are engaged), but also exactly how I set up my Facebook campaigns plus how I launched a 5-figure per month profit blog in well under 1 year.
I'll end with this.
While I like having a growing, active and dynamic Facebook page, it's only part of my overall traffic.
Jon runs the place around here.  He pontificates about launching and growing online publishing businesses, aka blogs that make a few bucks.  His pride and joy is the email newsletter he publishes.
In all seriousness, Jon is the founder and owner of a digital media company that publishes a variety of web properties visited and beloved by millions of readers monthly. Fatstacks is where he shares a glimpse into his digital publishing business.