Table of Contents Plus Review
Effectiveness (How Well It Works)

Ease-of-Use
Summary
I love this plugin. It works and it's fairly easy to use. I wish I could format 2 column TOC's and that some of the documentation was more clear (see Eric's comment below where he suggests CSS code for a 2 column layout). Other than that, if you want a Table of Contents on your site, this will do the job.
Comments Rating
( reviews)
UPDATE June 2021: I no longer use Table of Contents Plus plugin.  It's still on my sites for older posts when I used the Classic Editor but now I use Gutenberg and hence a Gutenberg block-friendly TOC plugin. My favorite is the SimpleTOC plugin (learn more about SimpleTOC here).
End of Update
Have you ever done things the long way and stupidly forgot to ask "is there a faster/better way to do this"?
I have… a lot.
Creating tables of contents is one such example for me.  For years I manually coded tables of contents in my longer posts.  It was such a hassle I sometimes chose to skip the TOC because it was too tedious to code it.  Yeah, I can get a bit hasty when it comes to hitting the publish button and moving on.
During my niche sites' restructuring planning, especially when it came to my pillar posts, which are very long, it finally occurred to me that there must be a plugin to automate tables of contents.
I was right.  In fact there are several.
After testing a few, I settled on Table of Contents Plus (it's free).
Here's the table of contents for this post created with the Table of Contents Plus plugin:
So how on earth does a table of contents generator get more traffic?
Let me explain, after all it's my favorite feature.
My Favorite TOC Plus Feature
I'm going to get right to my favorite TOC Plus feature because it's awesome and it works.
The plugin descriptions states "Discover how Google uses this index [the table of contents links] to provide 'Jump To' links to your content.
What does this mean?
What this means is that a Google SERP listing for posts with the TOC Plus plugin activated will actually include additional links to specific parts in your post.
I don't have to tell you that any unique aspect of a SERP listing can increase click through rate from the SERPs to your website.  I also don't have to tell you that more links in a SERP listing can only be a good thing.
All I have to say is it works.
After creating a handful of tables of contents with this plugin, I was doing some typical searches to see how my site shows up in the SERPs and lo and behold, there was a listing for my site with 4 'Jump To' links in the listing.  That's absolutely awesome.  That's four additional links people have to click and enter my site.
Here's an example for a Fat Stacks post I published only 2 weeks ago:

More examples of the Jump-to feature (I just love this – notice how the links below are bolded in Google search):
Search: Ezoic Settings
Search: Ezoic Benefits

Search: Ezoic FAQ
As an aside, you can learn more about Ezoic here.
Here's the table of contents for my Ezoic Review: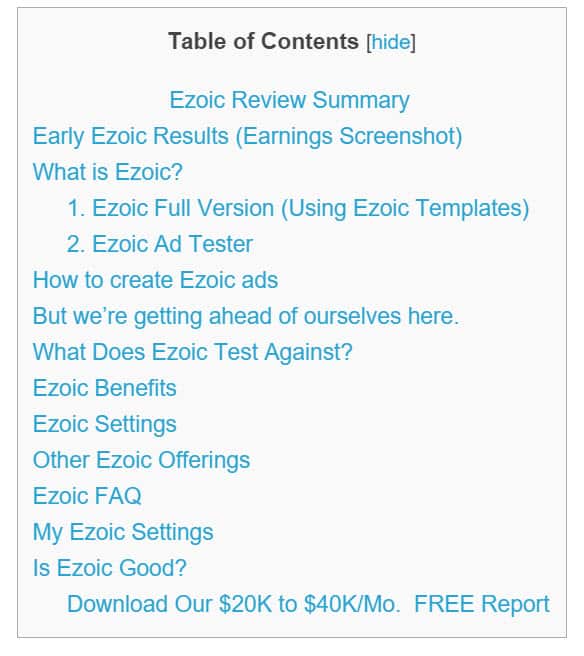 The Jump-to links echo the text in the Table of Contents.
Isn't that awesome?  I have Google SERP listings for other sites with 4 links.
The one downside to this 'Jump to' feature:
The one downside to 'Jump To' links in a SERP listing, especially for websites monetized with display ads, is visitors will not see my premium ads above the fold.  Naturally RPM will be less for visitors who click a 'Jump To' link.
That said, I'll still take those links because visitors are visitors and if my SERP listing has a higher click through rate than other listings, my listings may continue moving up in the SERPs.
Automatic and/or Manual Insertion
At this point, I've chosen not to insert a table of contents on every post and page on my site.  The main reason for this is I'm leery about automatic sitewide anything, especially my sites with ads.  I'm not about to comb through 850 posts to ensure everything looks good.
Besides, many of my posts don't warrant a TOC.  I reserve a TOC for longer posts with many headings.
That said, given the 'Jump to' SERP feature, I'm pretty tempted to deploy Table of Contents Plus sitewide on Fat Stacks.
Fortunately you have this control.  You can turn off automatic insertion and simply insert a shortcode on posts/pages where you wish the table of contents to display.
Creates a TOC from Headings Tags
The TOC is created from the headings <h1,2,3,4,5 and6> tags.  You can specify which tags to use.  For example, if you wish the items in the TOC to only include <h1> and <h2> headings, you can do this.
Specify Minimum Number of Items Before a TOC is Created
If you choose to automate TOC site-wide, you can specify that this plugin will generate a table of contents only if there are a specified number of headings in the post.  The prevents having 1 or 2 item TOCs for shorter posts.  The default setting is 4 or more headings in a post.  You can customize this as you see fit.
Customizing the TOC Design
The default design of the tables of content is to replicate the design found on Wikipedia.  There are several templates and a custom design options.
How to align the Table of Contents Left or Right with Manual Insertion
Ironically, it was writing this post that I finally figured out how to align the TOC left or right with manual insertion (i.e. using the shortcode).  Here's the shortcode for aligning left or right (with text wrapping beside it) with a manual shortcode insertion:
Placing a TOC in the Sidebar
I don't do this, but it's an option.  This plugin offers a widget that will generate the page's (or post's) table of contents in the sidebar for that page.
It's not a bad idea except if you have the sidebar on the right, few people will notice it, which defeats the purpose.
Other Ways I Use Table of Contents Plus
User-Friendly Sitemaps
For my large niche site, I created a massive sitemap organized by categories.  Under each category heading are titles of all posts in that category with links to the posts.  This is not only useful for site visitors, but it's also been very handy for me and my team for internal linking.
Custom Sidebar Menus
Part of my silo restructuring includes creating custom sidebars for each category.  For categories with 10 to 20 articles, I can use the TOC Plus shortcode in a text widget to automatically list all posts in that category.  Therefore, when visitors are on a post in that category, they can easily navigate to all other posts in that category.
It's a user-friendly feature and I'm hoping it helps with on-site SEO by making it clear to the SERPs that the site has a large set of related articles on a specific topic.
How the TOC Plus Plugin Could Be Improved
Clearer Shortcodes Instructions
This plugin operates with shortcodes.  While there are many commands which work with the plugin (this plugin offers fairly good documentation for a free plugin here), it would be great if there was documentation that simply set out the shortcodes to use for various functions.
For example, I turn off the plugin to auto-display sitewide.  I only use tables of contents on specific posts.  However, manual display is done via shortcode.  What I haven't been able to figure out is how to align a manual display to the left or right so content can wrap around it.
A work-around I've used is creating columns within the post, but it's not a perfect workaround.  I'd rather have the shortcode for simply aligning left or right.  I'm sure it's possible, I just don't know how (if you do, I'd sure appreciate a comment).
More Layout Options
I'd love to be able to create 2 column table of contents with this plugin for 2 reasons:
The TOC would span the entire width of the post.
The TOC wouldn't be so long (I have some pillar posts with the TOC spanning 800px in length.
Stop the Manual TOC Coding Madness
The reason I gave only 4.5 stars for ease-of-use is the lack of documentation for structuring the shortcodes.  A lot of people aren't familiar with structuring shortcodes (including me) so it would be nice if the documentation page had more samples of shortcodes.
Not only does the TOC Plus plugin create a better a looking table of contents, it does as fast as it takes you to type or paste a shortcode.
It's that simple.
If you're really lazy, set it up so a TOC automatically displays on every post.  You'll never have to give it another thought.
If you're hand-coding tables of contents or would like to include them in your posts but never have bothered before, Table of Contents Plus is for you.  Yeah, I'm pretty enthusiastic about this plugin… in my view it's a real gem and costs nothing.  I'd happily pay for it especially since it really does create 'Jump to' links in the Google SERP.
Table of Contents Plus Review
Effectiveness (How Well It Works)

Ease-of-Use
Summary
I love this plugin. It works and it's fairly easy to use. I wish I could format 2 column TOC's and that some of the documentation was more clear (see Eric's comment below where he suggests CSS code for a 2 column layout). Other than that, if you want a Table of Contents on your site, this will do the job.
Comments Rating
( reviews)
Jon runs the place around here.  He pontificates about launching and growing online publishing businesses, aka blogs that make a few bucks.  His pride and joy is the email newsletter he publishes.
In all seriousness, Jon is the founder and owner of a digital media company that publishes a variety of web properties visited and beloved by millions of readers monthly. Fatstacks is where he shares a glimpse into his digital publishing business.