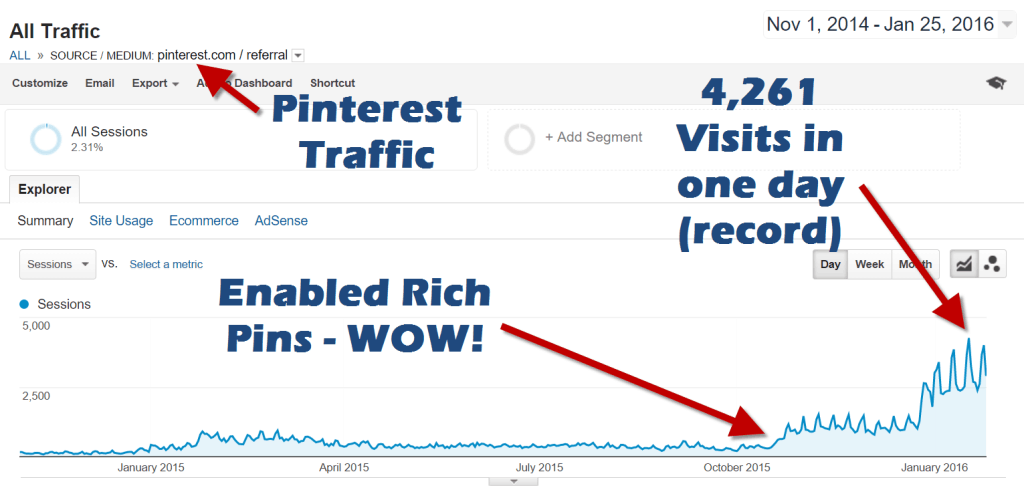 Since my initial burst of Pinterest traffic growth, Pinterest has remained a steady and growing source of traffic in the long with very little effort.  Here's an updated screenshot of Pinterest traffic to my niche website in the long run: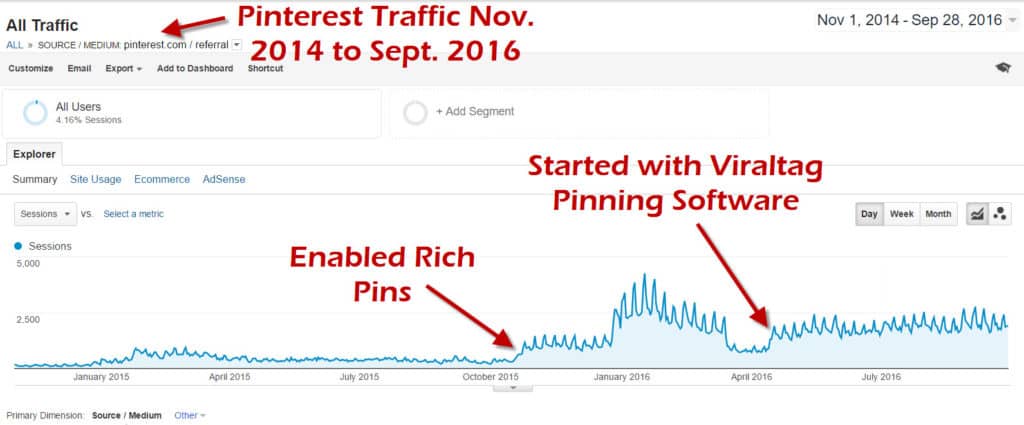 I never thought the day would come when Pinterest traffic for one of my sites is more than organic Facebook traffic.  That day arrived in January 2016.
Frankly, I don't do much to manage Pinterest, but I did follow 5 steps to get to thousands of Pinterest visitors.
Please keep in mind that the Pinterest traffic reported in this post pertains to a website that is in a Pinterest-friendly niche.  Not all niches work well on Pinterest.  For example, Fat Stacks doesn't do well on Pinterest and probably never will.
How do you find Pinterest-friendly niches?
That's simple.  Go to Pinterest and see which images get repinned a lot.  Those images clearly depict Pinterest-friendly niches.  You can check out the main niches on Pinterest by clicking the categories icon – see the following screenshot: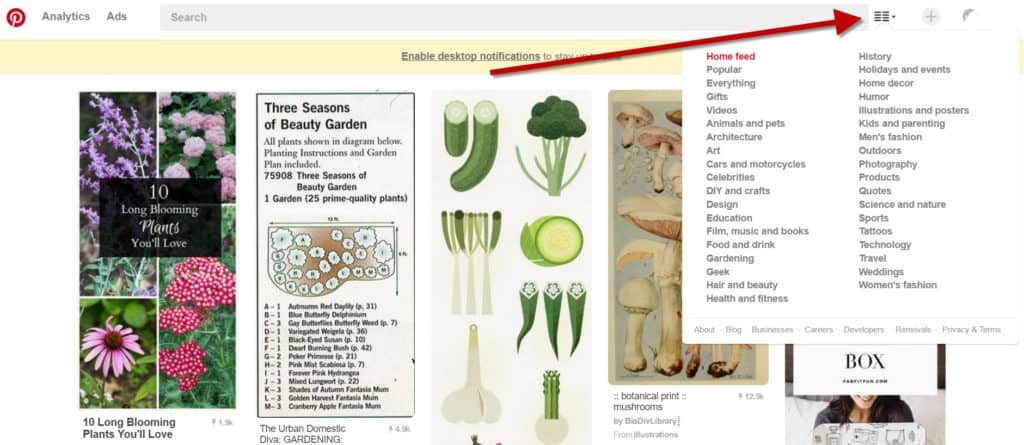 Why I like Pinterest so Much
It took me a while to gain momentum with Pinterest, but now that I'm generating quite a bit of Pinterest traffic to my niche sites, I love this social platform.
Other than the fact it sends my sites a lot of traffic, I love Pinterest because for a social media platform, it's fairly passive and doesn't take much time.
Passive Traffic (for social media):
I suspect if you ignored your Pinterest boards for 6 months, you'd notice a dip in traffic; however, you don't need to be as vigilant with it as Facebook.  If your boards have followers and your pins show up in various Pinterest searches (and Google searches) you can enjoy free traffic on a passive basis.
Easy to manage/outsource:
Pinterest is so easy to use, especially if you use tools like Viraltag (see how I use Viraltag here and read my full Viraltag review here) or Tailwind (Tailwind review).  You can pin in bulk on a schedule.  30 to 60 minutes per week can take care of your Pinterest work unless you really get into it with custom graphics.  I'm all for custom graphics if it works, but in some niches that's just not necessary.   In fact, I think a lot of people on Pinterest prefer the plain photos.
All you need to do is train someone to manage repinning and pinning your images to your various boards with a solid Pinning software such as Viraltag or Tailwind.
Promote affiliate offers:
I haven't delved into this much yet, but Pinterest now permits you to pin images with the source link being an affiliate link.  I wouldn't go nuts with this and pin only affiliate links, but done judiciously it could be another nice revenue stream.
Amazing Google Search Potential:
Pinterest shows up in Google search a lot.  If you create some long tail board topics you can scoop some of that traffic and then filter it to your site.
Step 1: Set Up Pinterest Boards
While you can certainly generate traffic from Pinterest without Pinterest Boards (truth be told I get more traffic from people pinning from my site than from my Pinterest Boards), it's good to have a Pinterest home base and establish a presence.  Yes, as you get followers, they will repin so it helps the process.
How to set up your Pinterest boards?
After about 2 months I had to rename my boards.  It was a drag.  I went about it wrong in the beginning.
In my view, the best way to set up your boards is along the following lines:
Create a board for each category on your site.
Use short titles.  The Board titles can be a little longer than website categories, but the Board titles should be short, sweet and to the point.
As your site adds categories, add boards.
Example of a really well set up Pinterest account and boards: DIYReady on Pinterest.  I haven't made my boards and account this pretty yet, but it's an excellent example of a very, very successful Pinterest account for a niche site.
Step 2: Fill Up Boards (re-pin and pin from your site)
Empty boards don't look good.
Kickstart things by filling them up by repinning.  Pinterest likes this anyway.  That's the point of Pinterest.
Don't go nuts, but at least make the boards look full.
Once you do that, start uploading your images to pinterest.
Be sure to add your website's URL to the pin.  In order to do this, you must edit the pin after it's uploaded.  It's a drag, but it's necessary to drive traffic to your site from each pin.
I add the URL to where the image is on my site.  In other words, don't be lazy and just add your home page url.
Also be sure to write a brief custom description.  It need only be one sentence, but it's good to do.
What image size works best?
I don't know.   I've read long vertical images work best.  I suppose they do.  Some bloggers suggest exact dimensions.  I've toyed with that, but it never made much of a difference.
The key, as far as I'm concerned is that the image is awesome.  That's what people repin.
I no longer waste time formatting images, adding text or doing anything beyond simply uploading the image, writing a brief description and adding a URL.
Should you follow lots of people and continue repinning?
Yes and yes.  Do I?  Now I do.  I used to just add my images, but since I started using Viraltag, I do a lot of repinning and pinning other website's images.
I have 7,500 29,400 followers and follow about 100 boards.
If you have time and/or you want to make Pinterest a focus of your social media traffic, invest a few minutes per day re-pinning from other boards 30 minutes per week and schedule via Viraltag or Tailwind and follow a few other boards.  That said, I would ensure you have more followers than the number of boards you follow.  I think that looks better.  Huge brands typically have way more followers than the number of boards they follow.  Emulate the big brands if you want to be a big brand.
If you publish a site with plenty of great images, nothing gets shares quite like SumoMe's image sharer.  Check it out (the red indicates Pinterest shares):

SumoMe's Image Sharer is free.  You can pay for a premium version, but I don't.
What this plugin does is it hovers Facebook, Pinterest and/or Twitter buttons over images.  You can specify the location on the image where the buttons hover.
While Pinterest isn't big with Fat Stacks, I still use SumoMe Image Sharer on this site.  Go ahead and hover your cursor over the images in the post – you'll see sharing buttons show up in the top left.
The reason I suggest SumoMe's image sharer is that it actually shares the individual images instead of the entire post.  This is critically important for posts with more than one image.
In my experience as a website publisher and website visitor, when I see a hover share button on an image and I click it, I want to share that image, not the entire post which shares the post's default image.  Image Sharer makes this possible resulting in a high share rate.
Step 4: Get Rich Pins Verified for Your Site
This is where you can turbo charge your Pinterest traffic (assuming you have a lot of images and are in a Pinterest-friendly niche).
While every step set out here is important, my Pinterest traffic started to explode once I enabled Rich Pins (which is free).  See the screenshot at the top of this post.
That said, it took time for rich pins to build up steam.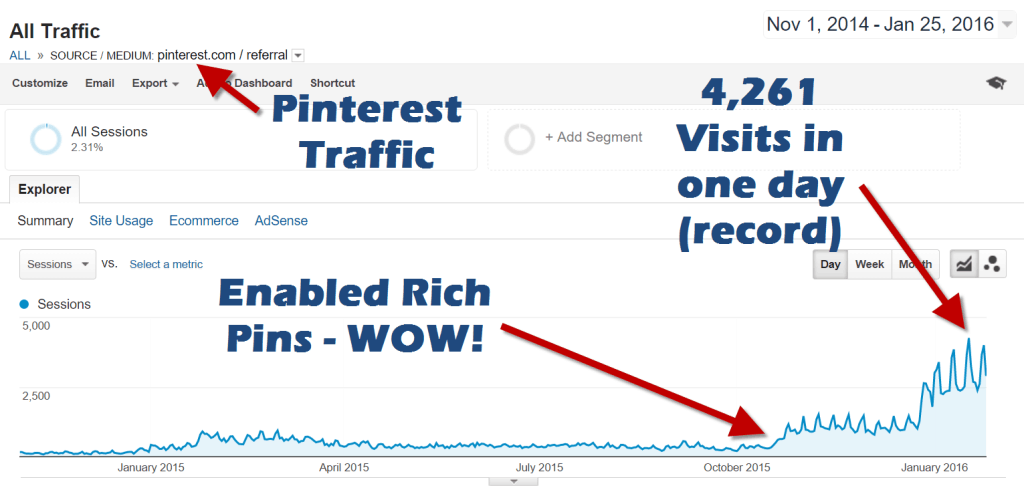 Now it's pumping out traffic like crazy to the tune of nearly 100,000 visits over the last 30 days. Check it out: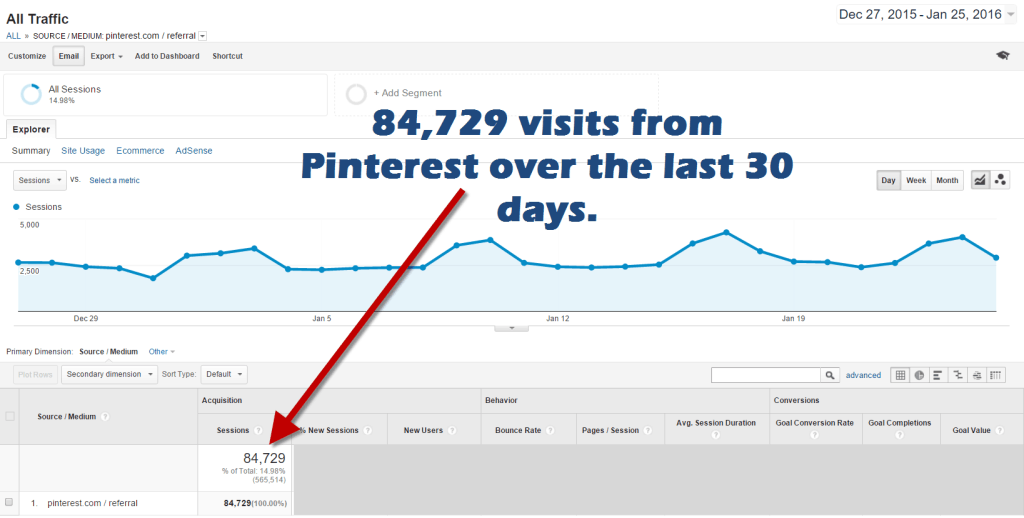 You need a Pinterest account and your website must be verified with Pinterest in order to enable Rich Pins.
I'm not sure if you need a certain amount of followers or boards or anything in order to be approved.  I enabled rich pins after my account was well established, but I'm not sure that's necessary.  Nothing in the Pinterest documentation suggests any prerequisites other than having your site verified with Pinterest.
Pinterest will step you through the verification process.  Verifying your website involves adding a snippet of code on your site, just like adding Analytics code to your site.
Pinterest will then step you through setting up Rich Pins.
Step 5: Get Traffic to Your Website
I get more traffic from Pinterest as a result of website visitors pinning images than I do from Pinterest board followers.
When you see the pin volume from the above SumoMe Image Sharer screenshot, that's 500 give or take pins per day from my website.  That means images from my site are getting pinned to hundreds of boards per day.  From there they get repinned and so they spread ultimately sending traffic back to my site.
That fact is, the site to which this post refers only has approximately 7,500 29,400 Pinterest followers.  While that's not bad, that certainly doesn't generate 3,000 to 4,000 visits per day.  Nope, it's the pinning from my site that generates most of that traffic.
Therefore, it's imperative, if you want massive traffic from Pinterest, you need traffic to your website.
Present day social media means traffic fuels traffic.  It's a beautiful thing.
Therefore, if you're in a Pinterest-friendly niche, go get traffic.  Organic search, Facebook and even give buying traffic a shot.  Just be sure to focus on quality traffic if you monetize with display ads.  Ad networks are picky about their traffic (as they should be).
IMPORTANT:  I launched my site in February 2014.  I didn't see any serious Pinterest traffic until toward the end of 2015.  It didn't happen overnight for me, so don't expect it to happen overnight for you. It might, but I think generally it takes time to attract serious Pinterest traffic.  That said, I suspect had I enabled Rich Pins sooner, I would have had a lot more Pinterest traffic earlier.  Hopefully these 5 steps speed up the process for you.
Step 6: Use Pinterest as a Hub
I often link to Pinterest from Facebook and Tumblr.  I also post all YouTube videos to Pinterest as well.  Basically, because Pinterest is so awesome and easy to use, I treat it like a hub among my social media channels.
This "Pinterest as a hub" concept is a deviation from my original niche website mindset.  Originally, I focused exclusively on making my niche sites the hub.  However, because Pinterest is so effective at driving traffic and it's such a great platform, I like also promoting and sending traffic to my various Pinterest boards.
Step 7: Add More Boards
While I wouldn't go so far as to create a new board for every blog post I publish, I think it's a good idea to create a lot of highly focused boards targeting long tail keywords.
You can certainly pin the same image/video to more than one board.
Pinterest users typically drill down in their searches.  They often look for very specific images.  You can serve their long tail searches up on a platter for them.
Step 8: Fill in the Images' "Alternative Text" Field
Good tip:  The Alternative Text field in your meta image editing screen (click image in WordPress visual editor and then click the pencil icon to get this screen), forms the pin description when someone pins from your website.
Therefore, it's very good practice to write a solid description in this field for your images so that it's even easier for people to pin (they don't have to write a description themselves).
Moreover, you can test adding hashtags in this field so when the image is pinned, it will have hashtag(s) in the description which may help get more search results within Pinterest.
One major negative to all of this
Pinterest traffic is one of the worst when it comes to revenue per thousand visitors, time on site and page views per visitor.  Maybe it's just my site, but Facebook traffic and organic search traffic performs much better.
That said, I whole-heartedly welcome 3,500 to 4,000 FREE daily visitors from Pinterest.  While it's not the best traffic, the revenue is decent and I'll take it any day of the week.
Related: Tailwind vs. Viraltag Comparison Chart
Do you have any other tips to provide?
I'm not by any means an Pinterest expert.  I'd love to hear what you do?  Leave a comment.
Do you want to learn more? Get my full course here (Niche Tycoon).
Jon runs the place around here.  He pontificates about launching and growing online publishing businesses, aka blogs that make a few bucks.  His pride and joy is the email newsletter he publishes.
In all seriousness, Jon is the founder and owner of a digital media company that publishes a variety of web properties visited and beloved by millions of readers monthly. Fatstacks is where he shares a glimpse into his digital publishing business.