Did you know Facebook now makes it easy to embed Facebook posts onto your website?
I have no idea how long this nifty feature has been around.  I discovered it yesterday.
How to embed Facebook posts onto your website
It's easy.  You can use the code generator here or follow the steps below.
Step 1: When you find a post you want to embed, click the down arrow at top right.
Step 2: Click "Embed Post"
Step 3: Copy and paste the provided code.
Here's a series of screenshots: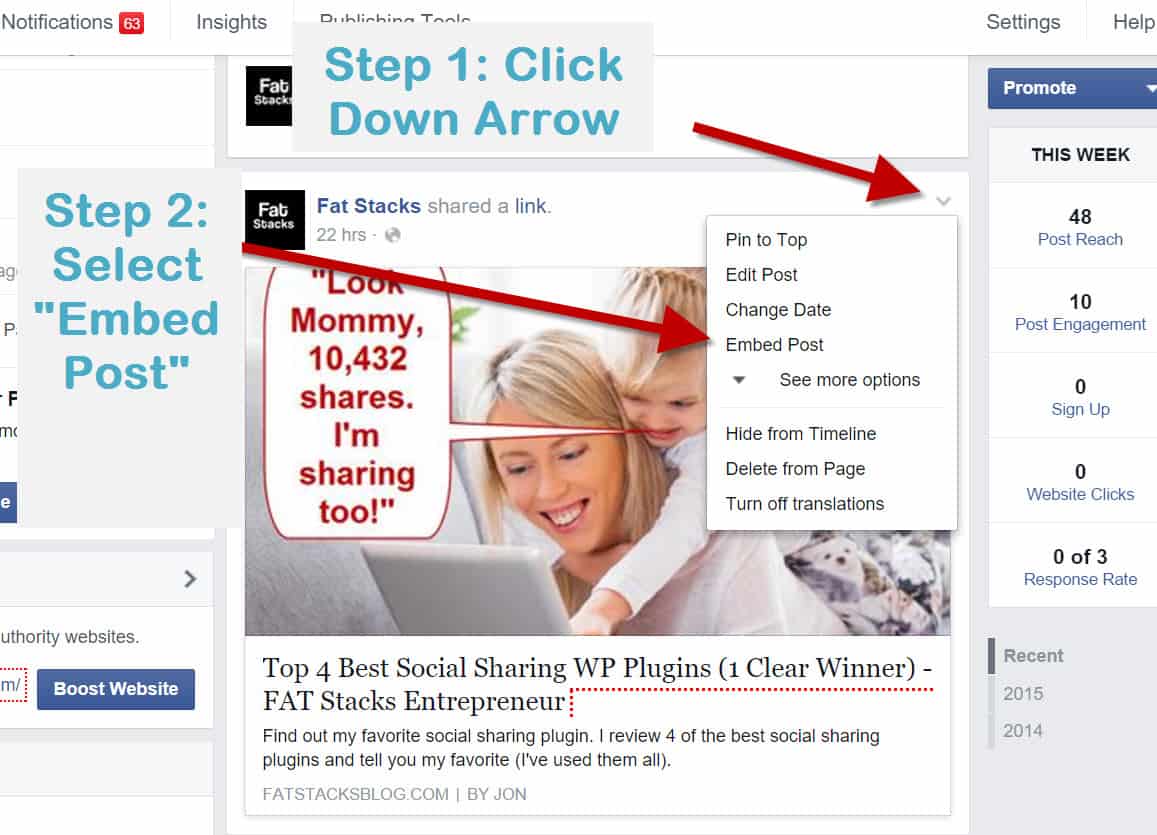 Can you change the size of the Facebook post embedded in your website?
Yes, you can.  To do so, adjust the width of the embed (between 350 and 750 pixels).  Here's a screenshot or do it via the Facebook embed code generator:
I adjust the width so the posts span the entire width of my content areas.
Should you embed Facebook posts onto your website?
As with anything, there are pros and cons.  Also, I think moderation is key here unless you come up with something clever that uses a lot of Facebook posts.
Pros
I haven't done this much so I'm not aware of all the benefits.  However, it didn't take me long to realize the obvious benefits of embedding Facebook posts on your site.  Here are my thoughts:
Free content (especially images):  I like this feature because if I see the perfect image for a gallery, I can use it on my site via FB embed.  While I will NOT be relying on Facebook images for all my galleries, once in a while I will get the perfect images for my site/galleries.
Engagement on Your Site:  Visitors can interact with the Facebook post on your site such as commenting, etc.
A fabulous way to promote your own Facebook page and generate more page views:  Don't forget to embed your own posts on your site.  This will attract fans, engagement and when they click links in the post will go to another page on your site.  How awesome is that?
Social Proof:  If you embed posts with thousands of shares and likes, that's social proof – even if it's a post from another Facebook page.  That said, posting your most popular FB posts will bolster social proof even more.
TIP:  If you want to bolster social proof this way, embed a Facebook post that you boost on Facebook and that has thousands of likes/shares.
People like Facebook: Let's face it, the Facebook brand and website is trusted.  Visitors will subconsciously like seeing Facebook posts on your site.  Again, this is not reason to embed FB posts on every page of your site, but occasionally when you can add value with it will not hurt… people will like it.
Reciprocal FB Post Embedding:  This offers another opportunity to work with other websites to promote one another.  You embed some of their posts and they do the same for you.
Cons
Lose traffic to Facebook:  It's never fun sending visitors off of your site without earning revenue or fulfilling your primary goal.  Losing visitors via Facebook post embeds will certainly not do you any favors except people will have found something to click on that they like which is in a way offering value (to them).
You're promoting Facebook:  Facebook isn't stupid.  In fact, this is a smart feature because it promotes their brand and of course pulls in more visitors.  A real win for them… but I think if done in a smart and moderate way, also a win for some website publishers.
You're promoting other brands/websites:  If you embed posts from other Facebook pages, you're promoting their brand.
Am I embedding Facebook posts onto my authority niche websites?
Yes, but I'll be doing it very selectively and in moderation.
The primary benefit for me is the content.  This will offer another source of free images, which is worth a lot.
IMPORTANT:  I'm using FB posts as additional content, not the only content on web pages.  It's the same approach I take with embedding YouTube videos – I add other content to those pages.  I do not advocate embedding a Facebook post on a web page and calling it a day on a sitewide basis.
I'm certainly not going to create galleries containing only Facebook posts, but I will incorporate them as another type of media.
It's too early to tell whether this is overall good or bad, but I think it's worth trying (especially embedding your more popular posts).
FYI:
I've had a little trouble making this work on one WordPress site I own.  For some reason the FB posts aren't displaying.  On other sites it works just fine.
Jon runs the place around here.  He pontificates about launching and growing online publishing businesses, aka blogs that make a few bucks.  His pride and joy is the email newsletter he publishes.
In all seriousness, Jon is the founder and owner of a digital media company that publishes a variety of web properties visited and beloved by millions of readers monthly. Fatstacks is where he shares a glimpse into his digital publishing business.