UPDATED May 25, 2022
Please note that this WriterAccess review is geared toward clients who order content.  It's not a review for how WriterAccess is as a platform for freelance writers (although I suspect it's pretty good given the number of writers active on the platform).
WriterAccess is now my go-to writing agency (content platform).
I also employ five in-house writers (most are part-time as it's a side gig for them) but am also ordering quite a bit of content from WriterAccess. My pay rate is between $.04 and $.08 per word, but I am getting quality content on all kinds of topics for all niche sites. It's not often I require revisions as the job is well done, and deadlines are almost always met. 
Clicking "Publish" feels good. I love it. I do it daily.
Because content earns money, every time I click "Publish," I enjoy a shot of excitement in the brain for what's possible.
WriterAccess
WriterAccess is my go-to writing agency these days. I order a lot of content on the platform working with a large list of 50+ great writers.
Because I'm working with such a large group of writers, I can order dozens or even hundreds of articles at one time and have it all completed in 7 to 10 days. I love getting content back fast and WA delivers in spades. Most importantly, the writers are great (be sure to create a quality love list of writers for even better content).
CLAIM $50 CREDIT FOR CONTENT

What exactly is possible with content writing?
Okay, most published articles aren't going to earn life-changing revenue, but each piece of published work can be a mini-profit center. Whether you monetize with ads, affiliate links, or sell stuff, there's possibility and potential.  As your content volume stacks up, so too does revenue (at least it should… that's the hope).
Except there's one problem.
It's a lot of work to get from a blank screen to click publish.
You actually have to have an article. These days, garbage content won't cut it. You need good content, which translates to work.
The good news is you don't have to do the work if you have some money.
There are literally tens of thousands of writers working globally who write for a living: some charge very little, some charge mid-range, and while others charge a king's ransom. I've paid for all levels of content over the years.
You can hire writers directly or tap a content agency to access their pool of writers. Again, I've done both. You can still check out those who do freelance writing but with experience and good writing skills.
Mostly though, I work with the agencies to get access to writers.
Why? I like being able to order dozens of articles and have them returned to me quickly.
These agencies also help me find better writers via auditioning and narrowing down my preferred writers. It's faster than hiring several writers individually.
One of my favorite agencies for high-end content is Writer Access.
While I don't get the lion's share of assignments from WriterAccess, it's the place where I get my super duper awesome high-quality articles from. But, here's the bad news, I pay for it. You get nothing for nothing. I pay way above average, but the result is way above average.
5,248 articles ordered and counting…
To date, over the years, I've ordered and received 5,248 articles from Writer Access at pretty much every price point from many writers in several niches. 
WriterAccess
WriterAccess is my go-to writing agency these days. I order a lot of content on the platform working with a large list of 50+ great writers.
Because I'm working with such a large group of writers, I can order dozens or even hundreds of articles at one time and have it all completed in 7 to 10 days. I love getting content back fast and WA delivers in spades. Most importantly, the writers are great (be sure to create a quality love list of writers for even better content).
CLAIM $50 CREDIT FOR CONTENT

What type of content does WriterAccess produce?
All kinds. You name it; they do it. Here's a laundry list:
advertisements,

annual reports,

articles (I order articles mostly),

banner ads,

blog posts,

books,

brochures,

case studies,

catalog entries,

datasheets,

direct mail pieces,

email copy,

Facebook posts,

grants,

mobile blog posts,

newsletters,

presentations,

press releases,

product descriptions,

proposals,

radio spots,

speeches,

traditional scripts,

Twitter posts,

video scripts,

web pages,

webinar presentations,

webinar scripts, and

white papers.
How much does WriterAccess charge?
The range is huge.
I currently pay $.04 per word for most content.  I used to pay $.06 to $.10 but I figured out that I was overpaying.
Here's a screenshot of pricing. Notice there's a "Pro" level option.
How to get great content for lower cost at WriterAccess
Here's what I learned about content agencies after using them for years.
Just because a writer on the platform CAN command $.08 or more per word does not mean they will not take on writing assignments for less.
That one sentence can save you thousands of dollars every year (or month if you order a ton of content).
What do I mean by that?
Writers on platforms like Writer Access build up ratings which enables them to command higher per word rates.  As you can see by the rate screenshots above, a 3-star writer can command $.04 per word while a 6-star writer can command much higher rates.
But here's the thing.  There aren't enough $.08+ per word assignments to keep a 6 star writer going full time.
Which means, for good assignments (I explain this next), 5 and 6 star writers will take on assignments that pay less (such as $.04 per word).
What types of assignments do top writers like?
As far as I can tell, and this makes sense, high word count assignments are often preferred.  This means, if you submit 1,800+ word assignments regularly, 5 and 6 star writers will happily pick them up for $.04 per word.
The thing is, there's a lot of wasted time when starting a new assignment such as pouring through the instructions and then the research to write the article.
In other words, a lot more non-writing time goes into six 500-word assignments than one 3,000 word assignment.  Generally speaking, a writer can complete one 3,000 word assignment much faster than six 500-word assignments.  Therefore, it makes economical sense to work for a lower per word rate if the assignment is large.
Since most assignments I submit are 1,800+ words, I have mostly 5 and 6 star writers taking them on for $.04 per word.
How do you restrict your assignments to only 5 and 6 star writers?
It's easy.
Inside WriterAccess you create a love list that is comprised solely of 5 and 6 star writers who write in your niche.  This doesn't take long as WriterAccess makes it really easy to run filtered searches looking for writers.  When you find them, just click the "Love List" option which adds them to your love list.
Once you have 20 to 50 writers on your Love List, when you submit an assignment, submit it to your Love List.
What type of content do I currently order from WriterAccess?
These days, I'm ordering a lot of content weekly for my two main niche sites (not Fat Stacks).  Article length is usually well above 2,000 words.
However, I've also ordered massive individual articles from experts in the field (found via a casting call).  I've also ordered 50 article series in one shot.
For example, for one niche site I started publishing recipes in 2019.  I did a casting call looking for writers who enjoyed cooking their own recipes and were willing to document their meals with text and photos.
I found 5 very quickly.  I tried two and am now working weekly with one who writes up 5 new recipes each week.  She actually makes these meals for her family so while she makes them, she photographs the entire process.  These recipe posts are pure gold.
Note, I pay her $.08 per word because there's a lot time spent not writing.  The cost of ingredients is moot because these are the meals she prepares for her family.  I let her pick the recipes each week based on her weekly menu for her family.  It's a huge win/win. She gets paid to do what she would do anyway.  I get unique, well-written and beautifully photographed recipes.

Is the WriterAccess managed service worth it?
Yes it is if you order quite a bit of content.
I'm currently using a custom $500/mo. managed service with WriterAccess. It's awesome because now I have a manager at WA handling all my orders and communications with writers.
All I have to do is add topics to a shared Google sheet.
From there, my WriterAccess content manager assigns the content to 5 and 6 star writers.
This is a massive time-saver for me.
It gets better.
These days I use MarketMuse (MM) to analyze all my content.  I created a MM training video for writers but all I had to do was get that video to the content manager.  She then trains the writers.
Every article written by WA ends up achieving exceptional MM content scores which gives every article a better than average chance of performing well in search.  I'm not so naive that a high MM score guarantees top ranking but I'm definitely improving my odds.
By giving writers access to MarketMuse, it takes the SEO writing guess work out of the equation.  They can write a darn good article and then tweak it for search.
All-in-all, I find the managed content service to be well worth the cost given how much time it saves me and how I'm able to get really good search-optimized content.
Should you use WriterAccess' managed service?
In my view, there are two situations where a managed service is worth the money.
First, if you need to find an exceptional writer for your site, the managed service can help you. They helped me out.  This could be a one-month use of the service. I've done this in the past as well.
Second, if you order a ton of work every month like I do, the managed service can coordinate everything with several writers. This could be a worthy time-saving cost.
Otherwise, the dashboard is pretty easy to use, so you can manage it yourself ( unless you want to sit on the beach and not bother being involved in your digital publishing business at all).
Does WriterAccess publish your content on your WordPress website?
Yes, there are several integrations, including WordPress. Check it out: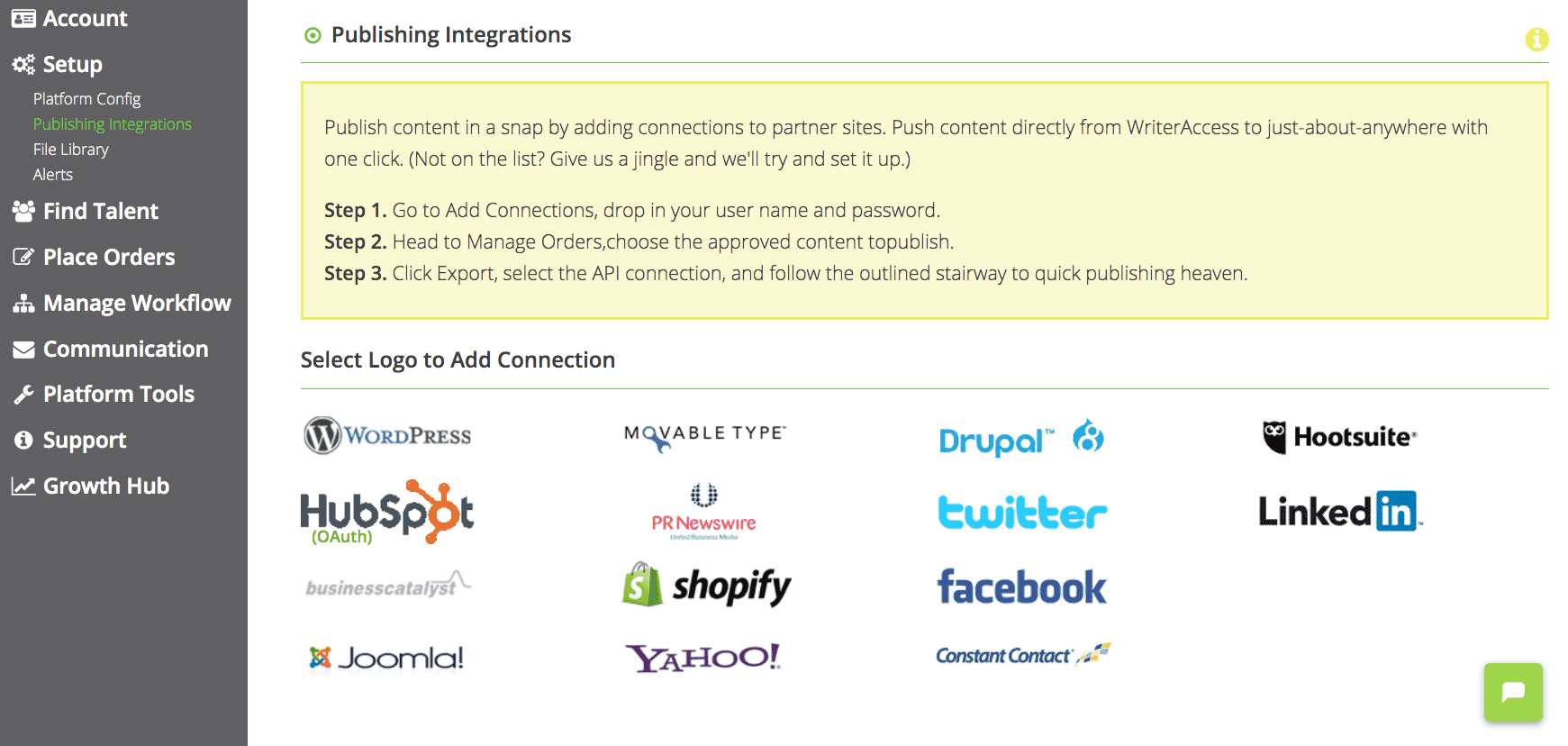 While available in my account, I don't bother with the integration.
I normally click the "Source" button in the article delivery dashboard, so I get the HTML version. I copy that and paste it into the "Text" editor in WordPress, so all the formatting is retained. My instructions include formatting instructions for the proper use of heading tags (i.e., heading 2, 3, 4, etc.).
How many revisions can you ask for from WriterAccess?
They offer unlimited revisions. They also state that if you aren't happy, you can reject it and not pay. While they don't say it, I suspect that you may have a hard time having writers pick up your projects if you do this regularly.
What else?
The service includes the usual content agency features such as archiving content, folders, written communication, and a robust content ordering dashboard to set up extensive and detailed job order templates.
How to update content ordering articles from writing services/agencies
Can you use WA to update existing content?
The short answer is yes and no.
Lawyers say "it depends".
As in "It depends. Pay me 10 large and I'll give you the answer."
What does it depend on?
This is where a savvy marketer would link to a $27 report revealing the answer.
It's Monday morning and I didn't feel like setting up a sales page, funnel, etc.
I use WA to update some content but not others. Here's the difference.
WriterAccess will not, as far as I know, log into your site and edit/rewrite existing content. This is the optimal way to update and improve content. It makes sense given they're paid per word. Writers can't crank out volume editing and updating like they can when writing a new article.
Now, it's possible that if you upgrade to a managed account this can be arranged. If you pay for a managed account you can arrange a custom rate and WA is very, very flexible with work they will do for you. I don't know for sure as I haven't done this with them but I do have a managed account and we've set up a lot of custom processes.
Short answer: They will not edit/update your existing content in a "rewrite" fashion.
HOWEVER, there is a workaround that I do regularly to update content and it works great.
What I do is I order articles that "ADD" content sections to existing articles to make them better.
If it's a listicle type article of any sort, ask the writer to research and write about missing items in the list. Perhaps your list is one that is timely and items are outdated. In that case instruct them to come up with a list of more timely items.
You can always tack on an FAQ or other helpful content sections as well.
Is this perfect?
Sometimes it is but it depends (there's that unhelpful phrase again) on the nature of the update. Sometimes adding content is just what the doctor ordered. In other cases, a rewrite is necessary.
What do I do if a rewrite is necessary?
I have many of these cases as well. The only solution I've come up with is hiring an in-house writer and pay them hourly. I explain up front much of the work will be rewriting/editing so they know what they're getting into. I hire these writers on the Problogger Job board.
I have one writer who spent 15 weeks rewriting about 20 articles. The new versions are epic; some of the best content I've ever published. They're important cornerstone articles. This could not have happened with WriterAccess.
Ordering content updates
When you order content updates, if you're happy with your intro/conclusion, be sure to specify that no intro and conclusion is needed. Writers will write these by default. FYI, I specify no conclusion for all content. Conclusions are a waste of money IMO unless it's a verdict or can include something meaningful. A fluffy recap is useless.
Why does WriterAccess charge clients a monthly fee just to access the platform?
Yeah, this annoys a lot of people including me.  However, they do because they can and since there are few (if any) other content platforms that can charge a monthly fee, it speaks volume about it.  Usually only the very best can get away with this.  I've talked to Byron White, the CEO about this and he says the monthly did not hurt order volume and in fact, it helps attract better clients (as in clients who order more content).
Should you use WriterAccess?
WriterAccess Overview
Quality

Price

Ease-of-Use

Variety of writing services
My view is to try many sources until you're happy with what you need. I've used many writing services and freelancers over the years. I continue to use a few different sources for ordering content. If you're asking whether the work you can get from WriterAccess is good, yes, it is. 
So good, in fact, that it's worth the monthly fee.
Use my "lower-cost" tip above which will more than make up for the monthly fee.
Get $50 Credit Toward WriterAccess Content
If you're on the fence about WA (and you should always be on the fence until you try), give the service a try via my link (button below).
When you sign up you'll be given $50 credit to use toward your content order.
It's a no-brainer. It's worth a try. Just be sure to use my tip above for getting great content for a lower price ($.04 per word).
FAQ
Check out these other great articles about WriterAccess:
Don't forget to check out my extensive article on the best blog content services here.
How many articles can I order at one time on WriterAccess?
As many or as few as you want.  That's the beauty with WA.  You can literally order hundreds of articles at one time and have most of it completed in 7 to 14 days.
How do I pay for content at WriterAccess?  Does it accept Paypal?
You can pay with credit card or Paypal.  What you do is you deposit a certain amount of funds that are held for you and as you order/approve content, payment is deducted from deposited funds.  It's very simple.
Is WriterAccess a content mill?
I say no but some may argue otherwise.  IMO, a content mill is an outfit that employs in-house writers and produces content in volume.  WriterAccess is a broker-style platform that brings writers and publishers (the client) together.
FYI, while the term "content mill" has a pejorative connotation, it's not necessarily bad.  It all depends on the service.
Can I use WriterAccess for content marketing?
Yes, you can. I use WriterAccess for informational content (i.e. blog post content), but you can hire copywriters to pen sales pages, landers, social media posts… anything involving text.
Will WriterAccess writers write reviews?
Yes, they will. I've hired writers there to try out software and then write reviews.  They can do a great job.
Are there expert writers or writers with industry experience available at WA?
You bet. You can run filtered searches looking for folks (WA calls them talent) with all kinds of credentials, experience, expertise, etc.  You can also do what is called a "casting call" where you pitch writing assignments asking for writers to respond providing their expertise and rate.  This is akin to putting out a job ad inviting folks to apply.
FYI, there are lawyers, doctors, plumbers, yoga teachers… you name, there are folks with all kinds of educational backgrounds, work experience and expertise who are also experienced writers.
Can I ask that writers include their professional byline in the article?
Yes, but you need to set this out before-hand.  You can ask writers for anything you want.  Whether it happens, depends on whether a writer there is willing to do it.
Can I seek out writers with a particular writing skill or style?
Yes, you can.  For instance, for one of my niche sites, I wanted to publish a series of "quotes" articles but I didn't want to restrict the quotes to famous existing quotes.  I wanted a writer to come up with unique quotes.  I did a casting call and found writers with experience writing for the gift card industry (who knew).  Anyway, I hired both and they came up with some great stuff.  FYI, I paid a fairly high per word rate here because there's a lot more thought going into a 30-word quote than a 30-word sentence for a run-of-the-mill article.
Moreover, you can find writers at many different writing level stages – from 3-star to 6-star.
Is there an app version for WriterAccess?
No, at this time there is no app version.  Web-version only.
Who owns the content when it's finished (approved by the client) on WriterAccess?
You, the client own the copyright up approving the content.
How long does it take for writers to deliver content?
You can get content completed in as little as 1 day, although you'll pay a premium for that.  By default, the delivery time is 5 days but if your article is long, you have to provide more time unless you want to pay a slight premium.  I've found 7 days will work for most articles unless it's something very complex and/or you and the writer hashed out a different deadline.

Jon Dykstra is a six figure niche site creator with 10+ years of experience. His willingness to openly share his wins and losses in the email newsletter he publishes has made him a go-to source of guidance and motivation for many. His popular "Niche site profits" course has helped thousands follow his footsteps in creating simple niche sites that earn big.