– Sponsored Post –
While this is technically a sponsored post, it's also a product I use on every niche site I own.  I love the product I'm featuring here (AMZ Image aka Amazon Image Inserter).
A picture is worth a thousand words.
That's not the first time I've written that on this blog.
It's trite but true, especially for website publishers.
Images, IMO, make a huge difference.
Here are key advantages to using images generally:
Great for users:  This is the number one reason to use images – to provide enhanced content for visitors.  The right images can make a huge difference in your content.
More ad revenue:  An image that's 500px long adds 500px in screen space to your content.  Depending on how you space out your ads, you can display an additional ad for every 1.5 to 3 images you insert in your content.
Longer time-on-site:  Any time you can add content that's good for users, it'll increase your time-on-site which is always a good thing.
More affiliate commissions:  I earn $1,500 to $2,500 per month in Amazon commissions.  95% of those commissions are a result of Amazon product images hyperlinked with my Amazon affiliate links.  Simply put, hyperlinking product images give you all the above image benefits PLUS affiliate commissions.
Amazon Product Images Can be the Most Helpful Images of All
Arguably, some of the best images you can use in your content are Amazon product images.  Whether the content is informational or promotional, product images give readers so much information instantly that there really is no better way to inform them using product images.
Here's an example:
What's more helpful?
This description:  My new adjustable desk works great.  I can adjust upward for standing but also drop it down when I prefer to sit.  It's plenty big for my two monitors.
OR
This:  Here's a photo of my new adjustable desk:
In my opinion, the image is far more effective at communicating information about an adjustable desk than words.
Use in non-promotional content
Did you know that there are literally thousands of images on Amazon that you can use for free that enhances purely informational content?
For example, if you were writing an article about racing drones, you could use an image of a racing drone from Amazon to illustrate what they look like.  Here's such a drone:
As an aside, racing drone came to mind because I was in a park the other day and heard this wicked whine in the air.  I looked up and saw this drone whizzing around at unbelievable speeds.  It was super cool.  The example above is very similar to the one I saw and heard.
Images are a must if a blatant affiliate promotion
If you're promoting physical products on Amazon, you'd be foolish to not include images of the product(s) you're hawking.
Images alone get clicks.
Images with solid copy to entice the click is very effective.
Images with strong pre-selling copy is what makes super affiliates super (that and mountains of traffic).
My preferred method for inserting Amazon Images
The thing with using Amazon images is you need to insert them into your site via Amazon's API.
Any time I see "API" my eyes glaze over.  I have no hope of implementing some API without help.
For me, that help comes in the form of what I consider to be the best Amazon affiliate plugin out there.  It's ridiculously simple. It does one thing only, but it does that one thing very, very well.
What it does is it makes it fast and easy to insert Amazon images into content (just like the two examples above).
Moreover, my VAs can do it because it's done in the WordPress visual editor.  I don't have to give anyone access to my Amazon Associates account (or add them as users).
Here are the steps involved:
Step 2: Search for products via keyword or ASIN
Step 3: Choose the product image, size and insert into post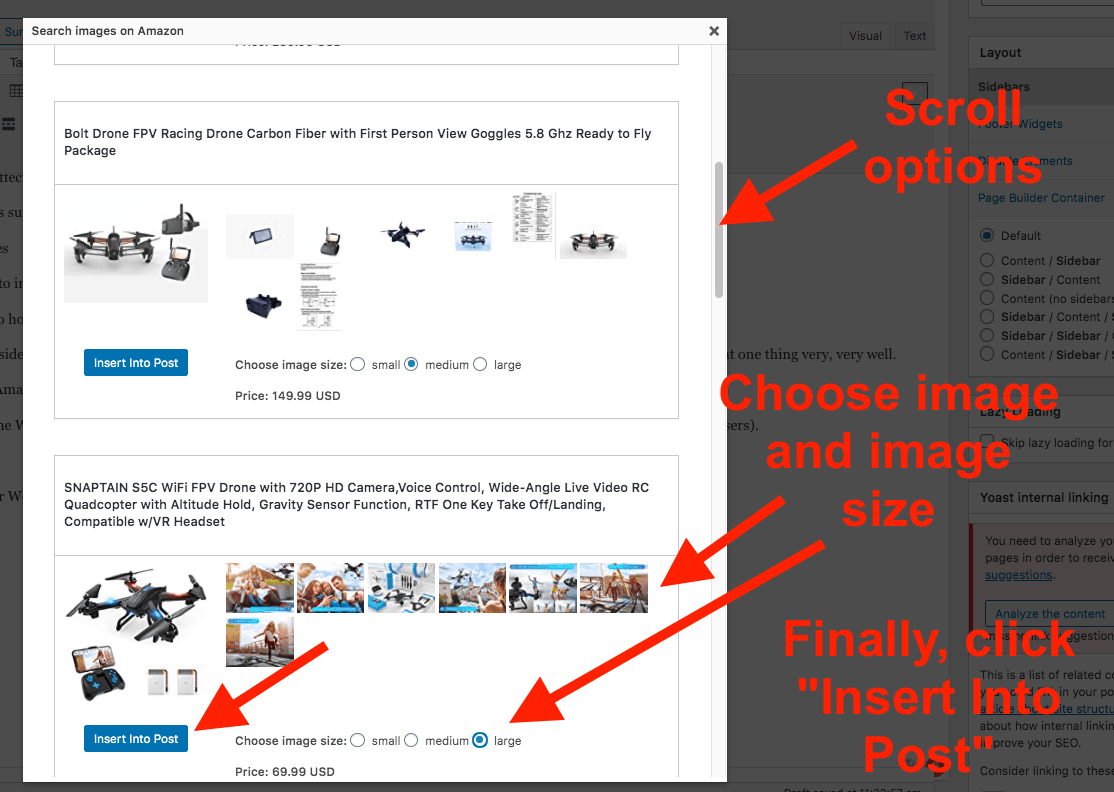 That's it. Image added.
Because your affiliate details are entered into the settings area, these images will be hyperlinked with your affiliate link automatically.
How to get more clicks on your images
While I find product images do get clicked, if you want more, add captions to the images (which you can do with this plugin).
You add captions just as you would with any image.
Caption text to get clicks are:
Learn more
Click for pricing
More information
Buy this product
Learn more on Amazon
You can bold the caption as well, increase the font, add an arrow in front such as "=>", insert emojis – whatever it takes to get your readers' attention.
Check it out:
If you want to add a button below, that's no problem.  Use whatever button creator you use and put it below like I did above.  I just use the affiliate link created by Amazon Insert Images for the button.
Another important point is to notice how big the product image is.  It's fairly large for Amazon embedded images, which is awesome.
As you can see, you can format the image and caption (or text below) to create very attractive Amazon product images with solid preselling content (text, emojis, links, buttons, etc.).
Here's a recap of why love AMZ Image:
Saves time:  I don't have to create complicated product display boxes in a separate screen. Instead, my team and I can insert Amazon images on the fly while creating content.  HUGE TIME SAVER.  I can't overstate how much of a benefit this is.
Increases conversions:  Product images sell and get the clicks.  When you add some decent copy, emojis and/or buttons you have a recipe for some fantastic CTRs.
Amazon compliant:  This plugin pulls images via the latest Amazon API which means you're Amazon compliant.
Gutenberg friendly: you can insert images if you use Gutenberg blocks.
Display ad-friendly:  This is another BIG BIG BIG reason I use this plugin.  It doesn't create columns.  It's just an image with caption.  This means if I have ads formatted for the same page, the ads show up above or below.  They won't be inserted in a column which can really mess up the display of an Amazon product box created by other plugins.
FYI – you must have sales.  You can only use this plugin if you have an active Amazon Associates account with 30 days of sales.
=> Grab this plugin here (it's not expensive at all).
Disclaimer:  This post includes Amazon product images that include affiliate links to Amazon.  As an Amazon Associate I earn from qualifying purchases.

Jon Dykstra is a six figure niche site creator with 10+ years of experience. His willingness to openly share his wins and losses in the email newsletter he publishes has made him a go-to source of guidance and motivation for many. His popular "Niche site profits" course has helped thousands follow his footsteps in creating simple niche sites that earn big.