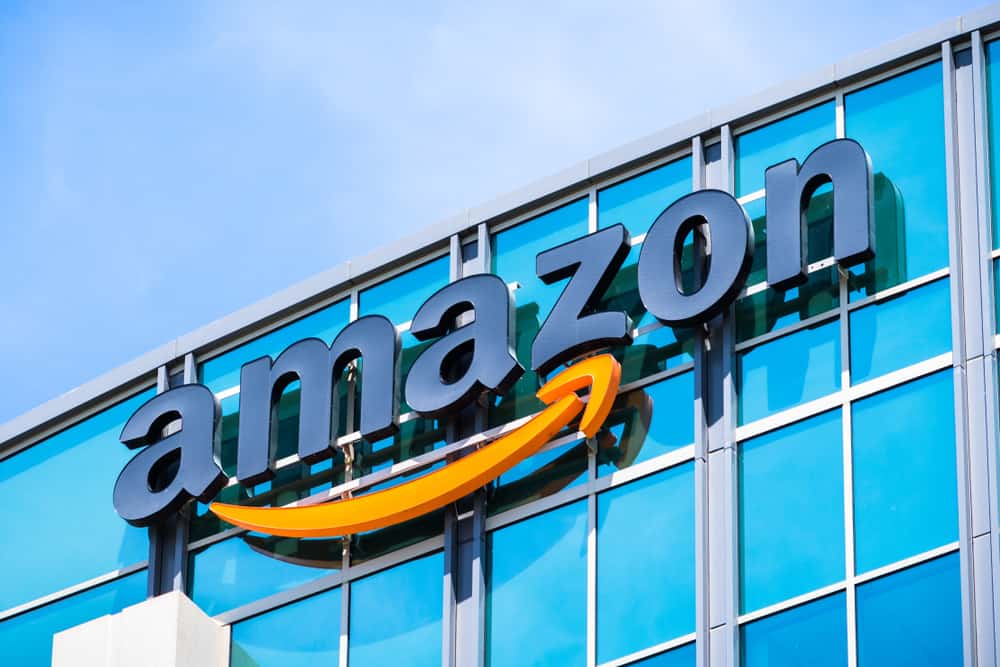 Promoting Amazon isn't my main business but it's nearly impossible not to send over some website visitors to Amazon when you own a site in any niche.  Eventually, you publish something where you can link to Amazon.  Or more likely, you need a product image from Amazon to illustrate a point in your content and so you need an Amazon affiliate plugin to properly embed the product image.
I've promoted Amazon for years.  I've never made a fortune from Amazon but I'm no slouch either.  This year I'm on track to hit $24K in Amazon commissions.  With a little luck I'll hit $25K.  You're welcome Jeff.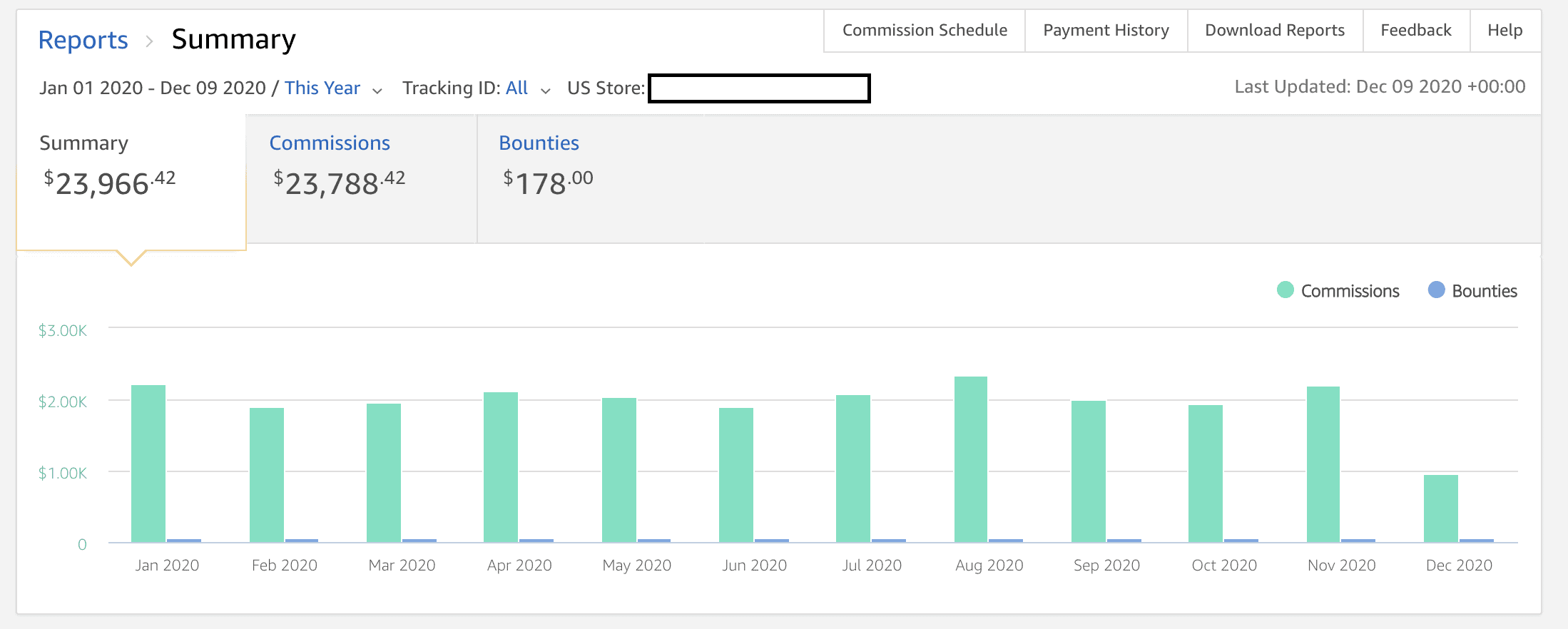 Despite Amazon cutting commissions in recent years, I continue to promote it.  It's easy.  It still pays.  Frankly, I didn't really notice a drop in overall revenue from the commission cuts. I'm not sure why but that's how it worked out.
Since I promote Amazon and I'm looking to make my niche sites snazzier and offer a better user experience for visitors, I started playing around with some of the high-falutin Amazon affiliate plugins.
Until recently, I only used AMZ Images.  I still use it. I'll continue using it because often I just want to embed an Amazon image in my content, not to make money but because I need the image.
However, in some cases, I actually want to include an image with a strong call to action.  While I could fashion my own buttons, I thought I'd give two of the more popular premium Amazon affiliate plugins a try on my niche sites.
Those plugins are AAWP and Amalinks Pro… as if you didn't know by the title of this article.
I've now deployed both plugins on two niche sites and have used both extensively.
I believe I'm now qualified to provide a reliable opinion on both as well as publish a helpful comparison.
In fact, I've discovered nuanced differences no other AAWP vs. Amalinks Pro plugin has uncovered.
Let's dive in.
Similarities
You can't go wrong with either AAWP or Amalinks Pro.  Both are very good.  It wasn't until this morning that I discovered why one is better than the other and that's purely due to a small technical matter with respect to how I set up my niche sites.  I'll explain this further down.
Both plugins are designed to present attractive Amazon product boxes with attractive call-to-action buttons, product descriptions, etc.
Both offer product boxes (aka showcases) and tables.
Both are Amazon compliant.
Differences
The crux of this article is setting out the differences.  If you're reading this you know generally that they're pretty similar. What you want to know is how they're different so you can figure out which one is best for you.
Yes, there are some fundamental differences.  Here they are.
Interface
This is a big user-experience difference but not so much with end result.
Amalinks Pro
Amalinks Pro offers the best of both worlds.  You can use simple shortcodes to deploy showcases fast (my preference) OR you can use the full blown stupid-simple backend dashboard for creating all kinds of ways to fully customize your product showcases and tables.  You can even embed just the image which would in theory replace my need for AMZ Images but doesn't due to a technical issue I'll soon point out.
Here's the process of creating a custom showcase with Amalinks Pro:
1. Access inside your post editor as follows:

2. Once you've input the ASIN, you can choose what type of promotion as follows (note tables are created in a separate interface).  Showcases are those fancy product promo boxes.

3. Here's the product showcase portion: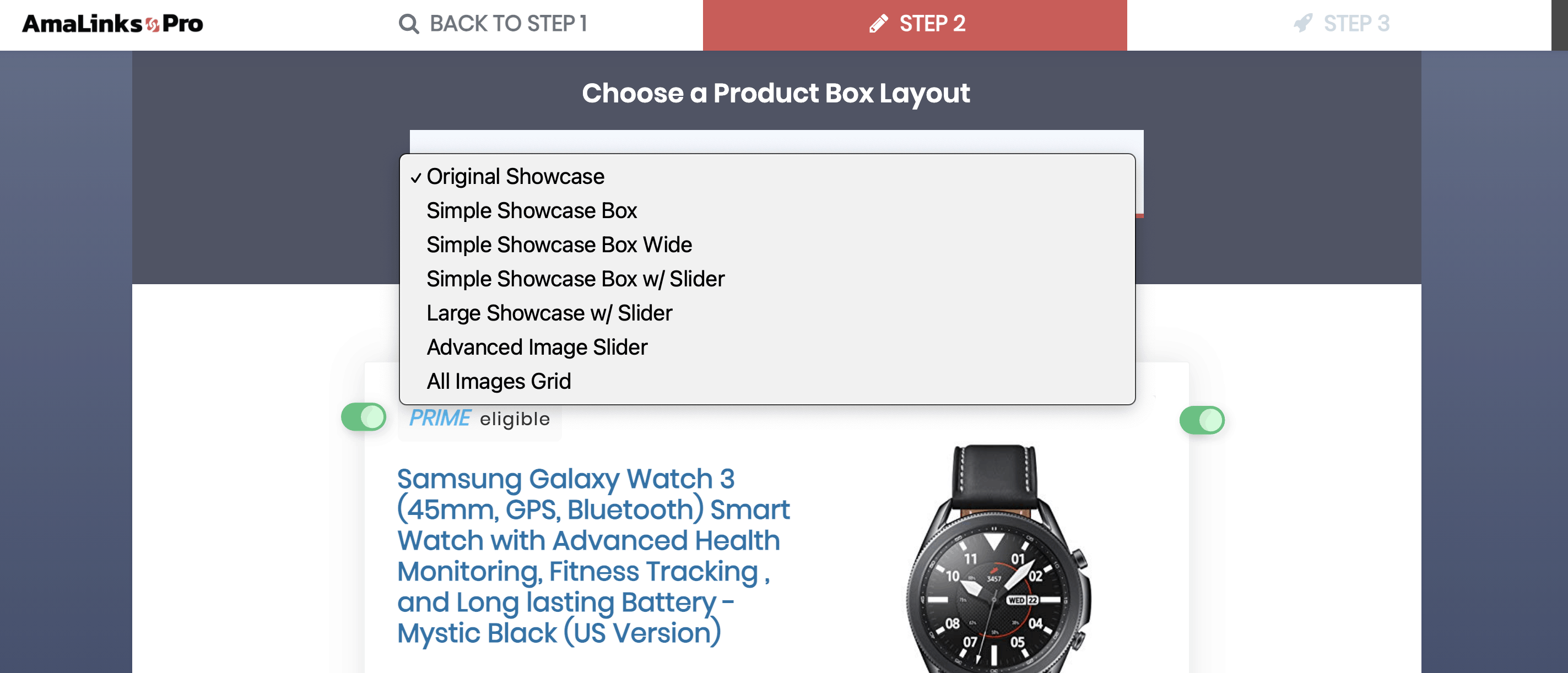 I prefer the "Original Showcase".
4. Edit your showcase:
You can remove parts of the showcase and/or edit any of the text.  I love this feature: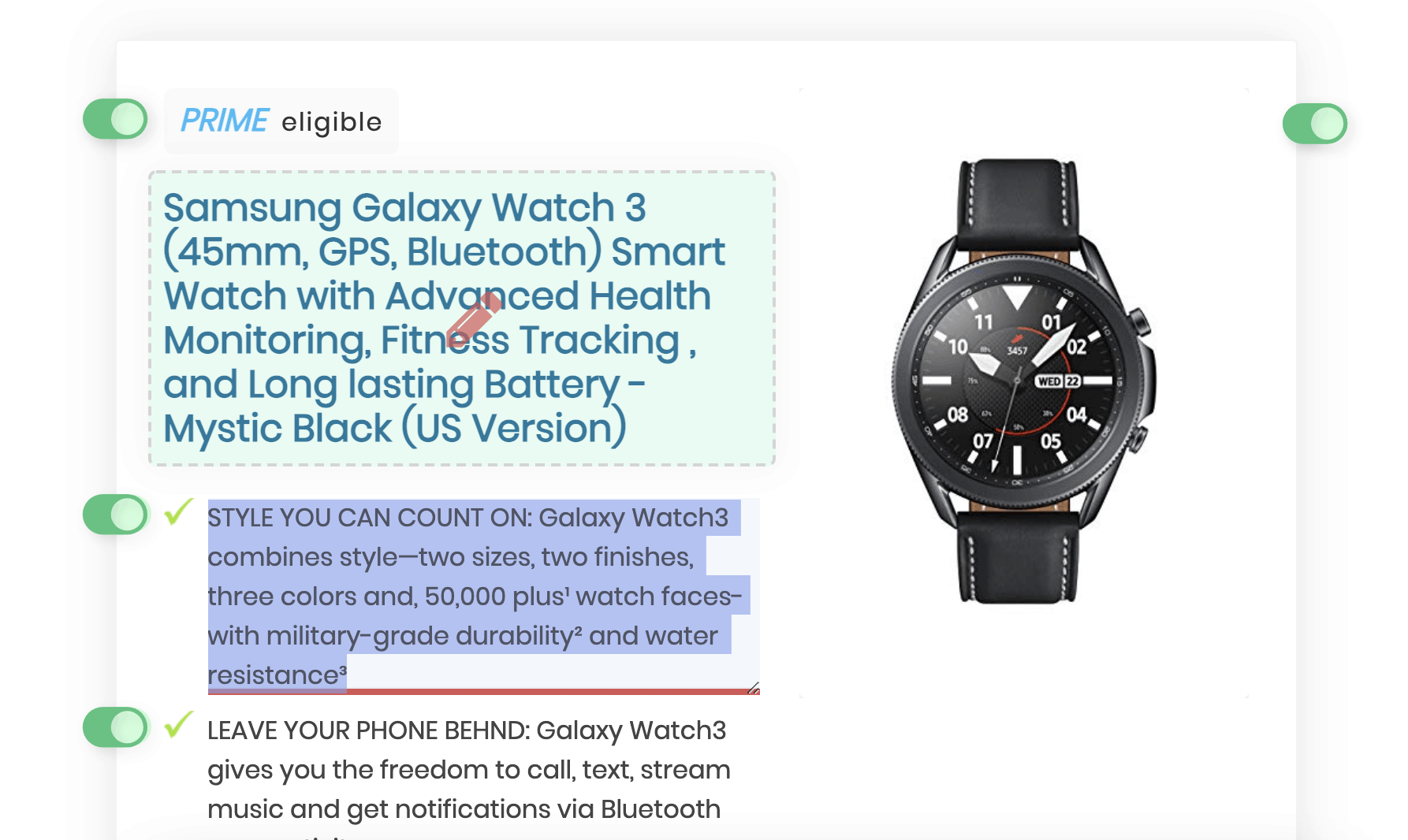 Once you're done editing the showcase, you can configure the link settings and then insert it into your content.
Here's an edited Amalinks Pro product showcase: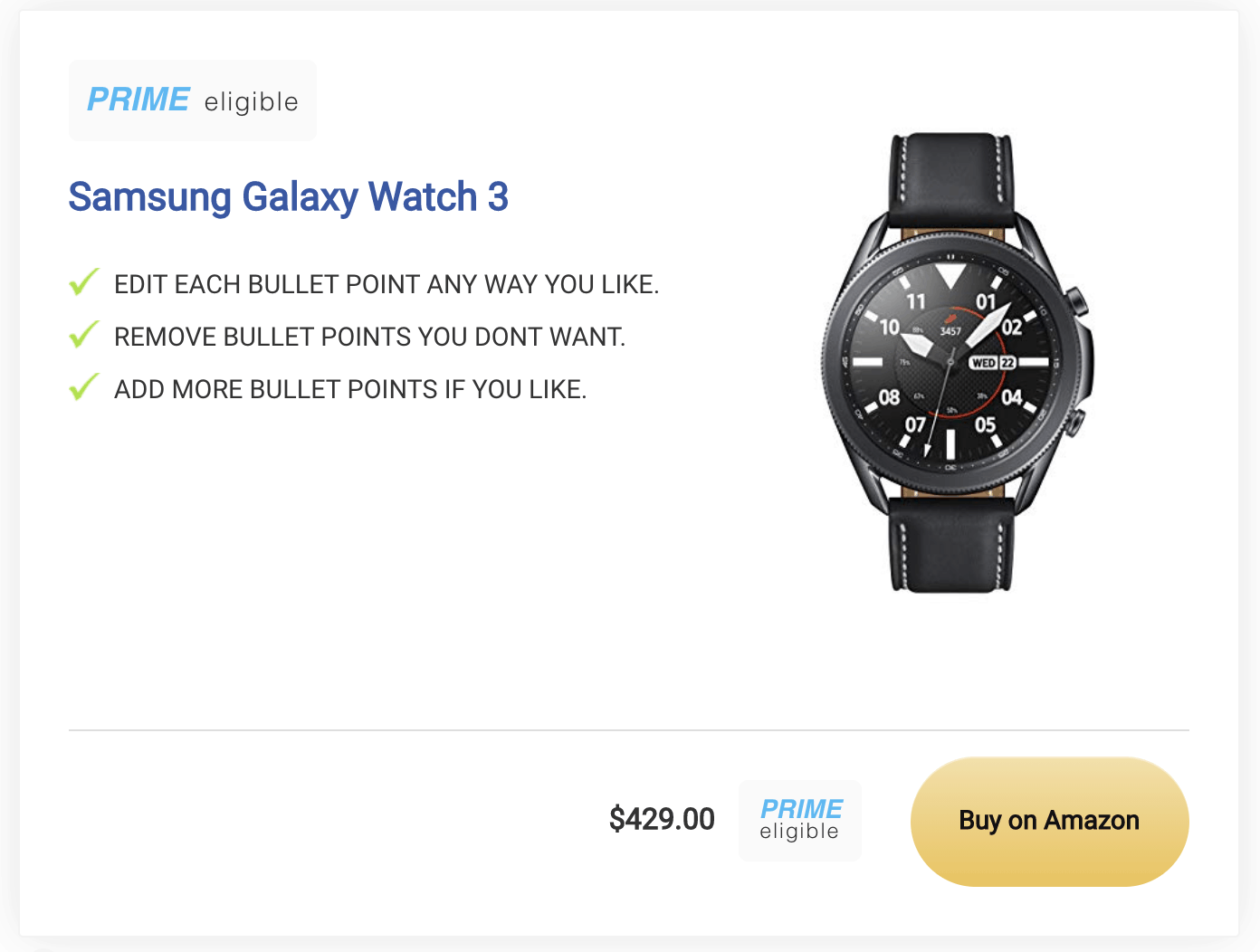 Prefer using simple shortcodes with Amalinks Pro?
No problem.  You can use simple shortcodes as well.  I encourage you to first play with the customizer to get a sense of all that Amalinks Pro offers, but once you pin down what you like, it's much faster to just copy and paste simple shortcodes (and change the ASIN for each).
AAWP
AAWP does not have a showcase or table creation dashboard.  You have to find the shortcodes that trigger the showcases on your site.  Basically, you customize with the shortcodes.
Here's a list of various shortcode options.
For example, here's the shortcode for a basic product showcase: Amazon product
Here's what a basic AAWP product box looks like with the above shortcode.  Note, you can add various parameters to add to it.
Which is better?
Amalinks Pro is best by far because you can fully customize your promo boxes as much as you want with the customization dashboard or use simple shortcodes for fast deployment.  It's a no-brainer.
Winner: Amalinks Pro because you get the best of both worlds.
Design Quality (Aesthetics) – Which creates nicer showcases?
There is a clear winner here and it's Amalinks Pro.  See examples of both above.  Their product showcases and tables are much nicer than AAWPs.  Matt, the owner of Amalinks Pro told me this.  He was right.  It's no comparison.
Moreover, you can fully customize every aspect of an Amalinks Pro showcase and table.  It's impressive really.  This customization capability is what results in it also taking a bit longer to use.
While you can customize many aspects of AAWP showcases and tables, I find if it's customization you want, Amalinks Pro is far superior.  I particularly like how fast and easy it is to customize product titles, descriptions and bullet points.
For example, Amazon product titles are often way too long filled with meaningless numbers.  I like to shorten them to the main info and Amalinks Pro makes it dead simple to do that.
Winner: Amalinks Pro
Product Comparison Tables
There is one big difference between the product comparison tables created by Amalinks Pro and AAWP and that is the orientation of the columns and rows.
Amalinks Pro lists out different products vertically. This way you can compare as many products as you want but are limited in how many features are compared.
AAWP lists out products to compare horizontally.  This means you are limited in the number of products you can compare but no limit with features.
The thing is sometimes you need to compare many products in which case Amalinks Pro is best.  In other instances, you need to compare many features in which case AAWP is better.
Aside from that though, the Amalinks Pro tables look way better and are easier to create.  Let's take a closer look.
AAWP Table Examples
The dashboard for creating AAWP product tables: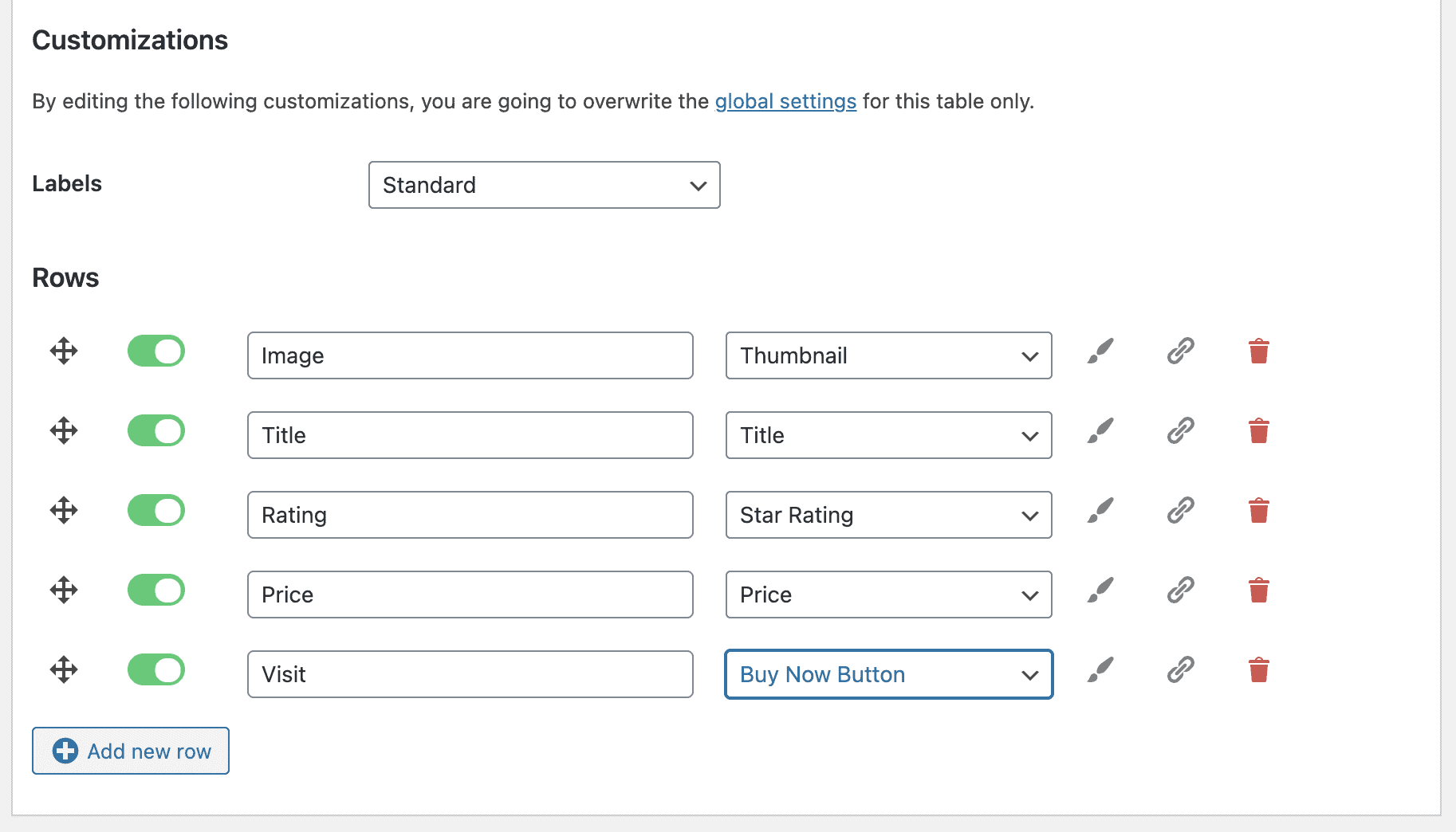 Front end finished table: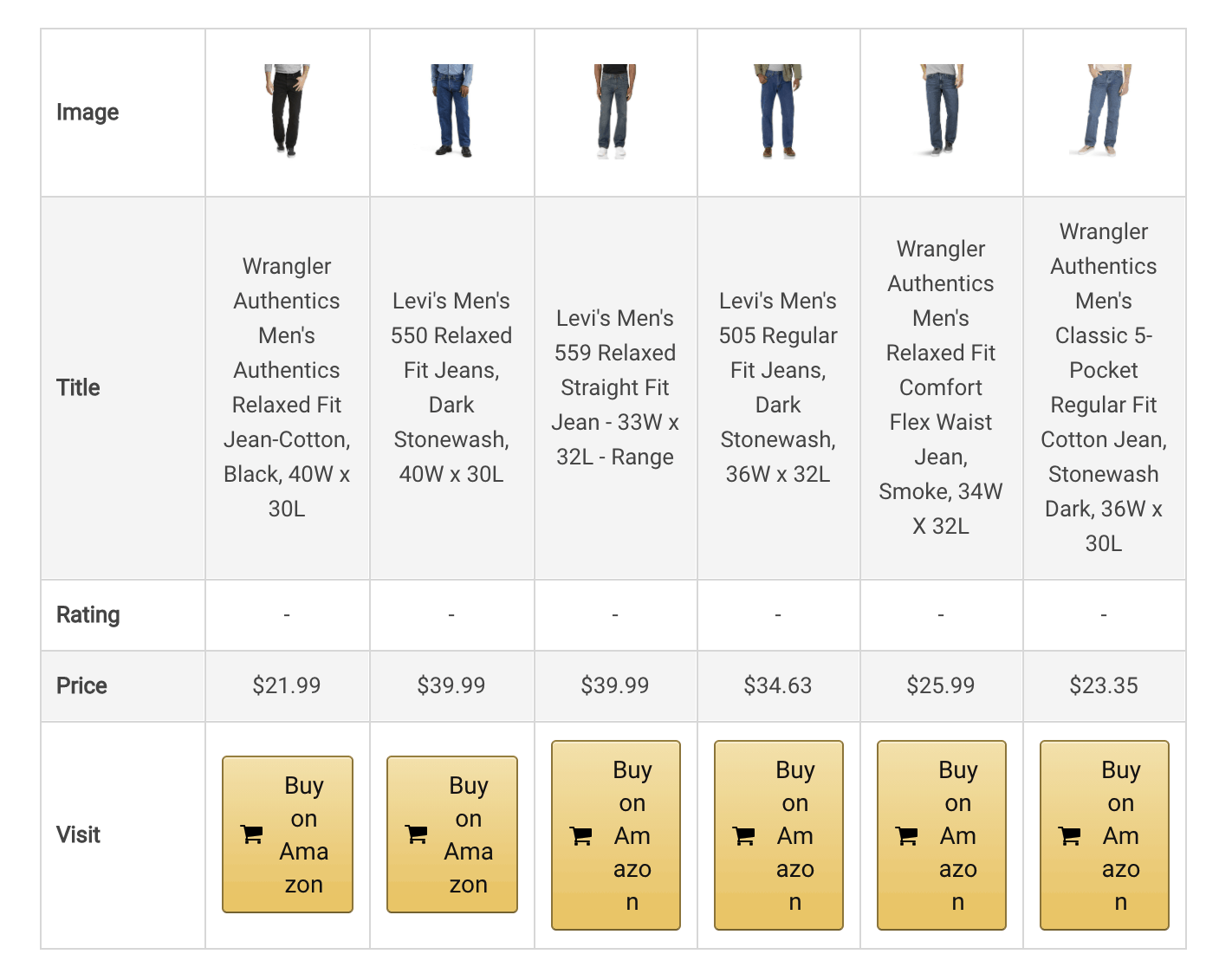 With AAWP the products you compare are listed horizontally.  This limits how many products you can compare unless you don't care if it extends way off the screen.  But the big plus is you can compare and list as many compared features as you want.
Amalinks Pro Tables
Amalinks Pro, on the other hand, lists out products vertically.  This means you can add as many products as you want since they list vertically but are effectively limited with how many features you can compare.
Amalinks table creator in the backend: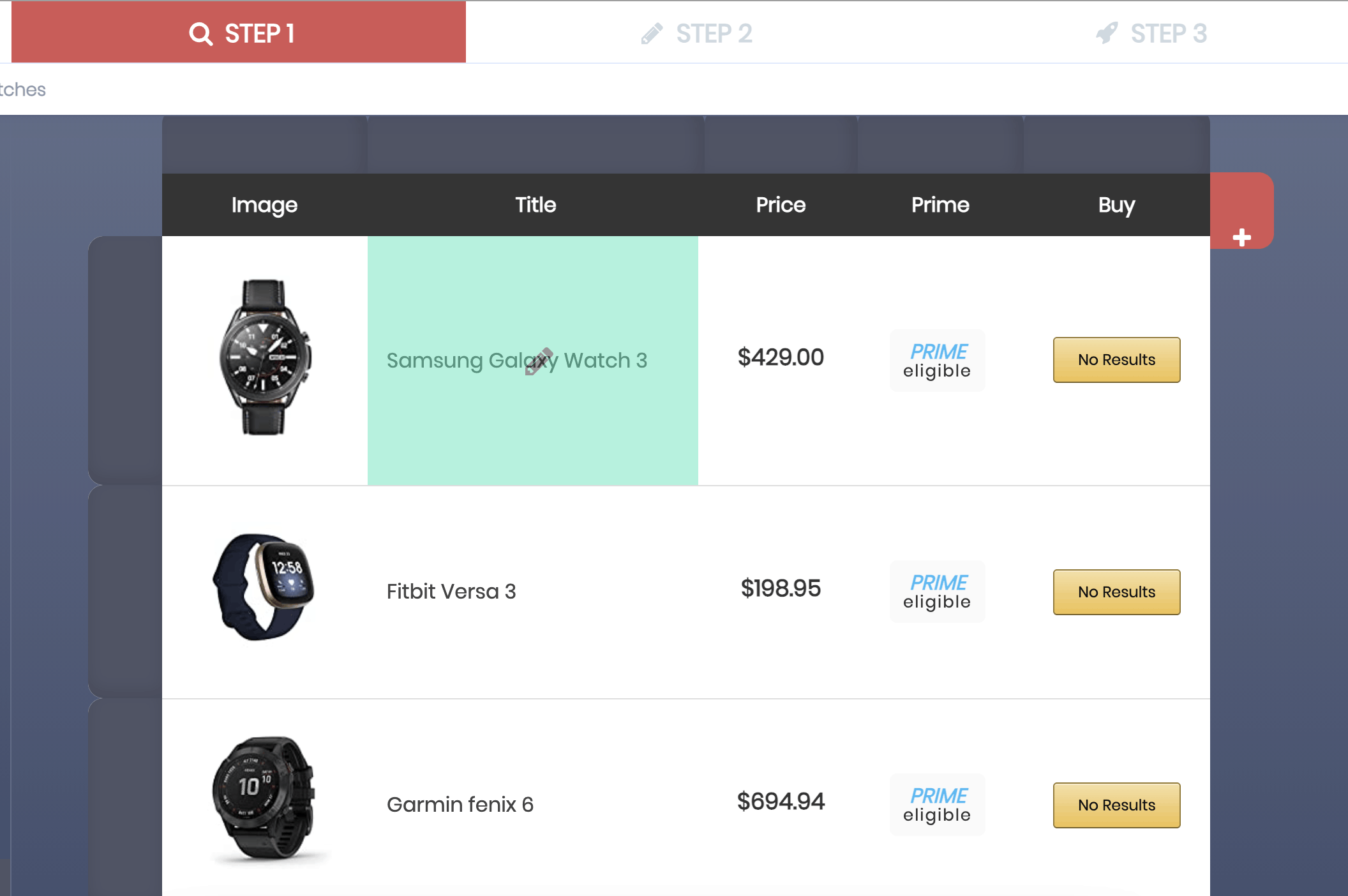 You can edit every conceivable aspect of the table including excluding columns from mobile devices (so it fits).
Amalinks finished product table: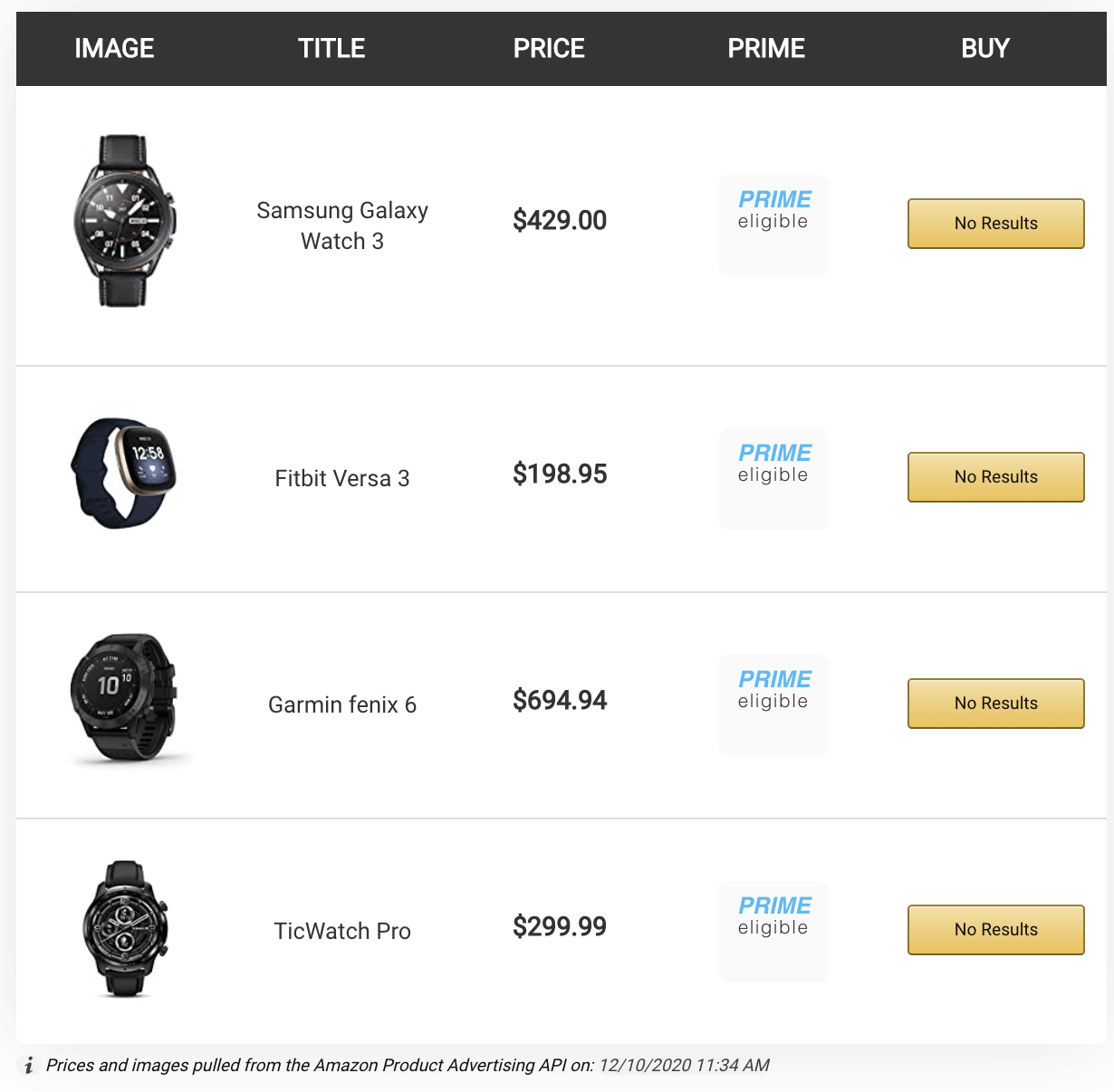 Which is better?  Both are great.  It depends on your table. In some cases the AAWP type of table is better.  In other cases the Amalinks Pro table is better.
Customer Service
This is an easy one.  Matthew Allen, who owns and founded Amalinks Pro is a super helpful guy.  His customer service is topnotch.  He's devoted to making Amalinks Pro the number one Amazon affiliate plugin.
For example, the day after I initially published this AAWP vs. Amalinks Pro article, he reached out to me personally. I did not ask him to comment.  He got wind of this comparison and sent me a super nice and helpful email.
Instead of getting all defensive about my one critique (see infinite scroll issue below), he praised my non-biased, honest comparison and the fact that I uncovered a technical glitch with his software.  He then said he's immediately started working on a fix.  Once fixed, I'll update this and if he can fix the infinite scroll issue, Amalinks Pro will be my favorite by far.
He also pointed out that Amalinks Pro does offer simple shortcodes for faster deployment of showcases. I didn't know this.  He said they don't promote this feature but he was kind enough to show me the page where I could get this info.  I've updated the information above to reflect this.
In fact, I've had some great back and forth with Matthew.  Great guy.  Totally committed to his product.  Takes criticism like a pro.  He's been nothing but helpful.
I've never had any discourse with AAWP other than automated emails after purchase.  That's not to say they don't offer customer support. I've never contacted support and I suspect they have a crew, but there is no replacement for personal help and feedback like I've received from Matt, founder of Amalinks Pro.
ONE Technical Issue… Infinite Scroll
I experienced no technical issues with AAWP.
On the other hand, I encountered one fatal technical issue with Amalinks Pro.  It's a very specific problem that won't impact you at all unless you have infinite scroll on your site like I do.
I found, because I use infinite scroll on my niche sites, that for articles that scroll into view after the original post, the Amalinks Pro showcases and tables do not show up.  Interestingly, the AAWP showcases show up instantly.  As do the AMZ Images.
Amalinks Pro shows the spinning wheel of death as follows on subsequent articles in infinite scroll: Winner: AAWP
Conclusion: Which Amazon affiliate plugin do I prefer?
I prefer Amalinks Pro and would use it as my main Amazon plugin except for the fact it does not work on infinite scroll.
Aside from that, I love the designs of the product showcases and tables. I love how I can easily insert custom text for descriptions and titles while creating the boxes.  Overall, I love the fact I can turn these into conversion and SEO powerhouses.
Sadly though, I must use AAWP and AMZ Images due to infinite scroll.
Therefore, if you don't have infinite scroll, I suggest using Amalinks Pro.
If you do have infinite scroll, go with AAWP.
Can I use both AAWP and Amalinks Pro on the same site?
Can't decide? Do you like both of them. I can't blame you. Both are good.
Yes, you can use both of them on the same site. I did until I ran into that tech glitch with Amalinks Pro.  In fact, if you create a lot of product comparison tables, this may be the ideal approach because in some cases you may need AAWP's table concept and in other cases Amalinks Pro table concept.
Do I have to use one of these plugins to promote Amazon?
No. But keep in mind if you want to show Amazon product images you must do so via Amazon's API.  These plugins make it easy to embed Amazon product images without violating the Amazon Associates TOS.  If you merely wish to create text links in your content, you don't need any Amazon affiliate plugin.

Jon Dykstra is a six figure niche site creator with 10+ years of experience. His willingness to openly share his wins and losses in the email newsletter he publishes has made him a go-to source of guidance and motivation for many. His popular "Niche site profits" course has helped thousands follow his footsteps in creating simple niche sites that earn big.