My Theme Shop Review
Designs

Ease-of-use

Customer support

Load speed

Price
Summary
My Theme Shop themes look great, load fast and are easy to set up.
Terrific customer support too.
I'm using their themes on 2 websites now and love them.
I never expected the day would come when I would publish a serious site I own on a WordPress theme framework other than the Genesis theme framework.
I've been a loyal StudioPress user since I build my first WordPress website.
2 months ago or so, that day came.
I took the plunge and installed a My Theme Shop theme (WordX specifically) on one of my larger websites.
Why did I switch from Genesis to My Theme Shop?
I switched for 2 reasons.
1. Site speed:
At the time one of my larger sites was pretty slow to load.  I invested in image optimization and worked closely with WPEngine to speed up my site.  I did a bunch of other technical stuff including doing some research about fast-loading WordPress themes.
My Theme Shop talked a big talk about loading speed.  A few bloggers had mentioned their themes were fast, but I take what other bloggers say with a grain of salt.  The only way I'd know for sure whether a My Theme Shop would load faster was to try it.
It was risky.  Switching themes on a large site is a lot of work.
It took me nearly 3 days.  That's 3 days of non-productive work (i.e. not growing traffic and/or revenue).
Fortunately the gamble paid off.  My site loaded faster with a My Theme Shop theme.  I was surprised because I thought Genesis was a fast-load framework.  In Genesis' defense, I did do a lot of other website speed optimization at the same time so it's impossible to say for certain My Theme Shop sped up my site significantly.
The fact is I'm happier for now with WordX by My Theme Shop.
2. Mobile menu navigation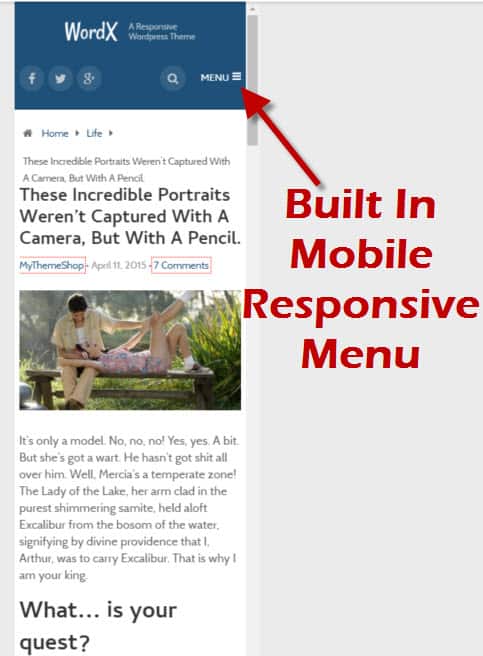 My biggest beef with Eleven40 theme was the lack of a built-in mobile device menu.  Moreover, I could never get any mobile responsive menus to work properly.  I tried everything even spending $80 or so on premium mobile responsive menus.  Nothing worked satisfactorily.  This bothered me probably more than it should have; but I just couldn't let it go.  This was a big incentive for me to switch from Genesis to My Theme Shop.
My Theme Shop's Claim to Fame
My Theme Shop developed the Socially Viral theme which was the first theme used by the infamous ViralNova.com site.
I guess you could say ViralNova.com put My Theme Shop on the map.  After all, if Socially Viral is good enough for a multi-million dollar site, certainly it's good enough for many other sites.  More importantly, hopefully it will contribute to equal success.
I admit that the fact My Theme Shop created the theme used by ViralNova.com got my attention.  It wasn't the main selling point, but it certainly got my attention.
I spent about 5 hours researching new themes; 2 of those hours carefully analyzing several themes by My Theme Shop.  While Socially Viral theme is pretty cool, it's not the look I wanted.  WordX was a better design for me so that's what I ultimately went with.
Installing and Setting Up My Theme Shop Themes
I'm not going to regurgitate all the features My Theme Shop themes offer.  You can check them out here (their theme demos are awesome).
I will say that their theme options panel is as easy to use as they say.  It's an easier theme to customize than Genesis Themes.  You can check out the theme options panel in the demo of each theme.  I suggest you do this to see what out-of-the-box customization and set-up you have.
The custom CSS field makes it possible add any total custom designs you want.
A Surprising Benefit of My Theme Shop
I don't buy software based on promised customer support.  I usually don't expect it to be that good.
However, I was pleasantly surprised how AWESOME My Theme Shop's customer support is.
Customer support is provided in a forum.
The best part is their customer support will provide CSS code for custom design tweaks.  I love this.  StudioPress refuses to do this.  I've probably submitted at least 20 support requests to My Theme Shop since buying my first theme from them.
Also, their customer support responds fast… same-day fast usually.  This is another feature I love.
Built-in features I didn't use
Social sharing buttons:  I prefer SumoMe plugin for social sharing buttons.  I think it's a better option than the built-in social sharing buttons in My Theme Shop themes.
Ad Management:  I prefer controlling ads with the Ad Inserter plugin.
Translate:  I did install the translate plugin but WPEngine told me it was a resource hog slowing down the site so I removed it.
Custom sidebars:  You can create custom sidebars and you have total control where they show up.  I didn't bother with this.  I just use one sidebar.
Features of My Theme Shop Themes I Love
Can turn footer widgets on and off.
Mobile responsive menu works like a dream.
Built-in image lightbox.
Related posts, popular posts and recent posts widgets are just awesome.  Much nicer than Genesis' feature posts widget.
Color Scheme Customization:  You can easily customize the main color schemes in the theme options.
Did I need to make any serious changes to the theme?
No.  I added 8 or 9 CSS snippets provided by the customer support forum and that was it.  Other than that I use the WordX theme as-is.  It really is pretty easy to set up and customize to your liking.
Do I Miss Anything Genesis Offers?
Yes, one thing I loved about the Genesis framework was the Simple Hooks plugin.  This plugin made it possible to add code pretty much anywhere in the website.  It offered a great deal of customization and control.
Other than that though, I don't miss Genesis.
Why I Chose the WordX Theme by My Theme Shop Specifically?
I went with the WordX theme because it looks a lot like Eleven40 by StudioPress.
More specifically it has the following features:
1. Wide content area:  wide enough to accommodate 728px wide ads.
2. Short header:  WordX has a very short header leaving more content and ad real estate above the fold.
3. Plenty of white space: WordX isn't quite a minimalist theme, but it's fairly simple with a lot of white space (I like white space because ads are more prominent with a lot of white space).
4. Home page layout:  It has a "load more" button option and I like the grid layout.
All-in-all nothing earth shattering, but I'm glad I switched to a My Theme Shop theme.
Why don't I switch from Genesis to My Theme Shop for Fat Stacks?
I might.  Frankly, Fat Stacks loads pretty good and it looks good.  I may do a design change but at the end of the day this website does really well as-is so I see no need to change it for now.
Single Theme vs. Membership?
I started with a single theme purchase.  This turned out to be a pretty stupid thing to do because when I upgraded to a full membership, the cost of membership wasn't discounted by the amount I had spent.
That said, My Theme Shop was pretty cool and provided me a discount code that knocked a few bucks off the membership price.
I can't say whether a membership is your best option.  I usually find it is with software services like this because it gives you unfettered access to all themes and plugins.  Speaking of plugins, they have some great plugins.  My particular favorite is the WP Review Pro plugin, which I use on pretty much all of my websites including Fat Stacks.  This plugin is used to generate the rich scheme review chart at the top of this My Theme Shop review.
 Conclusion
My Theme Shop is the first theme developer that's persuaded me to try a theme other than the Genesis Framework.  I like My Theme Shop a lot, so much so that I purchased a membership and am now using their themes on 2 websites.
=> Click here for My Theme Shop
Jon runs the place around here.  He pontificates about launching and growing online publishing businesses, aka blogs that make a few bucks.  His pride and joy is the email newsletter he publishes.
Hyperbole?  Maybe, but go check it out to see what some readers say.
In all seriousness, Jon is the founder and owner of a digital media company that publishes a variety of web properties visited and beloved by millions of readers monthly. Fatstacks is where he shares a glimpse into his digital publishing business.