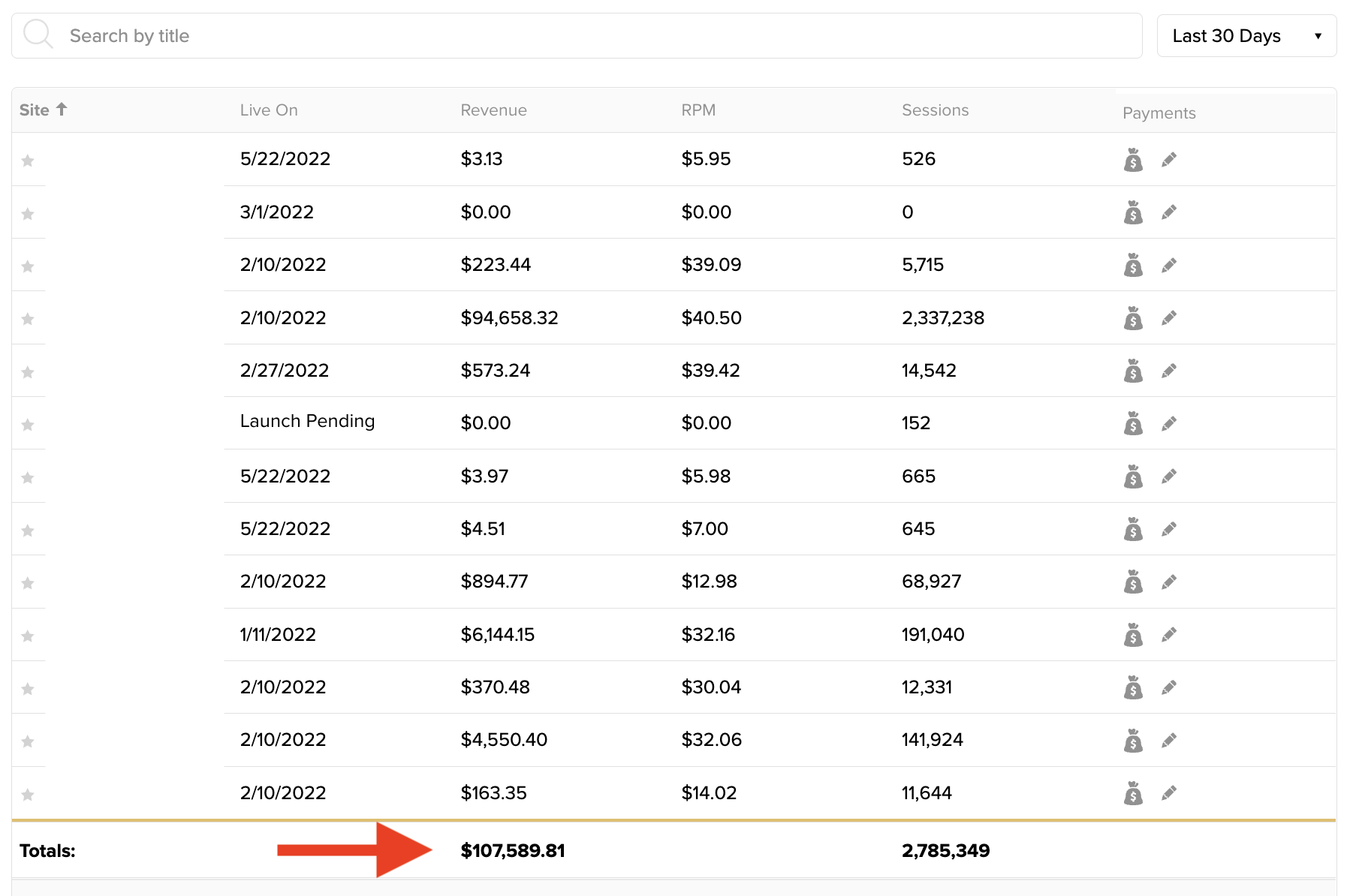 I believe it's safe to say I can give a pretty good Mediavine review. I've now been earning with MV for four months.  I have 10 sites currently monetized with this ad network.  The sites vary in size.  I've spent umpteen hours in the MV dashboard, especially MV's Grow feature in an effort to optimize my ad revenue and user experience.
I'm also one of about 200 Premiere Mediavine publishers (an invite-only level within MV).  There's not much info about this program.  If you get the invite, accept. It's well worth it.  One big perk is I get to onboard fairly small sites… far smaller than the usual threshold for subsequent sites.  I know I'll get some emails from folks asking how I can get such small sites with Mediavine.  The answer is a result of me being Premiere.
PRO TIP: Folks during the first two to five years try to grow too many sites.  The end result is a handful of smaller sites.  I spent years focusing on one site growing it to millions of monthly visitors.  This strategy served me well because it's that site that garnered me my MV Premiere invite.  Now I can get my smaller sites earning with MV sooner.  I recommend focusing on growing one monster site… diversify once your site is massive.  It's easier at that point.
Most importantly, I actually have multiple sites earning with MV and have for several months so I have something to say.
Another reason I'm qualified to write a Mediavine review is I've been around the block in the ad revenue biz for years. I started with AdSense.  Switched to Ezoic and stayed with Ezoic for years. I then jumped ship to AdThrive and ultimately ended up with MV.  All my ad-revenue sites are with MV these days.  I have another 8 sites I'm priming to onboard with MV in the next year or so.
My Overall Mediavine Impression
Overall, Mediavine rocks. If you get accepted, go for it. I'm confident you won't be disappointed.  I was first accepted a few years ago.  What happened is I had applied to AdThrive and Mediavine at the same time. AdThrive accepted me first so I went with AdThrive. I stayed with AT for several years.
In late 2021 members of the private Fat Stacks forum started posting ad RPM figures. I was blown away at how much these folks were earning with MV.  So much so that I decided I'd move one of my larger sites to MV to see how it went.  Needless to say that first site was a success on MV. Shortly after, I moved the rest of my sites to MV from AdThrive.
AdThrive is the only other decent contender when it comes to ad revenue from websites.  Ezoic is a distant third.  Ezoic is ideal for smaller sites that don't qualify for MV or AT.  I was with Ezoic for years before switching to AdThrive.
I wrote an extensive Mediavine vs. AdThrive article here.  My older Ezoic review is here.
5 Reasons Why Mediavine is so good
I'll try to keep this Mediavine review short and sweet.  Here's a list of bullet points setting out why Mediavine is so great.
1. High revenue per 1,000 visitors: This is the most important metric when assessing an ad network.  MV earns publishers fortunes relative to other ad networks.  Okay, AdThrive earns well too but let's just say I have been incredibly happy with how much MV earns for my sites.  Check out some of my ad RPMs: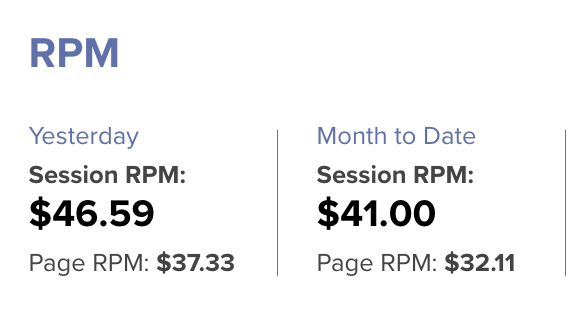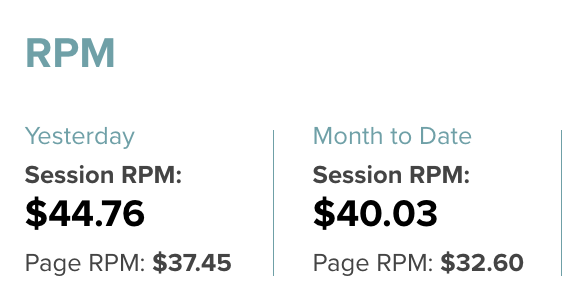 Not all my sites earn killer RPMs. The range is $11 to $45.  Sometimes my highest RPM sites breach $60.  It fluctuates.
2. Excellent ad user experience: I admit "good ad user experience" is an oxymoron since ads on sites always hurt UX.  However, unless you're running a charity, you need your sites to earn and that's where ads come in. MV's ad placement and ad tech is the best I've ever used.  The ads load fast. There are no content ads above the fold.  They offer the latest and greatest ad options. The dashboard makes it super easy to adjust the frequency and ad types.  If UX is a concern, Mediavine won't disappoint.  You can adjust pretty much every aspect of the ad experience for users.
3. Trellis theme: MV developed Trellis them which I use on every niche site I own.  I don't use Trellis on Fat Stacks because I need Astra's customization features for landing pages. Otherwise FS would be on Trellis as well.  When it comes to fast sites, not theme is as good as Trellis. I get top Core Web Vitals scores on my sites thanks to Trellis. I don't have to use any optimization plugins. I just install Trellis and my sites are blazing fast.
4. Grow platform: Mediavine offers pubs Grow which is in my view a brilliant concept and a perfect platform for an ad network to offer pubs.  Grow offers email sign up forms, related posts widgets and social sharing buttons.  Because it's built into the MV platform, these features do not slow down sites.  Normally, you'd have to use a laundry list of additional plugins for these features.  Grow includes them all. Because I also use Trellis theme, everything is seamlessly integrated. I never have to worry about slow sites or glitches.
5. Customer support:  The reps are Mediavine are second-to-none.  They are so friendly, knowledgeable and fast.  AdThrive's support is also excellent.  The point is you won't be disappointed with Mediavine's customer support. You can tell MV puts a lot of money into its customer support team.  I usually get same-day responses (assuming I don't submit a support request five minutes before the end of the day).
Where Mediavine could improve
Revenue reporting
Mediavine isn't perfect.  I have one main complaint and that is the revenue reporting.  Like AdThrive, the amount of revenue detail is lacking badly.  For example, MV only shows revenue details for 300 URLs.  I have several sites with more articles than that so I really have no idea how well or badly most of my content performs.  Another example is you can't filter or drill down revenue data.  The revenue reports are separate data pieces so you can't cross reference.  For example, I can't filter for all Android mobile users in Canada.  While Ezoic is a second-tier ad network, their revenue reporting is probably the best in the business.  My question for Mediavine is if Ezoic can create such a powerful revenue reporting platform, why can't Mediavine?
Payout is net 65
AdThrive is net 45. Ezoic I believe is net 45.  Mediavine, for some reason is net 65.  What that means is if you switch to Mediavine, you will have a 20 day gap in revenue. It sucks.  I don't understand why MV has such a long net period for paying out pubs. It's much longer than the industry norm which can cause financialy hardship when switching to Mediavine.  I suggest you keep this in mind which switching. You don't want to miss a mortgage payment or private jet payment on account of moving to Mediavine.
Grow rocks and has so much potential
Grow platform is amazing but more importantly, it's a foundation for pretty much unlimited features.  I see Grow evolving into a very powerful publisher toolbox that offers pubs most of they'll need for additional bells and whistles to improve UX for their sites… all without compromising site speed.  Grow will become a more important MV feature for pubs every year.
Mediavine FAQ
How do you get accepted into Mediavine?
It's not terribly hard although it might take a year or more to grow your site to the size Mediavine requires.  In a nutshell, you need 50,000 visitors in the last 30 days plus good, original content.  Get all the Mediavine qualifications here.
Does it take time for Mediavine revenue to optimize?
Yeah, it takes time for your RPMs to climb to peak levels.  You'll enjoy the biggest RPM growth in the first week. After that it will continue to improve for months.  My RPMs continue to slowly climb although part of that must be attributed to seasonality. I moved my sites early in Q1 which is the lowest ad-earning quarter.
How much can you make with Mediavine?
I answer that with a full blog post asking "how much can you make with Mediavine?"
Is Mediavine better than AdSense?
Mediavine is better than AdSense for 99 out of 100 sites.  There are exceptions. I know a guy who has tested MV and AdSense and for his site, AdSense outearns Mediavine considerably.  It just happens to be the case that visitors to his site click a ton of ads. Since AdSense pays for clicks, if you can get a ton of clicks, AdSense can be more lucrative. It's rare, but it can happen.
Is Mediavine better than Ezoic?
Yes, it is.  Again, it's better for 99 out of 100 sites.  There are always exceptions although I've not yet spoken to anyone who earned more with Ezoic after switching to Mediavine. That doesn't mean they don't exist though.
Is Mediavine better than AdThrive?
That's not so clear-cut.  I prefer Mediavine but it's not like Mediavine blows AdThrive out of the water.  It's entirely possible that AdThrive will do something cool down the road that makes it the better ad network for my sites.
Is Mediavine worth it?
Yes, it is.  If you can stomach a 20-day gap in revenue but maximum ad revenue in the long, Mediavine is for you. I have no regrets making the switch.
Jon runs the place around here.  He pontificates about launching and growing online publishing businesses, aka blogs that make a few bucks.  His pride and joy is the email newsletter he publishes.
In all seriousness, Jon is the founder and owner of a digital media company that publishes a variety of web properties visited and beloved by millions of readers monthly. Fatstacks is where he shares a glimpse into his digital publishing business.