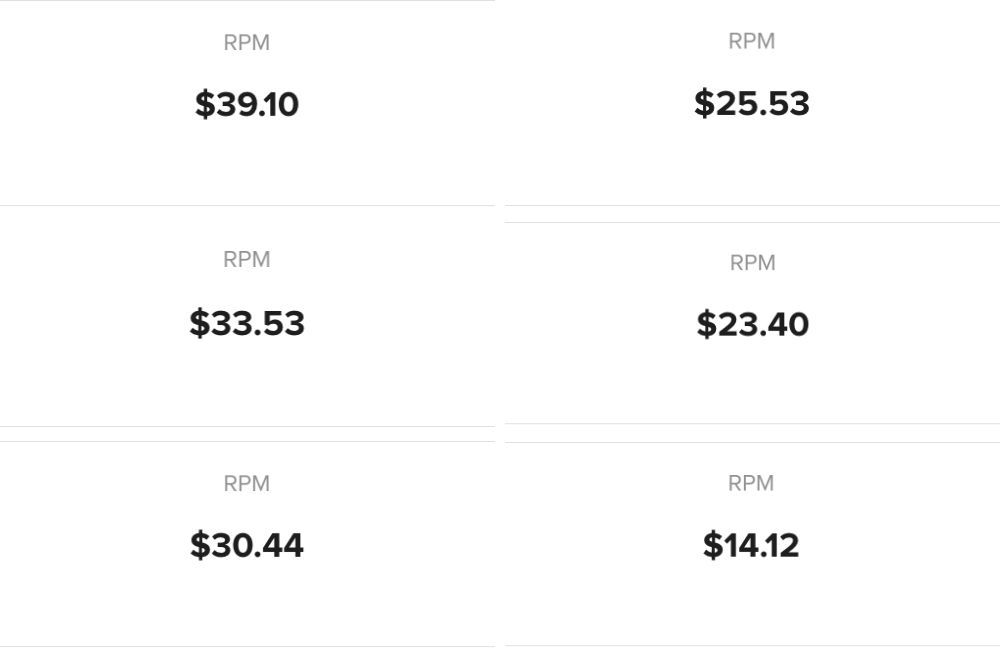 If you're looking into ad RPM as part of your niche search, you're on the right track. I wouldn't choose a niche entirely based on ad RPM but it should factor into it especially once you've narrowed down your niche options to a shortlist. All else being equal, you might as well go for the more lucrative niche.
What is ad RPM?
I can be a number of ad revenue measurements. My favorite version is the revenue per 1,000 website sessions.  Sometimes this is referred to as RPS.  However, it can also refer to revenue per 1,000 page views.
Can a niche impact ad revenue per 1,000 visitors all that much?
You bet it can.  There are other factors that dictate ad revenue but the niche can make a big difference.  In February 2022, my ad revenue per 1,000 visitors ranges from $14.12 to $39.10 (that's with Mediavine).  That's a massive range.  I've been in this website ad revenue game for quite some time but I'm still amazed at the spread.
My sites are built all the same and target the same audience
My numbers are relatively reliable because I build all my sites the same. Most content is fairly long. They're all on the same theme with the same settings.  All target the USA.  So it really is apples to apples.
There is one discrepancy though that I must set out.  Three of my sites enjoy a higher revenue share with Mediavine due to having higher traffic.  In the numbers I set out below, I'll include what the ad RPM would be with and without the higher revenue share.
How much is the ad RPM in different niches?
I don't know the RPM for all niches, but I can share what I'm getting in my niches. They are as follows.  Note, the following is the ad RPM for the last 7 days with Mediavine (Feb. 18 to 24, 2022).
Fashion: $30.44 (would be $25.90 with regular revenue share)
Home/Garden: $39.10 (would be $33.24 with regular revenue share)
Parenting: $23.40 (would be $19.89 with regular revenue share)
Tech: $11.88
Travel: $25.53
Entertainment: $14.12
Cycling: $33.53 (skewed upward due to this being my public niche site – cyclebaron.com so Fat Stacks readers visit it and spend quite a bit of time on it).
Vehicles: Coming. Ads will be on this new niche site within a week.
That's quite the range, isn't it?
My ad RPMs are neither the highest nor lowest
I've seen folks post ad RPM figures in the Fat Stacks forum (only accessible with my training) in the $50 to $70 range. That's insane. I'm not close to that. I doubt I'll get there.  While I do my best to maximize RPMs, I'm not the highest nor the lowest for whatever reasons.  While getting some idea of what respectable RPMs are, don't compare yourself too much.
That paints only part of the picture.  You should know what I do in an effort to increase ad RPMs as well as the type of content I publish.
Type of content: Almost entirely informational which will earn less than highly commercial content.  This will hamper ad revenue.
What I do to increase ad revenue:
Long content: images, lengthy articles (for the most part) and large font.  I follow the ad set up suggestions set out by Mediavine.
Fast websites with speedy ad display: I use Trellis by Mediavine on all my sites. It's wicked fast and works great with Mediavine ads.
That's about it besides more advanced tactics I only reveal to course members. Nothing fancy.
Check out Cyclebaron.com to see exactly what I do. All my sites are set up exactly like that.  Some articles have a lot of images if it's a visual article (think fashion niche, how-to tech tutorials, etc.).
It's not all about ad RPM when choosing a niche
Choosing a niche is more than just choosing the highest ad RPM.  I consider the following:
The number of low competition keywords to go after. I like niches with thousands of these.  In other words, will it be relatively easy to rank lots of articles without link building (I don't do link building).
How easy it is to create the content.  Do I need to hire experts for everything costing me more than other sites? If so, it's probably not a great niche unless I'm the expert and am going to write it.  For example, my parenting site is 100% handled by two VAs.  It's a different type of site where the content isn't very expensive and it's 100% delegated. So while the ad RPM is on the lower end, it's an easy site to grow and run.
Do I like the niche?  Okay, I'm not passionate about all my niches but there are angles in every niche I'm in that I'm interested in.
What is a good ad RPM?
I tend to get excited by niches earning a minimum of $25 ad RPM.  Anything below that isn't all that great.  The exception is if it's a niche that's easy to grow traffic and/or content is inexpensive to create.
My worst niches
My two worse niches are tech and entertainment.  The content is not cheap. It's usually fairly lengthy.  It's competitive. They pay badly.  I'm not particularly keen to grow those two sites.
Important
If you're in similar niches but your ad RPM isn't as high as mine don't fret too much.  I'm with Mediavine which is an amazing ad network.  My Mediavine ad RPM is higher with Mediavine this February 2022 than it was last February 2021.
That said, if your ad RPM is horribly low (as in under $10) chances are something is wrong.  Perhaps most of your traffic is from outside the USA.  Or, your time on site is really low.  It's worth investigating.

Jon Dykstra is a six figure niche site creator with 10+ years of experience. His willingness to openly share his wins and losses in the email newsletter he publishes has made him a go-to source of guidance and motivation for many. His popular "Niche site profits" course has helped thousands follow his footsteps in creating simple niche sites that earn big.