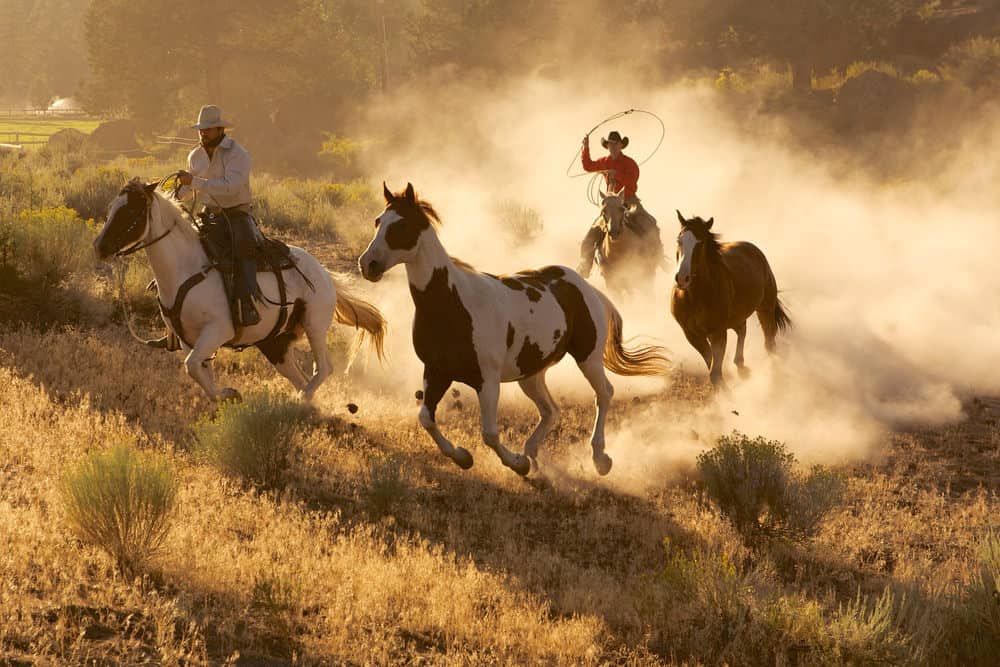 UPDATE DEC. 23, 2020: Another flip flop. The owner of Lasso worked with me and we resolved the technical issues.  Not only that he stepped me through a handful of some amazing features Lasso offers that not only increases affiliate commissions, but creates great content.  Check out how it generates very nice listicles here (the list of 16 affiliate tools is generated with Lasso).
Better yet, those listicles that Lasso creates are coded to snag rich snippets. That's not to say that you can't get listicle snippets without it but it makes it easy.
I'm now a HUGE fan of Lasso now that tech issues are resolved and I have an even fuller grasp of all that this powerful affiliate plugin offers.
UPDATE OCT. 26, 2020: Since publishing this review I've removed Lasso from every site including Fat Stacks. I encountered 521 errors with it and had no choice but to remove it and cancel my account.  Fat Stacks was crashing as was another niche site.  I no longer recommend this plugin for affiliate marketing.
What is Lasso?
My Pick
Lasso (Example of the Lab Template)
This is an example of a Lasso product showcase using the Lab theme.
I like Lab theme because the image is larger which I like for promoting products, especially Amazon products.
You can insert one or two buttons in the showcases.
You can insert a "My Pick" badge like you see here (you don't have to though).
All-in-all, Lasso offers a pile of goodies to not only earn you more commissions but to make your content better.

While it's an Amazon affiliate plugin, Lasso is a product showcase plugin that you can use to promote any merchant or URL for that matter.  The fact it's so versatile is why I use it.  That, and it looks great.
In a nutshell, it creates product promotion boxes.
Check it out.  The following is a promotion box created with Lasso (promoting Lasso of course):
Looks good, doesn't it?
Here's my review.
Designs
I love that I don't have to design anything from scratch, yet I can tweak a few design elements such as the template and colors.  Beyond that my hands are tied which is good so that I don't end up wasting time designing something.
The templates look great.  Tweaking them doesn't take long.
Here are the various templates you can choose from:
Cactus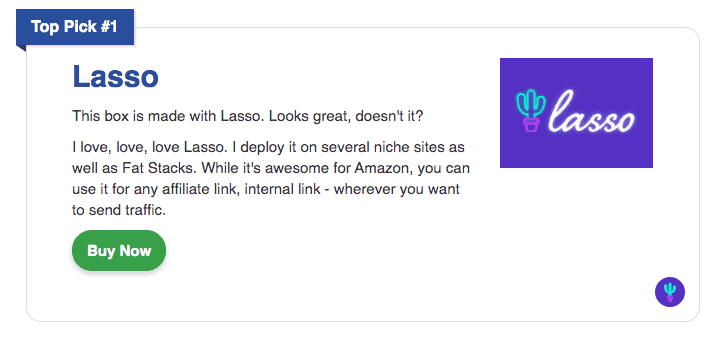 Cutter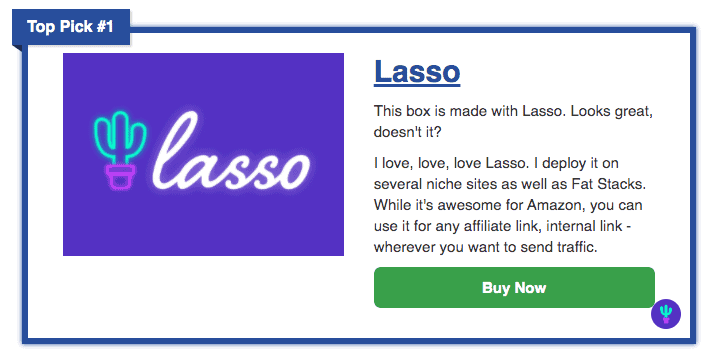 Lab
Llama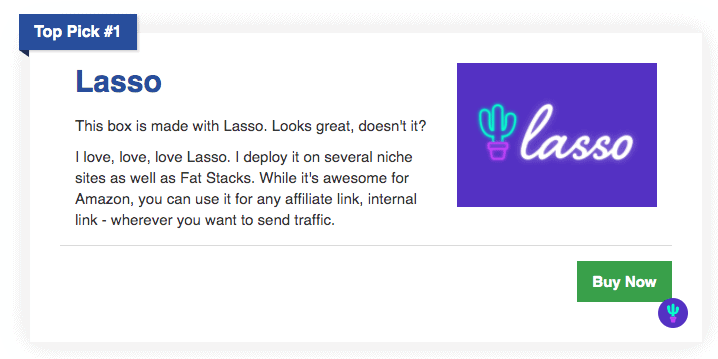 Money
Splash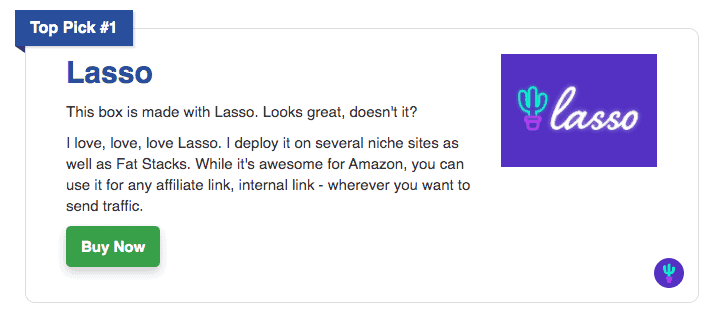 Grid Display
You can also group your boxes to create a grid display as follows: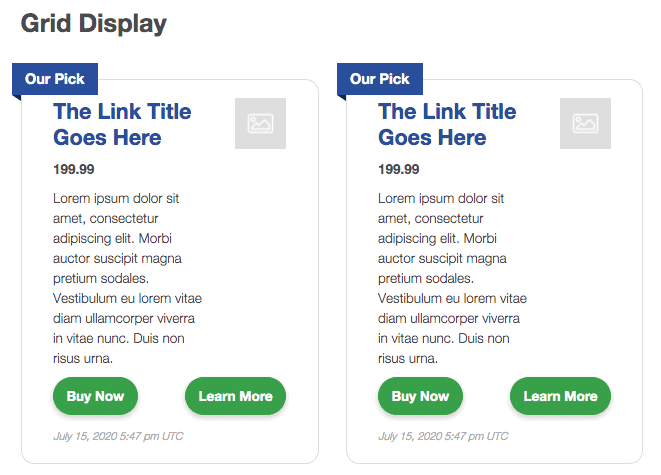 Listicles
This is my FAVORITE Lasso feature by far.
This is how it works.
Step 1: Create a group.
Step 2: Create a series of individual product showcases and assign them to the same group.
Step 3: Insert the list shortcode for that group.
Your enumerated listicle will display.  Moreover, the product headings are enumerated with heading 3 tags by default. You can easily change the headings to a heading 2 or 4 if you like.
That's it.
If you decide you want to change the order in which the products are listed, that's no problem. Inside the Lasso dashboard for that group you can drag and drop the order in seconds.
Check out an example of a product listicle at this post.  The 16 listed tools in that list is a listicle created with Lasso.
Can you create listicles without affiliate links?
Yes, you can but you must include a link.  The link can go to another post on your site which means these can be great for listicle-style cornerstone articles (which I'm also building out).
Which template do I use most?
I like the Lab template the most and that's what I use across all my niche sites.  Note, I have not tested them for conversion.
Mobile
I really appreciate how good these product boxes look on mobile as well as the listicles.
Template design customization
Here's the display setting interface where you can customize the design (colors and some text defaults only):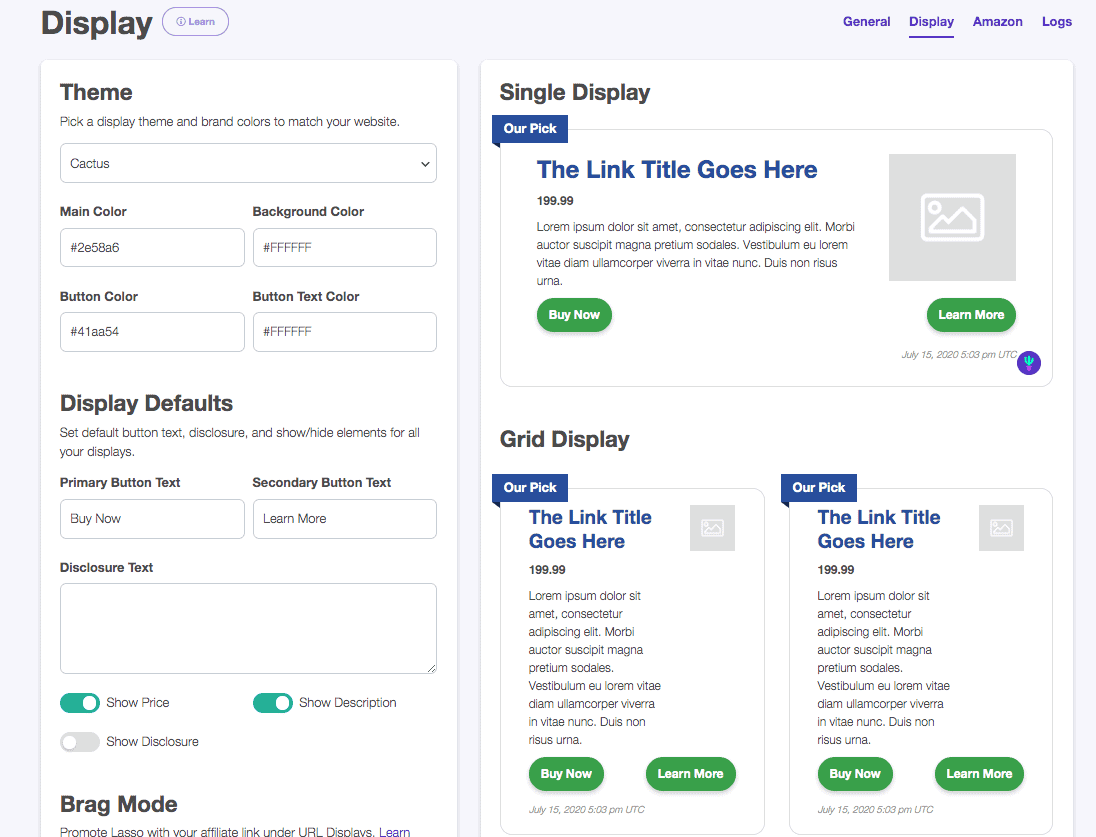 How to create a product promo box with Lasso
It's very simple. Go to the Lasso Dashboard.
Click "Add New URL" button in the top right.
Insert the URL you wish to link to.  If it's an affiliate promotion, be sure to insert your affiliate link.
Fill in the fields.  If non-Amazon promo, upload an image.
Here's a screenshot of the product promo box creation screen.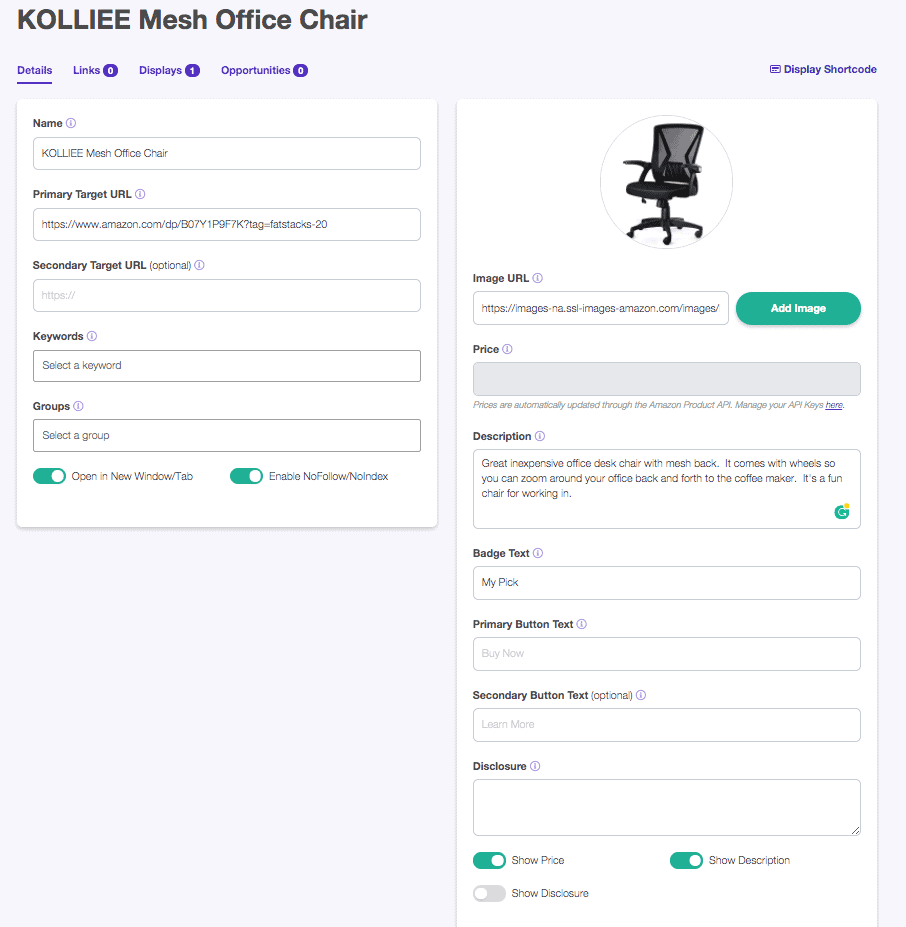 Amazon Promotion Features
Before you create any Amazon product boxes, be sure to input your Amazon credentials such as tracking ID, Access Key ID and Secret Key in the Settings as follows: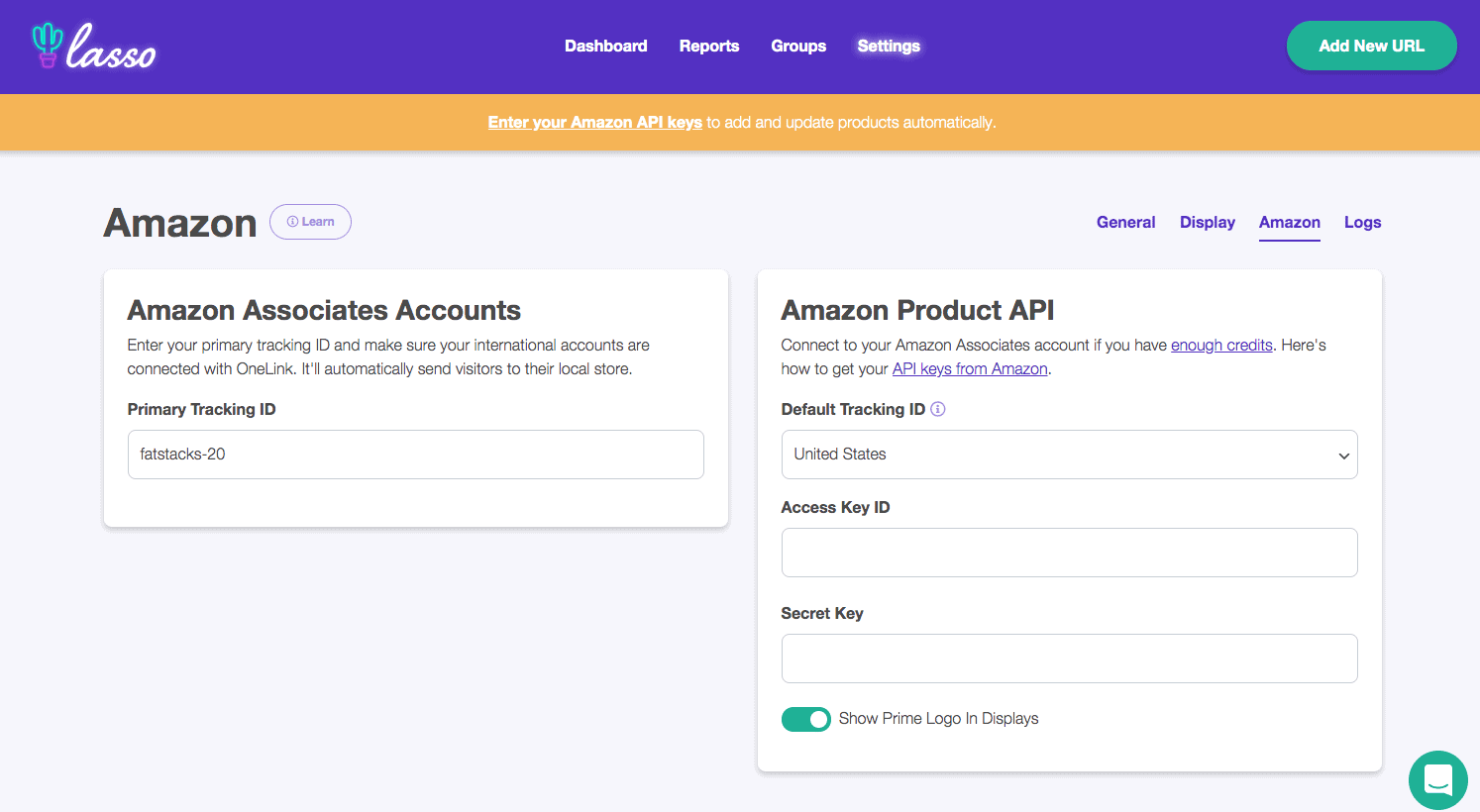 As you can see Lasso incorporates Amazon's API so that product images, pricing and Prime stamp can be displayed in the boxes.
This is great if you promote Amazon and want to stay compliant.
To pull this data into the boxes, when you create a new box by clicking the "Add New URL" button, you simply insert your Amazon affiliate link and it'll pull the info including the image automatically.
All in all, you can create product boxes fairly fast.
Here's an example of a Lasso box promoting a product on Amazon:
We earn a commission if you click this link and make a purchase at no additional cost to you.

But… not just Amazon
This is a big reason I use Lasso and that's because I can promote any merchant or other URLs on my sites with these boxes.  This makes it very versatile.
Note that for non-Amazon products that you need to upload whatever image you want into the box.
For example, the promo box at the top of this post promotes Lasso which isn't sold on Amazon.
More Display Options
Once you create groups and showcases, you can insert a variety of displays into your content.  Here are your options: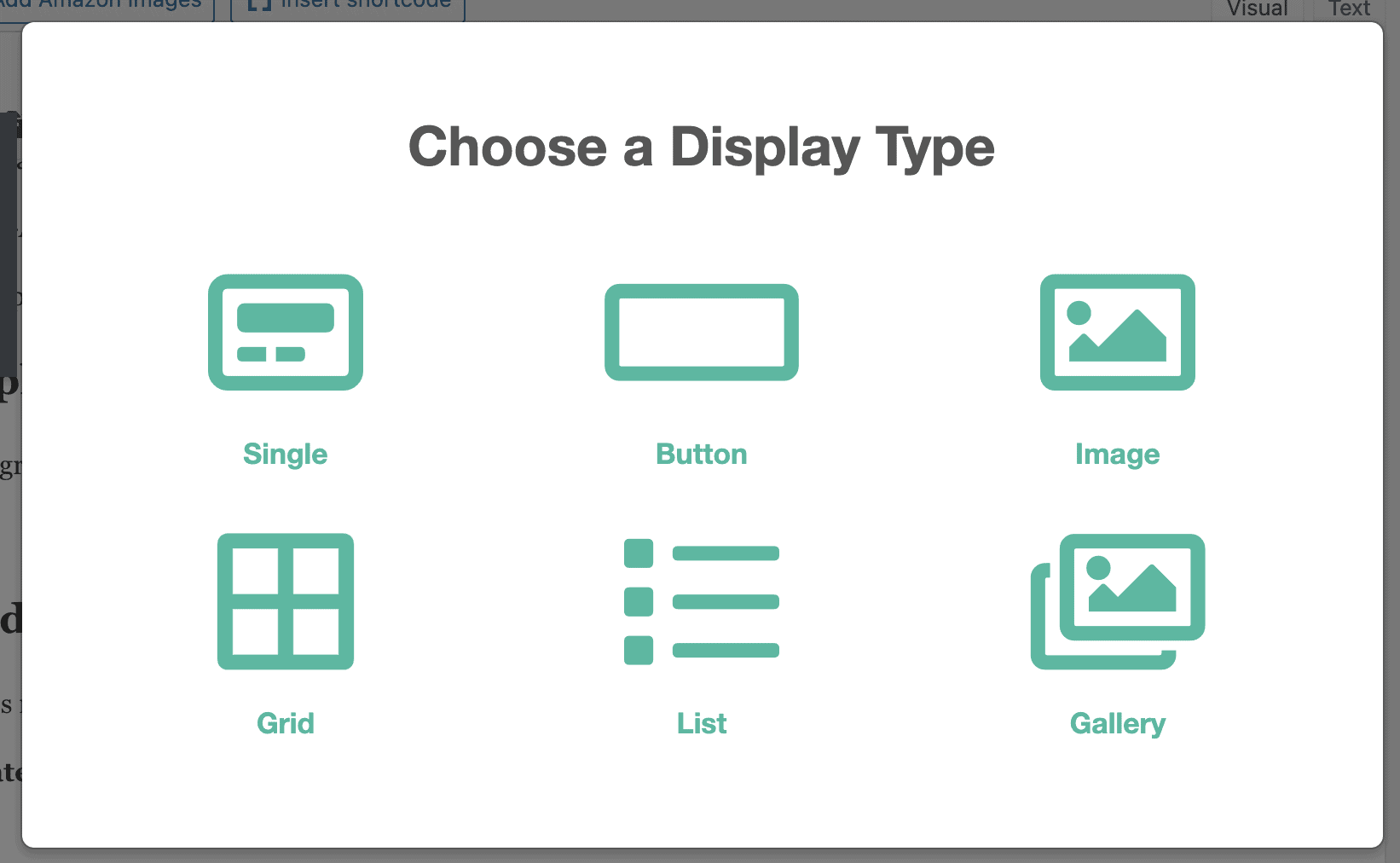 How could this plugin be improved?
While I like it, it's not perfect. Here's what I wish it could do.
Create duplicates:  I'd love it if there was an option to create a duplicate of an existing box to further speed up box creation.  Sadly, it doesn't.
Be able to create boxes in the WP visual editor:  You have to go into the Lasso dashboard to create product boxes.  It would be way better if you could create them while writing/creating a new post.  I find having to go into the Lasso dashboard a big time suck.
Pricing: The pricing is a tad expensive. I told Lasso this.  My beef is that there are not multi-site license options.  You have to pay $19 per month for each site.  Most plugins of this nature offer 5-site, 10-site and unlimited-site packages.  I'm currently using this on 3 sites so it's costing me a whopping $57 per month.
FAQ
Do display ads get inserted in the product promo boxes?
If you program ads to show up in certain parts of your content such as after X paragraph, ads may be inserted in these boxes. It's not ideal, but there's no way around it.
Even on my sites with AdThrive, ads get inserted.  C'est la vie.
But, the ads don't get squeezed in a column.  They are centered in the box.  Not perfect, but better than messing up one column of a box – that looks terrible.
Can you create boxes with no images?
No, you need an image or you get an image placeholder displaying which looks terrible.
Does Lasso create product tables?
No, it doesn't.  It creates grids but not tables.
How are Lasso product boxes displayed in content?
It uses shortcodes. When you create and save a new product box, it generates a shortcode.
Can you display Lasso product boxes sitewide via ad plugins like Ad Inserter?
Yes, you can. I do this on some sites.  It's very effective.
Overall
Lasso Affiliate Plugin Ratings
Design Quality

Ease-of-Use

Features and Versatility

Pricing
Overall, I LOVE this affiliate plugin.  I like how simple it is, the attractive designs and how versatile it is with respect to being able to promote any URL.

Jon Dykstra is a six figure niche site creator with 10+ years of experience. His willingness to openly share his wins and losses in the email newsletter he publishes has made him a go-to source of guidance and motivation for many. His popular "Niche site profits" course has helped thousands follow his footsteps in creating simple niche sites that earn big.