Gamification is a new trend that bloggers are using to make mundane tasks on a website more interesting and exciting for users. This is increasingly popular with WordPress users since their community is so extensive. It is also really easy to incorporate gamification onto a WordPress website due to many different plugins that are available.
You will find that gamification can be used on all sorts of websites such as personal, blogs, eCommerce, quiz portals, job boards, affiliate marketing, and online communities.  There a lot of different ways to incorporate gamification into your website. Gamification plugins will help you in many different ways but first, you should learn more about it and its benefits.
What is Gamification?
Gamification is a really popular technique to combine game elements into the website to enhance the user experience. You will be able to apply some unique principals and elements of game design into non-game contexts. If you are planning on creating a learning management system, eCommerce websites, social communities or lead generation websites, then these game contexts in WordPress can be really helpful.
WordPress plugins make it really easy to develop your website in a way that can make the user experience really great. There are many great plugins that you will be able to use to employ gamification to your website. However, a lot of website owners and bloggers still may not know how to effectively use gamification to improve their WooCommerce, BuddyPress or personal website. WordPress sites and games usually have some basic principles that they adhere to even though they are all built differently or have different WordPress themes.
Some basic elements of game design that you can use for your personal WordPress website are things like badges, rules, obstacles, win or loss, objectives, and a whole host of other things. In a nutshell, these functions are usually designed to motivate users to complete tasks. They are created with the intention of rewarding users for completing actions on the website. There are some crucial advantages that can emerge from this, which have been listed below.
Advantages of Gamification
Gamification can motivate users to take more actions on your website. This can make your visitors stay on your website for longer and even ensure that they become loyal users. The best part about this whole process is that you can use this for all sorts of niches, which makes it a really versatile tool. Here are some of the most promising advantages of gamification:
Improves traffic for the website
Improves productivity of users on the website
Motivates visitors to take actions on the website
Sets your website apart from the competition
Encourages innovation and creativity in website designs
Increases customer interaction and engagement
Promotes development
Ensures brand recognition
Increases user experience
Best Gamification Plugins for WordPress
Here are some of the best WordPress plugins that you can use to enhance the look of your website, as well as the user experience.
1. GamiPress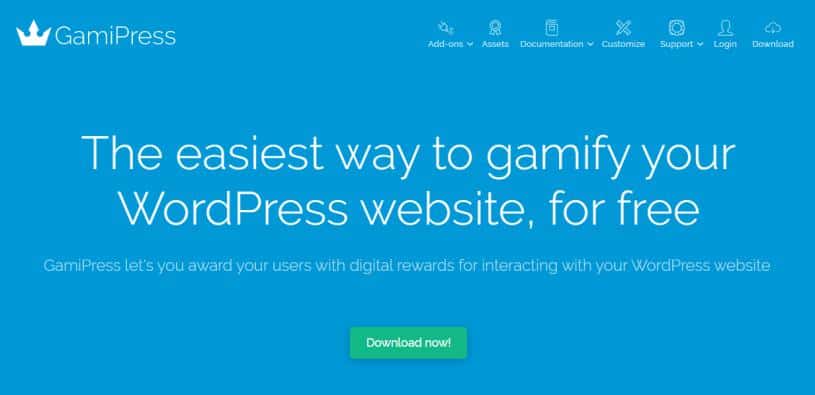 The GamiPress plugin is considered as one of the most effective and easy-to-use WordPress plugins. You will be able to add all sorts of unique gamification sections on your site. It allows users to incorporate different badges and awards to visitors for making certain interactions on your website. In just a few minutes, you will be able to gamify your website by organizing requirements, illustrating achievements, and customizing assessment options.
The GamiPress plugin is also highly extensible since there are many unique features which will definitely help you expand your website into a fun platform. You will be able to assign a point system to visitors, with unlimited points. You can also create rank and achievement types, where the longer you use the website the higher rank you get.
You can also define rank requirements so that people can create goals. There are also some achievement steps that you have to take into account to achieve your goals. There are also functions that you can manipulate to create time-bound specifications so that people spend more time on your website trying to complete goals. The plugin also allows users to embed Widgets and Live shortcodes into the website, as well as enable drag and drop functions.
2. myCRED
The myCred plugin is also a really popular plugin to ensure that your gamified website is top-notch. It is regularly updated with new tools that make it really easy to control how your website functions. The plugin is a really versatile and flexible point management tool which allows you to design a point application system for your site.
There are many different features you can use to manage the logs and points system of users automatically. Users will be able to browse through the website easily and check their points on a dedicated log. This will include a detailed history of all additions and deductions of points. The log can help users keep an eye on their statistics, ranks, badges, accountability, and more.
You will be able to integrate other popular plugins with myCred easily. This includes the use of Contact Form 7, WooCommerce, JetPack, BuddyPress, etc. There is a feature section called The Hooks which allows you to perform different activities such as store purchases, new comments, and others. You will be able to use this feature through the admin area in the plugin.
You will also be able to create a store based reward system where people can use their points to get discounts. You can also increase social engagement through community leader boards. The plugin also allows you to do monetization of the website, as well as enable online banking. Download
3. BadgeOS
The BadgeOs plugin is based on creating an achievement and badge system to increase engagement and user experience. The gamification system will allow users to show their skills, complete steps, earn digital badges, and expand their knowledge. You will be able to enable a unique range of assessment options that can be used to determine the rank levels of a user. These options can define how each requirement is to be completed to increase ranks.
The plugin is really powerful and comes with a really great variety of add-ons that you can use to improve your website. Ultimate features like auto-approving submission, reviewed submissions, point thresholds, site activity, and more make this plugin a really useful tool. You will be able to control the website a lot since most features are customizable. You can define an unlimited number of types of achievements. You will be able to design badges that can be shares of social media as well. Download
4. MoolaMojo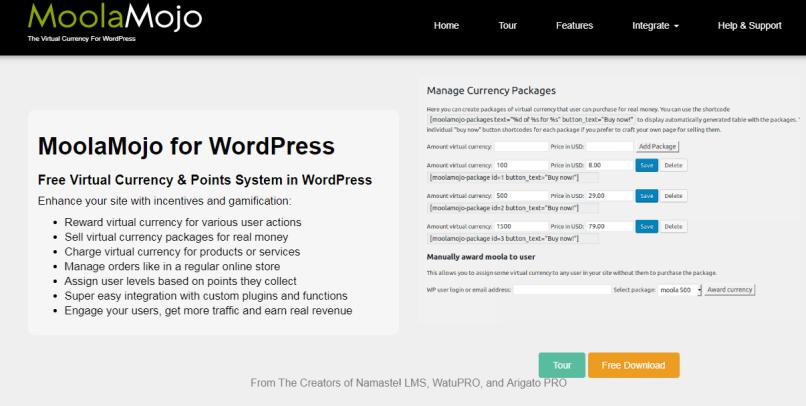 The MoolaMojo plugin is a great way to add a virtual credit system to your website. It enhances the incentives and gamification portion of the website so that your site is more interactive and interesting to the user.
You can use the plugin to allot rewards to your users for their actions. It will also allow you to enable virtual currency when a user makes different actions. You will also be able to charge virtual currency from your customers for certain actions or 'upgrades'. You can also sell the virtual currency for real money on the website to create more profits for yourself.
The plugin also allows users to receive levels based on the points they have. There are also plenty of custom plugins and functions you can use to integrate with MoolaMojo to expand the website. There are built-in integration options for sites like Konnichiwa, Namaste LMS, Watu Pro, and WooCommerce.
5. BePro Points
The BePro Points plugin allows users to reward their visitors for engaging or interacting with your website. You will have ample control on the point log transactions of the users with abilities to view, reduce, and add points to user logs. The WordPress plugin automatically starts to give out points to users in exchange for interaction with the WordPress website.
You can use it with any WordPress installation and the easy process ensures that you can begin to use it in under a few minutes after set up. You can reward users for new posts, comments, and event registration. This can increase engagement with your website since users will be more likely to interact with the content.
6. Captain Up
The Captain Up plugin allows you to develop fun levels, badges, points, and leader boards for your website with just a few clicks of the button. The plugin is feature-rich since it allows you to create new badges that people can share on their social media. You can also show activity through widgets on the website, which can make your site look more interesting. You can also reward the users for taking certain action so that they increase engagement. You will also have mobile support so that you can expand your audience.
The plugin allows you total customization over every small element so that you can make the gamification your own. You can design it according to the WordPress theme you have selected. It also provides you with analytics that allows you to tweak things to improve your SEO and Google rankings. The plugin also supports over 18 languages, which is great if you want to diversify your website to target more users. You can also enable in-app notifications and messages for your WordPress website.
7. WPAchievements Free
The WPAchievements is a free but extremely powerful plugin. It allows you to improve user experience and motivate users to increase their interactions with your website. The plugin is essential in creating a fun website with quests, ranks, and achievements. You will be able to define achievements, as well as points for completing them.
Users will also be able to share these achievements on their social media platforms like Twitter and Facebook. The free version also comes with interesting widgets that you can display on your website
including ranks, quests, achievements, and leader boards. You can also restrict content or lock content for certain achievements or levels as a reward for users.
You can integrate BuddyPress so that users can publish their new quests and achievements. You can also update functions through the WordPress backend, which will only improve the experience at the frontend of the plugin. You can also integrate the plugin with Youzer.
8. User Badges: WP User Achievements Plugin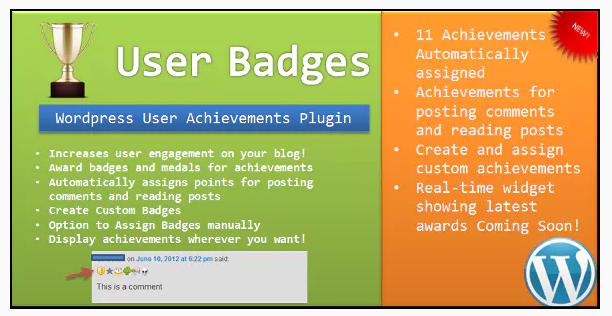 The WP User Achievements Plugin is an out-of-the-box solution to increase engagement for your website. You will be able to design and award users with badges for interacting with your blog. The plugin comes with 11 badges that will be automatically assigned to users. This will be based on a point system that users can get by completing some actions like posting comments or reading your articles. You can also create and assign custom badges to users. You can also display real-time widgets that help show the latest awards that coming soon on the website. They can be customized to display all sorts of attractive features for your website.
9. Marketing Automation by AZEXO
The Marketing Automation plugin allows you to completely revamp your website towards the better. The user interface for the plugin is really flexible and simple to use, which is perfect for beginners as well. You will be able to create rules based on different events, actions, and conditions.
The plugin also has a premium version which comes with interesting features that you can use to make your website even more interactive. You will be able to analyze the behavior of the visitor and use it to make reaction logic. You can also score and tag site visitors on their level of interaction with the website. Loyalty programs can also be created to reward visitors for their behavior. You can also reward your users with points, badges, and awards.
The plugin allows you to create polls, surveys, email notifications, SMS, and other interesting functions. You can also open Web Event Tracking of the visitors who are entering certain unique events for the game. You can also enable drip marketing to enhance the audience numbers and traffic for your website. You will also receive ROI-reports for actions like banners, popups, SMS, and email so that you can keep optimizing those actions.
10. DeepMarkit
The DeepMarkit plugin is an amazing tool to acquire more users. This will allow you to increase traffic for your website so that you can rank better and earn more. The plugin will help you create a really attractive and interesting interactive online marketing website. This way, you will be able to launch unique daily, weekly, monthly campaigns that can target more and more users.
You will be able to design incentives and prizes based on how many actions your users are taking. The tool can help you collect helpful data such as insights so that you can actually ensure your website strategy is successful. At the end of the day, the plugin will help you increase your conversion rates and boost your sales. You will be able to generate more leads and drive traffic towards your WordPress site in an effective manner.
11. PunchTab
The PunchTab plugin is a really enhanced gamification program. It covers basically everything from giveaways to rewards after a user has signed up. You will be able to design WordPress gamification widgets that can make your website look more interesting. This premium plugin is separated into three main sections: a loyalty program, an achievement program, and giveaways.
The loyalty program of the plugin is designed to assign rewards to people for attaining a certain number of interactions and points. The pro version allows you control over what sort of rewards you can offer but even the free version has default rewards that will be offered to you without any costs. You can create a site license key as a reward via the PunchTab dashboard.
The achievements program of the plugin allows you to create standard badges and levels which resemble traditional gaming rules. You can customize the badge images and descriptions, according to your personal tastes.
Lastly, the giveaway program is designed to improve conversion rates. You will be able to run a comprehensive DIY giveaway plan to encourage users to interact with the website. You can just provide an image and description of the prize to enable this function. Details like how users can enter, timelines, and any other entry rules such as following the Twitter page need to be defined as well.
12. Kazooky Loyalty
The Kazooky Loyalty Plugin has a unique $100 free promotion offer that rewards your users. All you need to do is to sign up and paste the access key onto your WordPress website. You will then receive a progress bar at the bottom of your website which can motivate users to continue interacting with the site. Users will be able to reveal messages about rewards when they hover over an icon. The control panel is kind of lackluster and uninteresting to use, which is why it isn't a really popular plugin.
13. Sequential ToolTips
The Sequential ToolTips is a really straightforward plugin which can be really great for beginners. You will receive step by step instructions on how to navigate through the website, which is really helpful to users who don't know how to navigate gamified websites. The plugin is also designed in such a way that it isn't intrusive. It works seamlessly with the website and ensures that everything loads quickly.
You will get access to some default preset styles that you can use to create the gamified content for your website. The plugin is also compatible with jQuery which ensures that you can keep expanding your website. The simple installation and control options make this plugin really great for users.
Gamification is a really interesting way to increase the user experience for your website. If users find your WordPress site attractive and fun to use, they will stay on it longer. This can increase the traffic and conversion rates for your website. It can also be really gratifying to create an innovative and creative website design for your product or services.
Jon runs the place around here.  He pontificates about launching and growing online publishing businesses, aka blogs that make a few bucks.  His pride and joy is the email newsletter he publishes.
In all seriousness, Jon is the founder and owner of a digital media company that publishes a variety of web properties visited and beloved by millions of readers monthly. Fatstacks is where he shares a glimpse into his digital publishing business.