Video ads have become really popular with advertisers and publishers despite being a relatively new phenomenon. The biggest reason for their increased use is due to the huge boost in revenue that companies have seen after using them. If somebody wants to increase their revenue, they definitely have to consider using video ad formats.
Videos ads are commonly used for entertainment websites but can also be used in native ads and banner ads. When other ad formats aren't generating enough money for your website, investing in video ads is generally a great idea. The spending on this ad format is relatively low but the revenue generated is usually high. Videos have become such a powerful medium that even Facebook has incorporated the Live Video feature which entertains advertisement companies.
If you are planning on using video ads, the best thing to do is to use an ad network that can handle the work for you. This makes it easier to handle your ad campaign since they can also target mobile and desktop users. They can monitor the additional source of information for you and provide a powerful medium to engage website visitors with.
Here are some of the best video ad providers that you should focus on to expand your revenues. However, before you look into that, you should see what you need to be looking for in an advertising network provider.
What Features Should A Video Ad Network Have?
There are certain features that you should look for in your video Ad network that can help you out when you are designing your ad campaign.
Targeting Options: The advertisement network should provide you with a variety of targeting options that you can use to expand your audience. Features like behavioral targeting, geo-targeting, contextual targeting, and re-targeting should be available depending on your needs and preferences.
Range of Devices: The advertising platform should be capable of showing your ad campaign across different devices so that you can target different users. Nowadays, users may be watching the ads on mobile devices like iOS and Android, as well as tablets and desktop devices.
Existing Clients: Taking a look at the existing clients can give you an idea of whether the network is right for you. If brands similar to yours are working with the ad network then it can be useful to target audiences they are as well.
Different Ad Formats: The Ad platform should give you different options in terms of ad formats. For example, you should be able to show video content through online advertising and mobile advertising.
Fourthly, a good Video Ad Network should be capable of serving various ad formats. So, it should offer different Video Ad display formats. When you have different video ad formats available to you, you can easily find out which ad format is most suitable for your various video ad campaigns.
Best Video Ad Providers and Networks
Here are some of the best monetization platforms that you can use to display your ad campaigns to the right audience.
Google AdSense for YouTube
Google AdSense is one of the most popular video Ad providers for YouTube users. If you want to make money from your YouTube videos, then you will definitely have to link your YouTube channel with your AdSense account. Only after doing this can you submit your videos for monetization so that you can start expanding your YouTube site.
However, you will have to make sure that your videos adhere to the monetization requirements of YouTube. For example, the video should be optimized for advertisement. You will also have the rights for the content so that you can use it commercially. Another limitation is that channels over 10k views can submit their videos to enable monetization only.
Chocolate
The Chocolate Video Ad Platform is a really popular platform which mainly targets mobile video ads. This mobile ad network has amazing VDO mobile formats that you can use to set your business. This proprietary technology allows businesses to upload scalable videos that will look great on mobile apps, mobile devices, and web.
The Chocolate program also integrates seamlessly with other top technology provides. This allows you to create a unified platform where you can plan and buy mobile campaigns. You will also receive analytics for the ad campaign you have launched so that you can see if it is indeed fruitful to invest in this ad format.
Chocolate has many famous brands using its services such as Intel, Fords, Coca Cola, Walt Disney, Microsoft, and hundreds of other international brands. They also have offices all over the world which is great for you.
Google ADX
The Google ADX is a unique ad server that ensures your click-through rates increase in multiples. There are plenty of programmatic solutions that help to manage multiple monetization sources, which can increase your revenue. You can monitor them through the advertisement inventory on the dashboard. This helps to grow revenue due to the real-time access that you will have to various mediums.
The integration of the video ad provider with DoubleClick increases the number of features at your disposal. You will have multiple selling options, as well as the ability to customize every element so that you can make more impact on each impression. You will be able to connect to multiple Google AdWord partners. You will also have access to a lot top-notch trading desks, DSPs, and networks which can enhance your reach. You will be able to do video tags that can integrate with the video content inventory and player.
Propeller Ads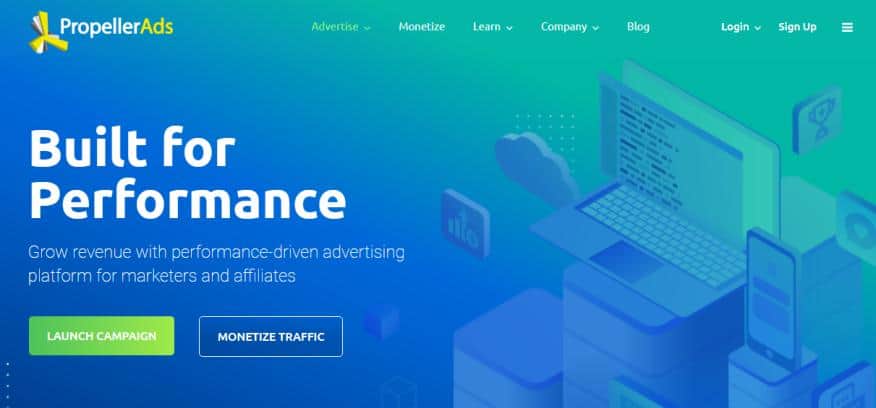 You will be able to launch a really high-quality campaign with Propeller Ads. Publishers will be able to use this opportunity to boost their daily earnings since they will have higher CPM rates. This is due to the fact that advertisers can launch their ad campaigns on multiple channels. The ad provider is running over 3000+ campaigns around the world for many different businesses.
You will also be able to expand your reach and target a bigger audience than before. You can optimize your ads so that they are effective at increasing your conversion rates. Propeller Ads also provides users many different Ad formats and support banner advertisements. You can also create a pop-under advertisement that appears on clicks. This allows you to have a varied advertisement campaign. The manual checks that you have on all ads also ensure that you can display really good quality video content.
Every ad unit will be monetized in some way so that you have increased traffic. Since Propeller Ads doesn't have any minimum traffic requirement, you will be able to expand your revenues even If you are a beginner company. The provider is based on the CPM model where you will get real-time reporting of your revenue and traffic.
UnderTone Ad Network
The UnderTone provider is one of the oldest video ad formats and is easily one of the best ones you could pick. You will be able to configure it easily, with no restrictions. It also does not entertain any scams like adult or gambling publishers, so you can keep your website secure. You will be able to launch video ad campaigns through pre-roll and in-banner formats. This ensures that you can show IAB standard formats as well as high-impact formats.
The CPM rates are also high than other traditional ads ranging from 100%-1500%. However, this means that it has higher traffic minimums of 500,000.  It provides different models for advertising such as the CPV, CPC, CPM, and CPA, which is great for advanced website owners who want to try different styles. The innovative technology and high-impact formats make it really easy to capture the interest of the customer. The results of this provider make it really easy to benefit both the consumer and brand name.
RhythmOne
The RhythmOne Ad Network provider is a really amazing advertisement solution that will work across all sorts of devices including smartphones. You will be able to maximize your revenue potential since you can expand your monetization possibilities with the platform. You will also be able to offer great video and media ads that will allow you to distribute great content and sponsorships.
The ad network is trusted completely in the community of 5000 publishers due to the great revenue sharing model. The network offers publishers with unique opportunities to grow their business into a fruitful platform. The network works really well with devices like connected TV, mobile and desktop. This ensures that you don't have to seek the help of different partners but can rely on the platform for all your campaigns.
The solutions by the ad provider include enhancing site and app performance, reducing revenue leakage, adding your overall revenue, and improving user experience. You will be able to use real-time reporting to ensure that your site has high SEO and Google rankings. You can also use payment methods such as Wire Transfer, Check, and PayPal, which can make your life easier.
Oath Ad Platforms
The Oath Ad Platforms has actually engaged so well with audiences that they hit up to 10 billion impressions a month. However, enrolling into the service is really hard for publishers since the entry requirement is really high. You will need at least five million video views per month or 3 million smartphone site views to qualify for the provider. You will also need to have your own video player on which you can serve the video advertising.
This video option is great for you if you are a company that offers your own video technology and content. The provider uses a data-driven approach to ensure that advertisers are able to reach their target audience no matter which devices and formats they use. They also offer you to target audiences across channels through native ads, display, and video. You will also have exceptional insights into audience due to the exclusive access to Yahoo audience data that the provider gives. You can control how your creative content appears on the website down to small elements like the URL.
Videology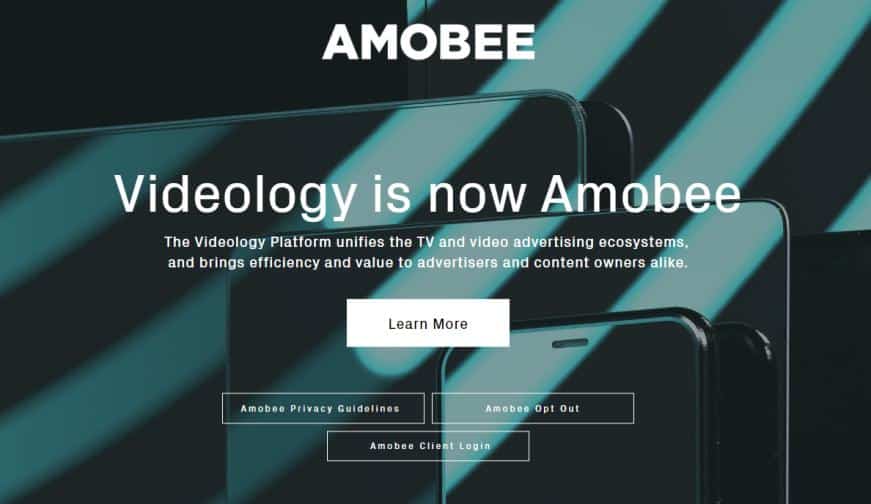 The Videology ads provider is designed for people who want to advertise on TV and video. It focuses on turning video inventory and data into productive results for the clients. The software uses converged advertising to help agencies, media companies, and advertisers to increase their media value. There are many features you will be able to use such as forecasting, execution, cross-screen planning, and measurement.
Videology is a global platform that allows the unification of video and TV advertisements. It ensures that publishers and advertisers can find value and efficiency in the model. You will definitely be able to expand your ad revenue with the effective features on the provider service.
Exponential
Exponential provider is the best thing you can opt for since it allows you to generate ad revenue in a number of ways right after set up. Publishers are now able to generate publisher content in many different ways. The service is designed to offer the most dynamic, relevant and engaging content they can so that you can stand out against your competitors.
You will be able to target display, video, and mobile users with high impact ad units. You can use IAB Rising Star and polite pre-roll formats so that you achieve higher CPMs. The provider service also connects with dedicated delivery and creative teams that can help the publisher attain better conversion rates.
The Exponential service also provides a unique consultancy service with their clients. This ensures that they are able to target their audience members in every way. However, you have to mind the entry requirement for the publishers which is at least 500,000 unique users a month. Once you reach this goal, you can work with publishers to develop regular updated and targeted content.
Selectmedia
Selectmedia is one of the best solutions to campaign with rich media so that you can properly monetize your online space. You will be able to target desktop and mobile users worldwide with video advertising. However, the platform still has really strict requirements that qualify you for their services. You will have to meet the requirements of at least 250,000 page views per day.
The service has an advanced that can really help out advertisers so that they can display high-quality videos on their ad space. You want to display the best ads possible so that you get most per view. Selectmedia can ensure that you can achieve this on a global scale and optimize your reach with your target audience. They also use delivery technologies and predictive trading so that you have the best data at your disposal to monitor your ad campaigns.
The provider service is one of the most reliable services that you can get so that the distribution and supply platforms can truly be highlighted in the ad campaigns. With the right ad placement, you will be able to achieve real-time reporting that will enhance your performance. The payout for the campaigns is based on Net 15 and you will be able to use wire transfer, Payoneer, and PayPal as your payment methods.
One by AOL
One by AOL is a really reliable and well-trust video Ad networking site which allows you to expand your audience really quickly. You will be able to offer ads through many different categories and devices like video, display, and mobile. You will also be able to monetize your video inventory so that you can generate revenue quickly. The ad campaign also offers integrated tools such as yield optimization, forecasting, and performance insights.
You will be able to check real-time reporting which will allow you to check how you are investing to the fullest. The videos will also be targeted worldwide if that is something you want. The model used by the provider is CPM and the payout is via Net 90.
YuMe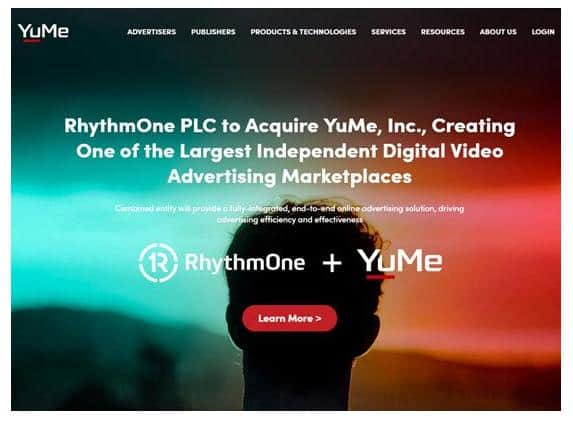 YuMe is an effective Ad Network that is designed to help developers maximize their revenues through video campaigns. They deliver on technology services that allow you to effectively monetize the app and video inventory. The multi-screen SDK option is targeted with audiences in the mind so that you can run a highly successful and engaging campaign.
The interactive ad units can also be used across different screens. The publishers will also have access to unique audience insights, which will allow them to monetize their audiences and understand the needs of their audience better.
Adobe Primetime
Adobe Primetime is an advertisement provider that allows users to build and deliver unique video content on every device and social media platform possible. The network even works on multiple screens so that the TV platform can target cable networks, broadcasters, and any other service providers. You will be able to create personalized and engaging viewing experience which can enhance your monetary benefits.
You will be able to deliver high-quality film and TV content to viewers throughout the world across the billions of devices that people are using. You can also add modular capabilities to the broadcasting inventory you already have including live TV, Linear TV, and VOD. The provider also has interesting features that allow you to accurately forecast the advertising value and package. This ensures that you can expect a high ROI on your investment into video campaigns.
The service is also integrated with Adobe Analytics so that you can actually monitor the behavior of the audience. This allows you to check how they engage with the ad content so that you can deliver better content targeted towards the users.
For Publishers
Bloggers can also generate a lot of revenue by displaying ads on any videos they upload on their website. You will need to get another plugin to generate ads for the videos on the blog.
1.      Monumetric Video Ad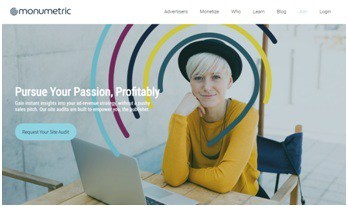 The Monumentric Video Ad provider is a unique ad management service that exists for publishers. There are many ad-strategies that you will be able to take advantage off to optimize your earnings. The reader's experience will also be enhanced since the plugin uses clever placements to ensure that readers can browse comfortably.
The header-bidding video player by the plugin is called VOLT. You can use to display a fast video player on your website that will also play ads for revenue generation. This will allow you to unlock high rates of CPMs for your website.
2.      Media.net Video Ad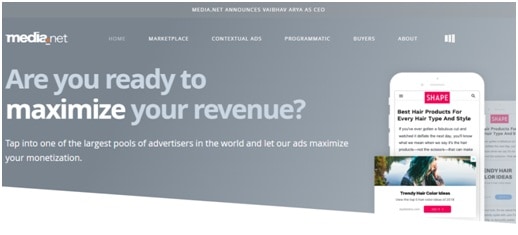 Media.net Video Ad provider allows you to display high-quality ads on your website. The plugin uses relevant keywords to determine the user's intent, which helps you display targeted ads. This can actually garner much higher revenues for you since you are using qualified intent to attract advertisers as well.
The ads on the videos can be seen from any number of devices and even social media platforms.
Video content has always had high revenue generation rates since it is so engaging. It is available on almost every platform including different social media platforms and devices. This ensures that you can reach a bigger audience and get a better return on the investment and time you are putting into the ad campaigns. These providers can ensure that you are able to target your audiences in a more effective way. You will be able to display ads that you are constantly monitoring as well as keep an eye on how the audience is engaging with it.

Jon Dykstra is a six figure niche site creator with 10+ years of experience. His willingness to openly share his wins and losses in the email newsletter he publishes has made him a go-to source of guidance and motivation for many. His popular "Niche site profits" course has helped thousands follow his footsteps in creating simple niche sites that earn big.