WordPress is one of the most popular websites in the world. 27% of all websites are created using WordPress and many people have created empires through this platform. This is why there are so many new ways to use WordPress effectively to ensure that you can amp up your earning.
Ad Management is important so that you can actually make money from your website. They are a really easy way to make some extra cash, even though some may not prefer to display Google ads on their website. Some prefer sponsored posts or selling ad space to companies on their sites.
Related: Discover my 2 favorite ad management plugins
ADNING (WP Pro Advertising System) WordPress Plugin
ADNING is a pro Ad Management system which allows you to expand your profits. When a WordPress site begins hitting a good amount of traffic, this plugin can come in handy. Many internet marketers have been generating a lot of revenue by monetizing their sites through this plugin. The plugin can help you manage and display Ads on your website properly. Visitors are more likely to click on interesting, attracting, eye-catching advertisements.
The plugin allows users to make multiple Ad types which will definitely attract more clicks. Here are the six types that you can use:
Standard Ads are displaying in widget areas or within the content itself
Fly-In Ads slide into the view from the bottom right-hand corner
Popup Ads are designed to jump out at visitors so that they attract the maximum attention
Corner Peelers are located in the top right corner of your screen when the website looks as though it has been peeled back to reveal an Ad.
Background Ads are full-screen ads that sit behind the content so people will see it as they read
Newsletter Ads are integrated with MailChimp which places ads in the newsletter you send to your email list.
The most stunning ads are usually background or corner peeler ads. However, you will have to experiment with all of these types of ads. This will help you find out which one is the most suitable for the services and products you are advertising, as well as your website. This will ensure that you generate the most views possible.
The plugin will also allow you to place your ads in different sizes and shapes. This will help you monetize any area on the website. You can form an Ad Grid which will let you display all the different banners in one ad space. The plugin supports iFrames, shortcodes, and widgets. This ensures that you have ample variety in placing ads on your website.
Bloggers also need to know about Ad-Blindness which can be a huge disaster. This means that visitors may unconsciously, or consciously, ignore the banners due from habit. The plugin will enable you to rotate your adverts through stunning transition animations so that it attracts the attention of the visitors.
To prevent your visitors suffering from ad-blindness – a disaster if ads are your main method of monetization – the plugin can also rotate your ads using stunning transition animations. ADNING is compatible with several major plugins, too, most notably Visual Composer and Slider Revolution. This means you can place ads anywhere on a custom layout, or even inside an image slider. The plugin is fully responsive, is super-easy to configure, and includes a detailed analytics function for tracking how your ads are performing.
AdSense Plugin WP QUADS
The AdSense Plugin is the most simple and easy-to-use plugin you can install for WordPress sites. The free version has a lot of handy features that you can use to manage the ads you display on your WordPress site. You can display them in multiple regions, according to your wishes.
You will be able to place the ads through sidebar widgets, as well as after the more tag you insert in the content. You can place the ads at the beginning, middle, and end of the content post too, as well as after the images in the post.
All you need to do to display the ad is to paste the Google AdSense snippet into the widget area of the page. You can also insert the ads between any paragraphs you may like by using shortcode snippets.
For more advanced users, the premium version is also really helpful. There are several cool features that you can work with to expand and monetize your website. The AMO Ads displays the AMO version of your ads on the pages, which you can also learn about from the guide. You can also enable responsive ads that support devices like desktops, tablets, and phones. You can also control the visibility conditions where you enable certain ads for certain electronic devices. For example, ads for keyboard repair can be placed on desktop users.
WordPress Ad Widget Free Plugin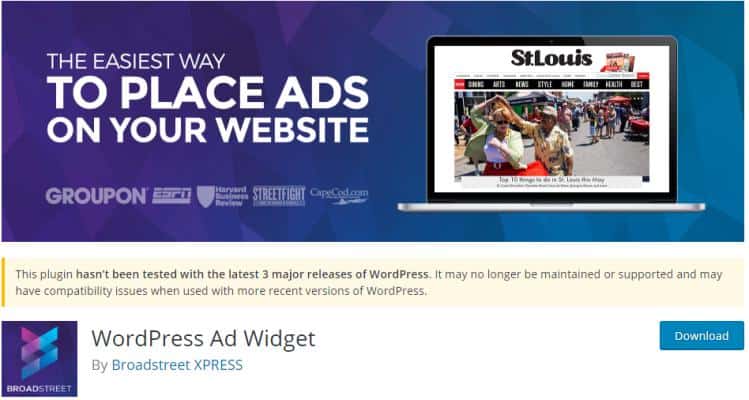 The WordPress Ad Widget plugin is a really basic and simple plugin that anyone can use to monetize their website. You can use it to display both custom ads and Google ads on your content page. You can also choose to sell ad space to different companies, which could increase your audience base. There are over 55 formats that you can use to advertise on social media platforms like Facebook and Instagram as well.
Sam Pro Free WordPress Plugin
The Sam Pro Free Edition plugin is designed to perform banner rotation for advertisement. This means that the plugin will automatically cherry-pick an advertisement from a list of pre-selected ads and displaying them on your website. This cherry-picking is based on logic and advanced technology. The plugin will display the advertisement by calculating the weight of the ad, the priority of the ad, and any other predefined restrictions.
For the latter, you can choose to selectively place ads on certain posts, categories, custom post types, and pages. You can also schedule or limit the display of certain ads based on different statistics like impressions or clicks.
The premium add-ons of the plugin provide all sorts of features. You will be able to design fly-in and popup ads to attract more users. You will also be able to indulge in geo-targeting to ensure that you touch on the right audience base.
AdRotate Free WordPress Plugin
The AdRotate plugin also makes it really easy to indulge in ad management. You will be able to display your own selected advertisement or use other networks such as DoubleClick and Google AdSense to make money. You will be able to enable periodic scheduling of ads through the plugin and even accurately follow the number of clicks and impressions that occurs on your site.
The premium version of the plugin also has many amazing features like ad-blocker detection, geo-targeting and a lot more. This will help you sell and manage the ad space on your website more diligently.
WP Bannerize Pro
The WP Bannerize Pro plugin is the best plugin for custom advertisement through non-Adobe Flash banners. This plugin will help you create banners like you normally create a page or post. All you have to
do to create a banner is to first import or upload a banner image. You will have to select if you want to track impressions and CTR before publishing the banner.
Once you have created the banner, you will be able to display it on your page, widget area, or post via a shortcode. You will also have access to IP restrictions, geo-targeting, fully stacked analytics, and role based ad targeting.
WP Advertize It Free Plugin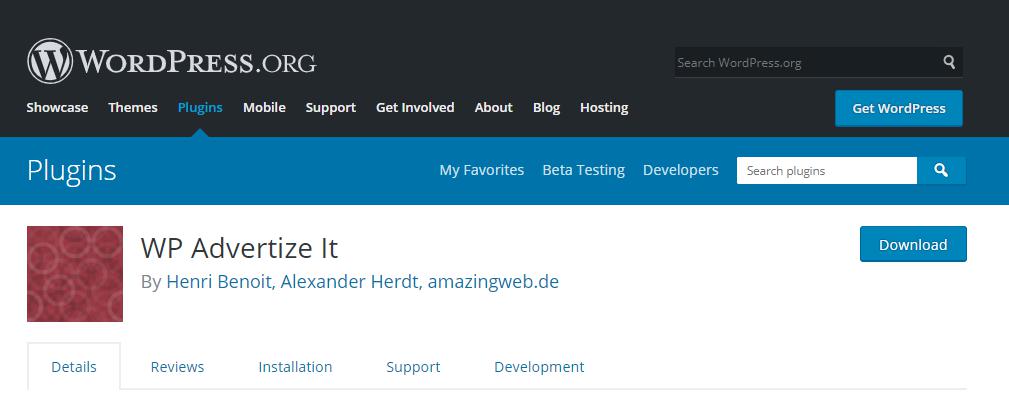 WP Advertize is your standard ad management plugin that enables you to display third-party ads from Google AdSense, as well as self-serve ads. You can choose from over 10 places to display your ads, including sidebar widgets. Moreover, the plugin also enables you to disable ads in particular post types, tags, IP addresses, post authors, etc.
Advanced Ads Free Plugin
Advanced Ads is one of the most popular plugins due to the huge amounts of useful features that it has. There are plenty of options ranging from basic ad creation to the more advanced solutions. Advanced bloggers will be able to display third-party ads that are geo-targeted to the right crowd, as well as made through a customizable ad-network. You will be able to build, manage, display, filter, configure, and target ads through this plugin according to your visitors.
The WordPress repository has a detailed account of the features available in the free version. The premium version also has plenty of add-ons that will be useful to you. This includes options to sell ads and advanced ad-injection. You will also be able to place them in innovative areas like the side header or make creating floating ads.
AWPCP – Classifieds Plugin Free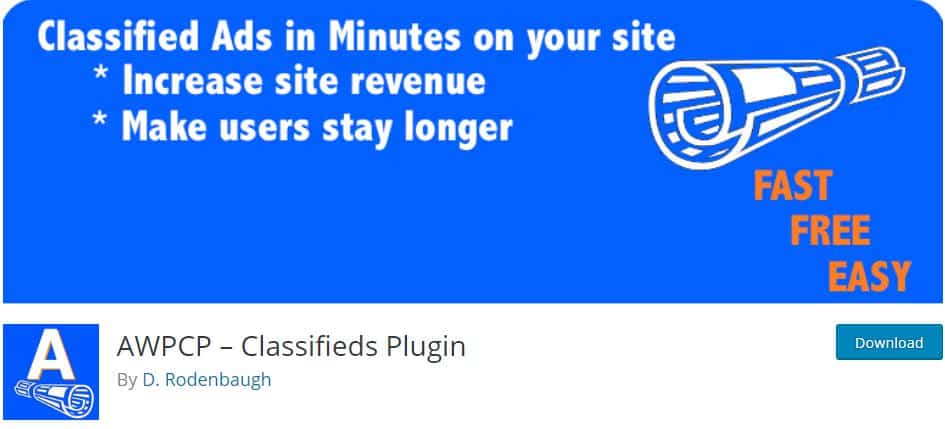 The AWPCP is a classic Ad Management WordPress plugin. It is rich in features which can help you excel at your blog or website. The online classified page can be enhanced and monetized through the plugin. You can make them searchable by country, keyword, username, or state. You can also display ads from Google AdSense to make a little extra profit.
The premium version has modules like PayPal gateway integration and Authorize.net. You can also manage campaigns and even introduce attractive deals with coupons. All of this can come in handy when you want rich classifieds on your website.
Advanced Advertising System Free Plugin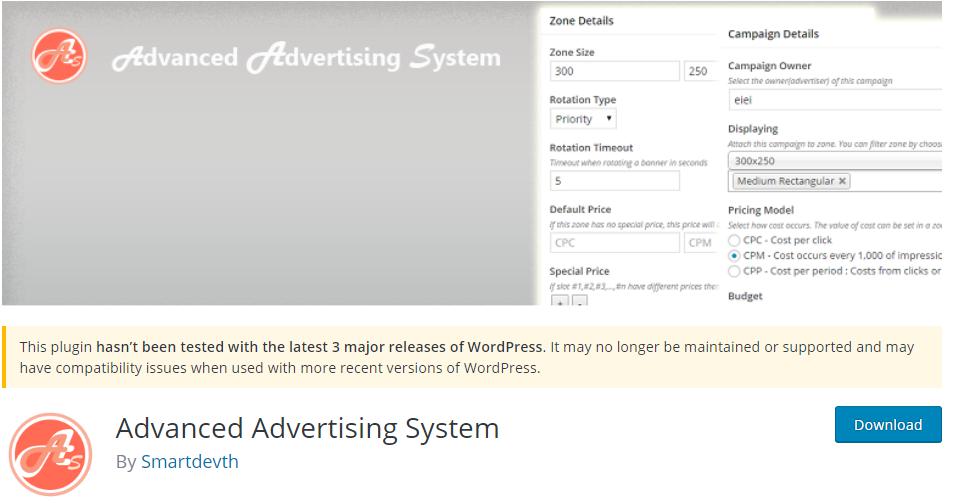 The Advanced Advertising System plugin is popular because of the many features it supports. You will find options like campaign scheduling, multiple ad-spots, ad rotation, and budget thresholds.  You will also be able to sell ads through various systems like CPP, CPC, and CPM. The plugin also has its own premium version where you can use an AJAX loader, filterable campaigns, and advanced scheduling. The best part about the premium version is the detailed charts of statistics and analytics.
Ad Inserter Monetization WordPress Plugin
The Ad Inserter plugin enables you to insert adverts anywhere in your post. The free version allows you to add up to 16 code blocks anywhere in the post. It also supports conditional display logic which means you can filter out the categories, viewpoints, tags, post types, and viewpoints. The premium version supports features like IP blacklisting and geo-targeting. The ad management plugin has also been endorsed by Amazon.
WP-Insert Free WordPress Plugin
The WP-Insert plugin has been hailed as one of the best plugins in the market for a reason. It is similar to other plugins in the way that it also supports multiple ad-networks like ClickBank and Google AdSense. However, most plugins don't offer geo-targeting for free as WP-Insert does. This means that you can choose to display certain ads for certain visitors. There are also plenty of other cool features that you can make use of such as displaying legal notices, Google Analytics Integration, dynamic ad-placement, and ad split testing.
Corner Ad Free Plugin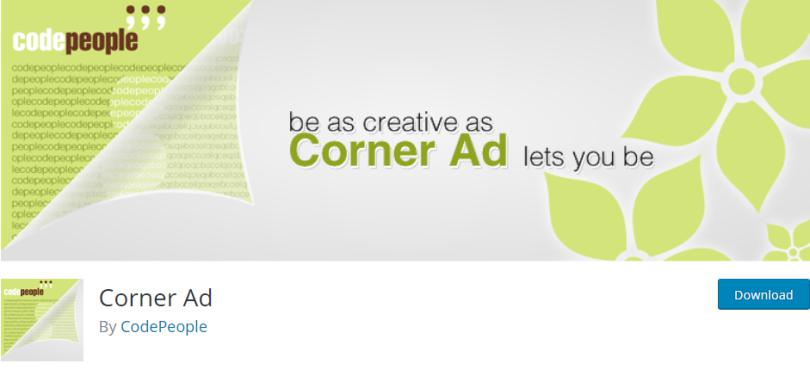 The Corner Ad plugin is a really simple plugin that allows you to displays ads on the top left or right side of your website. You can design the ad to be as minimally invasive to the visitors as you want to prevent the user experience from deteriorating. When the user hovers over the ad, the ad will flip open and display fully. It will go back to its former self once the mouse is removed. This can actually be really fun to use for things like upcoming promotions, secret sales, and important announcements.
Meks Easy Ads Widget for WordPress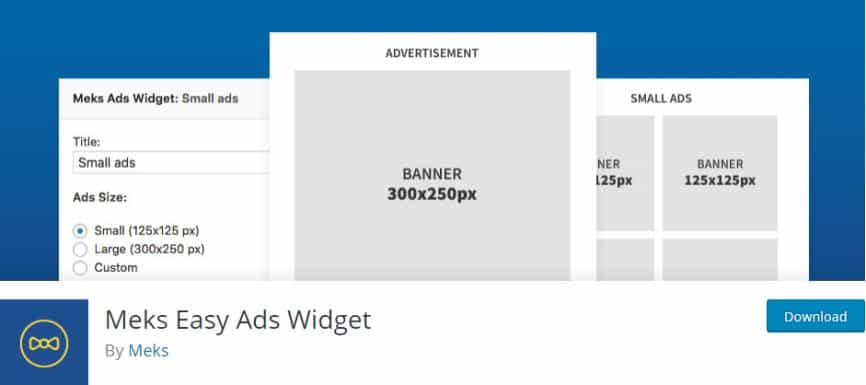 The Meks Easy Ads Widget is a really basic plugin that enables you to display unlimited ads in widget form. You will be able to select a limit number of ads per view, rotate the ads and randomize the display order of the ads. You can also define your own custom sizes for the ads or even choose from a number of standardized, predefined Ad sizes.
Google AdSense Free Plugin
Google AdSense has been designed by BestWebSoft. It directly imports ads from the AdSense account and displays them in different regions of the website. You can display the ad on sidebar widgets, before and after posts, and anywhere on the page.
Ads Pro Plugin – Multi-Purpose WordPress Advertising Manager
The Ads Pro Plugin is the second most sold plugin on CodeCanyon. It helps you manage the ads on your website through many different amazing features. The plugin supports filterable ads based on devices, tags, and categories. You can also configure the ads so that they appear after visitors have been on your site for a while. The plugin also supports geo-targeting and three billing methods including CPC, CPM, and CPD. It also supports payment gateways like Bank Transfer, WooCommerce, PayPal, and Stripe, which allows visitors to invest on the site.
Aparg SmartAd – Premium WordPress Ad Management Plugin
The Aparg SmartAd plugin has many notable features like 25 ad placement regions, 75+ embed animations and popups, and 5 supported ad types including iFrame, code, Flash, image, and video. It also supports other features like advanced filtering and ad-rotation which can be really helpful to target visitors. You can also use multilingual plugins such as qTranslate and WPML.
The plugin allows you to launch three campaign types including embed ads, popup ads, and background ads. You can control all of these ad campaigns through the advanced statistic dashboard. The PDF export feature will also allow you to share detailed reports with any ad-spot buyers. You will also be able to schedule ads and configure the suspension of ads automatically based on clicks, views, and the date.
AdPlugg Free WordPress Ad Plugin
The AdPlugg plugin is designed to integrate with the ad-management service within WordPress. You will be able to schedule and configure multiple ads, track clicks and other stats, and set up banner and ad rotation. You can do all of this from a nifty centralized dashboard and even run multiple websites.
WordPress Dynamic Keyword Insertion Premium Plugin
The Dynamic Keywords plugin is the best option for you if you are planning to run AdWords campaigns. AdWords campaigns allow you to replace a specific portion of the text in the advert with a keyword. This can enhance your SEO and allow you to rank better on Google.
Adverts Detector Ultimate Premium WordPress
The Adverts Detector Ultimate plugin will enable users to hide or show content on the site, depending on the visitor's location. It integrates well with search engines, Ad networks, and social media platforms to give you a holistic chance to excel.
Insert Post Ads Free WordPress Plugin
The Insert Post Ads plugin is an effective and simple plugin which will allow you to simply insert your Google AdSense ad between the paragraphs of pages and posts. You will be able to insert third-party codes for ads in any custom post type, page, or post.
Ad management is important if you want your website to help you make profits. These WordPress plugins can help you make your revenue generation process more effective, as well as make your website look more organized and interesting.
Jon runs the place around here.  He pontificates about launching and growing online publishing businesses, aka blogs that make a few bucks.  His pride and joy is the email newsletter he publishes.
Hyperbole?  Maybe, but go check it out to see what some readers say.
In all seriousness, Jon is the founder and owner of a digital media company that publishes a variety of web properties visited and beloved by millions of readers monthly. Fatstacks is where he shares a glimpse into his digital publishing business.