I'm often asked: "when should I put ads on my website?"
What's even more astonishing is I used to think it was good to wait a bit until a site has 500 visitors per day.
I've since changed my opinion.
My opinion changed when I launched a pile more sites in the last year.
When I launch new sites, I intend to spend more money on content for some time before they're profitable.
I consider each website a self-contained business unit.
I get very excited when a website's earnings reach what I'm spending each month on content.  That means I'm close to profitability and/or I can scale up content production.
I quickly realized that the sooner money comes in, the better.
$1.00 per day is not much.  But, it adds up to $30 per month which almost pays for one article.
$3.00 per day is not much, but it adds up to $90 per month which almost pays for two articles.
You get the point.
When do I put AdSense on my newer sites?
This is why these days, I put ads on sites that don't have anywhere near 500 visits.
In fact, I put ads on sites as soon as my AdSense account approves the sites.  In other words, I put ads on my sites ASAP.
I do wait, however, until I have 10 to 20 articles on the site.  You have to have some content to support the ads.
But it's not quite so simple.
I'm fortunate in that I have an approved AdSense account.
The approval process for adding new sites into an AdSense account is much faster and easier than applying for an AdSense account.
This means I'm in a position to get AdSense ads on new sites quickly.
Once I have AdSense ads on the site, I also put ads from this header bidding network and my video ad network on the site.
I wait until AdSense is approved because both my premium header bidding network and video ad provider displays Google ads so I might as well be approved for those.
Applying to vs. adding a site to an existing AdSense account
If you have an AdSense account in good standing, you must still seek approval to add your site to your account for AdSense ad eligibility.  Having an AdSense account does not mean you can put ads on any site you want.  There's still an approval process for each site.
The approval process for adding sites is more strenuous than it was 1 year ago.  You need excellent content and some traffic.  How much of each is anyone's guess.  I've been approved with 20 articles and 50 visitors per day, but then my account does some pretty good volume.  It could be that decisions are made on a case-by-case basis.
The point is to get AdSense ads on new sites as soon as you can.
How to apply a new site for AdSense approval with an existing AdSense account?
It's very simple. Here's a screenshot.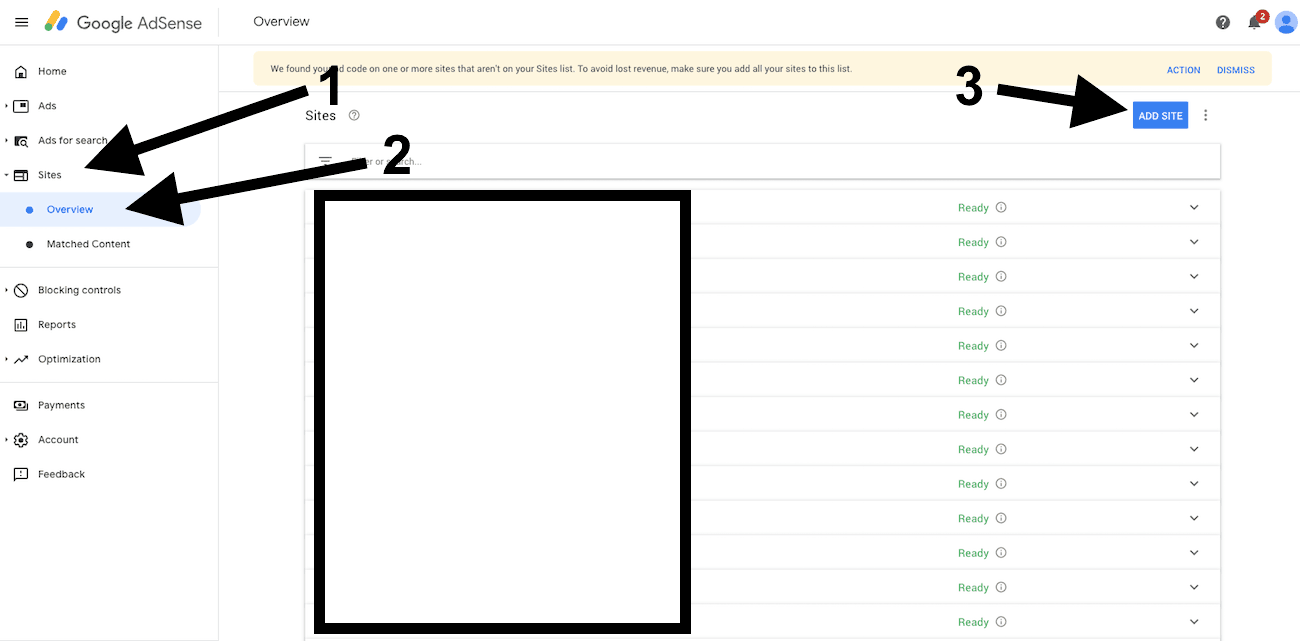 Applying for an AdSense account is a different matter.  It's not that easy.  You need a very good site with some decent traffic.  Again, I don't know how much content and how much traffic.  I know AdSense is fairly picky these days so don't be surprised if you're rejected the first time around.
Once you're approved, get your ads on the site ASAP so you get some money coming in to offset your content and hosting costs.
What about Matched Content Units?
I love AdSense Matched content units. They earn well plus provide a fast-loading related posts grid anywhere you put the ad unit.  I put mine at the bottom of posts, but sometimes I insert these units in the middle of content as well.
What's interesting is not all approved sites in an AdSense account is approved for Matched Content ad units.  You need quite a bit of traffic to qualify.  I have a few sites that don't qualify for Matched Content units.
How much traffic do you need to qualify for Matched Content Units?
If I had to guess how much traffic needed, I'd say 400 to 500 daily visits.  The site with lowest traffic approved for Matched Content units was approved at around the 500 daily visits mark.
How can you tell if you're approved for Matched Content Units?
It's simple.
In your AdSense account do the following:
What about putting other ad networks on the site?
Once you're approved for AdSense, I put ads from other networks on your site as soon as possible.  Some premium ad networks have monthly traffic level thresholds so that may be a barrier… but it's worth trying to optimize your revenue sooner rather than later because every dollar you earn is a dollar you can reinvest.
How to speed up ad monetization for multiple sites
I have a decent benefit over smaller publishers because I have sites with a lot of traffic and high earnings.
This gives me a competitive advantage in that I can get premium ad networks on my smaller sites faster due to my high overall earnings.  In other words, because I have sites that earn thousands per month with premium ad networks, they're willing to put their ads on my lower traffic sites.
Not only does this help me earn more faster with new, smaller sites, it also gives me some site buying leverage where I have a reasonable chance of increasing revenue on sites I buy simply on account of being able to leverage my existing ad network relationships.
I'm also able to leverage my connections and relationships to attract investor money (which I've started to do).
What does this mean for you?
It means that in addition to more revenue by growing a huge site, you can leverage that success to speed up the success of additional sites and projects.
Jon runs the place around here.  He pontificates about launching and growing online publishing businesses, aka blogs that make a few bucks.  His pride and joy is the email newsletter he publishes.
In all seriousness, Jon is the founder and owner of a digital media company that publishes a variety of web properties visited and beloved by millions of readers monthly. Fatstacks is where he shares a glimpse into his digital publishing business.