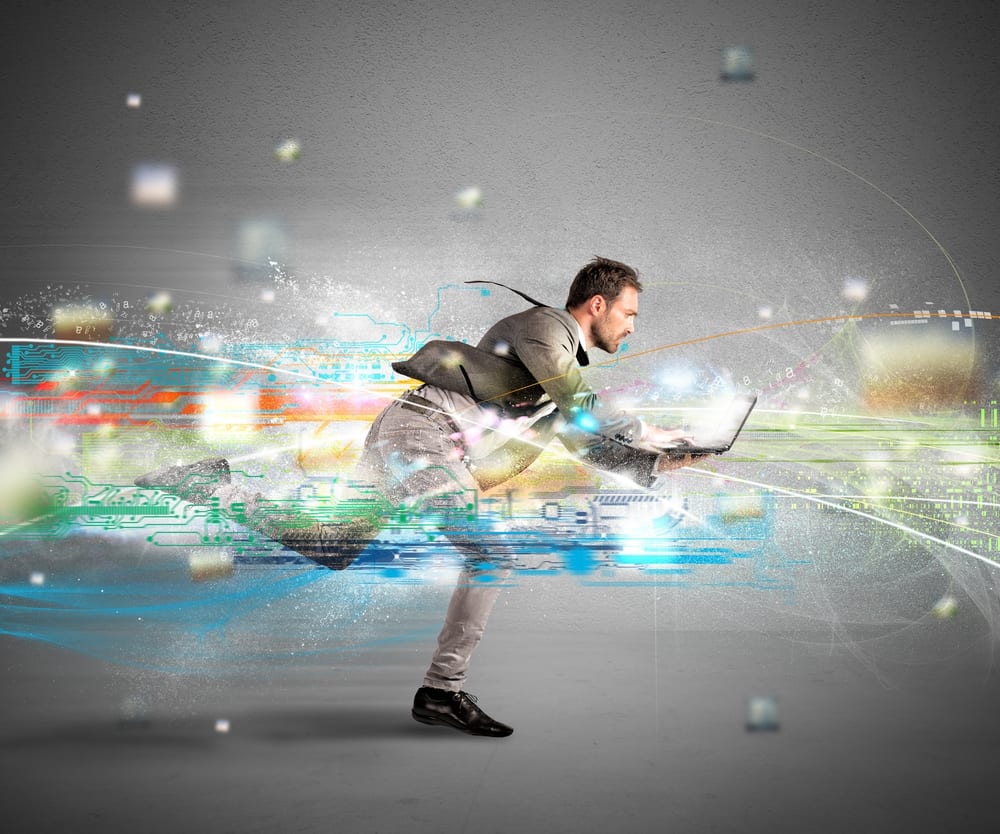 Speed has never killed anyone. Suddenly becoming stationary, that's what gets you.
It's true that it's not the speed that kills, unless we're talking about the drug.
It's slamming into anything stationary that does one in.
It's similar to building any business including an online publishing business. Especially building an online publishing business.
Plowing ahead cranking out content isn't what fails. You might take detours, the scenic route and even zig zag as you figure it out (I certainly didn't go as a crow flies as in straight, fast and direct).
It's stopping that results in failure.
This is particularly true if you have a sound game plan, which many how to blog courses provide.
Say what you will about us "how to blog" bloggers and vloggers, but most who have a successful blogging business in some capacity provide decent courses that offer a more than sufficient blueprint. I know because I've bought and gone through as many courses as anyone.
While my courses aren't perfect, they're pretty good. One Fat Stacks reader was kind enough to publish a great review here. While the positive exposure is great, I'm more pleased by the fact he found the course useful.
The bigger issue with courses and business models is whether you like the blueprint someone provides. You have to like the work involved enough to stick with it.
Here's the rub though. And this sure as heck got under my skin years ago:
Some people really do succeed in this business fast.
I didn't.
It took me a long time to find something that worked for me and then an even longer time to get decent results.
The good news is if you're frustrated at how long it's taking, you're not alone.
It takes most folks quite a bit of time (years) to get traction.
Let's take a gander at some of the monster online content brands and their history.
​DotDash: Mega online publisher. One of the best IMO. Certainly not an overnight sensation. The DotDash fleet of sites arose from the About.com ashes. About.com launched in 1996.
DotDash as it is now has been a work in progress for years. Over the years About.com was kicked around by various institutional owners including the New York Times until Barry Diller (Expedia, Match.com) got his hands on it, hired the brilliant Neil Vogel, who turned it into what it is today.
​Trusted Media Brands: This mega publisher owns lauded online and print publications such as Reader's Digest, The Family Handyman and the Taste of Home. Boasting 44 million monthly visitors, it's a big player in the online content world.
But it didn't start online. It started in 1922 with the launch of Reader's Digest.
You might say they had a huge advantage with being able to go online with a branded print publication behind them like Reader's Digest. I agree that can certainly help. But along the way, the company filed bankruptcy. Floundered until it hired its current CEO, Harvard Business School alum Bonnie Kintzer.
Bonnie put together a sound online publishing plan and executed it well acquiring additional sites to create what it's become today.
While it may sound like both companies had many advantages, and they did, they also had challenges we don't have… mainly a huge overhead and debt to deal with while attempting to make a go of publishing online.
Both companies succeeded. They are both billion dollar publications these days earning money hand over fist from website traffic.
It would have been easy for these publications to quit because their heyday had passed.
Reader's Digest did well back when print was the only option.
About.com flourished when the internet was in its infancy and its mishmash of mediocre content worked.
Transitioning to the current environment was not easy.
In fact, imagine taking the job Neil Vogel did and being tasked with breaking up the antiquated About.com into a powerhouse online publishing company.
Think about all the decisions he had to make… guessing really hoping for the best.
There were hundreds of thousands of articles that had to be assessed. Most of it was deleted but enough of the good stuff was kept and then moved as seed content to one of the niche sites Neil created. Basically he broke About.com up into several niche sites.
They needed new tech.
They needed revenue… lots of it and fast because the overhead was crushing.
There are anecdotal reports out there that Barry Diller is a tough guy to work for.
But it worked.
It took years, but it worked.
This email is not suggesting you strive to create the next DotDash.
Many of us do well with one or two much smaller sites.
The point is that this stuff takes a long time but it's not the doing that fails but the stopping.
I know some of you are thinking "but Jon, at some point it's futile and one should quit, right?"
Unfortunately, I'd be wrong if I answered no to that question. It's true that at some point for some folks one must throw in the towel.
The difficulty is in knowing whether you should or not and if so, when.
The only thing I can say is if you don't like this work or your pursuit of it is causing harm to you or someone else (neglect, financial strain) then that might be a sign to stop.
I'm watching the TV show Alone season 7 right now. 10 people are dropped off in the Arctic with 10 items of their choosing. If they make it 100 days, they get $1 million.
Everyone one of those 10 people have extensive survivalist experience and skills. On paper they can all do it. None of them are wealthy so the $1 million is a big motivator. They are also highly motivated beyond the money.
These are tough folks.
And yet, some tap out along the way.
Usually it's due to declining health issues. It's either stay and maybe do permanent damage to their health or tap out and remain healthy.
They hate giving up but sometimes you just know when it's not in the cards for you.
Only the person can decide that.
Which is why if newish to this biz I often suggest choosing a niche that interests you. If you must, treat it as a hobby; something you do when you can such as you would if you quilted or did puzzles.
It takes the pressure off. Kick it along. Do as much as you can but don't do yourself or family harm (physical or financial). If you stop for a few months, that's okay. The site isn't going anywhere. Pick up where you left off.
If it's fun as any hobby is, just keep at it until one day you check out your revenue and realize "wow, it's now turning into a nice little cash flow business."
If you can earn a little cash flow, chances are pretty good you can build it into big cash flow. Just keep doing what you're doing.