UPDATE: This Link Whisper review was updated July 14, 2020 to showcase the many new (and powerful) features!
Ever go camping?
It's fun as long as the weather cooperates.
Kids love it.  Let's face it, we go for the kids.
Packing is a lot of work, but I'm motivated in the beginning. It's the start of a journey.
All week we relax, swim, bike, sit around the fire, hike… the usual camping stuff.
Sadly, the end of the trip comes too quickly and before I know it, it's departure day.
Aaaaargh.  Time to pack up.
No sooner do we jam all the gear in the camper and car and get home, we have to unpack and store all the stuff.  Usually, I chuck it all in the garage and pick away at it for a few days (or weeks).
The end of a camping trip is one big pile of work.
That's what I call anti-climactic.
Excitement, fun, relaxation… WORK!
And that's exactly what building internal links is like when publishing new content.
I love publishing content.
Whether I write it (like this review) or work on a piece provided to me by writers, I'm excited to get another article live on one of my sites.
In many cases, I show up to work with articles published by a VA.  That's great too.
Regardless of how the content gets published, there's always an anti-climactic end and that is inserting internal links to other articles on the site and building links to the new article.
I don't know what it is about this part of the process, but it's painful to do.  It's tedious.  But it's NECESSARY.
And that's why when Spencer Haws told me what his new plugin "Link Whisper" does, I was keen to get my hands on it.  Of course, I wanted to make sure it did a good job.
I've tried internal linking plugins before, but they make me nervous.
I'm talking about the ones that interlink sitewide with one keyword.  That's a lot of links built all at one time.  I've read it can be bad for SEO.  I've read it's good for SEO.  I have no idea, but the fact it's so automated makes me nervous.
Spencer obviously viewed those plugins the same as me because he did something about it.
He realized for his own sites that he wanted a tool that could build internal links fast but where he maintained full control over which articles the links came from and the anchor text used.
I have to hand it to him for doing a good job.
He let me test drive the beta version.
I installed it on one site (this site) and started using it.
Getting started – Link Whisper Settings
Once you install Link Whisper, go to Link Whisper => Settings.
The default settings should be good, but I check the option to link to Category and Tag archive pages as well just because sometimes it's good to link to/from those pages.
Check it out:
Here's how Link Whisper works in a new post
Once your fabulous new post is down, scroll down for the section "Link Whisper Suggested Links".
In this section, you can add outbound internal links or click "ADD INBOUND LINKS" to build inbound links (or do both of course).
Here's a screenshot:
Once you click "ADD INBOUND LINKS" you'll be taken to the following where you can link your heart out.
If you click the "Edit Sentence" screen, you can change the text of the link.  Note that you can restrict inbound links from posts with the same category and/or tag (I love this feature for sites with a lot of content).
Publish the article.
NOTE: You will not see the links created in your WP visual editor.  Preview the article (assuming you clicked "Save links") and then you'll see the links created.
Existing Posts: Add many inbound internal links in seconds
While I like the ability to quickly build inbound links on the fly as shown above, my favorite Link Whisper feature is the ability to build one, five, ten or dozens (or more) inbound links to ANY article in seconds.
This feature is the reason you want to get this plugin.
In a nutshell, you run the Link Whisper report and it loads in all your posts and indicates how many internal inbound and internal outbound links each article has.  This is all well and good, but the pure genius is being able to click into a particular article and within seconds build multiple inbound links to that specific article.  I LOVE LOVE LOVE this.
Here are screenshots:
Go to Link Whisper => Report.  You'll see the following.
Notice the above link report tells you the orphaned posts which are posts with no inbound links. I have a lot of them.
To create internal links to individual posts, click "Internal Links" which brings you to the following: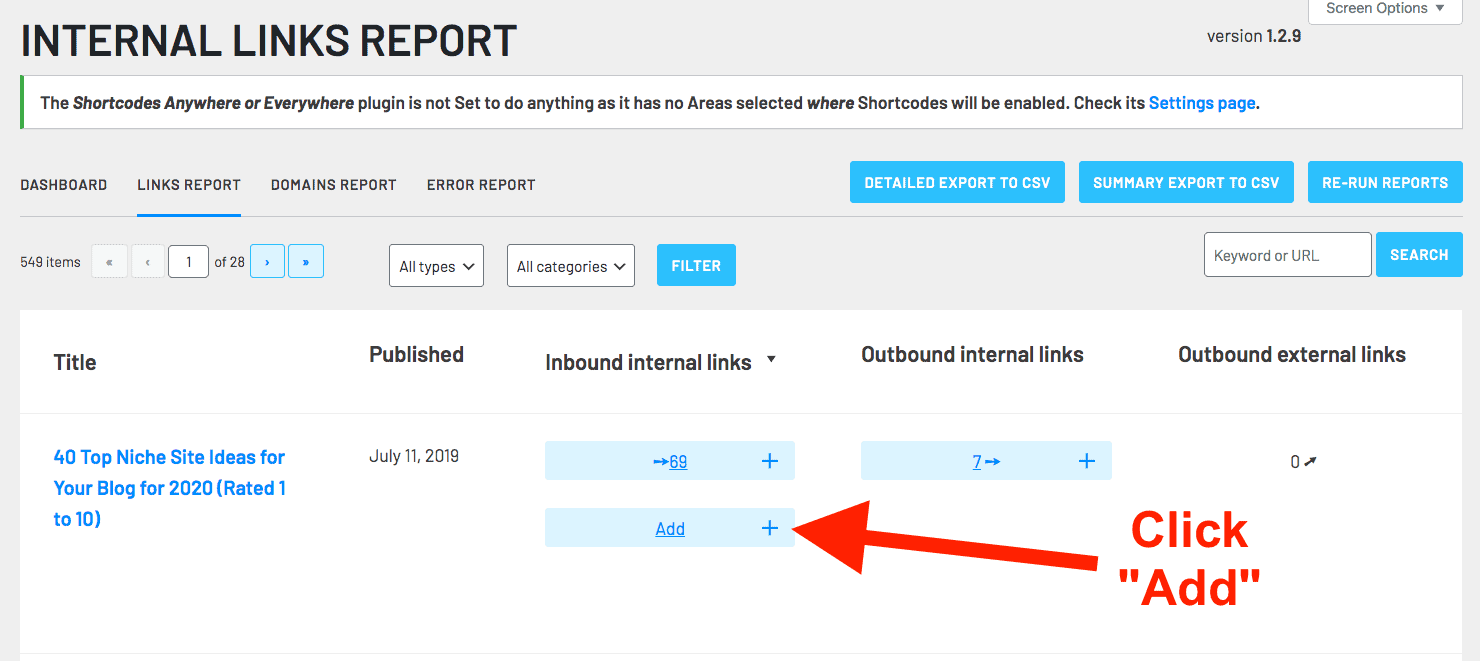 When you click "Add" you'll be taking to the next screen where you can quickly add inbound links:
In the above screen you can click the box next to "Phrase" to create all suggested links or check each box individually.
You can also edit the link text for each link by clicking "Edit Sentence".
That's it … you've built one, some or many inbound links to a post in seconds.
Build links among posts with the same Category and/or Tag
This latest feature added this week was the impetus for me to update my Link Whisper review.  I've been waiting for the ability to restrict building links from posts with the same tag.
I'm a BIG tagger for my niche sites once they have a good chunk of content.  You can read my tagging guide here.  I use tags primarily to cluster my tightly related content.  Not only is this good for users, but it also makes for great affiliate opportunities by restricting affiliate promotions to specific tags.
Now that LW filters by tag, my tagging practices also make for easy, fast and tight internal linking.
Here's how you restrict inbound links from posts with the same tag.
Sitewide Links
Sometimes you might have a few articles that you want to build a lot of links to with a particular keyword or phrase.
If this is the case, you can build sitewide links to particular URLs for every mention of a specific word or phrase.  However, you probably should restrict it to one link per URL instead of every mention.
For example, on Fat Stacks, a good example would be the term "income reports" which I could link sitewide to the Income Reports page.  Another example on Fat Stacks is linking the word "Niche" to my popular Niche Ideas post.
Overall, you should use this feature sparingly – reserving it for your site's major cornerstone articles.
Here's how you do this in Link Whisper.
Go to Link Whisper => Auto Linking which takes you to the following screen: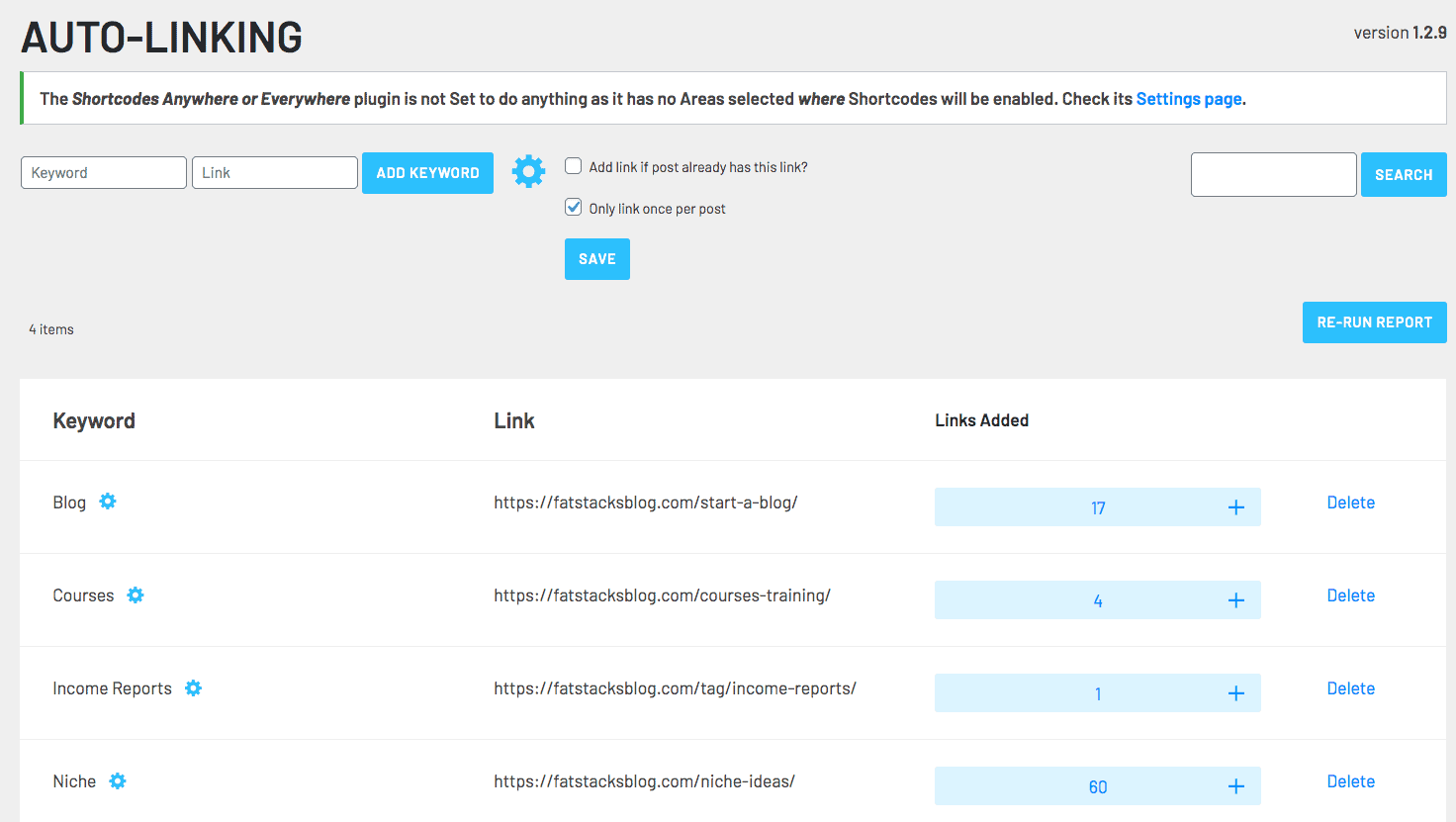 I restrict the number of links from any URL to one instance and don't add them if a link is already built from a particular URL.
Link Whisper Pros and Cons in a Nutshell
This is not a perfect plugin because it doesn't do everything I want it to do, but it does more than enough that it's worth buying and using.  The fact of the matter, as far as I know, there is nothing like this tool available.
Pros
Build many internal inbound links fast for any post: This is my favorite feature which I show how it's actually done in the above two screenshots.
Many suggestions:  I'm really impressed with all the relevant suggestions it lists.  There is plenty to work with.
Relevant internal link suggestions:  Many of the suggested URLs are reasonably relevant.  In fact, there have been many instances where I forgot about suggested articles.
Pick and choose:  You don't have to create links from all the suggestions.  You pick and choose.
Edit the anchor text:  If you're particular about anchor text, you can edit it.
Low price for the amount of time saved:  I'm glad Spencer didn't price this as a recurring monthly cost.  Instead, it's reasonably priced with an annual recurring cost which is totally normal for plugins when you want updates.
Cons
Does not suggest external link opportunities:  This plugin will not suggest external outbound link opportunities.  You still have to do this old-school.
Does not build inbound internal links into the article you're working on:  This tool will not create links to the article you're working on.  It only builds links from the article to other articles on your site.  However, you can go to the main report page, click "Add" for that particular page (or post) and then build piles of suggested inbound links.
FAQ
Will the links built disappear if/when Link Whisper is deactivated?
No, they will not.  The links you build stay in place.
In fact, I deactivate LW when not using it.  These days I strive for lean and mean sites so if a plugin isn't necessary to run at all times, I deactivate.  LW is one such plugin – I only need it when building the internal links.
Does Link Whisper insert links in existing content?
Yes, you can
Can a VA use Link Whisper?
Yes, but you'll probably want to train them on how to pick and choose from the suggested inbound internal links as well as how you like your anchor text.  Alternatively, if you're not so particular, you can tell your VA to check all the boxes and leave the anchor text as-is and move on.
To date, I've trained my VA's on internal linking, but this plugin will help them do a more thorough job.  I'll probably just tell them to check all the boxes and leave anchor text as-is.
Do the links open in a new window?
Yes, they do open in a new window by default (you can change this in the Settings).
Can you add more links in the post?
Yes, you can.  You insert them as you normally would.
How is Link Whisper different than SEO Smart Links or using Thirsty Affiliates to create internal links?
SEO Smart Links and Thirsty Affiliates create links site-wide triggered by a word or words.  What happens is many instances of the same word or words will all link to the same URL.  It's highly automated with no finesse.
Link Whisper, on the other hand, is a lot more nuanced, natural and flexible.  It suggests unique batches of articles to link to with different anchor text (which you can change on a post-by-post basis).  Moreover, you can pick and choose which links to build so that it's akin to being natural and strategic internal link building but still saves you a lot of time.
As an aside, while I don't use Thirsty Affiliates plugin for internal link building, I do use it for affiliate link management.
Overall
Features / Effectiveness

Ease-of-Use

Price
Do I use this on all of my niche sites?
Yes, I do.  I activate it for link building sessions and/or when I send link building instructions to my VAs.

Jon Dykstra is a six figure niche site creator with 10+ years of experience. His willingness to openly share his wins and losses in the email newsletter he publishes has made him a go-to source of guidance and motivation for many. His popular "Niche site profits" course has helped thousands follow his footsteps in creating simple niche sites that earn big.