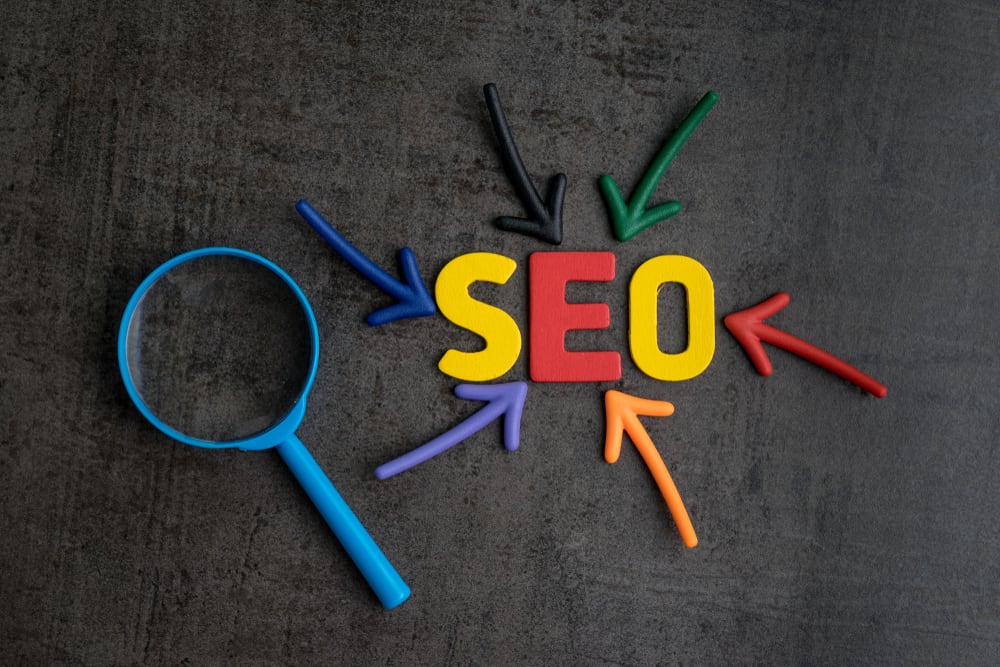 Today's email blog post is inspired by the popular Dude Perfect YouTube channel and their "Stereotypes" series. Funny stuff.
Sometimes it's good to drop our deadly serious demeanor and have some fun. Poke a bit of fun at ourselves.
It's not fair lawyers get all the jokes.
I think there's room to poke some fun at "SEOs".
Today I do so in the form of SEO Stereotypes.
Here they are:
1. The SEO Patent Geek
The SEO Patent Geek is arguably the most dedicated of all SEOs. They actually seek out and obtain Google's search algo patents and then attempt to decipher them for the world.
When you think about it, the fact they actually go to these lengths is a pretty good marketing ploy. It sure sounds good to the small (or big) business owner looking for SEO services. Anyone who talks about having Google's patent docs in their hands must be good, right?
I should be nicer to the patent seeking crowd because they probably contribute a lot of excellent value to the SEO industry. After all, they're reporting on primary source SEO info.
Better them than me.
2. The Link Building Maniac
The link building maniac reminds me of the bit in Denis Leary's "No Cure for Cancer" where he proposes the solution to the drug problem.
Enter Denis Leary…
And I'll tell you something else right now. I have the solution to the drug problem in this country.
Nobody wants to hear it, but I have it. Not less drugs, more drugs.
Get more drugs, and give 'em to the right fucking people.
Mmm mm, 'cause every time you hear about some famous guy overdosing on drugs.
It's always some really talented guy.
It's always like Len Bias, or Janis Joplin, or Jimi Hendrix, or John Belushi. You know what I mean?
The people you wanna have overdose on drugs never would!
Like Motley Crue would never fucking overdose man, never!
You could put them in a room with two tons of crack. They come out a half an hour later, "Rock on, man!"
"Shit, they're still alive. Fuck! They're probably gonna make a double live album now, goddamn it!"
The link building maniac's solution to SEO is not less links but MORE LINKS.
While most no longer blast out spun articles for links, they do wind up outreach software and blast through tens of thousands of contact forms pitching a myriad of ideas and offers for a link.
3. The Shakedown Artist SEO
The shakedown artist SEO will do almost anything for a link. An example that's made the SEO rounds in recent years is the image copyright shake down.
They contact website owners who publish stock photos and suggest they own copyright to that image… but don't fear, you can continue using it as long as you provide a link to www.I-am-seo-guru.com.
Their email continues with and gives away their claim with something like "if you obtained the image from a stock photo site, please disregard this email".
Some of these clowns don't include the latter bit which in my view borders on extortion or false allegation. I don't know for sure but it's nasty especially the first time you receive it.
I usually ignore such emails but I have messed around with these folks by replying and telling them I've forwarded their shakedown email and website to Google's spam team. I don't actually do this but they don't know that.
Since I don't shake down folks for links, I'm not in-the-know about other shake down tactics but I'm sure they exist.
4. The "do as I say, not as I do" SEO Guru
This SEO guru blogs about SEO but doesn't actually do SEO in the real world.
Their sole SEO street cred revolves around the 6 articles they ranked on their SEO blog about… you guessed it, SEO.
They rank a few articles about SEO and proclaim on the very same blog that they're an SEO expert.
It's classic self-fulfillment marketing.
5. The "Clinging to the past" SEO
I routinely get spam comments that are an effort at building links.
I'm sure there are still "SEOs" who spin articles and blast 'em out via software to create hundreds or thousands of links on autopilot.
It's been nearly 9 years since such tactics work (as far as I know) yet some folks just can't let go of the pre-Penguin "glory days" where SEO was all about polluting the Web with as much garbage as possible for the sake of links.
I contributed to that garbage back in the day because it worked. Nobody was harmed but a lot of internet users had to suffer through some lousy content.
While it hurt at first, when Google was able to combat such tactics, it was for the best. The internet is a better place because of it.
6. The "build it and they will come" blogger
This type of blogger usually has a too-inflated opinion of their content. They believe their content is so good that readers will flock to it independent of Google.
While it's true some bloggers are this good and succeed, it's not likely and it's not often.
Don't believe me?
That's fine. Blog your heart out and let me know how it goes in 2 years. I've had many folks tell me they published great content for a year or two but got nowhere until they applied some basic SEO practices to their work.
I do hope you prove me wrong though because that means you'll have created an epic website which I'd love to read.
Another failing of this mentality is why leave traffic on the table. If you write so well an audience materialized from word-of-mouth, with a just a little on-site SEO effort, surely that could result in a lot more traffic.
But who am I to tell someone what to do.
7. The "SEO Newbie"
I remember my first bit of SEO success. Within a month I fashioned myself an SEO expert. I also couldn't believe my good luck that there was such a thing as SEO. At the time I thought I'd be able to rank for anything.
I'd yammer on about the intricacies of SEO to anyone who would listen. Nobody cared but it became my world.
Back then it was links, links and more links. Spun content links, Reciprocal links, guest posts, directory links, comment links… you name it, I built 'em. It worked and so I strutted around an SEO genius.
These days the newbie guru launches into a dissertation about keyword density, word count, interlinking tactics, DA, DR, UR and other acronyms that are meaningless to most of the world.
Their self-proclaimed Guru status deflates when they realize that there are sites that get 5 million monthly visitors from search. That puts their 32 monthly visitors into perspective along with their ego.
8. The "Info Overload" SEO
The info overload SEO reads everything related to SEO.
Every blog post. Every course. Every case study. Listens to every John Mueller hangout. Watches every SEO YouTube video. Is part of 18 SEO Facebook groups.
These folks are an SEO Encyclopedia.
They can argue for and against every SEO theory. Often they just love to be contrarians. They have a link to some case study for everything at the tip of their fingers.
If someone says internal linking is good, they can instantly link to some case study showing internal linking is worthless.
The next day when someone says internal linking is useless, the info overload SEO has a link to a case study showing internal linking is the best thing you can do.
You gotta love the overloaders. I've learned a lot from them because they pepper the web with links to all kinds of resources.
9. The Content Overkill SEO
The content overkill SEO thinks like this.
If 1,800 words will do the job, 18,000 is even better.
They're like the link building maniac but instead of links, they equate SEO with word count.
They're all about EPIC content. 10X content. They are EPIC.
10. The Lazy SEO
You never meet or hear from the Lazy SEO because they couldn't be bothered taking the time to preach or write about their SEO conquests.
This SEO species embraces the SEO passive income potential with all their might.
They view SEO as merely a way to make money doing nothing so they can do nothing… or just go out and have fun. Sleep in. Ride bikes. Ski. Travel. Read novels. Play poker.
Actually, that sounds like me and my list of leisure activities.
They love to recreate.
They aren't greedy. They just want to make enough money so they don't have to work and can live a good life.
Their secret is outsourcing. They outsource content. Outsource link building. They don't expect perfection. Quality is not an end. It's a means to rank and bank.
11. The Paranoid SEO
If the paranoid SEO put as much effort and time into SEO stuff as they do checking traffic stats, they'd do a whole lot better.
This SEO species is obsessed with checking Analytics. Refresh. Refresh. Refresh.
They worry often about losing traffic.
The announcement of a Google update spikes their heart rate.
The first day of an algo rollout day can result hysterics. The volatility is too much. They pretty much are unable to do anything until the rollout is well along or complete.
I jest and I do so because I think we all have a little bit of the paranoid SEO in us. I know I do. That's what keeps us vigilant.
12. The Data Hound SEO
You know a Data Hound SEO with their hallmark openings in emails or blog posts which goes something like:
"After crawling and analyzing 477 million URLS we've come to realize that if you wish to rank #1 for any keyword, your keyword density must fall between 3.55% and 3.85%. Nothing less. Nothing more. Read on to read about the methodology of the biggest SEO study ever undertaken and our extensive findings…"
They fire up some crawling software like Screaming Frog, crawl millions of URLs, then comb through piles of data looking for patterns that both help and hurt rankings.
Their coup de grace is publishing their findings on their SEO blog.
I appreciate the Data Hound SEOs out there. They often come up with some insightful and actionable SEO information.
Which SEO stereotype am I?
Like most of us I suspect, I'm an SEO mutt which is a mix of a few. I'm:
1/10 naive "build it and they will come"
5/10 Content Overload SEO
2/10 Lazy SEO
2/10 Paranoid SEO
​
Which SEO are you?
Did I miss any?