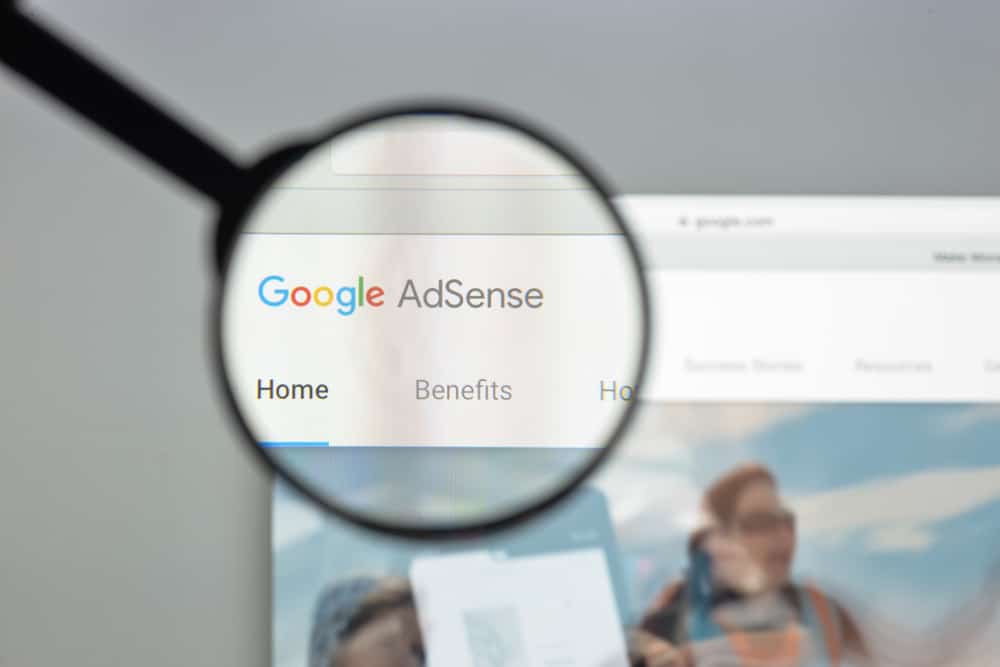 Is your WordPress theme losing you money?
It might be.
I've tried dozens of WP themes over the years to see what works best.
While many of us like fancy and complicated, generally fancy and complicated come with a cost. That cost is less ad revenue.
Minimalist and simple perform best.
If you want to generate ad revenue from your site find out key WP theme features I look for as well as some suggested themes below.
11 WordPress theme features I prefer for a website monetized with AdSense
If you prefer to just listen or watch and listen, here are some options for you.
Podcast version:
Video version:
While I let you know which themes I like toward the bottom of this article, there are many other options.  The main thrust of this article is a short laundry list of features I look for when choosing a WP theme.  Here they are.
1. Short header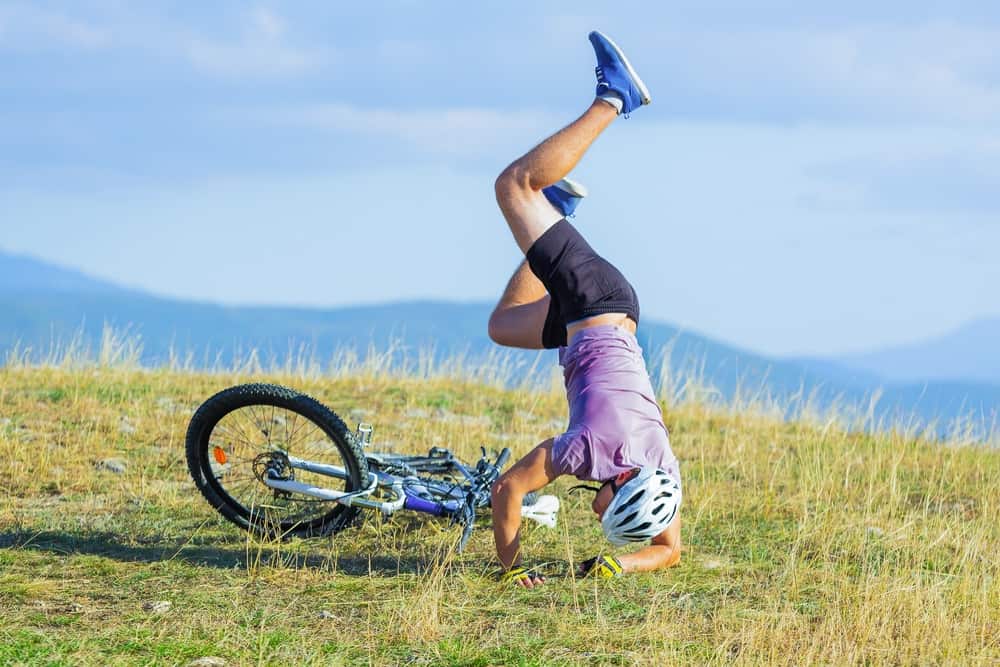 Oops, not that header (cyclist crashing onto head).
By header, I'm talking the logo/menu area at the top of a website.
While a logo and top menu bar is important for web design, too much of it is a big waste of digital real estate.
I admit it; I'm fairly aggressive with my display ad placement for content that is primarily monetized with display ads. However, I don't want to publish a site where the entire above-the-fold real estate is ads.
Therefore, a short header section offers more above-the-fold space which can accommodate ads as well as offer content. It's a perfect balance of good user experience and decent ad RPM.
Seriously, a big logo, multiple menus and/or lots of wasted space is useless.  You need focus on ads and content above the fold.  Your users like the content showing up fast.  You like the ads because above-the-fold ads make WAY more money than below-the-fold ads.
2. Featured image BELOW the title
I've tested this and I've found that ads perform best below titles instead of above.  This is particularly true with ads below titles with a featured image in the mix. I add text as well because ads too close to images above the fold may get too many accidental clicks, but generally a little text, an ad and featured image performs best revenue-wise below the title.
3. No screen-width hero featured image
Hey, I like the look of websites with a full-width hero image.  It's cool, especially if the image is great.
But guess what?  Those suckers pretty much take up all the above-the-fold space, leaving no room for actual content or ads.
As much as you may like that design, unless you don't want to make money, avoid it.
Instead, put in a featured image that fits within the post content below the title.
4. Top Menu Bar is on the same level as the Logo
Many websites have a logo with the top navigation menu bar underneath. As stated above, this wastes space. Eleven40 theme offers an option for your top menu bar to be to the right of logo so that there's more content space above-the-fold.
5. Lots of white space (background included)
Check out all the white space on this site.  Website background and content background is all white.
I ensure all my sites have solid white background and I like all areas, including text, to be well-spaced.
Why?
Because ads stick out.  Ads are usually colorful and noisy in design.  When websites have too much going on, the ads aren't quite as apparent.
Keep it super simple with plenty of white space and let your ads shine.
But PLEASE PLEASE PLEASE don't do anything to encourage ad clicks.  It's one thing to use a lot of white space, but another thing altogether to encourage clicks of ads.
6. Simple SET-UP with few bells and whistles
I prefer WP themes with few bells and whistles. I don't need dozens of layout options, menu placement options, footer arrangement options, design shortcodes, etc.  I certainly don't want to have to design all this from scratch (which is what page builders require).
I like ready-to-go out-of-the-box with as little code bloat as possible.
If I need features added, I can find a plugin for that (which I keep to a minimum).
For example, I don't need themes with built-in sharing buttons.  I like Social Pug and use that.  Interestingly, the themes I do use do have built-in sharing buttons, but I think it's unnecessary.
Some themes have so many options for getting it set up that it takes days just to figure it out and then a few more days to complete set-up.  I don't want that.
I want a few checkboxes to tick, a couple color options and be done with it.
Most themes offer this, so it's not hard to find.  However, if you're new to all this, my preferred layout is two columns with content column on the left. I've tested ad revenue with sidebar on the left and no sidebar (one-column) and I've found the two-column with content on the left to perform the best.
Here's an example of a 3-column layout (which I don't like):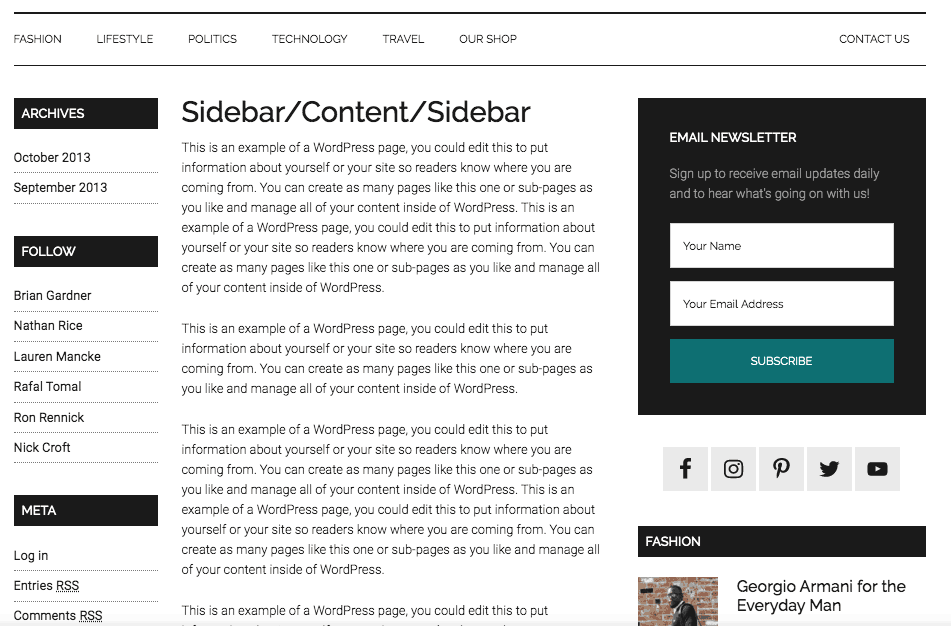 Here's an example of a 2-column layout (which I do like):
8. Child theme framework
Theme frameworks where the design is controlled by a child theme is best.  This way when the framework is updated, any changes you make to the child theme remain in place.  Studiopress offers this. MyThemeShop doesn't (my only real beef with MyThemeShop).
9. Great customer support
No matter how adept you are at coding, having access to quality support is a huge help.  Sure, I could hire someone to provide me CSS, but I'd prefer to get that info for free from theme support.  Any theme you buy should have an established support forum or ticket support.
10. Looks good on mobile
Before dropping $50 to $100 on a theme, check out the demo on your smartphone to make sure you like the look of it on mobile.  More people surf online on mobile devices than desktop so you have to take this into consideration. Fortunately, most themes are now optimized for mobile as well so chances are this won't be an issue, but it's still worth checking out.
11. Loads lightnin' fast
via GIPHY
The problem here is pretty much every theme developer tells you their theme is the fastest.
Thing is, only one theme can be the fastest.
Which one is it?
I have no idea.
That's why I check out theme demos to see how quickly they load and hope for the best.
The two theme developers I suggest below are recognized for well coded themes so you should be good to go.
Are they fastest? 
I don't know, but at the end of the day, website speed boils down more to what you put on and in the site than the theme (in many cases).  The sad fact is display ads, plugins, media (photos) and whatever nifty features you add will slow down your site.  Your goal is to keep it all to a minimum, use good hosting and optimize for speed as best as you can.
Here are my 2 favorite WordPress themes for AdSense
Like any blogger, I have my preferred theme developers.  You don't need to use what I suggest in order to find something that checks most of the boxes above.  However, most people (me included) like a straight-up recommendation, so I'll give it to you.  In fact, I'll just tell you what themes I use (and have used).
1. Any blog theme by MyThemeShop
Notice I say "blog theme".  Avoid a corporate or other type of theme.  I like blogging themes.
These include WordX (which I use for Fatstacks), Schema or Socially Viral Pro.
Currently, ALL of my sites use a MyThemeShop theme.  I love this theme developer.  I like their designs.  They're super fast and easy to set up.  They aren't bloated with all kinds of unnecessary features (although they have some that are useless like social sharing buttons).
Short header:  check
Featured image blow title: check
Menu beside logo: check
Lots of white space: check
Simple (few bells and whistles):  check
Quick design/set up:  more or less. It takes longer than MyThemeShop, but it's pretty fast.  FYI, Studipress themes are not as easy to use as MyThemeShop.
Two-column layout: Check
Child-theme structure: Nope. This is my one beef with MyThemeShop.  If you want a child theme, you need to hire someone to do it for you or do it yourself.
Great customer support: MyThemeShop support forum is epic.  They dish out code and help like Halloween junkie houses dish out candy to a 4 year old in the best costume yelling the cutest "trick or treat" you ever heard.
MyThemeShop customer support forum rocks.  They really dig in to help. They will provide custom CSS code for design tweaks.  They are friendly and response time is wicked fast.
Their themes load fast and look great on mobile.
While not perfect, they do check all the boxes I require.
I can literally set up a new site with a MyThemeShop them in less than 30 minutes.  Click here, click there, copy and paste Analytics code, upload logo, asign menus, choose site colors, slam in ad code and I'm in business.  Okay, there are a few more operations but it's really that simple.
What you don't have to do is mountains of design work combing through hundreds of layout and design options to set up your site.  It's mostly done for you, but there are sufficient controls so that you can make the site yours.  Moreover, with a custom CSS area, you can really make any changes you like.
My only complaint is their themes don't come in a child theme format.  What this means is if you add code to any of the main files (home page file, post file, etc.) you need to remember what you did and add that back whenever you update the theme.  This is a major flaw IMO, but one I deal with anyway.
In fact, the child theme arrangement is where Eleven40 by Studiopress trumps MyThemeShop themes.
Speaking of Eleven40 by Studiopress, that's my other suggested them.
2. Eleven40 by Studiopress
=> Click here for Eleven40 Studiopress
This is the them I started with.  It checks all the boxes above.  I don't currently use it because I like MyThemeShop designs more, but otherwise I loved it and would use it again.
Short header:  check
Featured image blow title: check
Menu beside logo: check
Lots of white space: check
Simple (few bells and whistles):  check
Quick design/set up:  more or less. It takes longer than MyThemeShop, but it's pretty fast.  FYI, Studipress themes are not as easy to use as MyThemeShop.
Two-column layout: Check
Child-theme structure: Check (a very nice feature BTW)
Great customer support:  Check. You submit tickets and they reply.  Back when Studiopress operated a forum support platform, they didn't provide custom CSS support which annoyed me to no end.  I'm not sure if they do now with ticket support.  All in all, I'd say MyThemeShop support is better.  However, you won't be stranded on  your own with Studiopress.
Studiopress is the developers' platform. Many developers use their Genesis framework as a starting point for custom designs.  That ought to tell you something, which is their coding is excellent since it's trusted by many people in the know.
If you know CSS you can do pretty much anything with StudioPress.  The downside to this is their themes aren't as simple to set up for non-coders as MyThemeShop themes.  That said, Studiopress was the first theme developer I ever used when I knew nothing about coding or setting up a WP site.  I figured it out so you can too.
How to decide
If you like my suggestions, choose the theme that looks best for you.  If, however, you know CSS and like more of a blank canvas, Studiopress is for you.  If you prefer out-of-the-box, MyThemeShop will serve you sell.
A few more tips for setting up websites for AdSense
Use the same theme for all your sites
The reason for this is simple. If you need to make a change, you can do it quickly across all of your sites.  I open them all up and crank out whatever changes I need to make in minutes one-by-one.  Moreover, when you're super familiar with a theme, making changes or implementing fixes is so much easier because you know the theme inside and out.
Use AdInserter for ad placement
Do not use a theme's ad placement fields.  Usually they aren't very good or nuanced.  Moreover, if you change themes, you need to redo this work.
Instead, I use AdInserter plugin for placing all ads sitewide.  It's free (with a premium version). It's super easy and fast to use.  Most importantly, it has loads of ad placement options so that you can squeeze out every ad revenue nickel possible.
Do NOT use a theme's built-in shortcodes for formatting
While tempting to purdy up your content with a theme's shortcodes for formatting such as fancy boxes, drop caps, etc. don't do it.  If you must do fancy formatting with shortcodes, use a plugin.
Why?
Because if you change theme developer, you'll end up with shortcodes showing in your content. Fixing that for dozens or hundreds or thousands of articles is a huge waste of time.  Theme developers love offering shortcode formatting because it beholdens you to them meaning you'll pay their recurring fee FOREVER.
While I have no plans to switch from MyThemeShop, I like to keep my options open.
Do NOT create columns in your content
With Gutenberg in WP or page builders (Thrive Architect, Elementor, etc.), you can fancy up your content with columns which can look great but it wreaks havoc with display ads.  When you program an ad to show up after paragraph 5, for example, that ad could show up in a left column which makes your content display askew.  It looks terrible.
Avoid columns at all costs.  If you must use columns in an article, consider manually placing ads for that article (good luck remembering which posts you manually placed ads though).
Don't change themes unless you have a really good reason for doing so
Changing themes is a lot of work and takes a lot of time.  Unless you have a really good reason for doing so, this type of work is a distraction; a waste of time.  I've done it many times.  Most of those instances were unnecessary.
The exception is if you're currently using a theme that doesn't follow many of the above which could be costing you mountains of revenue from ads.  If you believe a new theme will dramatically improve your bottom line, take the day to switch.
Want to learn more about making money with AdSense and display ads generally?
Get my killer display ad deep dive course.  This course lays out exactly where I put ads in my content as well as which ad networks I use.

Jon Dykstra is a six figure niche site creator with 10+ years of experience. His willingness to openly share his wins and losses in the email newsletter he publishes has made him a go-to source of guidance and motivation for many. His popular "Niche site profits" course has helped thousands follow his footsteps in creating simple niche sites that earn big.