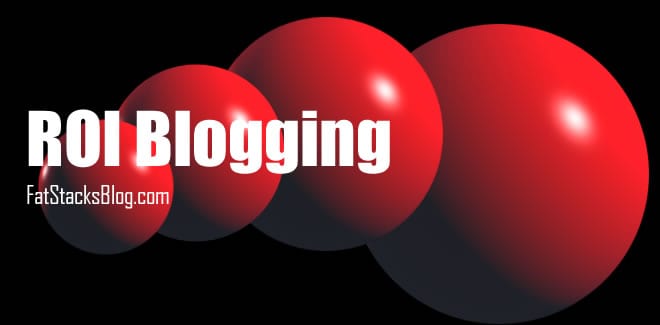 These days I view each niche website I publish as a group of revenue producing units.
There are many moving parts to a profitable website; at least the type I publish.
This post sets out how to take an ROI (return on investment) approach to every aspect of your blog or niche website… an approach I call ROI blogging.
What are the revenue producing units of a niche blog?
There are 2 basic elements to any revenue generating website.  They are:
A. Product:  Monetized content, physical products for sale and/or digital products for sale.  Sometimes the content is monetized by promoting products as an affiliate.  Most of my niche content is monetized with display ads and/or affiliate promotions.
B. Traffic:  Organic search, social, email newsletter and/or paid sources.
I'm going to focus on monetized content and traffic because that's largely what I do.  I don't publish an e-commerce site.  Instead, I publish content monetized with display ads and affiliate promotions.
My approach to ROI blogging
My main product on my big niche sites is monetized content.  I create content that is designed to:
1.  attract organic search traffic in the long run;
2.  pull social media traffic in the short term; and/or
3.  profit from paid traffic.
Breaking down traffic sources makes determining ROI fairly easy.
My most profitable content is content that attracts both organic search and social media traffic AND is profitable with paid traffic; but this isn't easy to do all the time.  If you can manage it (and I strongly recommend you work toward it), one piece of content can make tens of thousands of dollars.  See how I generated over $370,000 with 10 pieces of content here.
The fastest way to robust ROI blogging profits is…
The fastest way to robust ROI blogging profits is figuring out how to profit from paid traffic ASAP.  If you can do this, you can quickly accrue profits to invest in the longer term traffic sources that improve ROI.
The fact is you will likely not profit from social media and/or organic search traffic for any piece of content during the first 6 months of your blog.  It takes time to attract organic search traffic and to build up social media channels.
I view my SEO and social media efforts as an investment.  These days it's paying off very nicely, but it took about 6 months to do so.  Now I can have a new piece of content be profitable within 10 hours from social media traffic alone.  See my example of how I generated $140 revenue within 24 hours from one blog post here.
Getting started with fast ROI blogging profits
Please note I'm only setting out what I did and what worked for me.  I have no idea whether you can make it work.  This blog is solely about sharing what I do to profit with niche blogs.
1.  Set up your cash machine with paid traffic
I think most bloggers get it wrong.  I did it wrong for years.  What most people do is blog and blog and blog earning very little or nothing for months or even years.  This is not a good way to build a niche business.
The best way to approach blogging is to set up a monetization strategy that generates profits with paid traffic.  Once you do this, you'll be able to build up your blog much, much faster and profit along the way.
It doesn't matter how your profit.  Whether it's from display ads, promoting products as an affiliate, selling products, email marketing funnels… it doesn't matter.  It only matters whether you can generate a profit from paid traffic.
Once you can profit with paid traffic, you have a cash machine.  You can then use the cash to finance longer term traffic strategies such organic search and social media traffic.
2.  Invest in organic search and social media traffic
Next, you must figure out what types of content in your niche perform well on social media and what types of content you can use to realistically attract organic search traffic.  I recommend investing in both traffic sources because it adds diversity and reduces risk.  Moreover, the 2 feed one another.  Social media engagement helps organic search rankings and organic search traffic builds up social media channels (they share your content, etc.).
3.  Assess ROI from organic search and social media content
In the beginning, you will lose money from your content (unless you manage to profit from paid traffic).  However, in time and as your blog's authority and social media channels grow, you will notice that content will be more and more profitable sooner.
Regardless of how you monetize your content, you must have tracking measures in place so that you can assess the ROI of each piece of content.
For example, if you use display ads, you must know how much a particular piece of content earns from display ads per 1,000 visitors and per month.  If you promote products as an affiliate, obviously you want to have a good idea how much revenue that particular piece of content generates in revenue.
4.  Experiment (R & D)
It's also a good idea to experiment with different types of content.  Consider this R & D.  Some of your experiments will be a hit (and therefore you replicate it over and over) while other experiments will be a total failure.
I'm constantly trying out different types of content on my niche sites to see what will work.  This is how I've found EXTREMELY profitable types of content, but I've also spent over 0 on a single piece of content with no hope of ever recouping that cost.
5.  Rinse and repeat
When you approach blogging with an ROI mindset, you will learn very quickly what types of content generates a positive ROI from your intended traffic source (organic search, social media and/or paid traffic sources).  This is important and it's a good reason for taking such an analytical approach.
When you start seeing 200% ROI from a single piece of content within a couple of days or months (depends on whether it's social media intended or organic search intended), you take notice.  You will then obviously create similar content.
Examples
I've had massive hits and big misses.  Here are some examples:
1.  Paid traffic profits:  See examples here.
I have about 20 posts that have profited in the tens of thousands of dollars with paid traffic.  Nothing comes close to this ROI.  Of course, it's not so easy to come up with this content.  I've spent a lot of money on ads that lost money too.
2.  Social media profits:
These are fast profits.  If I can double my money in 48 hours from the cost of the content, that's great.  After that it's all gravy.  Some of these posts get some organic search traffic while some never do.
One example is a post I published recently.  Within the first 24 hours it generated $51.  Withing the first 72 hours it generated $105.
I then purchased traffic to it and lost money.
But, here's the kicker.  This particular piece of content cost me 0.  To date, it's earned approximately $105 (after 8 days or so).
This was a new concept for my blog.  In fact, it's designed to do well with both social media (which it has) and organic search.  I never expected it to do well with paid, so I'm not surprised it didn't make money with paid traffic.
Therefore, while I'm still down over 0 for this piece of content, I'm confident within 6 to 8 months it will pull in sufficient organic search traffic to recoup the total content cost and then become profitable.  That's the bet anyway.
On the flip side, I posted one piece of content that had a 200% ROI within 24 hours from social media.  You can read about this here.
3.  Organic search profits
Profits from organic search traffic take the longest to materialize.  It takes a long time for any new website to attract organic search traffic.  It also takes a while for new content to attract organic search traffic.  Therefore, you can't assess ROI for months.
That said, after nearly 1 year, I have several pieces of content pulling in some very decent monthly revenue solely from organic search traffic.  Below is a screenshot of the top 10 Adsense revenue producing blog posts for the last 30 days (organic search traffic only):
My average cost for a piece of content is to 0.  Therefore, the ROI for my top 10 earning pieces of content from organic search generates an astronomical ROI.
Please keep in mind that one of my blogs has 340 published posts, which means many posts are not profitable.  Imagine if I had 300 posts producing the above revenue… that would be nuts (hopefully in a few years).
What's important here is learning what types of content generates a decent amount of revenue from organic search and then creating more similar content that will rank and earn.
Final Tip: Kill 2 Birds with 1 Stone
If you're going to aim for profiting from paid traffic, give Facebook ads a try.  The reason I say this is Facebook advertising kills 2 birds with 1 stone.  When you advertise on Facebook, you simultaneously attract Facebook fans.  Facebook fans means free traffic down the road (by posting to your page).  I explain this in much more detail in my post "How I Got 100,000 Facebook Fans in less than 1 Year".
That said, Facebook advertising isn't the only paid traffic game in town.  It's more important to get profitable with any paid traffic than it is to lose money indefinitely on Facebook just for the sake of fans.
Learn More…
Get my full authority blogging course here to learn step-by-step how I started and continue publishing a highly profitable blog with the ROI approach.
Jon runs the place around here.  He pontificates about launching and growing online publishing businesses, aka blogs that make a few bucks.  His pride and joy is the email newsletter he publishes.
In all seriousness, Jon is the founder and owner of a digital media company that publishes a variety of web properties visited and beloved by millions of readers monthly. Fatstacks is where he shares a glimpse into his digital publishing business.