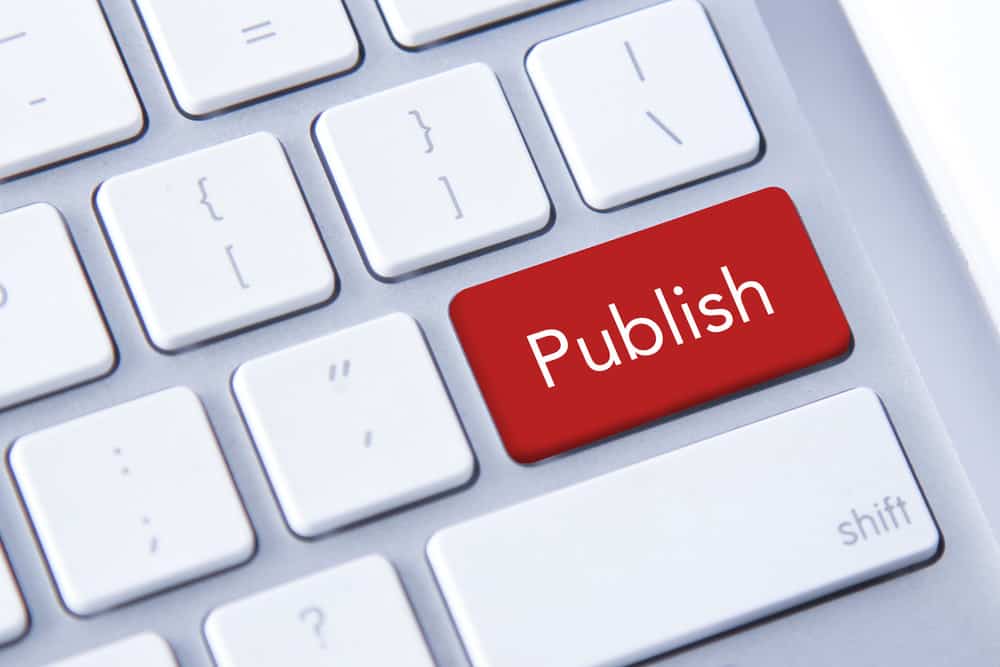 The Washington Post publishes 1,200 pieces of content per day.  That's more than I publish in a whole year.
The NYTimes.com publishes 230 pieces of content per day.
Buzzfeed publishes about 222 pieces of content per day.
What about me?
On a regular day I publish 4 to 7 articles per day across all my sites.  If I publish a poll or quiz, that's an additional piece of content.
On the plus side (very weak plus side) I'm not paying 1,300 editorial positions like the NYTimes.com does or 700 editorial staff like the Washington Post or 460 like Buzzfeed [source: How many stories do newspapers publish per day].  Let's face, I'd be happy to pay a few hundred writers and editors to crank out content if the entire operation was profitable.
The 4 to 7 I publish is a lot more than I did 4 years ago, when on a very good day it was 2.
Here's my workflow across a few niche sites for a regular day.
Daily Publishing and Promotion Schedule
Morning (first thing):
Scan emails.  I know this is a bad habit because it's not as important publishing content and promoting content, but sometimes I'm waiting on requests that I want to deal with immediately.  I also like to review daily work output from VA's so I know where content is in the publishing pipeline (I have all VA's to send me a bullet list daily report of work they completed).
After email, it's time to publish content.
Site #1 (B2C)
I start my day working on my biggest earning niche site (it ain't Fat Stacks).  I usually have 30 to 40 articles ready to go as drafts.  I publish 2 to 4 on any given day.
Article lengths:  Usually one behemoth (2,000 to 3,000 words) and a one or two shorter articles (300 to 1,000 words).
I carefully review all articles before hitting the publish button.  I spend time fine-tuning them which is really inspecting the work making sure formatting is good such as proper heading tags used, image alt text is done… little things that can easily be forgotten.
For most articles, I add my own introduction.  I seldom pay writers to write intros because they usually don't do a very good job.  Besides, I like to add something interesting.
Sometimes I get inspired to write an article entirely and so I spend a few hours doing so.
Otherwise, I tweak the 2 to 4 articles and get them published all at once.
Social Media
Once the batch of artices is published, I promote across social media channels.
Email newsletter
Most days I write a quick email announcing one or two of the new articles and add it to the automated email sequence.
Respond to guest post inquiries
I accept and publish a good number of guest posts over the course of a month.  The lion's share of the work is replying to inquiries.  I do so fairly quickly with canned responses and relying on a long list of article topics I assign.
Brunch
I don't eat breakfast. I eat an early lunch.
Niche Site #2 (B2B)
Usually my second site for the day is a B2B site – either Fatstacks or my other B2B.  I publish one post and set up an email newsletter.
Article length:  500 to 3,000 words.  Varies by topic and inspiration.
Niche Sites #3 and 4 (B2C)
I end the day adding 1 to 2 posts to my other B2C sites.  Most of the content is done by VA's, writing services or guest posters.  Again, I write the intros and do some fine-tuning, but that's about it.
Social media
One of the newer B2C sites has social media needs as well.  I promote across all channels, but take the most care on Pinterest.
Additional tasks I do throughout the day:
Email: I do continual email correspondence as emails come in.
Keyword research: I'm constantly tossing ideas into Ahrefs and Keywordshitter.com.  On any given day I find a few or a large batch that I add to my list.
Ad management:  Throughout the week I often do some ad tweaking whether tweaking current ads or testing new networks/offerings.
Plugin testing:  Once in a while I get sidetracked and muck around with new plugins or other software.
Assign tasks to VA's.  That said, most VA's work on the same parts of the operation week-in and week-out so it's pretty streamlined once they're trained.
Total number of articles published
I publish 4 to 7 articles on normal days.  Sometimes something comes up and it's less.  Rarely is it more than 7.  That would be quite a feat.
I do have a lot of help.  Other than the B2B articles, much of the content is prepared for me.  I add intros, fine-tune everything and on occasion write something entirely for a B2C site (one article at most… it's very time-consuming).
When I was starting out, I wrote everything.  On a good day, I could publish 2 articles, but most days it was one followed by promotion.  It's time-consuming work to produce a decent article from start to finish.
I currently write most B2B content (99% of it).  Because I publish several niche sites aside from fatstacksblog.com, I have an endless supply of ideas and topics to write about.  I know the subjects so well that it doesn't take me long to write content for this site or my other B2B site (which is  marketing info site for another industry).
I know I should be more careful with spelling mistakes and run-on sentences, but if I fell victim to perfectionism with Fatstacks, I'd never write anything.  I figure it's better to publish imperfect content than nothing at all.  That's my motto for everything I do.
FAQ
Do I schedule articles for the future?
Sometimes, but not usually.  I'll schedule a few over a vacation, but otherwise, I don't bother.  When an article is ready to publish, I like to get it published.
Do I publish articles on weekends?
Sometimes.  Maybe one on my largest niche site and once in a while on Fatstacks.  When I do so, both need to be pretty close to done because I don't work much, if at all on weekends.  Often I have several Fatstacks articles in progress and if one is nearly completed, I'll publish it on the weekend.
Do I send emails on weekends?
Sometimes, if I set it up previously in the email autoresponder.  Very occasionally I'll write one on the weekend.
Do I write entire articles myself?
Yes.  I write almost everything here and my other B2B site.  I will sometimes write something for my B2C niche sites (the content hogs).  I write most article intros across all my sites.
Do I have a publishing schedule?
Other than number of articles per day, no.  I don't have specific articles slated for specific days.  I wing it each day picking and choosing the ones I feel like doing.  I run a laissez-faire operation.  The exception is guest posts.  If I tell a guest poster something will be published by such and such date, I do my best to meet that deadline.
Do I ever get tired of it?
Yeah, I get tired of the constant drive to produce, but not often.  I enjoy being a publisher and doing most of what's involved in building up successful niche sites.  I think it's cool publishing content that tens or hundreds or thousands of people consume and to make money in the process. It's very motivational for me.
If I'm not in the mood, I can always spend the day doing something different.  I might buy a course that looks good or tinker with some new software.  Today, for instance, I spent a few hours setting up Flipboard which I hope to delve into quite a bit for 2 niche sites.  There's no shortage of alternative tasks to do when running a few sites.
Why did I publish this?  Does anyone care?
I'm asked quite a bit how much I publish each day on my various sites.  So it seems some people care.  I find personal articles like this interesting by other bloggers, especially details on how they go about getting things done. So maybe, just maybe, a small handful of people do care.  This article is for you.
Related: How to writer killer articles really fast (12 steps)
2 more articles in this series:
Part 2: My Chaotic Project Management System
Part 3: My Content Workflow (from keyword research to publish)
Jon runs the place around here.  He pontificates about launching and growing online publishing businesses, aka blogs that make a few bucks.  His pride and joy is the email newsletter he publishes.
In all seriousness, Jon is the founder and owner of a digital media company that publishes a variety of web properties visited and beloved by millions of readers monthly. Fatstacks is where he shares a glimpse into his digital publishing business.