Ease-of-Use

Customer Support

Cost (it's expensive, but if it works, worth every penny)
Summary
I've been wanting software like MarketMuse for a long time.
MarketMuse is all about turning okay content into outstanding content… in the eyes of Google search.
This is an ONGOING review because results take a while to materialize. It's SEO after all.
After 3 to 6 months I'll include a rating for "Effectiveness". If my content gets more organic search content, it'll score high. If not, it'll score low.
A significant part of this article is an in-depth case study which I'll track carefully so that I and you can find out if MarketMuse really works as well as I hope it does.
Finally, while I gave a lowish score for cost, if I improve rankings with this tool, I'll adjust that rating because it will be a great deal per the benefit. The fact is this is expensive software, but if it works, it's a really good deal.
For several months I've been banging my head against my computer trying to really figure out why my biggest niche sites performs so well on some topics and not so well on other topics.
I've spent hours analyzing Analytics from many angles.  I've also analyzed the content on many pages as well as content on pages of other websites that outrank me.
After all that, I've come up with bupkis except that I pull in a lot of traffic for some topics and not for others.
I started doing some Google searches on the issue, focusing on trying to figure out how Google perceives and ranks topics on a site (i.e. broader authority perception) and after quite a bit of reading and searching I stumbled on a relatively new software offering called MarketMuse (MM).
Not able to find a "sign up" button, I left them my contact info and started the sign up process.
Fortunately the software is super easy to use.  I've been using it extensively on my sites and am learning a ton.
Below is what will be an ongoing review of MarketMuse as I continue using it over the ensuing months for my niche sites.  I also include 2 ongoing case studies to see whether MM on its own can improve Google search rankings.  I think this will be very interest.
MarketMuse Case Study (2 of them actually)
When I heard about the new content marketing platform Marketmuse (MM), I just had to try it.
I played around with it and really liked it.  More importantly, I immediately saw the purported value of it.  However, what I needed to find out is whether this software actually works.
By works, I'm referring to increasing organic Google search rankings with it.
I'm an optimist by nature so I was pretty convinced it would work.  Moreover, the concept behind MarketMuse makes sense to me.  I like the concept because I'd rather improve search engine rankings with on-site effort than link building.
Of course my gut reaction is certainly not a replacement for good old fashion testing.
And so I planned and set up a test to see if this software could improve rankings for a couple of posts.
While I'm using MM on several of my sites, I'm restricting these case studies to content on Fat Stacks.  Sorry, I don't really care to reveal my niche sites.  I really don't need more competition  😎 .
Setting up the MarketMuse Case Study
I chose 2 blog posts on Fat Stacks, each targeting fairly decent keywords but are ranking toward the bottom of page 1 of Google for their respective keywords (positions 7 and 9).
Goal: Improve organic search rankings in Google for intended keyword purely by improving the content per MarketMuse's suggestions.  In other words, I will do no link building.
Those two posts are:
1. Post #1
Post: 15 Proven Adsense Alternatives that Make Money (Earnings Screenshots)
Date originally published: August 2015 (approximately… I've since updated it so the original published date is gone. However, the first comment is dated in August 2015).
Word count before MarketMuse analysis and enhancement: 3,017
Target keyword: AdSense Alternatives
Keyword difficulty:  30 (Ahrefs)
Google Rank before implementing MM (November 21/16): 7
Screenshot (incognito):
2. Post #2
Post: 14 Article Writing Services and Content Services I've Used (Pros and Cons)
Date originally published: April 13, 2016
Word count before MarketMuse analysis and enhancement: 2,960
Target Keyword:  Article Writing Services
Keyword difficulty: 19 (Ahrefs)
Google rank before MM:  15
Screenshot Google SERPs (incognito):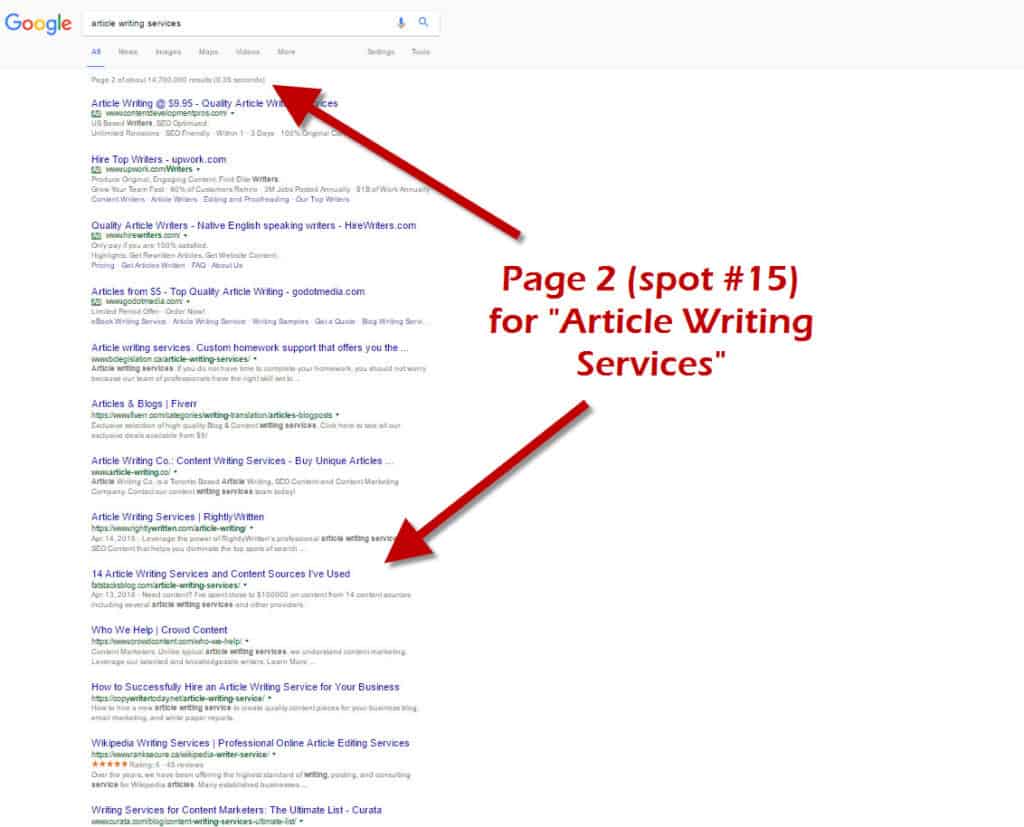 The MarketMuse Content Analysis Tool:
FYI, the content scoring is as follows:
1 to 9: Red (bad)
10 to 20: Yellow (Okay, but plenty of room for improvement)
21+: Green (good, but why not aim to increase the score as much as possible).
Post #1: "Adsense Alternatives"
Here is a screenshot of the content analysis for main keyword "AdSense Alternatives" before I enhanced the content:
As you can see from the above analysis of my "AdSense Alternatives" article, it scores quite well (above 20).  However, there's no reason not to further enhance it to score above 30 or even 35 and see what happens.  This is the whole point of MarketMuse… which is to spoon feed website publishers on how to improve content for better rankings.
Post #2: "Article Writing Services"
My content for "article writing services" scores terribly.  This is great because it already ranks #15 so if MarketMuse works (I've just started using this platform so I don't know for  sure yet), if I enhance the content in a natural manner, this content should rank higher.
How I applied the MM Content Analysis to these 2 pieces of content:
I've spoken to my MM rep about how to best apply the content analysis results.  I've also given it a lot of thought.
The best approach is a combination of adding keywords to existing content as well as adding new content sections.
For example, if I already cover a topic in the content, but failed to include a good contextual keyword, I can just add the keyword and perhaps a sentence or two.
However, and I think this is an even better approach, which is to add topics not covered in the content and do a full write up on those topics including some of the suggested keywords.
Be careful not to keyword stuff.  Just because MM lists the keyword, doesn't mean you should include them all.  Pick and choose.
1. "AdSense Alternatives" Post: Topics and Keywords Added
Based on MM's content analysis, I added the following to my "AdSense Alternatives" post.
Keywords added:
"alternative to AdSense"
"Advertising Network"
"Search Engine"
""Site Content""
"Earn Money"
"Contextual Ad Network"
"AdSense Approval"
"text link"
"site visitor"
"minimum payout"
The above keywords were easily plugged into the existing content.
Topics added:
Different types of ads for websites:  In this section I added a full glossary explaining the different types of ads you can place on your website.
Ad optimization services:  In this section I explained the concept of ad optimization services and listed 2 which I think are good.  In this section I was able to discuss the site layout which was a topic suggested by MM.
Ad networks added: Infolinks (which I used recently), Tribal Fusion (now called exponential)
Words added: 2,000
New word count: 5,065
How long did it take to do this full update?  2.5 hours.
What else did I do to optomize this content?
I linked to several other relevant posts on my site and added a few dofollow outbound links to relevant resources.
I linked to the "AdSense Alternatives" article from related posts on my site.
Updated MM Content Analysis Score for "AdSense Alternatives" After Content Update:
Here's a screenshot showing the new score is 63, which is a huge improvement from the already decent score of 22.
I would never have been able to improve it this much without MM analysis.  However, and this is important, all of this ONLY matters if enhancing content in the way suggested by MarketMuse actually works.
In other words, will have adding 2,000 words of content covering topics and keywords suggested MM actually improve my organic search rankings?
Only time will tell.
2. "Article Writing Services" Post: Topics and Keywords Added
Based on MM's content analysis, I added the following to my "Article Writing Services" post.
Keywords added:
"search engine optimization"
""web content""
"article writer"
""content marketing""
""content writer""
"individual approach"
"well-written article"
"website rank"
"acceptable level"
"non-native English
"live chat"
"user friendly website"
The above keywords were easily plugged into the existing content.
Topics added:
By adding the following, I was able to insert several of the suggested keywords as well as cover relevant topics.
In-House Team vs. Writing Service vs. Fully Managed Service: What's Best?
What am I using for my content needs these days?
How should you choose a writing service?
Words added: 1,000
New word count: 4,060
How long did it take to do this full update?  1.75 hours.
Updated MM Content Analysis Score for "Article Writing Services" After Content Update:
Here's a screenshot showing the new score is 35, which is a huge improvement from the original dismal score of 6.
Also, this particular topic generated several related topics that weren't relevant to my article.  For example, MarketMuse suggested "essay" oriented topics, which is not really related to website content writing services.  I'm not going to include irrelevant topics just to get a higher MM score.  That kind of defeats the purpose.
Here's the new score:
What are the Main MarketMuse software functions?
1. Content Analyzer:
Content Analyzer alone is worth the price of admission.  Actually, I believe you can choose to only use this portion of the platform costing you quite a bit less.  I opted for all the software services because it's time I do some extensive site audits on my niche sites (including Fat Stacks BTW).
Content Analyzer is a big content tool analyzing and scoring each piece of content you wish to improve it by adding/including relevant content to the main keyword/topic that you wish to cover.
2. Site Audit:
Site audit does exactly what the term says.  It reviews your entire website and generates a report explaining which topics are well covered and which topics are not so well covered.
This is super valuable information, but it does leave you with a big decision. Your options are:
Focus on the stronger topics going forward.  This would essentially be niching down and becoming a dominant authority on few or more specific topics.
Focus on rehabilitating weaker topics on your site in an effort to maintain broader coverage and improve overall topical coverage.
I haven't decided what I'll be doing yet because this is a huge decision.  I have a hunch, however, that I'll be niching down.
Benefits of niching down
The biggest benefit in my view for niching down is the potential for exponential traffic growth by positioning your site as the dominant website for more specific niches.
I know in the past I've discussed going broader and I'm not suggesting niching down to micro levels.  What I'm suggesting is that if my sites perform best in Google search in specific niches, why not capitalize on that authority and really ramp up those topics in an effort to haul in the lion's share of traffic within those topics.
I've only begun using MM so I'm not entirely sure exactly how I'll proceed based on the site audit function.
Moreover, I think each niche site's results and future direction will differ as well.
What does Content Analyzer do?
Here's a video overview of the Content Analyzer tool:
Content Analyzer gives your content (or any content including other websites' content) a score (called "content depth score").
1 to 9 = bad (red)
10 to 20 = OK (yellow)
21+ = Good (green)
Moreover, in addition to scoring your content based on semantic search algorithms, it provides a list of recommended topics for your content (based on the topic you intend to cover with the content).  You can improve that content by adding more content that covers some or all of the recommended topics generated in the report resulting in excellent long-form content.  The ultimate goal is that by improving your content, you improve on-page SEO.
Talk about awesome.
Benefits of Content Analyzer
It's amazing the information I'm gleaning from Content Analyzer.
With this information alone, I'm easily able to:
Improve existing content;
Ensure new content is thoroughly covered; and
Analyze the top-ranking content of competitors
How I'm using this to improve existing content?
My content marketing strategy with MM's Content Analyzer is as follows:
Step 1: Improve best-performing content.
I'm plugging in content for the top performing posts on each site (focusing on evergreen content because that has the best potential for long term traffic).  By top performing I'm referring to the posts that attract the highest amount of organic search traffic.
The number of posts depends on the size of the niche site.  In some cases it will be the top 50 posts (larger sites).  In other cases the top 10 to 20 posts.
I'm then improving that content based on suggestions.  Basically I'll related topics suggested if it makes sense as well as some of the keywords.  As an aside, it's an excellent keyword generator tool, helping with identifying the main keyword as well as long-tail keyword research.
This step is the first order of business to help ensure I continue
Step 2: Improve Affiliate Promotion Posts
I'm kind of doing this simultaneously with Step 1.  In fact, some of my highest traffic content is content that earns affiliate revenue (which is great).
The reason affiliate revenue content is a high priority is that it earns far more on an RPM basis than content that earns with ad revenue only.
Step 3: Content Creation
In some instances, based on content analysis, I'm sure that instead of adding topics to existing content my site will be better served by creating new content based on the topic recommendations and keywords derived for analyzing existing content.
Step 4: Improve Other Content Per Site Audit Results
It's still early days for me with MarketMuse.  I think MarketMuse will be an instrumental software service in my niche business and so as I continue using it, I'll update this MarketMuse review.
A premium service you can pay for is the Site Audit.  Basically, the software combs every piece of content and analyzes your website and telling you which topics are well covered, covered just okay and badly covered.
The remaining issue upon audit completion is making decisions based on site audit results.  I have yet to make those decisions going forward.
How does Content Analyzer help with new content
While it won't write it for you, it provides a nice list of recommended topics that should be covered in the topic.  Within those recommended topics are keywords.
With that info I can plan out long, epic SEO content or a full series of content.  Either way, I can cover all recommended topics and ensure I get a good chunk of the suggested keywords included in the content.
2 notes of caution though:  
Just because Content Analyzer spits out certain keywords doesn't mean you should put all of them in the content.  In some cases the keywords are very similar and there are a lot of them. That could result in keyword stuffing which won't help you out at all.
Likewise, you need to be judicious with which recommended topics you include.  In some cases, the topic simply doesn't make sense and should not be covered or included.
Remember, it's software.  It won't make decisions for you and isn't thinking and it's not artificial intelligence (close, but not quite).  It's merely generating data based on Google's algorithm (specifically Hummingbird algorithm).  You must incorporate the results into content so that you still end up with compelling content.
How I'm using this for content creation
This is perfect for SEO content creation.  It really is.  While it won't write it for you, it kind of provides a rough outline of all the topics and many keywords to include.  You do need to organize the topics in some fashion, but that doesn't take long.
Now, for each piece of new content, I input the main topic/keyword and analyze it to get a nice list of the main topics to include.
How to use MM when outsourcing new content
MM is very powerful for outsourcing content too.
You can either get your writers added as a user and instruct them to analyze their content before publishing.
And/or you can analyze topics yourself and when you order articles, you set out all the relevant topics suggested by MM in an outline for your writer to cover.
Either way, MM can help ensure that your content is thorough giving it the best chance for ranking well in the Google SERP.
FYI, ContentRefined content creator service uses MarketMuse as part of its content creation process.
MM Content Depth Score and Rankings Correlation
Here's a bunch of screenshots of focus topic assessments to see how strong the correlation is between MM's "content depth score" and top ranking really are:
Test 1
Test 2
Test 3
Test 4
Test 5
1. Keyword: "yoga routines for weight loss"
2. Keyword: "how to braid hair"
3. Keyword: "best hair straightener"
4. Keyword: "how to cure tinnitus"
5. Keyword: "plumber in Colorado Springs"
If you have small business clients, this marketing software can help with B2B content creation as well.
Thoughts:
Not a perfect correlation on these 5 random keyword phrases.
However, there is some indication that a high MM score ranks higher.
This does go to show you that while content quality and depth counts, it's not the only SEO ranking factor.  In fact, MarketMuse doesn't claim that using its software will shoot every keyword you target to the top of the SERPs.
The way I see it is this.  If overall, across hundreds and potentially thousands of pieces of content I can improve rankings by enhancing the content, this is well worth it.
Moreover, and more importantly, if ever I can improve rankings with on-site SEO, I do it.  Why?  Because on-site SEO is something completely in my control.  It's just a matter of doing it.
While the above screenshots are kind of helpful, I don't think I'll truly know how effective this tool is for 3 to 6 months after I've enhanced many pieces of content and given it time for Google search to recognized the quality of the content.
MarketMuse FAQ
Where does MM derive its data?
I certainly don't know the technical intricacies of its software, but they tell me they have patented methods that derive data so that it rates your content and site similar to how Google views your site and content.
That's what MM tells me.  If you think it's nonsense, obviously the software isn't for you.
I'm a believer at this stage though and will give the software a real run for its money.  If it improves my traffic, then obviously they're on to something.
If nothing happens to improve my site, assuming I actually use and implement the software, then I'll stop using it.
You gotta be patient though for 2 reasons:
Improving content and publishing new content takes time; and
Getting results in Google search from content improvements/new content also takes time.  Content doesn't necessarily rank #1 overnight.  It's a process and a waiting game.
I signed up for a 6 month plan which I think is sufficient to hopefully see some positive results.
Do MM ratings really correlate with Google Rankings?
From my limited use to date, yes, but it's not a 100% correlation.
For example, I've seen content with lower scores outrank content with higher scores.  The reason for this is that there are many on-page SEO factors Google takes into account ranking content and off-page SEO efforts such as backlinks, inbound link anchor text, social media signals such Facebook shares, Twitter signals, Instagram signals, etc. and of course on-site metrics such as time on site and bounce rate.
The theory (and goal) with MM is that all else being equal, if you improve your content based on the data generated by MM, you will rank more content higher.  At the site level (which was the initial reason I joined) is that you can redirect your site topically to establish it as a dominant website in particular niches.
This can be done with existing or new sites.  For my existing sites, I'll likely adjust direction because I'm convinced there's much more traffic to be had being recognized as the dominant authority on a more narrow set of topics than a broader set of topics (at least for smaller-time publishers like myself).
Can MM be used on new websites?
Absolutely.  In fact, I sure wish I had this when I started online.
There are 2 powerful ways MM can be used for new sites:
1. Plan out exactly which topics to cover on your site out-of-the gate.  Content Analyzer spits out recommended topics based on a seed topic term.  Within the recommended topics are quite a few keywords.  Basically you can plan out an entire site ensuring it thoroughly covers a topic out-of-the-gate.
2. Analyze your content before you publish it.  This way you can ensure each piece of content is thorough before it goes live.
Is this content creation software?
Not exactly. It won't write or create content for you.  Instead it provides topic and keyword ideas to improve existing content or for new content.  It's a content management tool.
For which types of content can this be used?
I think it's great for any content you wish to rank in the search engines.  This includes long-form content, short blog posts, sales pages, ecommerce product write-ups, reviews, content curation, B2B website content… anything including content with commercial intent.
Does the analysis include search volume for each keyword?
No it doesn't.  If you wish to know search volume, you'll need to different software.
Is this a marketing automation tool?
No. Actually, using this adds to your workload for each piece of content but the goal is producing better quality content to improve overall search traffic.
That said, it does really help planning and improving content as it spoon-feeds topics and keywords.  In this sense, it's an article marketing automation tool.
Can this be used when you repurpose content?
Yes. If you publish videos on YouTube hoping they will rank well, you can certainly include the topic recommendations in your YouTube video descriptions.  In fact, you can incorporate the analysis in any content you hope to rank well.
Should you do any other SEO?
Yes and no.  You want to do the white stuff such as being active on the major social media platforms, interlinking and promotion.  If you're into link building, that's not going to hurt unless you get caught doing something Google doesn't like.  You also want to watch out for over-optimization of your content and ensure you have excellent site structure.
In a nutshell you still want to practice best SEO practices; MM just helps with publishing SEO content.
How much does MarketMuse cost?
I think pricing depends on your site, number of sites you wish to include and which services you go with.  You have to talk to them before you can just sign up and they'll quote you a price.  I do know that Content Analyzer on its own isn't terribly expensive and you can use it for as many sites as you like.  Therefore, if you want to minimize your investment, start with just the content Analyzer.
How you can get a really good deal
Jon Haver's new Content Refined content service includes MarketMuse analysis of the content they produce.  Given the cost of Jon's content, when you factor in the fact that he will use this software for each piece of content you order, that's a really good deal.
Yes, I'm using Jon's Content Refined service (even though I have my own MarketMuse subscription).
How do you sign up for MarketMuse – there's no "sign up" button?
I have to admit I didn't care for the sign up process.  You have to give them your contact information.  They contact you to book a time to chat to a person who explains the software to you and gives you pricing.  After that you chat with another person who steps you through the software more carefully.  At that point you can sign up.
In other words, it's not like other SAAS software where you can pay and access it immediately.  It's a bit of a process to get rolling with the software.
I think they do this because it's a fairly expensive software platform and they want to help you get going on the right foot.  Moreover, I believe there's quite a bit of set up on their end, especially for site audit, so they want to ensure you're committed for several months.
Is there a MarketMuse Wordpress plugin?
Not that I know of.  This is only available on the web.
One BIG potential concern I have
One big concern I have is that once MarketMuse is used by most website publishers, we're back to an even playing field.
Could this happen?
In reality, I doubt it.  Maybe in the "how to blog", "make money online" and "IM" niches and perhaps other competitive niches that include savvy internet marketers (i.e. weight loss, insurance… the usual suspects).  However, in reality I don't think the majority of niche site publishers will pay for MarketMuse because it's costly and time-consuming (data analysis is always time-consuming).
Also, even if competitors jump on board with MarketMuse, it's one thing to pay for it, it's another to actually use it to its full extent.
For example, I have thousands of posts that could be improved on existing niche sites.  My problem is I simply don't have the team or resources to improve all of that content over night.
While MarketMuse provides invaluable content information, decisions still must be made and content improved.  This is a very subjective process and so it does leave room for performing better than competing websites.
It's expensive.  I have to admit MM isn't cheap.  Getting this software is a significant investment.   The price alone will be a barrier to many publishers using it.
Examples where big decisions must be made:
1. Adding to existing content vs. publishing new content:  One recurring decision one must make is whether to beef up existing content by adding recommended topics or creating new content on recommended topics.
2. Website direction:  I'm still waiting on site audit results (it takes a few days), but no doubt the results will suggest my sites do well on some topics, just okay on other topics and dismally on the remaining topics.  The big decision here includes the following options:
Do I focus solely on the topics for which the site performs well and stop publishing on the poorly covered topics?
Do I focus on the poorly performing topics in an effort to significantly rehabilitate them?
Do I do both of the above?
Do both of the above, but in steps.  Start with improving stronger content resolving to return to and improve poor content down the road.
3. Depth and quality of content enhancements:  For each topic/keyword recommendation, you must decide whether to merely include the term somewhere in the article or whether you should add substantial content covering that topic.  I think it will be a mix.  For example, if your existing content covers that topic already but fails to include an important term, merely adding the term should help.  On the other hand, perhaps the content doesn't cover the topic at all in which case that topic must be covered in detail either within the content or as a new piece of content.
As you can see, MM isn't going to magically double or triple your organic search traffic.  It requires a lot of work, analysis and decision making.  The overarching benefit though is it provides direction at both the site level and individual content level and that alone is worth the price of entry.
What's next with MarketMuse?
Wait and see.  The theory is that a higher MarketMuse score will result in higher rankings.  Let's see what happens.  I'll be monitoring this carefully and I'll add updates over time.
Site Audit: I'm still waiting on the Site Audit results for one of my niche sites and Fat Stacks.  I think this will be very interesting… at least I hope so.
Run this MarketMuse Review through MarketMuse (you gotta love the irony).  Okay, did that and scored a pathetic 7 after the first draft.  I have more to add.
I'm a MarketMuse junkie.  I actually really like rehabilitating content.  I have extensive need of this tool for Fat Stacks and my niche sites so I'll be doing quite a bit of this.  I'll hopefully record more data and results with this tool because if it works, it could be a game changer SEO-wise for those of us not too wild about building links.

Jon Dykstra is a six figure niche site creator with 10+ years of experience. His willingness to openly share his wins and losses in the email newsletter he publishes has made him a go-to source of guidance and motivation for many. His popular "Niche site profits" course has helped thousands follow his footsteps in creating simple niche sites that earn big.