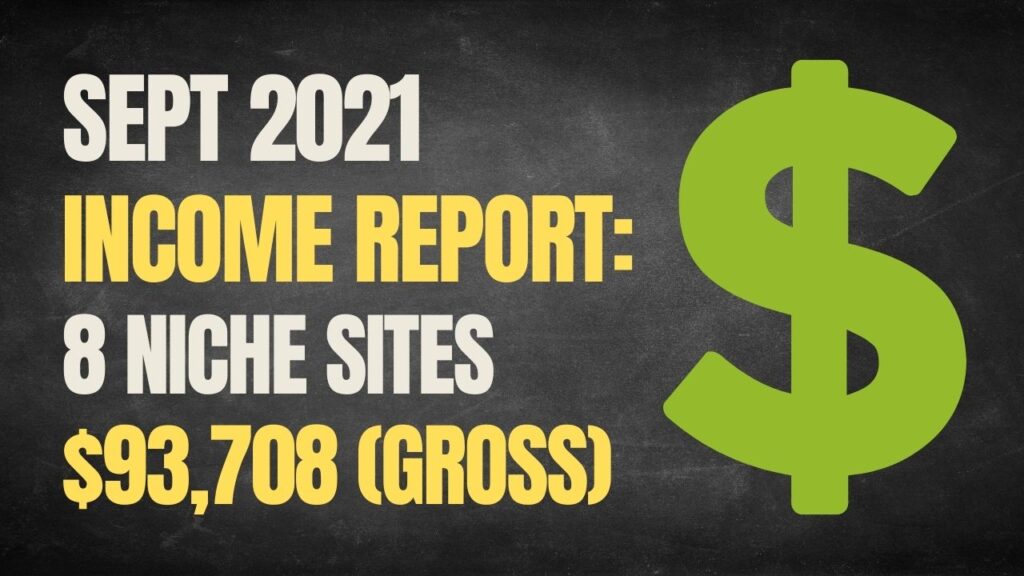 What did I do in September?
I filled up September with work as I usually do.  Every month is the same in many ways but also different in that I often start or execute different projects.  September was no exception.
NEW: Blog Blitz Build – Site 12
On September 2, 2021, I launched a new experimental site on a freshly registered domain that's a content blitz build.  I found a content provider who will provide and upload content at $.01 per word (I won't reveal the content provider until I'm satisfied the content is working and pulling in decent traffic which will take a few months at a minimum).
The reason I was able to get such a good deal is I paid for 3 million words pretty much all at once in September totaling $31,000 which explains the fairly high content cost for September.  Initially, I was going to do one million words at $.012 but the service offered me a deal on the next two million words and I took them up on it.  With a large order like this, the content provider was able to invest in and assemble a team of writers dedicated to this site.
The goal is to get all 3 million words published by end of year.  I'm not sure the service will achieve that but even if they get close, that will be quite a feat.  The aim here is to see how fast growth is when a new site is bombarded with an absolute ton of content quickly.  I'm curious to watch the traffic trajectory over the next 12 to 18 months… assuming there is a trajectory.
While it's a lot of content all at once, the quality is lower than I typically publish.  That's okay… it's in a niche that's pretty easy to publish articles and there are literally hundreds of thousands of long tails to go after.  By lower, I don't mean to say it's gibberish or garbage.  It's decent, just doesn't go that extra mile with respect to prose and depth of research.
This new site will be site 12 in these reports.  As you'll see below it earned nothing in September.  However, as of today, it already has 370 published blog posts and it's already getting traffic (10 to 15 visitors per day).
Traffic lift off…
Monetization: I will monetize with display ads. There aren't many affiliate opportunities in this niche which is fine by me.
Will I stop at 3 million words?  I don't know yet. If traffic starts growing quickly, I'll likely add another couple million in early 2022.   If I do that, I'll have invested close to $50,000 which means the site needs to perform reasonably well for me to get my money out of it.
Fixed up Site 3
I bought site 3 in 2015. It had about 22K posts, much of it thin content (movie posters as in one movie poster was the entire post) and poor post titles.  I've been investing in more content for this site over the last few months and finally got around to culling over 7,450 thin posts and improving post titles on about 1,000 remaining posts. There's still more to be done but I figured I'd wait to see if this effort gets any results.  So far, the site has not enjoyed any bump in traffic which means so far the week to ten days I spent on it was wasted.  I suspect it might take a bit longer to come to any conclusion.
I can conclude the new content is working.  Traffic and revenue has grown nicely over the last few months so I'll continue growing it.  I don't ever expect this site to be one of my better sites but there's no reason it can't get to $5K per month in due course.  It's a nicely aged domain with good site authority so it should do just fine in the long run.
Break-Out Site of the Month (probably the year and maybe the decade)
Site 11 launched in April 2021 on an aged domain I acquired from Odys.  This site is growing faster than any site I've ever launched.  Revenue for August was $193 and jumped to $530 in September. I'm already way past $530 for October.  Traffic is closing in on 2,000 visitors per day with 2.8 page views per visitor.  Check it:
Other than the above it was business as usual
Other than the above projects, it was content publishing as usual… keyword research, ordering content and publishing content.
Disclaimer
As usual, this income report is a snapshot of some of my sites and does not include Fat Stacks. These reports are merely to illustrate that niche sites and online publishing can be a decent business.  Nobody would care about Fat Stacks or take it seriously if I didn't establish some street cred by revealing some niche site numbers… so here they are.
Key Metrics Chart
Previous Key Metrics Charts
August 2021
July 2021
Notes:
Site Age: Number of years I've had the site.  Sites 3 and 11 are older domain registrations.
DR: Domain Rating score by Ahrefs
Rev = Gross revenue
Articles = total articles published. *Denotes articles I've published. I bought site 3 years ago with tons of content but it doesn't haul in much traffic at all.
PV/Art = Average page views per article per month.
Rev/Art = Average revenue per article per month (important metric). You could adjust to any measurement such as per million words, per 1,000 words, etc.
AT RPS = Revenue per 1,000 sessions earned with AdThrive.
*I bought this site 6 years ago. The domain was first registered in 2008.
** The site has 14K posts but most were when I bought it and have never acquired much traffic. I'm focusing metrics on the posts I add to the site.
Site 11: I've had this domain for 6 months but it's an aged domain (several years… not sure how old but it had a DR 36 when I acquired it).
Revenue
Missing sites below were sold.  All figures are in USD.
Niche Site 1: $86,322

Niche Site 3: $963

Niche Site 6: $192
Niche Site 8 (Cyclebaron.com): $123
Niche Site 9 : $4,844
Niche Site 10: $734
Niche Site 11: $530
Niche Site 12: $0
Total Revenue from 7 featured sites: $93,708
You can read about all niche sites here.
The lion's share of revenue is from display ads.
Expenses
Total expenses for niche sites: $9,087
Net Income: $84,621
Content Investment: $47,010
Content sources are broken down as follows:
Passion Posts: $0 – Finishing up August's order and placed a large order in early October (Save 10% with coupon BWMZ0ZXDWK at checkout)
WriterAccess: $3,500
Content Blitz Build Content Order: $31,000
In-House Writers: $6,975
Fiverr: $1,415
Portfolio Manager (In-House):  $4,120
Products for reviews: $0
Content is distributed across several niche sites.
Net income after content investment:   $37,787
Portfolio performance over time
Here's a table illustrating revenue, expenses, content investment and other key metrics for my niche portfolio over time.  Again, it does NOT include Fat Stacks.
Notes:
Net income column is revenue less expenses less content.
*Assumes 42x net monthly income multiplier and does not deduct content investment from gross revenue.
Key charts from the above numbers
Revenue screenshots:
Most revenue is from AdThrive which I use on all 7 of the 8 sites in this report.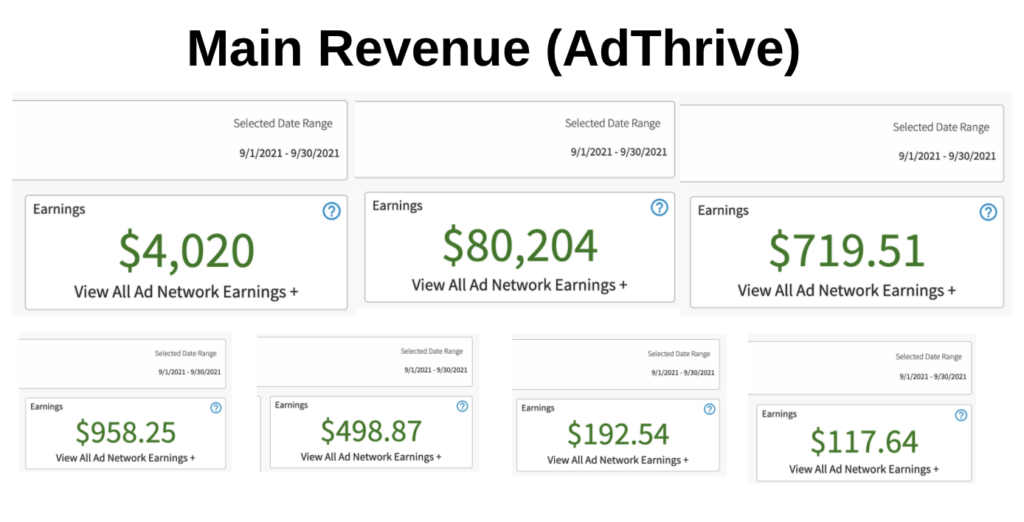 Traffic Screenshots
Site 1
Site 3
Site 6
Site 8 (Cyclebaron.com)
Site 9
Site 10
Site 11 (Aged domain site – acquired domain from Odys)
Site 12 (Content Blitz Build Site – Launched in Sept 2021)

Jon Dykstra is a six figure niche site creator with 10+ years of experience. His willingness to openly share his wins and losses in the email newsletter he publishes has made him a go-to source of guidance and motivation for many. His popular "Niche site profits" course has helped thousands follow his footsteps in creating simple niche sites that earn big.