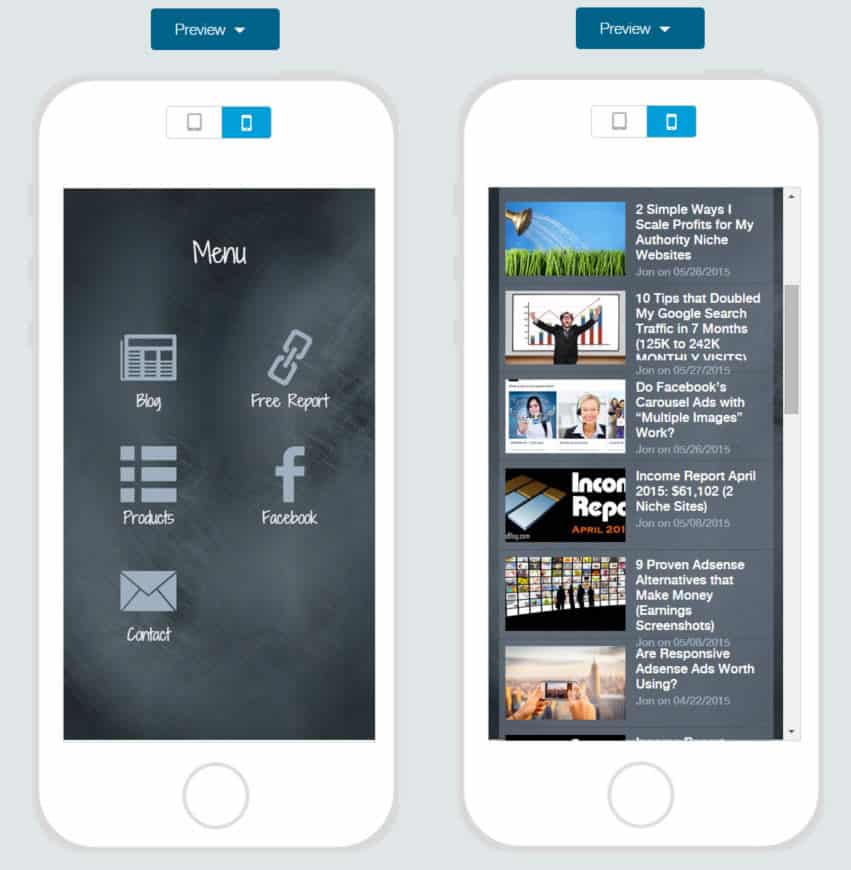 GoodBarber Review Overview
Quality of Apps Created

Ease-of-Use

Variety of Features Available

Support
Summary
Software is tricky. The more features you offer, the more difficult it is to use. That's why the best software for me may not be the best for you. In my view, GoodBarber offers a good mix of feature options and ease-of-use. It does take a little tinkering around with to become familiar with the interface and features, but it's still a drag and drop app creator.
Comments Rating
( reviews)
Apps have definitely hit a critical mass.  App popularity will continue to grow because we are a smart phone world and people love downloading apps.
I'm a website publisher.  I publish websites in a variety of niches and verticals.  It's what I love to do.
I'm not an app developer, but as a website publisher I recognize that creating app versions of my websites is a smart thing to do.
Why is creating an app version of your niche sites smart?
Because people use the search function in app stores just like they use Google.  They use apps just like they visit websites.  This means if you want to grow your audience with another traffic source, create an app version of your website so it's available to people who download apps.
Yes, people download app versions of niche websites.
If you do local marketing (I do some of this too), I think it's a great idea to create app versions of your client sites.  I'm doing this too.  People will search for local services in the app stores… and while these are early days, why not cement your client sites in the app stores (iOS and Google Play) now.
It gets even better…
People who download an app version of your site, are more likely to visit repeatedly assuming you update the site with information they're interested in.  This means one app download could result in many page views.  It also helps build a loyal audience.
Although this is less likely with local business websites… once people get the info they need, they'll uninstall.  But this doesn't matter because chances are they contacted the business if the business met their needs.
In 2015 I decided it was time to build app versions of my sites.
Consequently I set out to research app building software.
There are a lot of options out there.
I did free trials of 4 app making software platforms.
After extensive research, reading reviews and testing 4 different platforms, I chose GoodBarber.
Since signing up with GoodBarber, I've created 4 apps with the platform.  I have several more planned.
FYI: Once I decided to stick with GoodBarber for all my app creation needs, I signed up to their Reseller plan ($200/month) so that I could create as many apps as I wanted to for one fixed price.
Individually, each app costs $48 per month. Therefore, if you wish to create 5 or more apps, get the reseller plan.
Now onto the nuts and bolts of GoodBarber.
GoodBarber Overview
Key features include:
1.  Several app themes to choose from.
2.  Several menu/navigation options (I really like this feature).
3.  Many app content features such as maps, social media integration, contact form, linking options, articles, create your own about page, etc.  You can create custom pages for the app or use the default content widgets.  It's flexible and easy.
Moreover, if you use a CMS for your website such as WordPress, it will create a custom layout for the app of your content.  It does so in a way to enhance user experience of your app.  That said, I usually link directly to my niche website since my niche sites are mobile responsive.
4.  Easy to use:  Steps you through all aspects of creating your app including splash screen sizes for all devices.
5.  App submission service:  You can pay GoodBarber $50 to submit your app to iOS and Google Play for you.  I pay this for every app because it saves me time.
6. Updating your app is easy:  You can easily update your app and resubmit it with a few clicks of the mouse.  The updates do show up in your app in the app stores.
7.  Free Trial:  You can go and build an app, test the features and see a preview before you're committed to paying anything.  That said, in order to submit your app to the app stores, you'll need to purchase a plan.
8.  Free Promotional Tools:  Once your app is in the app stores, GoodBarber provides widgets and and app store buttons which once embedded on your site provide a link to your app on the app stores.
9.  Very good customer service:  I've asked a lot of questions over the few months I've been using GoodBarber and customer support responds within 24 hours.
10.  Decent analytics:  GoodBarber provides analytics that include downloads, page views, launches (by date ranges), visit duration data and top days.
11.  Push notifications:  You can send messages to people who have downloaded your app.  I don't do this with my existing apps, but I will likely do this with the Fat Stacks Entrepreneur app.
Screenshots of the GoodBarber App Making Process
I'll step you through the making of the Fat Stacks Entrepreneur App (finished product is the screenshot at the top of this review).
Here's a screenshot of all the steps you'll be completing to build the app:
Step 1:  Theme Selection
At the time of my publishing this GoodBarber review, there are over 70 app themes to choose from.
For Fat Stacks, I chose the Blackboard theme.
Once you've chosen a theme (you can always change it), you then complete the following 7 sections (doesn't take long):
There are 8 menu options plus an option to customize it.  Which menu I use depends on the app I'm building.
For Fat Stacks, I'll go with the Grid menu.
Step 3:  Header & Body
GoodBarber gives you quite a bit of control over your header and app background.  Here's the control background:
For the Fat Stacks app, I'm going to go with the theme's header text instead of uploading an image.  I like the text… but I can always change it later.
Step 4:  Add App Content
This is the meat and potatoes of your app.  This is where you input your content/functionality.  It's very simple to do.
Because Fat Stacks is a blog, I'll just create a CMS page that displays my blog posts.  I'll also add a contact form, Facebook widget, a link to my email newsletter sign up page, my courses and a link to the Fat Stacks blog.  That's about it for now.
Here's a screenshot of all the content widget options you have with GoodBarber:
The Articles widget works with the following website publishing platforms:
When you add the "Articles" widget, you can choose from the following templates to display your website's content:
Step 5: Design your sections
For now I'll leave this on the default settings, but you can customize the colors of each section of the app.
Step 6: Splash Screens
This is my least favorite part of creating an app, but it's necessary.  You need to upload splash screen images formatted in size for each type of device.
GoodBarber tells you what size the image must be for each device.  It's a bit of a hassle formatting each image.
Here's a screenshot of this section:
 Previews of App (Less than 1 hour to create):
Final Step: Publish the App
To publish your app with GoodBarber, you need to do the following:
1.  Become a developer for iOS and Google Play stores.  The costs are $99 and $25 respectively.
2.  Complete the app submission form.  This is actually pretty important because you want to ensure you include your keywords in the title and app description.  However, be careful.  Your description must be accurate or the app will be rejected.
3.  Submit your app.  As stated above, I pay GoodBarber $50 to do the formal submission for me.
Final Comments:
This app building tutorial shows you the main features.  There is quite a bit of customization you can do that I didn't include.  Moreover, for the Fat Stacks Entrepreneur app I didn't include all that much content.
When it comes to deciding on what content to include in your app, that will depend on your website.  For my B2C sites, I include quite a bit more content than I did for Fat Stacks.  For my local business clients, I keep the apps pretty simple including the key information people would want when searching for the services my clients offer.
And remember… with GoodBarber you can also make content changes so don't sweat what your first version looks like.  You can always go back and add more.
If you want to turn your website into an app, I recommend GoodBarber.
Jon runs the place around here.  He pontificates about launching and growing online publishing businesses, aka blogs that make a few bucks.  His pride and joy is the email newsletter he publishes.
In all seriousness, Jon is the founder and owner of a digital media company that publishes a variety of web properties visited and beloved by millions of readers monthly. Fatstacks is where he shares a glimpse into his digital publishing business.