7 Pro-Tips to Get Accepted into the Best Alternative to Google AdSense!
After I reviewed Media.net and revealed how I've been earning $400 a day by displaying their ads on my niche sites, I've been flooded with questions from so many of you. Most of these enquiries are around what you could do to lessen the chances of a rejection.
For content creators with blogs/websites Media.net ads are a great way to earn off their content. Media.net is the #2 contextual ad platform in the world, second only to Google AdSense and while I believe they have awesome ads, tech, and service, they are VERY particular about who they admit into their program. I'm writing this to help you help your site be approved by Media.net, so that you can monetize your content just as effectively as I do, or even better!
Here is my cheat-sheet to get accepted into Media.net:
1. Write original and engaging content
If your website has original and rich content, you are already one step closer to getting into Media.net. Remember, if you are a newbie, then you should wait till you build a body of work and then submit your website for approval. In case you are a curator and not a creator of content, it may be a good idea to start publishing some original content as well so that you aren't border lining on plagiarism.
Because Media.net ads are contextual, it's important that you provide a great quality of context through your content, for their system to pick up concepts from. The ads that you will then see, will be relevant to the page content and the likelihood of clicks by visitors will automatically increase.
The guys at Media.net are very particular about the standard of content they let in. So, work on your content and monetization will become that much easier and effective.
2. Publish content that is in English and receives most of the traffic from U.S./U.K./Canada
A quick look at Media.net's website tells us that their ad spends are primarily on audience based in the U.S. This basically means that their (huge!) pool of advertisers wants to put money on people in the U.S., U.K. or Canada. So, it is only natural that they'll want to approve publishers whose blogs/websites have content written in English and receive a majority of their traffic from these countries.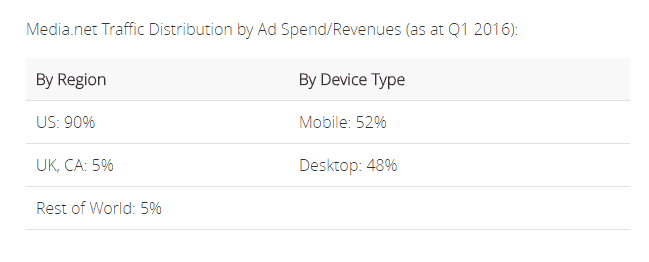 Figure 1:Q1 2016 Media.net Ad revenue by region and device type as seen on official website on Oct 2016
What you can do at your end is pick subjects that could be of interest and applicable to people across these geographies.
Let's say, as an example, if you are interested in creating content around financial advice, then you can consider keeping the scope of your advice wide enough for audience from the U.S., U.K., and Canada. It will take you more time and research, but I believe that will make your content richer and riper for monetization.
3. Steer clear of restricted content
No ad network will put the advertisers' interests at risk by associating their ads with content that could cause trouble. So, while it is important that you find your niche, you must know that there are some straightforward don'ts that come into play when your website/blog is being considered by Media.net for approval.
Here is what your content or the links you place on your blog/website shouldn't be about:
Porn
Drugs – Promotion and/or Sale
Violence / Hatred / Profanity
Gambling
Spurious Products
Unregulated chat forums
Piracy and/or Hacking
Only user-generated content
4. Reach a decent volume of visitors
I've mentioned earlier in this post that a newbie should build a body of work to be accepted into Media.net. An extension of that is building a busy blog which has enough readership/viewership for advertisers to want to buy your Ad inventory and reach your audience. Simple and straight?!
Though Media.net doesn't mention a specific minimum number of page views for qualification, I'd say one way to think of it is "Do I have a good number of engaged visitors reading my content regularly?". If you have single digit daily visitors, you should probably wait till you get a few multiples more than it.
5. Don't put too many ads on your website/blog
This piece of advice holds good even independent of applying to Media.net. Overloading your websites/blogs with far too many ad tags increases the latency of web pages which in turn makes your consumers develop a tendency to ignore your ads (there's a term for it – Banner Blindness), or even worse, head straight for ad-blockers.
Media.net allows 3 ad placements per page. So, don't be greedy, and put a selective number of ads on each page and optimize their performance by experimenting with them. At Media.net, your account manager will help you do this easily and as often as you want. This is what has worked for all my niche websites without disrupting user experience and consumption of my content. Listen to their advice and you'll see your income shoot up!
6. Have a neat website with systematic layout of content
Media.net delivers on its ads taking the look, feel, and form of your content – making them sharply contextual and high-paying. So they expect you to meet them halfway, with a website/blog that is easy to navigate, user-friendly and clean.
Keeping in line with Media.net's requisite of a clean website, be mindful of avoiding these mistakes:
Hiding texts and links within the site
Manipulating site content to improve SEO
Redirecting traffic to sites external to Media.net Contextual Ads Program
Submitting parked /free hosted / empty pages for approval
7. Ensure you get clean traffic to your website/blog
Advertisers pay for clicks on their ads and they like to make sure, as far as possible, to pay for clicks that have the intention to take the action advertisers desire of them. At Media.net, publishers are expected to adhere to the highest of standards when it comes to traffic and clicks.
So lay off those click-exchange programs, auto clicking and surfing bots or anything that leads to false / fraudulent / non-human impressions and clicks. It's not worth getting your account suspended for or not approved at all when you could be earning incremental revenue using Media.net ads on your pages.
Important: These tips come from my experience as a user of Media.net ads for over 2 years now. These are my guidelines and each one of their criteria will, of course, be up for independent review by the folks at Media.net whenever you submit your website/blog for approval.
Media.net is picky about who they choose, but they are top tier with their performance and customer service. So they are definitely worth a shot. That said, I think you'll find your website/blog getting approved quite easily if you take this post into consideration.
Think you check all the boxes above? Click on the link below and you should hear from them in 2 business days.
BONUS: Get 10% more revenue from Media.net for the first 3 months when you sign up with this link.
Good luck, then!

Jon Dykstra is a six figure niche site creator with 10+ years of experience. His willingness to openly share his wins and losses in the email newsletter he publishes has made him a go-to source of guidance and motivation for many. His popular "Niche site profits" course has helped thousands follow his footsteps in creating simple niche sites that earn big.