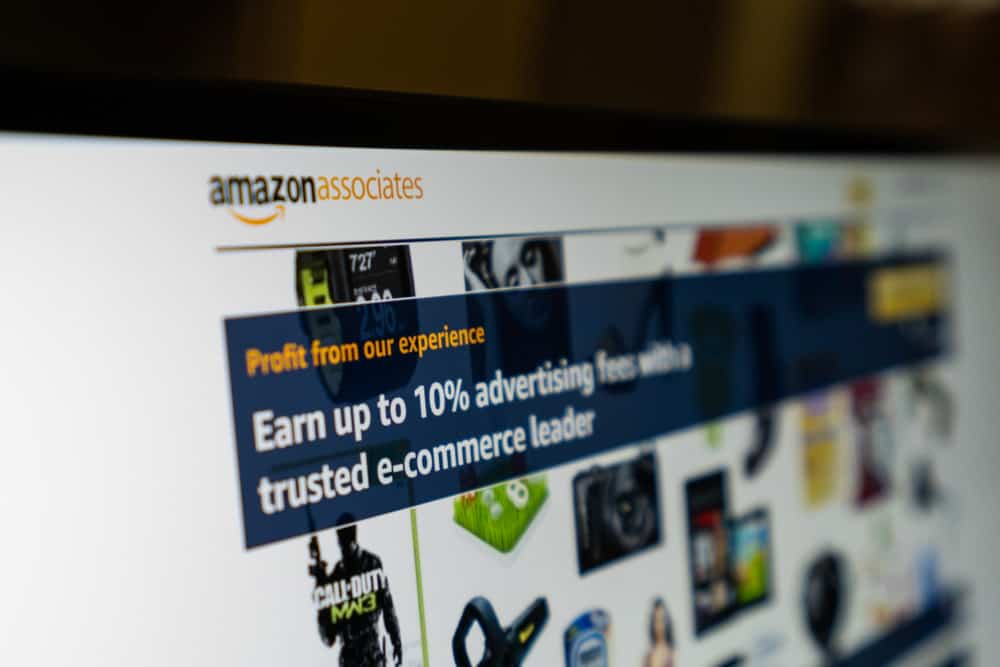 I loathe complicated.
I like simplicity.
I love efficiency, which often requires simplicity.
This is why I love the AMZ Images plugin.  It's the one Amazon affiliate plugin I use almost daily across my 8 niche sites.  It's simple and efficient. It does one thing well and does it perfectly.
What is AMZ Images?
It's a plugin that embeds Amazon product images into WordPress websites and does so very quickly.  Just as important, it does so via the API so that the images from Amazon products on your site are Amazon TOS compliant.  In case you didn't know, it's against Amazon Associates TOS to upload product images into your site. You can only add them to your site via the API and that's why I use AMZ Images plugin.
AMZ images example
Here's an example of an embedded image using AMZ Images plugin.
Why use this plugin
IMO, images are pure gold on websites. Whenever I can incorporate an image, graphic, illustration to enhance the info, I do so.  This is particularly true when discussing, mentioning, reviewing products.  It's one thing for me to mention a stand-up desk platform and it's another thing altogether to include an image of what I'm talking about (like the one above).
Moreover, Amazon images get clicked… a lot.  When website visitors click the images embedded via AMZ Images, they are taken to that product on Amazon and your affiliate link is cookied.
In other words, you use this plugin to earn more website revenue.  
Does AMZ Images actually earn Amazon affiliate commissions?
It sure does.  While I do have some text links to Amazon across my niche sites, I use AMZ Images plugin waaaaaay more.  Here's a screenshot for the last 30 days of Amazon affiliate commissions:
How it works
The preliminary, one-time effort involves inputting your Amazon Associate info into the various fields on the setting screen as follows:
Once the plugin is installed on your site, you need to take about 1 minute to set up by inputting your Amazon ID into it and check a few boxes.  Once done, here's how it works.
Step 1: Click "Add Amazon Images"
When in your post visual editor, do the following.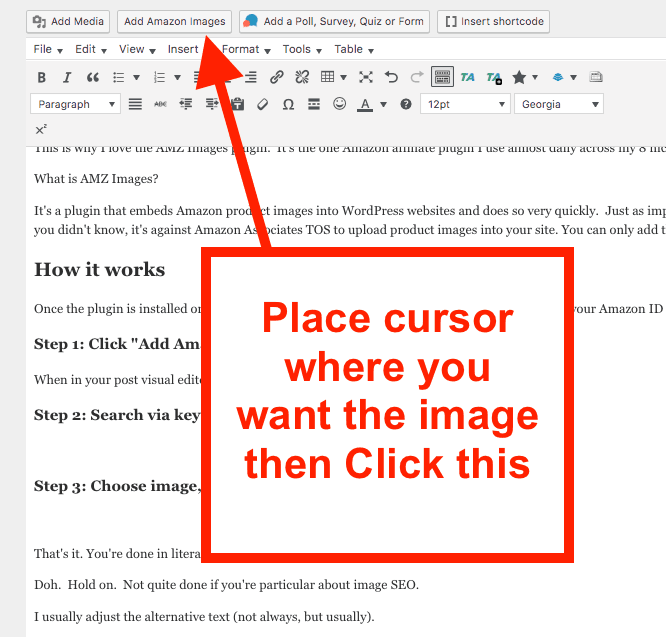 Step 2: Search via keyword or input a product ASIN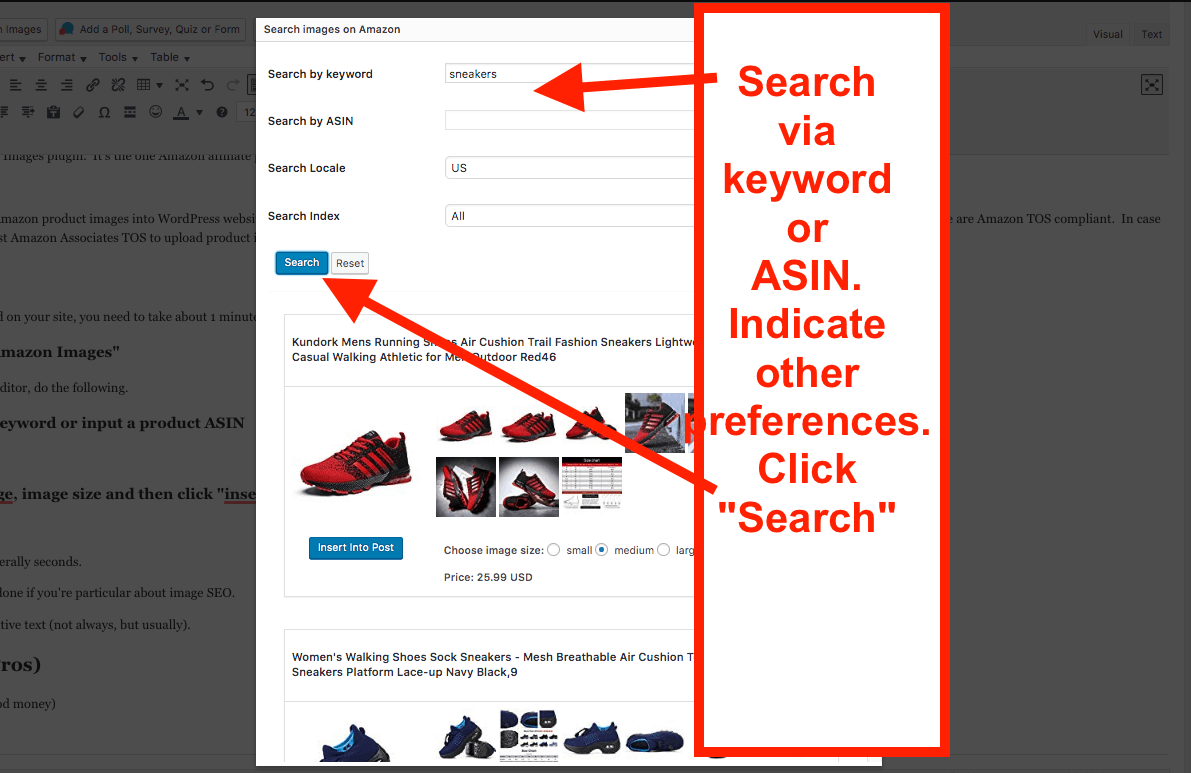 Step 3: Choose which image, image size and then click "insert into post"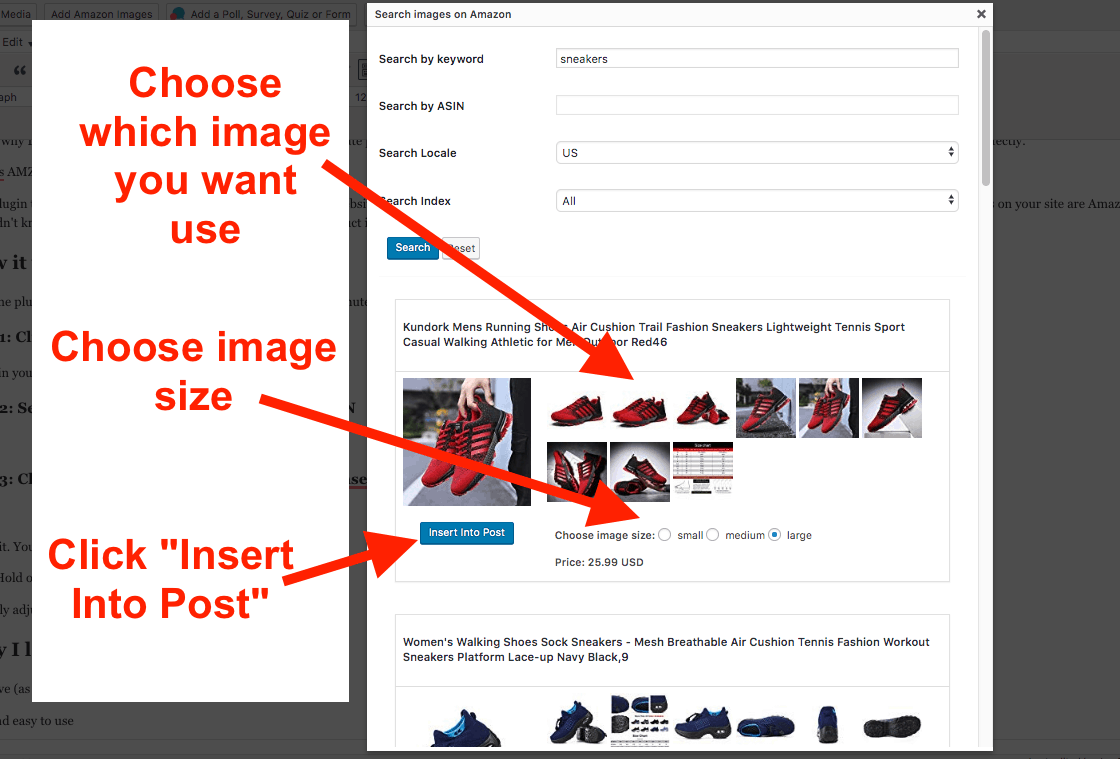 That's it. You're done in literally seconds.
Doh.  Hold on.  Not quite done if you're particular about image SEO.
I usually adjust the alternative text (not always, but usually).
Why I love it (Pros)
Effective (as in it earns good money)
I use way more Amazon images with the automated affiliate links than Amazon affiliate text.  It's just the way I roll because the images add great, illustrative content to my sites and get the clicks.
Fast and easy to use
I've said once and I'll say it again.  This plugin is fast and easy to use.  No formatting nonsense.  Click, ASIN paste, click, and click and DONE.  Basically I can embed an image nearly as fast as it takes me to type "embed an image" (and I'm a fast typer).
Easy to outsource
All my VAs and writing agency that work on my site embed images.  I don't need to give them access to my Amazon Associates account.  They can embed the affiliate-linked images directly in my website.  Talk about awesome.
Choose from multiple images
If a product has multiple images, AMZ Images will let you pick.  Yes, you can embed them all if you like.
Amazon compliant
Because it uses the Amazon API, you don't have to worry about any issues with Amazon.
Multiple countries
Okay, I earn peanuts from countries outside of the USA, but for many Amazon Associates, other countries are important so it's good this plugin includes the ability to work with non-US Amazon stores.
Price
The best part is this plugin is inexpensive and is not a monthly subscription. However, you do have to renew the license yearly (which IMO is worth it).
Cons
No cons.  I'm not kidding. There is not one thing I would change about this plugin.  It does one thing and one thing extremely well which is place Amazon product images into WordPress content in a way that complies with Amazon Associates TOS.  I can do it in literally 3 clicks of the mouse.  I've embed hundreds, probably thousands of Amazon images with this plugin and not once have I thought to myself "I wish this plugin would do X".
What happens if you don't renew the annual license?
I reached out the plugin owner about this and he responded as follows:
The images will remain in place, but they won't be able to add new images.
AMZ Images vs. Other Amazon Affiliate Plugins
There are many plugins that use the Amazon API to embed Amazon product images on your site.  In fact, most of the other plugins offer a lot more features such as cool product boxes, tables, etc.  I've tried many of them.  While they work, AMZ Images has two things going for it that make it superior and my go-to Amazon affiliate plugin.
First, AMZ Images requires no formatting at all.  The other plugins take longer to create the nifty boxes etc. for what I consider not all that much more benefit.  That's just my opinion.  I know many people love the fancy stuff and claim they earn more with it which is cool. I'm just telling you my preference.
The other BIG reason I prefer AMZ images is that it plays nicely with display ads.  For example, with other plugins I've created fancy product boxes that look awesome but what I find is that they use columns which can wreak havoc with display ads that are programmed site-wide to display at a specific location (i.e. after X image in a post).
Because AMZ Images embeds just the images, display ads display perfectly above or below them.
Whoa! Jon… you put display ads in content where you promote products with affiliate links?
I sure do because a lot of my content is more informative than promotional.  I discuss products, but the products are often not the focus of the article.  Therefore, affiliate commission conversion isn't all that high so I bolster revenue with display ads.
We could debate whether you should put display ads in affiliate content all day long.  My response is to test it and see what makes you more revenue.
My conclusion…
Ease-of-Use

Effectiveness at earning Amazon affiliate revenue

Speed (as in how quickly it embeds images into content)

Price
Summary
I don't think I've given any product a perfect 5 star rating, but I have no choice but to do so with this plugin because there is absolutely nothing wrong with it.
=> If you want to slam Amazon product images into your content fast, buy this plugin.

Jon Dykstra is a six figure niche site creator with 10+ years of experience. His willingness to openly share his wins and losses in the email newsletter he publishes has made him a go-to source of guidance and motivation for many. His popular "Niche site profits" course has helped thousands follow his footsteps in creating simple niche sites that earn big.