Ahrefs is currently my favorite keyword research software.
However, maybe you don't like it.  Maybe you don't like the way Ahrefs calculates keyword difficult score.  Or, perhaps you don't like the price (it's not cheap).
Whatever your reason, you do have alternative keyword research options to Ahrefs.
Below is an extensive list of such substitute options.  Note, however, this list includes complimentary keyword research tools as well – options that work well with Ahrefs.
1. SEMrush (Paid)
SEMrush is the main Ahrefs alternative.  Both offer an extensive array of tools for researching keywords and analyzing other websites.  I've used SEMrush extensively and like it.  It just so happens that I like Ahrefs a bit more.  I compared SEMrush and Ahrefs keyword difficulty scores here.
In a nutshell, SEMrush offers a four platform structure covers SEO, paid traffic, social media, and content and public relations. It also includes a number of utilities you can use to analyze your competition.
If you're looking for a premium keyword research tool, SEMrush' 7 day free trial is worth checking out.
2. Google Keyword Planner (free)
This isn't much of an alternative.  The data is not useful for organic keyword research.  However, I list it because it's something and it's free.  However, keep reading, because there are much better options.
3. BuzzSumo
BuzzSumo is used by global giants like News Corp, IBM, and Expedia and they can even help you find the key influencers in your industry so you can focus your attentions on the competitors and keywords that really matter.
This software is geared toward finding popular content ideas instead of organic keywords.  It's very good at what it does if this is how you like to go about looking for content ideas.
4. Moz Pro (Paid)
Once upon a time I was a Moz Pro subscriber.  It's a good software platform.
Recently they updated their keyword difficulty module, which I've yet to try.  There's a great article on it here.
Moz also offers search volume and a really nice fleet of tools for local SEO.  If you're into local SEO, Moz Pro is definitely worth checking out.  I don't do local SEO so it's not something I need.
5. Raven Tools (Paid)
Raven draws from a number of sources like Search Console, Ad Words, Bing Ads, Google Analytics, and Facebook to compile a truly thorough set of metrics. Combined, these tools can offer you an impressive means for tracking behavior in the short- and long-term. Their audits, backlink data, and automated reports can result in a platform that works for you.
FYI, I've not used Raven Tools much.  I messed around once upon a time, but I prefer Ahrefs (and SEMrush for that matter).
6. Keyword Shitter (Free)
Keyword Shitter isn't exactly pretty (like its name), but it really is the best tool for analyzing Google auto suggest keywords. All you have to do is enter the seed keyword term you're interested in on the main toolbar and the Shitter will churn out a long list of all the relevant auto-suggest based keywords. The opportunity to plug in negative and positive filters to adjust your content is a nice addition. There's practically no UI to speak of, but it gets the job done.
I use Keyword Shitter all the time and love it.  Often it's my first tool when starting new research just to get a sense of a vast array of keywords and topics for a specific seed keyword.
This software is particularly powerful when used with the Keywords Everywhere Chrome extension because you also get the search volume for each generated keyword.
7. Jaaxy (Paid)
Jaaxy was built for affiliate marketers. The tool offers niche ideas in addition to keyword research.
I've not used Jaaxy, but I'm interested in testing the niche finding software as well as the extensive rankings tracker.
8. Serpstat (Paid)
Serpstat touts itself as a comprehensive all-in-one SEO platform.  I've not used this particular software, but it seems fairly comprehensive.  I can't tell how it's any different than other all-in-one offerings except via price.  It does offer packages that cost less than Ahrefs and SEMrush.
If you're managing multiple sites at a time or looking to create more diverse marketing opportunities through a variety of landing sites, Serpstat allows you to segregate your data more effectively. You can compartmentalize your data into different projects with designated keyword results for each, and their ranking tool allows you to evaluate how your site's SEO stacks up to the competition.
9. Soovle (Free)
Soovle is a free platform like Keyword Shitter where you input a seed keyword and it generates auto-suggest options from the main search engines including Google, Amazon, Bing, Wikipedia, Answers.com, Yahoo and YouTube.
10. Google Trends (Free)
I use Google Trends all the time, but I use it to embed charts into content.
However, it can be a good keyword tool if you want to know whether a niche or topic is trending upward or downward.  That's definitely its main strength as a KW research tool.\
11. SECockpit (Paid)
SECockupit is a keyword search tool that's built to meet the needs of even enterprise level businesses. They provide analysis for all countries and there are no restrictions on their searches.
I've used SECockpit quite a bit and it does generate some good options.
It's definitely  a head-to-head Ahrefs alternative, but I prefer Ahrefs and SEMrush.
12. SEOBook (Free)
SEOBook's Keyword research tool is outstanding for being free.  I've compared many search volume results with Ahrefs and it's pretty accurate.
It doesn't offer many of the other nice tools Ahrefs does, but if you just need search voluyme, SEOBook is fantastic.
13. Answer the Public (Free)
ATP is great for expanding topics and keywords for a seed keyword.  The price is right too – it's free.
You simply input a seed keyword and it will spit out many additional long tail options in charts or lists.
I've used this tool a lot and still use it.  I like it as a way to ensure I'm covering a topic sufficiently.
I liken this as more of a complementary tool to Ahrefs instead of a substitute.
14. KWFinder (Paid)
KWFinder is another all-in-one SEO keyword research tool.  It's less expensive than Ahrefs, which is its main appeal.
I've tried it and it's good.  I prefer Ahrefs though, but if on a limited budget, this is a solid options.
15. Ubersuggest (Freemium)
You have to hand it to Neil Patel, who bought Ubersuggest in 2018, for making this already good free keyword research tool even better.
It offers search volume and its own keyword difficulty score.
I'm not sure how many features Neil plans to add, but if he goes all out and keeps it free, it could be a serious threat to the likes of Ahrefs, SEMrush and other paid keyword research tools.
16. Keyword Snatcher (Paid)
Keyword Snatcher is cool.  It's not a subscription software.  You pay once.
It generates good keywords, but that's about all.  It can also be a good tool for discovering niches.
I used to use this tool a lot, but not so much over the last 2 years.
17. LongTailPro (Paid)
This software is all about finding long tail keywords.  I bought it way back when you downloaded it to your computer.  It was okay.  It's no on the cloud and I haven't tried it since it's been put on the cloud.  I know a lot of people like this software and it's popular, but I stick with Ahrefs.
I think the best feature is the price.  It's priced well below Ahrefs and SEMrush yet offers many of the same features including its own keyword difficulty score.
18. Keywordtool.io (Free and Paid)
Keyword Tool positions itself directly as a competitor to Google Keyword Planner. Their search engine lets you filter the results according to a variety of different engines. YouTube, Amazon, and the App Store are all available to you in addition to more traditional search engines like Google and Bing. While free accounts are available to everyone, their pro service comes packed with a whole range of additional features.
19. Keywords Everywhere (Free)
Like Keywordshitter.com and Answer The Public, Keywords Everywhere is a complement to Ahrefs.
Keywords Everywhere displays search volume and CPC data for keywords that show up on your screen.  It's really handy when you're doing keyword research.  I love how it enhances Keywordshitter.com.
It's easy to install and works instantly.
20. GrowthBar (Paid)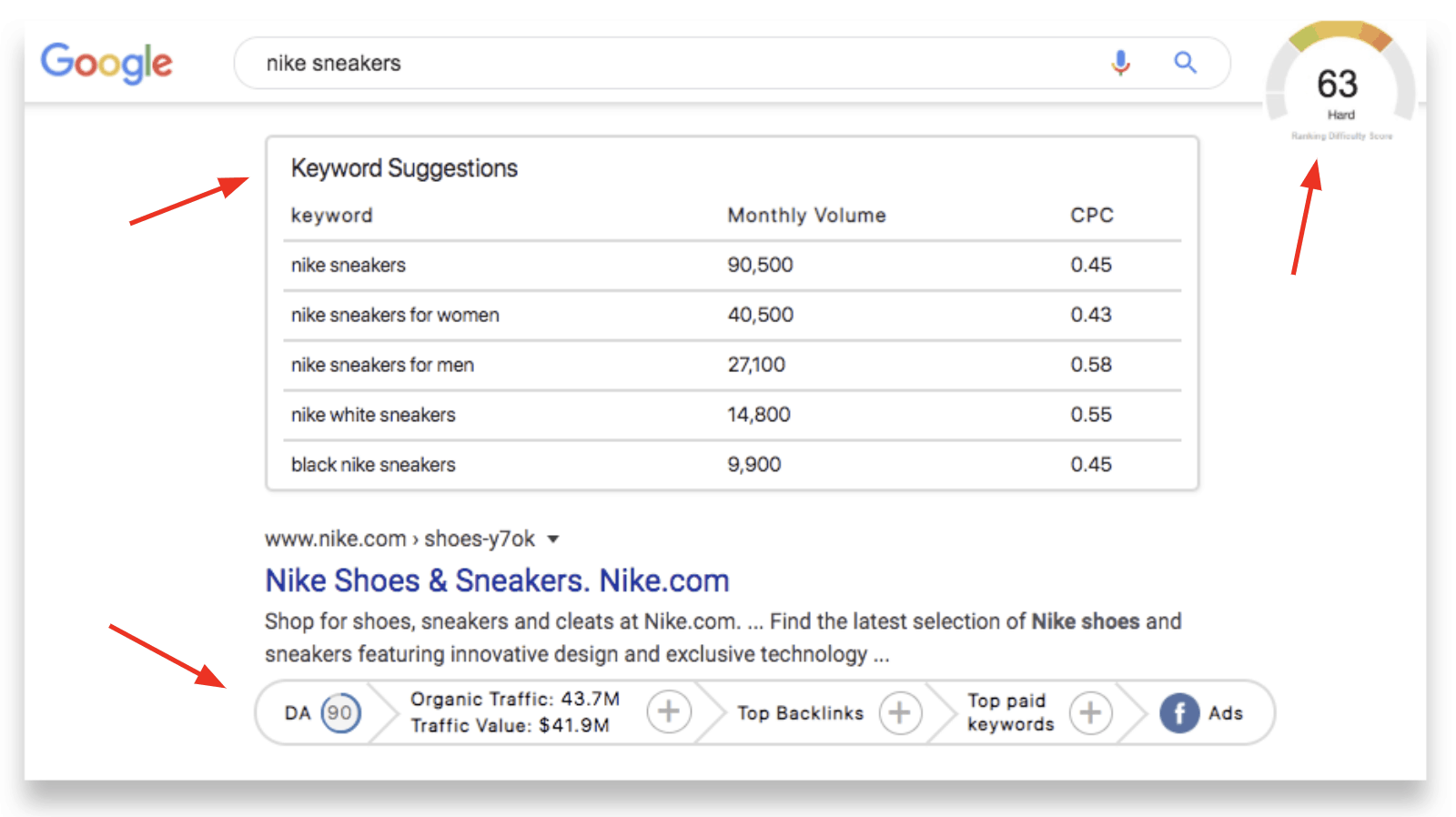 GrowthBar is an incredible alternative to Ahrefs that lets you do keyword research on the fly from the comfort of your Chrome browser. It is the most affordable and easy to use of all the tools, holding its own against some of the more expensive paid keyword tools on the market, like Ahrefs and SEMrush. It strips out all the fluff and provides you with the most important insights directly on your Google Search Results page. Plus you can try it for free.
What is unique is that GrowthBar is a chrome extension that gives you instant access to critical data points about any website and unlocks the growth channels and keywords that are working for them.
For the complete list of GrowthBar features, refer to this page.
Pros
Easily the best keyword research tool on the market. Helps you spy on the growth strategy that your competitors are using.
The Keyword Rank Tracker dashboard allows you to keep track of your target keywords and your SEO performance over time.
The Keyword Ranking Difficulty Checker is insanely helpful. Not all keywords are worth your time. Save yourself the hassle by looking up the "Ranking Difficulty" of your keyword before investing time & money (and blood, sweat & tears) creating content around it. GrowthBar will tell you, *clear as day*, whether or not you have a shot at ranking for it.
Easy to use. The data you need lives right on your Google search results page which is extremely convenient. No need to login to yet ANOTHER platform or toggle between tabs to get the info you need.
The "Top Keywords" feature allows you to see the best performing SEO keywords and PPC keywords for any site.
Search for any keyword and unlock "Keyword Suggestions" to discover low-cost CPC alternatives.
Cons
Pricing
Free trial for 5 days and then $49/mo
Click here to get a free trial of GrowthBar
Which is the best Ahrefs alternative?
I haven't used everything, but I've used most of the above.
If I had to choose something other than Ahrefs, it would definitely be SEMrush.  I've used that extensively and like it quite a bit… it's just not quite as good as Ahrefs for my needs.
Which keyword research tools do I use?
My current go-to KW research tools are:

Jon Dykstra is a six figure niche site creator with 10+ years of experience. His willingness to openly share his wins and losses in the email newsletter he publishes has made him a go-to source of guidance and motivation for many. His popular "Niche site profits" course has helped thousands follow his footsteps in creating simple niche sites that earn big.