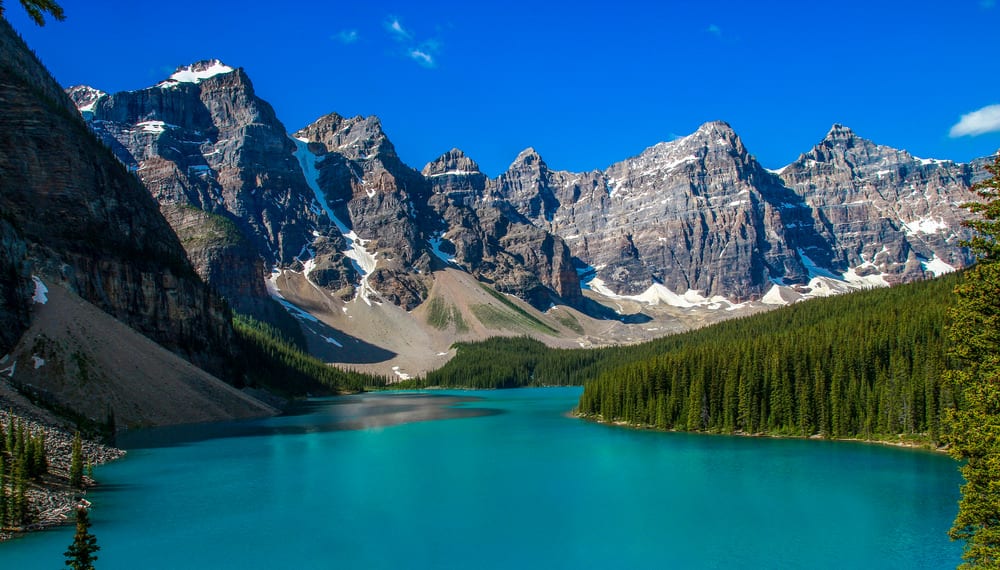 It's easy to blindly rely on software trusting that what it says it can do and the results it generates is accurate.
Keyword research software is one such software.  We all have our favorite tool, some paid and some free.
The thing is, are you sure that the data you're getting is reasonably accurate?
I certainly don't expect 100% accuracy from keyword research software.  I understand it offers guidance at best.
I've exclusively used Ahrefs since July 2017.  I have no reason not to be happy with it.  Since I started using it, my organic search traffic has grown nicely.
The time has come to see if the other big player in the keyword research space is better.  I'm talking about SEMRush.
I signed up for a SEMRush account and did a massive rankings audit across my sites to see just accurate the Keyword Difficulty score is for each software.
I primarily rely on 2 pieces of data when it comes to researching keywords.  They are:
Search volume:  This is an objective measurement.  It's a factual piece of data.
Keyword difficulty score:  This is subjective.  Both Ahrefs and SEMRush have keyword difficulty scores which are calculated differently.
Why keyword difficulty is important for me
I don't build links.  I attract links naturally, but I don't build them.  My entire niche site business is built on finding low competition keywords with some search volume within my niches.  My aim is to get search traffic to that content without building links.
Even though I have sites with some decent authority, I know I'm not going to rank in the top 3 spots in Google for super competitive keywords.  That means I need something to help choose among keywords when planning content.  For me, it's the keyword difficulty score measurement.  Specifically, I filter my research for low keyword difficulty so that I have a shot at ranking new content without any link building.
Subject Website Metrics:
Below are the basic metrics of the website I used for this analysis.  It's a site I own.
Monthly visitors according to Google Analytics:  626,000
Ahrefs UR/DR:  UR: 44 / DR: 60
Ahrefs reported # of keywords ranked in total:  468,000
Ahrefs reported number of referring domains: 2,740
SEMRush Authority Score:  53
SEMRush reported number of referring domains: 1,900
How I did this analysis
I did a two-step analysis with my biggest niche site (1.8 million monthly page views and ranks for 468,000 keywords according to Ahrefs or 192,000 keywords according to SEMRush.
Step 1: Filter by search volume and position 1
For this step I filtered for:
Keywords that rank at position 1 in Google
Monthly search volume greater than 500
Ahrefs:
# of keywords reported: 549
# of keywords considered easy (KD 0 to 10): 351.  That's 64% of total keywords listed.
KD range: 0 to 54
SEMRush:
KD range: 55.46% to 89.53%
# of keywords considered easy (KD 0% to 59%): 9.  That's 8.6%.
# of keywords reported: 104
Step 2: Filter by KD for my specific sites
For this step I filtered for:
Keywords ranking at position 1 in Google
Monthly search volume greater than 250
All "easy" keywords based on respective "easy KD scores.  For Ahrefs, I filtered for all KD from 0 to 10.  For SEMRush, I filtered for 1% to 59%.
Ahrefs:
# of keywords I rank for that are "easy" according to Ahrefs: 1,174
SEMRush:
# of keywords I rank for that are "easy" according to Ahrefs: 29
Results
Without question, while both are not 100% accurate, I find Ahref's results far more usable for the following reasons:
More data: Ahrefs was able to provide a lot more data which makes me believe for other research, it also will have more data to rely on.
Common sense:  I have no way of verifying anything here, but common sense tells me that it's reasonable that 64% of the keywords I filtered for have an "easy" KD score (Ahrefs results).
I believe it unreasonable that SEMRush would suggest that only 8% of my filtered keywords would fall under the "easy" rating and the remainder under medium or difficult to rank.  That just doesn't make sense… given the volume of keywords and the fact I don't build links.
I can understand a small site where the publisher focused on competitive keywords and built a lot of links that it would rank for competitive keywords.  But my site is not that kind of site.  My kind of site should have the KD scoring distribution suggested by Ahrefs where the lion's share of the keywords it ranks for have an "easy" KD score.
Caution When Using These Tools
You cannot 100% rely on these tools.  In other words, if Ahrefs gives a KD score of 0, that does not mean you will rank for that keyword.  Same with SEMRush.  If the KD is 2%, that does not mean you will rank.
Accuracy vs. Usefulness
I've alluded to the accuracy issues already, but will again.  I view KD tools as merely useful, not accurate.  They're a good starting point for me.
My Problems with Both Tools
Ahrefs' Problems:
Top 10 (not the top spot):
The Ahrefs KD suggests the difficulty to get ranked in the top 10 spots.  Not necessariy the top spot in Google search.  The range in number of links needed and other search engine optimization needed to go from spot #10 to #1 can be monumental.
Links are not the be all and end all:
I found a perfect example of a keyword with 390 monthly search volume on one of my sites where I ranked #1 for an Ahrefs KD 4, but my URL only had 1 referring domain.  The 2nd ranked article has 79 referring domains.
Why would my article rank #1 with 1 referring domain and the #2 spot has 79 referring domains?
Answer: My title tag is the exact 8-word keyword phrase while the second-ranked article doesn't.
SEMRush's Problems
Top 20 (not the top spot):
The SEMRush KD suggests difficulty to crack the top 20 spots.  The degree of difficulty between spot #20 and #1 in Google can be huge.
Authority domain is not the be all and end all:
Using the same 8-word keyword, the SEMRush Authority Score of the 2nd ranked website is 85 while my site has an Authority Score of 53.
Moreover, my specific article does not have a rating in SEMRush while the 2nd ranked article has a SEMRush page score of 50 and trust score of 38.
Again, my article has the full 8-word keyword in the title while the second-ranked article doesn't.
Score distribution ranges don't make sense to me
My biggest beef with SEMRush's KD is the range.  1% to 60% is supposedly easy.  I simply don't get why "easy" gets such a huge range.  1% to 30% being easy makes sense, but all the way up to 60% doesn't make sense.
What ends up happening is the keyword difficulty range for so many keywords is really tight – falling in the 60% to 80% range, which isn't helpful.  There isn't sufficient distinction to be able to make an informed decision.
It's not their fault
Neither tool guarantees accuracy.  They both clearly state it's merely a tool for guidance at best.
Since nobody knows exactly what Google does to rank keywords and content, it's unreasonable to expect 3rd party software like Ahrefs and SEMRush to figure it out.
The Takeaway:  Keyword Difficulty Scores are "Relative" at Best
When I first dreamed up this post, I had grand plans to do all kinds of individual URL analyses to figure out exactly which tool was best.
The problem was there are too many variables that go into ranking keywords in Google.  I analyzed several individual posts and keywords in both tools (my sites and other sites) and there was no way to determine a clear, concrete, indefinite winner.  Results were all over the place.
And that's when it occurred to me.  KD scores are useful in providing scores that are relative to other scores.  Once I understood that, choosing the best option was easy.  The best tool for me for how I do topic research is one that will provide the greatest distinctions based on relative scoring.  More importantly, I had to assess this as a whole, not individually.
When assessing these tools on a keyword by keyword basis, the accuracy was not very good due to so many other factors at play.  However, when I look at the scoring distribution across many keywords and URLs, Ahrefs, for me, is a better tool because of the better scoring distribution (not to mention better and more complete data collection).
Which is my preferred Keyword Difficulty Score research tool?
Ahrefs is my preferred KD research tool.
It boils down to Ahrefs scoring distribution making more sense to me and easier to use.  While I know a KD score of 0 doesn't mean it's a slam dunk that I'll rank #1, at least the range is sufficient that there are distinctions.  And it's those distinctions which provide some guidance and a starting point for choosing keywords.
Here's a chart breaking down the Ahrefs KD scores: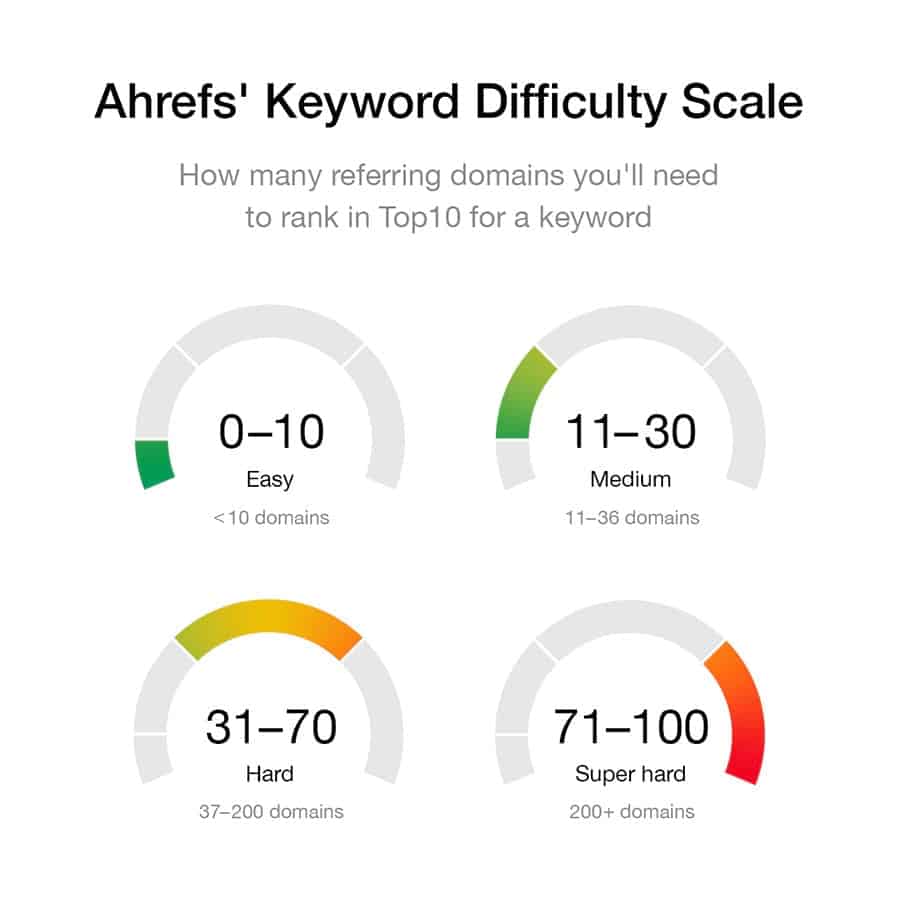 Source: Ahrefs
Going forward
It seems to me that Google search is relying on inbound links less and less.  Other ranking factors are gaining in importance as Google's technology improves.  What this means is that Ahref's KD tool may become less and less accurate since it's based on inbound links.
But for now, I'll stick with Ahrefs.
What should you use?
I recommend that you don't blindly follow my preference.  Try them both out and compare results for your niche(s).
I believe both offer free trials which makes it easy to test them against one another without spending money.

Jon Dykstra is a six figure niche site creator with 10+ years of experience. His willingness to openly share his wins and losses in the email newsletter he publishes has made him a go-to source of guidance and motivation for many. His popular "Niche site profits" course has helped thousands follow his footsteps in creating simple niche sites that earn big.