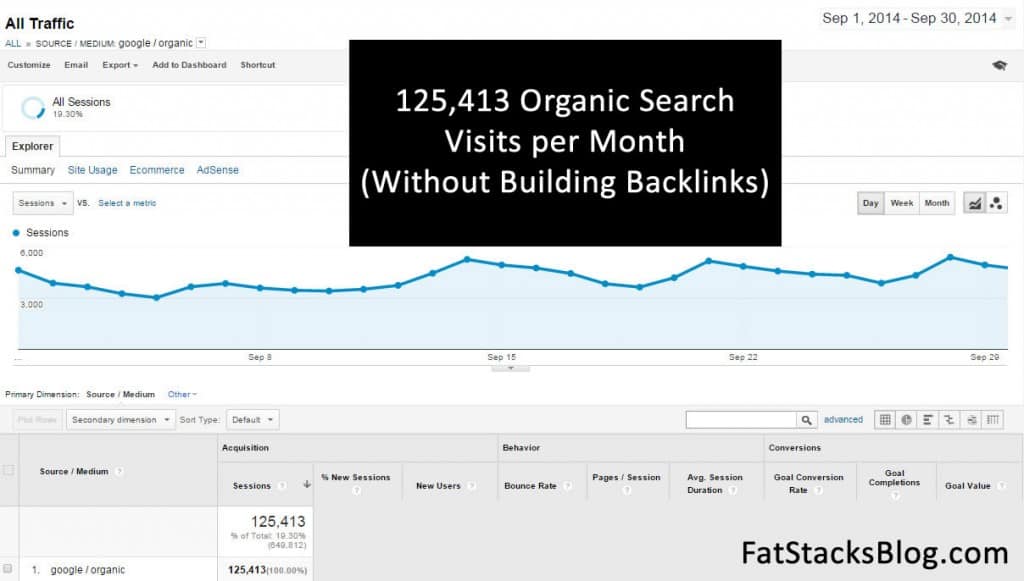 Please note:  This article pertains to one of my run-of-the-mill niche websites.  The niche has nothing to do with "how to make money online" or "internet marketing".  The screenshots and traffic figures are not based on the metrics for this site, fatstacksblog.com.
When I launched my new niche blog in 2014, I did so with no intention whatsoever to get organic search traffic.  I had no plans to actively build backlinks.  I did very little keyword research during the first 6 months.   I'm not an SEO expert by any stretch of the imagination, on-site or off-site.
The irony is that within 6 months, my niche blog pulled in more organic search traffic than any other site I've ever published.  By month 8, I hit over 100,000 Google organic search visits per month with purely white hat SEO.
Frankly, I was tired of the ups and downs of organic search traffic.  I launched the blog with carefully laid out plans to get traffic from social media (mostly Facebook and Pinterest).  Yes, my social media campaigns worked wonderfully… but I was also very pleasantly surprised to see rapid growth in organic search traffic.
That said, when I discovered I was getting 500 organic search visits per day from Google by month 3 or 4, I realized I should capitalize on this.  At this point I started keyword research and  put a little more effort into my on-site SEO.  In month 7 I installed an SSL certificate upon Google's announcement that an SSL certificate would be a ranking factor.
This post explains what I did.  Please keep in mind that I'm not able to pinpoint exactly what elements contribute to the search traffic; I can only speculate.  Therefore, below I set out what I did generally.  It's actually not that complicated.
My Formula in a Nutshell
Decent Content + Social Media Engagement + Long Tail Keywords + On-Site SEO + Plenty of Internal Linking + SSL Certificate = 100,000+ Monthly Organic Search Traffic
This simple formula ultimately results in a site with authority.  Sites with authority get ranked.  It's that simple.
Watch the Video (or Scroll Down to Read)
Decent Content
I publish 5 to 8 lengthy, media-rich posts per week.  It's a grueling schedule.  I have help with a team I hired (read my review of this service here); however, as publisher, I review everything before it's published.  I also plan the content and do the keyword research.
By the time I hit 100,000 monthly search visits, I had about 200 published posts.
Post length varies significantly.  I have some posts with 60 images and 3,000 words of text (quality writing… I hire professional writers).  Other posts have 8 images with 400 words of text.
I create each post for visitors, writing only what's necessary and including images that are necessary.
Learn more about the type of content I publish here.
Internal Linking
I did a lot of internal linking right from the start.  My aim wasn't for search engine traffic; my aim was to increase page views.  I set up internal linking in a way to get visitors to visit more posts.
For example, I manually created "Related To" text links at the bottom of every post.
I also use Related Content thumbnails (which adds 20,000+ page views per month).
When I publish new posts, I edit older related posts and link to the new posts.
At the end of the day, my niche blog has a lot of internal linking going on… and it's done for user experience, not solely for search engine ranking.
Social Media Engagement & Traffic
I may take a lot of heat for suggesting that social media engagement helps search engine ranking, especially from the lauded SEO folks who promote backlinks and private blog networks.  I'm not suggesting building backlinks is bad.  I'm not suggesting private blog networks don't work.  I'm sure they work.
I choose not to do it because it's not nearly as fun as focusing resources on building one awesome niche site.
Besides, I'm not interested in worrying about Google search engine updates and potentially one day having all organic search traffic disappear (I've had it happen and it isn't fun).
Can I prove social media engagement helps with search engine rankings?
No, I can't.  However, I suspect if I did not have the high level of social media engagement that I do have (Facebook shares and Pinterest pins primarily), I wouldn't enjoy the volume of search engine traffic that I do.
How do I get social media engagement?
I use a lot of images, publish content that has a propensity to be shared, offer sharing buttons and use this magnificent gem of a sharing tool.
I started with no fans or followers
Presently, for one niche I have 85,000 Facebook fans, 1,750 Pinterest followers and 700 Tumblr followers.  While that's not earth-shattering, it helps with getting engagement fast.
However, I started with nothing and built it up over time.  I just kept publishing and posting to social media.
I also used one very useful method for attracting Facebook fans quickly – I share this in my advanced course.
Long Tail Keywords
One day about 3 to 4 months after I launched my blog, I  was in my Analytics account and noticed I hit 500 daily organic search visitors and it was consistent.  That was a very pleasant surprise.  It got me thinking about how I could capitalize on my growing authority.
I knew I didn't want to enter the backlinking fray.  It's boring and risky.
That meant I needed to focus on long-tail keywords.  Since I was (and still do) publish so much content (1,500 to 5,000 words and 25 to 80 images per day), I knew that with some long tail keywords, I could slowly and consistently grow my search engine traffic.  I was right.
I don't have a formulaic way of researching long tail keywords.  Here's what I do:
1.  Google Keyword Planner:
I spend a couple of hours inputting all kinds of niche-related terms in the Google Keyword Planner.  I'm in a broad niche so there are a limitless number of seed keywords to investigate.
Instead of looking for individual keywords, I look for keyword patterns such as recurring keyword phrases.  The reason I like recurring keyword phrases is I can use that phrase with different keywords and come up with a long list of long tail very quickly.
2.  Keyword Snatcher:
Keyword Snatcher is my favorite paid keyword research tool.  What it does is it pulls phrases used in Google search auto-suggest.  When people search for a term in Google, phrases pop up.  Keyword Snatcher pulls these phrases for every letter in the alphabet and creates a massive list.
Once I find recurring keyword phrases in Google Keyword Planner, I use those phrases in Keyword Snatcher to generate a complete list of all possible long tail phrases.  Sometimes, the list from KS is in the hundreds.  Read my full Keyword Snatcher review here.
Keyword Snatcher Video Demo
3.  Back to Keyword Planner:
I take the list generated by Keyword Snatcher and load it into the Google Keyword Planner to quickly check search volume.
What monthly search volume do I look for?
I have a very low threshold.  If a phrase gets 20 to 30 searches per month, I'll use it.  Obviously 100 to 1,000 is better, but I publish a lot of content, so I'm happy to target very low search volume keywords.
Skyscraper Technique for Organic Search Traffic
The Skyscraper Technique was developed and extensively written about by Brian Dean at Backlinko.  I strongly recommend you read about his Skyscraper method and implement it on your site.  It works very well.  I'm not going to repeat what he so thoroughly explains.
However, I will show you that it works.  Here's a screenshot showing the Google organic search traffic for one post I created using Brian Dean's Skyscraper Method:
From one post, I generate more than 1,300 monthly visits.  That's every month… without building a single backlink.  This post alone generates about $40 to $80 per month from display ads and affiliate promotions.
FYI – I've regularly post Skyscraper Technique content and it generates a good deal of organic search traffic month after month after month.
Product Galleries
My most valuable content I develop for organic search are my product galleries.  I structure these in a very specific way.  Most importantly, I use an unknown piece of software that helps them rank.  I explain this in much more detail in my advanced guide.
On-Site SEO
Sorry, I'm not going to dispel any magical SEO wisdom here.  All I do with on-site is add a meta title and meta description.  I don't even bother manipulating content to ensure the keywords are included to a certain percentage in the content.  I just get it written and publish it.
That said, one of my niche sites has a lot of images.  I do take the time to write up detailed alternative text and image title attributes for EVERY image.
SSL Certificate
In August 2014, Google announced that it will give a ranking boos to secure SSL websites.  That got my attention because let's face it, here's a concrete thing you can do with your site that is a 100% white hat method that will help your website get more free traffic.  Frankly, I'm surprised every site on the web hasn't installed an SSL certificate by now.
Anyway, I immediately set out to install an SSL certificate.  On August 28, 2014, SSL certificate installation was complete.
Did the SSL Certificate increase organic search traffic from Google?
I think it did.  I say "I think" because one can never know for certain what causes a spike in traffic or higher rankings.  However, below is a screenshot of my organic search traffic before and after SSL Certificate installation.
Traffic after installing the SSL certificate didn't increase tremendously, but there is an increase.  Again, I can't say for certain the traffic increase is a result of installing an SSL certificate.
I purchased my SSL Certificate from Digicert.com.  They're more expensive ($175), but they offer a high assurance certificate.  Their customer service is outstanding.  I'm not sure a high assurance certificate is required by Google.  I decided if I'm going through the trouble, I might as well install the best.
However, you can get SSL certificates for $70 from GoDaddy.
FYI – installing an SSL certificate was not easy (since I host media on the Amazon AWS Cloudfront).  Moreover, it's cost me much more than the cost of the certificate.  I've had to remove 3 advertisers from my site because their ads are not SSL compliant.  This costs me $2,000 per month.
It's been a steep price to pay, but I keep the SSL certificate installed because I expect Google will give more favor to SSL certificates in the future and I'm optimistic those advertisers I had to remove will make their ads SSL compliant.
Do I make money from my organic search traffic?
Yes I do.  I generate about $6,000 per month at this point from the organic search traffic ($40K+ from all traffic).  That revenue is a mix of display ads and affiliate promotions.  Therefore, while it's a fraction of my overall blog revenue, it's not bad and most importantly, it will grow month-after-month.  The key is that the revenue organic search traffic generates has no cost associated to it other than the cost of producing content.
Website Platform
The niche site that's the subject of this post is built on WordPress with the Genesis Framework.  I can't say for sure that the Genesis Framework is better for SEO than other themes; however, I'm confident it doesn't hurt and I suspect it's above average.
I wrote more about why I like the Eleven40 theme for display ad revenue here (to the tune of $40K+ per month).
What backlinking did I do?
None, other than posting regularly to my social media channels (Facebook, Twitter, Pinterest, Tumblr and LinkedIn).
I also submitted my site to the BOTW directory.
That's it.
While I've never checked, it's possible other sites have linked to mine.  If so, it was without me asking them to do so.  Basically I've invested no time or money in backlinks.
But Jon, imagine the traffic you could get if you did build backlinks?
I'm sure some people who read this post will want to ask me this question.  I agree, if I invested time and money in building backlinks, I could probably double or triple my organic search traffic.  However, I'd also be increasing the risk of losing traffic.
I've decided to not build backlinks.  I don't need them.  I don't like the activity of building backlinks.  Therefore, while I may be leaving money on the table, I'm also not worrying about losing the organic traffic I have.
My mindset about this is "bulls make money, bears make money, hogs get slaughtered."  I'm in it for the long haul… why jeopardize such a profitable site?
DISCLAIMER:  I do not rank for competitive keywords.  I'm in a competitive niche.  I'm in no way suggesting that by doing what I did above that you will rank for extremely high value keywords, or rank for anything for that matter.  I rank for many long-tail keywords… some are decently valuable while others have little value.
Next: Read Part 2 – how I doubled Google search traffic to 242,000 sessions/month – click here.
Learn more about launching and publishing an authority website
Get my free report here.
Also be sure to check out my comprehensive course that steps you through every aspect I took to launch a new niche blog and within 8 months hit 1.1 million monthly page views and $40,000 + per month net profit.
Jon runs the place around here.  He pontificates about launching and growing online publishing businesses, aka blogs that make a few bucks.  His pride and joy is the email newsletter he publishes.
In all seriousness, Jon is the founder and owner of a digital media company that publishes a variety of web properties visited and beloved by millions of readers monthly. Fatstacks is where he shares a glimpse into his digital publishing business.