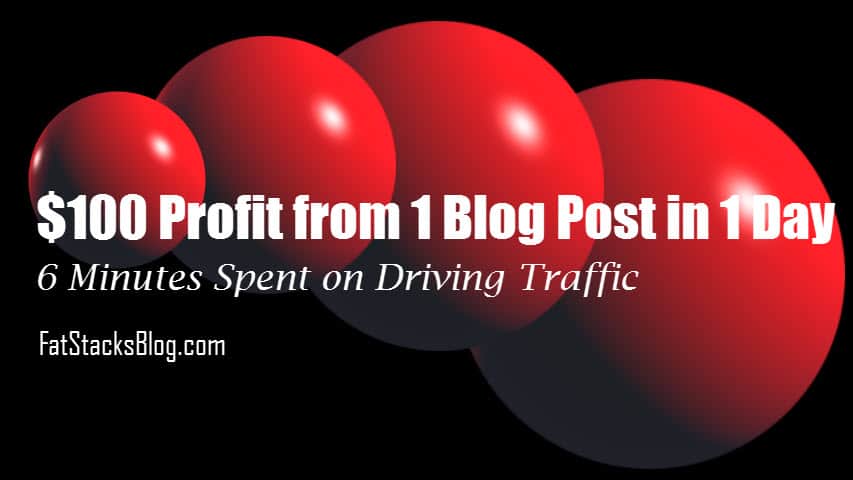 While $148 profit in 24 hours (see screenshots below) may not seem like much, when you publish plenty of content and post 10 times per day to active social media channels, profits build up (not to mention buying traffic, but this post show profits from one blog post with free traffic).
This post demonstrates how you can earn a nice chunk of change very quickly within 24 hours after publishing one piece of content.
Here are the steps I took to generate $100+ profit in 24 hours
December 17, 2014 at 3:00 PM (Day 1)
1.  I published one piece of content on my niche blog.  It's a beautiful image gallery with plenty of text (1,200 words).  In other words, it's a great piece of content.  All images were free from content providers.
2.  Created a URL channel in Adsense to track Adsense earnings.
3.  Posted to the site's Facebook page, Pinterest boards (2 images), Twitter, LinkedIn, Scoop.It!, Tumblr and Google+.  FYI, the best social media traffic driver for me is the Facebook page.  This traffic driving method took about 4 minutes in total.
Adsense earnings at end of day 1 (9 hours live):  $55.29
December 18, 2014 (Day 2)
1.  Posted again to Facebook page (using different images from the gallery):  30 seconds.
2.  Pinned 2 more images to Pinterest:  30 seconds.
3.  Emailed the niche site's email newsletter about the new post: 1 minute.
Adsense earnings on Day 2 by 2:30 PM (23.5 hours after publishing)  $148
Total time spent driving traffic:  6 minutes.
Of course this time does not include cost or time to create the content.  The time to create content was 3.5 hours.  I outsourced this, so my profits are not as high as they would be if I created the content.  But keep reading to learn how this one piece of content will continue earning for months and years.
Also, this does not include earnings from 2 other advertisers on the site, which based on the traffic this post received, would be an additional $10 to $15.
How is this possible?
1.  Facebook pages still work:  This piece of content posted to the site's Facebook page as a link received average engagement (47 shares for the first link post on Facebook, which is slightly above average engagement on my Facebook page).
2.  Visitors shared the content on my site (generating more traffic):
3.  Smart (heavily tested) display ad placement:  Get my free report which reveals exactly where I place display ads – both Adsense and Media.net).
4.  Most important: I know what kind of content my fans and readers like and that they'll share.  I serve it up to them just the way they like it.
Obviously I have advantages such as nearly 100,000 Facebook fans, 16,000 email subscribers and an established niche site.
However, don't look at it that way.
Instead, consider the fact that this niche site of mine is still in its infancy.  It was launched in February 2014.  In under one year, I've created traffic channels that can generate 0+ profit with only a few minutes of work (not counting content creation of course).
=> Get my full course to learn exactly how I took one niche site to this level in under 1 year (it was earning more than $10,000 profit per month within 60 days).
That's only ONE blog post over the first 24 hours
I publish 2 to 3 blog posts per day and post everything to social media (over and over in the long run).
While some posts I publish are designed for long term organic search traffic (these don't always perform well on social media), I make it a point to each day publish at least 1 (and usually 2) posts that do perform well on social media.
Profits will continue for months (and years) for that blog post, here's how:
1.  That post is targeting 2 long tail keywords.  It should start attracting organic search traffic in a few weeks which will generate profits on autopilot.  I know long tail works because my blog without building any backlinks receives over 100,000 monthly organic search visits.  With 32 images and 1,200 words of well-written text, this post will pull in decent organic search traffic for years.
2.  Re-post to social media for months (and years):  Because the post is a gallery of 32 images, I can re-post ALL of those images to social media over and over every few months (which is what I do).  Keep in mind that the $148 profit generated in 24 hours was from only 3 images posted to the Facebook page and 4 to Pinterest.
Imagine how much profit this one gallery will generate after posting all 32 images to social media (and then again and again).
In other words, social media does not need to be a short term profit source.  Read more on this type of content I use to generate fast and long term profits.
3.  I've incorporated this post in the email newsletter sequence.  With 100+ new email subscribers every day, the post will attract new visitors every day generating profits from my automated email newsletter sequence.
4.  Paid traffic:  Because this post performed reasonably well organically, I will test some Facebook post promotion for additional traffic.  Even if profits are 15% ROI, it's worth doing.  However, buying traffic to posts is hit and miss… but if it hits, it generates obscene amounts of profit.
Get started with your traffic magnet authority site…
Remember, my site is only 11 months old.   Get my full course here.  I explain how to choose a niche, set everything up, monetization and get traffic fast (and loads of it).
Jon runs the place around here.  He pontificates about launching and growing online publishing businesses, aka blogs that make a few bucks.  His pride and joy is the email newsletter he publishes.
In all seriousness, Jon is the founder and owner of a digital media company that publishes a variety of web properties visited and beloved by millions of readers monthly. Fatstacks is where he shares a glimpse into his digital publishing business.