This is not intended to be a Skype gripe fest.  I like Skype a lot and use it daily.
However, maybe you're looking for something different.  I've used many different chat and conference software options over the years.  I currently have a Zoom account as well as a Skype account.
If you're like and you want more options, check out the list below.
What is Skype?
Before I set out Skype substitutes, I'll set out what Skype actually is and does.
Skype is telecommunication software which offers video calls, VoIP and video conferencing. There are several Skype alternatives which can be used to perform part or all of the functions performed by Skype.
For most people when internet calls are mentioned, Skype is the first thing that comes to mind. Skype is a Microsoft application used to have a conversation between people over the internet. The most unique feature is the use of a webcam to have a conversation with the other party. These conversations could be in form of audio or video calls, chat messages or a group video. You can Skype from different devices whether it is your phone, PC or even TV and for both Android and iOS systems.
Skype has established itself over the years as the ideal voice call app. Most businesses have opted to use it for teleconferencing and virtual meetings to bring an entire ecosystem of employees, customers, and partners in one table. Skype was so popular that some people coined a new verb for internet voice calls –skyping.
It's not a surprise to hear a family or business partner wanting to know when it is the right time to Skype. But we all know every good invention is just a platform for a better and more convenient innovation. Skype has attracted competition and seen superior and more user-friendly alternatives that you could learn about here. They range between simpler to more sophisticated features apps that suit different needs and devices.
Skype alternatives suitable for video conferencing and group calls
1.  WhatsApp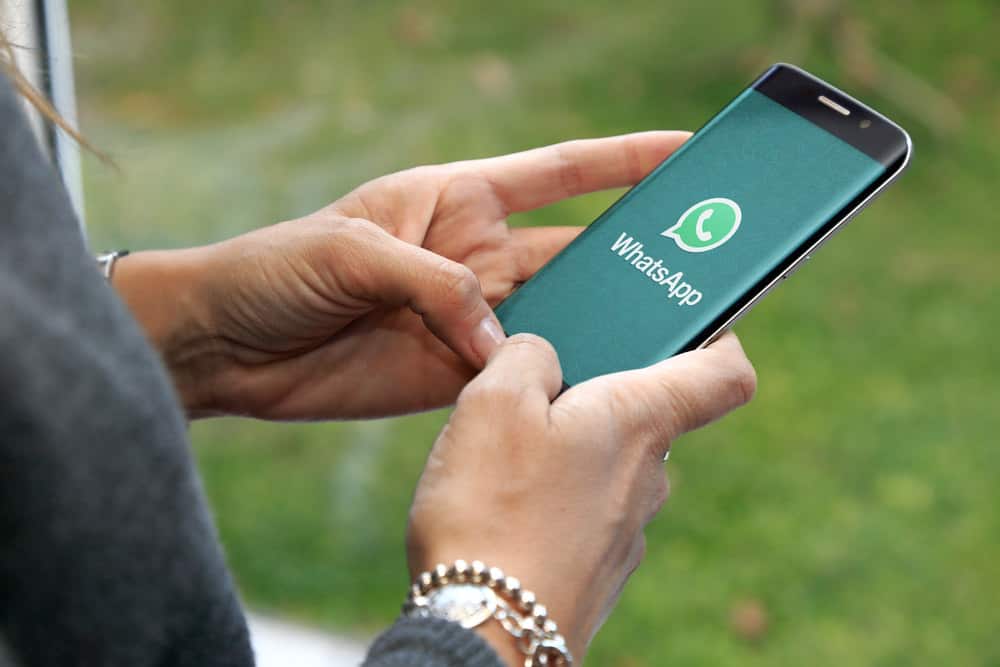 If you have never looked at WhatsApp as an alternative to Skype then we could compare notes between the two. Both allow you to make both audio and video calls, and for free as long as there is an internet connection. They also have an instant messaging feature. With both, you can share files, although Skype provides more features on this one.
WhatsApp seems to have been designed more for phones, while Skype was more oriented to make calls from computers. However, with time each seems to have embraced both words perfectly. You can now install WhatsApp either on your PC or install on your Android or iOS device.
With WhatsApp, you can easily access people on your contact list so you do not have to go asking for a name like you have to ask for a Skype name with skyping. On the flip side, you cannot call people across different platforms on WhatsApp. You can Skype with anyone who has a number whether it's mobile or landline. But with WhatsApp, the person must be on mobile and must be on WhatsApp.
When it comes to usability, Skype still allows the user to make a group call or hold a call with more people. WhatsApp does not have this feature making Skype more appropriate for businesses as people can teleconference hassle-free. WhatsApp has more users because of its compatibility with mobile phones and is almost becoming the default messaging app for many people.
However, Skype allows you to call more people outside the service and on other platforms. Skype also allows screen sharing, collaboration tools, ability to share numerous files, and conference video calling. It also comes with advanced management tools, business features, and presence management. These are some of the areas where Skype remains superior to WhatsApp.
Benefits of using WhatsApp over Skype:
Allows sending of a wide range of media to friends and loved ones
Video and voice calls can be achieved seamlessly across the globe
Allows sync of information from smartphone to the desktop computer
Disadvantages of applying WhatsApp
Only a limited video file size can be sent over the app
Does not allow the use of desktop separately, the smartphone should be synced via Wi-Fi connection for the messages to show up
Phone number must be proved before you start using the app
2. Google Hangouts
The app allows chat text, VoIP call, and video calling. It also allows for group video chats hence making it easy to video conference. Up to 10 members can participate in a voice conferencing for free.
Your Hangouts could also be used in place of Skype. If you have a Gmail account, you probably have seen a chat feature that comes with it. This feature, Google Hangouts, could be enhanced to be used for audio and video calls, and other business functions. With enhanced Google product that comes as part of G-suite, you can now make group calls or HD conferencing of up to 15 people.
Skype and Hangouts both have screen sharing and instant messaging. However, Hangouts do not have video messaging, one-to-one video calls, send contacts, and group screen sharing features available on Skype. While you need a Skype number and name to make calls, you need to have the email address of the caller to initiate Hangout.
There are lots of improvements and support integrations taking place with Google Hangouts that are expected to improve their usability as long as you can have a Google account. One of the best ways to benefit from Hangouts is to incorporate the Google calendar which is also coming with enhanced features. One of the enhanced versions of Hangouts that is also becoming a fierce competitor for Skype is Google Meet.
Advantages over Skype:
Allows broadcasting of live hangouts through use of hangouts on air
Uploads hangouts to YouTube channel
No need to install third party apps before you start using it
3. Meet
Google launched a new product as an improvement of Google Hangouts called Meet. The main aim was to enhance HD conferencing and video meetings to allow more people to hold a meeting and access the calls on the go. As it is, Hangouts are not convenient for making calls while on the go. However, Meet has a new feature that will allow you dial-in numbers while traveling.
The meet is now available on the URL meet.google.com, and you can start exploring your way around it. The meet site is very much similar to the Hangouts landing page. However, you cannot place phone calls or begin text chat. You will need to enter a code to join a meeting including joining all the meetings you have scheduled. You can only schedule a new call through this meeting code. The meet is meant to be more business-friendly compared to Hangouts and Skype due to its intuitive and superior video quality.
4. RingCentral
RingCentral Office is a cloud-based phone system that integrates enterprise-grade voice, text, fax, conferencing, online meetings, and collaboration. It allows you to connect your remote and mobile staff and office under a single phone system irrespective of where they are based.
RingCentral Office is unique from other phone systems because it is bought, activated, established and managed online. So it gives you the autonomy to manage and use it. Since you don't need the technicality and expertise of third parties, you can connect with customers with high functionality and flexibility with fewer costs and hassle.
With one flat, predictable monthly fee, no contracts, and zero setup costs, RingCentral Office makes your business communication easy, affordable, and accessible from your home, office, or wherever you need to be.
However, the main difference between Skype and RingCentral Office is that Skype is free. Although upgrading to premium for Skype may cost $2, but as it is all you need is a Skype ID and internet connection. RingCentral comes with a monthly charge of $19.99.
5. Vonage
Both VolP providers work on different devices including home phones, PCs and mobile phones. When it comes to managing calls, Skype uses a peer-to-peer network that comes encryption. Vonage, on the other hand, uses Session Initiation Protocol (SIP) that does not have encryption to manage phone calls.
Skype runs on more platforms compared to Vonage such as Windows, Symbian phones, Televisions, PlayStation Vita, Verizon phones and Skype-ready cordless phones that are not workable with Vonage.
Vonage offers additional services that are not available on Skype. It uses an existing address book while for Skype the user must add the Skype name. You can make conference calls and buy credit in the app. Vonage offers an advanced 911, although it requires registration.
It also provides a caller ID while Skype separates a To Go number for purchase. With Vonage, you can access contacts, chat history and recent calls offline. On the other hand, Skype offers group video calls, screen sharing, file sending and instant messaging features that are not available on Vonage.
6. WeChat
This is a mobile app available on Android, iOS and Windows phone. But you can also get a web-based version of the app if you are using a desktop. You need credentials to login into the web version. Once you have set it up. The app can offer text, video and group chats to replace your existing phone and messaging apps. You can make mobile and landline calls in some countries but not all.
7. UberConference
It is more of an audio conferencing app rather than a video conferencing tool. UberConference comes in both paid and free versions. Most software companies use the tool in their audio conferencing. The free version allows up to 10 audio callers and up to 100 audio callers in a paid version.
Benefits of Uberconference over Skype:
HD quality audio
Calls can be recorded and locked for security purposes
Easy integration with Facebook, LinkedIn and Google+ profiles
8. WebEx
It is a popular tool for holding online meetings. A free version allows up to three members in a conference while the paid version can accommodate up to 8 members.
Why WebEx is better than Skype:
HD 720P video quality
Easy screen sharing
Allows highlighting important parts of the documents shared online
Call me feature allows you to enter your phone number and the app will alert you when the meeting is about to start so that you can get ready
9. GoToMeeting
It is a video conferencing tool which has several features. It can allow up to 25 members in a video conference. The paid version allows for unlimited meetings in a month. You can enjoy HD video and audio quality upon signing up for the platform. It supports iOS, Mac, Windows PC, and Android devices.
Benefits of GoToMeeting over Skype:
Single click screen sharing
Keyboard and mouse control sharing
Draw and highlight on the screen
Skype Alternatives suitable for Video Calling or Voice Calling
If you are among those who use Skype solely for voice calling or simple for video calling, then there are also several other alternatives which you can use to achieve the same purpose. They include the following:
10. Voca
It is the best way to make cheap VoIP calls internationally. Voca has an impressive user interface which simplifies the way you communicate over VoIP. Both you and the receiver have to install the app and you will enjoy affordable VoIP calls across the globe. The app is only available on iOS and Android smartphones. It appears like a normal dialer. You can buy credit and it will let you know the number of minutes you have to make the calls.
Why Voca stands out:
It allows for easy and cheap VoIP calls internationally
11. Viber
While Skype requires you to use a password and username, Viber requires your mobile number as identification. Both apps provide free calling time and are free to install. However, on cost, Skype is a better option as you can call across platforms including mobile and landline.
With Viber, you can only access those in the same platform, Viber. Since you use your mobile number as ID it is easy to access contacts with Viber. If you are using mobile then Viber is easier to use. If you are on a desktop and interested in more business-oriented conversations or meetings with more people, Skype will work for you.
It was developed as a mobile app which was available on all smartphone platforms. Viber allows communication over voice calls and text. It is currently available on Mac and Windows PC. It allows making of free video and voice calls globally. Viber has to be installed on both the caller and the receiver devices for the calls to go through.
Why Viber is a better option:
Cheap calls globally
Ads free
12. Oovoo
This platform offers free video calls for up to 12 people at a time. It automatically syncs information from your contacts including emails, social networks and instant messages to establish between you and your network. This may not go down well with some people.
You can call ooVoo non-users because they can still answer your calls on Facebook. The outstanding feature is the use of fun video chats with stickers and emojis. The SuperClear technology allows users to make video calls even on low internet connection.
It is a tool available free of charge for high-quality video chats. Other functions it performs include text messaging and conferencing. Oovoo is compatible with Android, mac, iOS, and PC. Up to 12 members can be included in the video chat.
Some of the great features which make the tool stand out include high-quality video chat, screen sharing, and call recording.
Why is it better than Skype?
Allows sending of files
Records high-quality video
Easy upload to YouTube
Storage space of up to 1000 minutes
Allows calling mobile phone and landline
It is not a must to be on Oovoo to attend the calls, calls can be answered on Facebook. Even if the recipient has not yet installed the app, he can as well access the calls via Facebook.
13. Voxox
It is an app available on iOS, Android, and windows which allows you to make free voice calls as well as text messages. Voxox supports more than 37 languages. The chat allows sharing of fax, videos, and photos. International calls are allowed over landline and the mobile phone networks at lower prices.
Benefits of applying Voxox as Skype alternative:
Cloud phone service
Sip trunks feature
Hosted PBX
14. Jitsi
Jitsi is an app which allows sending of free text messages, making video calls as well as voice conferencing services. There is also a screen sharing features you can utilize. The open source software is available for Windows PC, Mac, and Linux.
Best Skype Alternatives used For Making Free Calls
You may be more concerned about making free calls. Skype allows you to make the calls but there are also several Skype alternatives which you can apply to make the free calls. The free calls can be applied in communications between business associates as well as between family and friends.
15. Facebook Messenger
Facebook Messenger is easily accessible after you sign up with your Facebook account. It will then need sync of contacts for quick integration. It offers several stickers and emojis which you can use to expresses your feelings. It allows communication over voice and video. If you need to send messages to several people, you can form groups and send the message easily. It offers a wide range of compatibility. GIFs can be sent to multiple groups.
Advantages:
Wide range of compatibility-It can be sued on a wide range of devices and platforms.
A lot of stickers and emojis to use
Chat sharing option. The option allows sharing of the chat to other people as proof of online meeting.
Sharing boatload using Facebook messenger
Disadvantages
Need separate app installation apart from Facebook
Image quality can degrade when sent to recipients
Limited image size can be sent
16. Amazon Chime
Amazon Chime is a tool for multiple video calling which is supported by a wide range of operating systems. Amazon chime is tailored towards business use rather than individuals.
Advantages of using Amazon Chime:
Allows easy sync of all information with devices hence allowing real-time switching between devices
Content protection via 256-bit encryption
Can support up to 16 users on the desktop version and up to 8 people on mobile versions
Easy searching of chat history
Allows easy sharing of files
Disadvantages of amazon chime:
Suitable for business users only- Casual users can find it a problem to use the app.
17. Talky
Unlike other apps we have discussed that are application-based, Talky is browser-based. Talky is a free, web-based that can allow a chat of up to 15 people. There is an application specifically designed for iOS, but if you want to enjoy cross-platform chatting, the app is limited.
However, the fact that you can chat up many people makes it very appropriate for family and friends. It also allows screen sharing during the video calls. You can also create a chat room with Talky quite effortlessly. You will easily go to the Talky website, type the URL you would like to use, and there you have it.
To create your chat room, just share the URL with people you are looking to have a conversation with. You have secure privacy of the rooms by protecting them with a password. The features are quite simple, but sometimes not everyone is interested in the complicated features. Simple also works.
Talky is an iOS app which can offer excellent video and voice calls at a go. Some of the great features of the app include password-protected chat rooms which ensure the information you share is kept secure. The group chat can support up to 15 people. Easy creation of chat room makes it a great tool for beginners.
Disadvantages of Talky:
Only compatible with iOS-You will not sue it over other platforms which make it less popular.
18. IMO
IMO is an easy to use interface which is available on both Android and iOS. It is a great app but it lacks the desktop version. Some of the features which make it a great tool you can start using include easy to use interface, high-quality audio and video call, high-level security and unlimited images and files can be sent over the chat.
Disadvantages of IMO:
There is no desktop version. Skype can beat the app if you prefer a desktop based communication.
19. VSee
It is a software which allows you to do unlimited group video calls. The video calls are allowed for free. It was started as a Telehealth app which used to provide medical consultation over the internet to help people who lived in remote areas but users can as well apply it to suit their group calls purposes.
Benefits of using VSee over Skype:
VSee uses less bandwidth when compared to Skype
Allows for easy file sharing
720P HD video calling is allowed
20. Zoom
I'm a big fan of Zoom.  It's not free, but it's not expensive either.  I find the calls are higher quality than Skype.  Only one party need have a Zoom account. The account-holder creates a meeting and sends the link to the other parties.  They click the link, load the Zoom software and BOOM, you're on a call.  You can share screens, make a presentation, record the call… the options are many.
I love how easy, fast, cheap it is.  Best of all, the sound and picture quality is excellent.
Source: Beebom.com
Text & Video Chat Software Comparison Chart (based on popularity)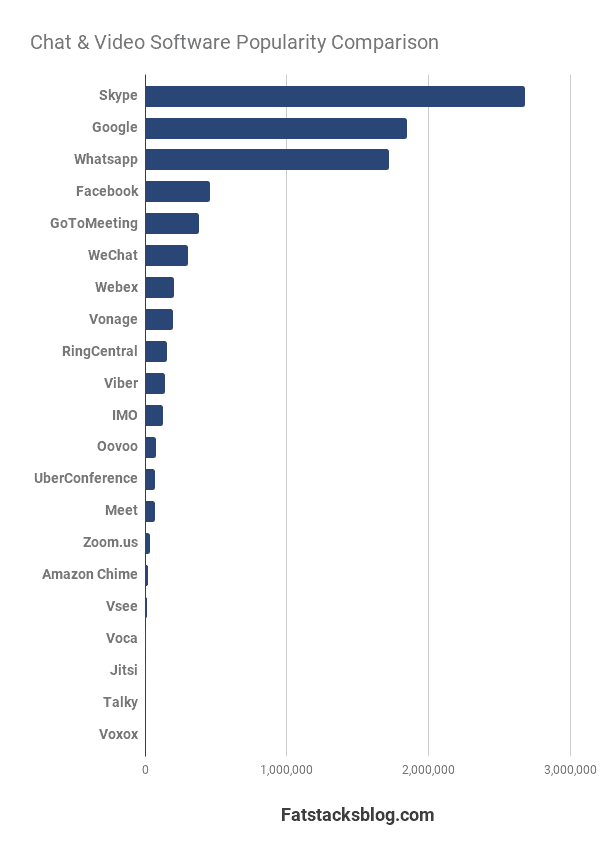 FAQ
What about Slack?
I used to have a Slack account and it's pretty cool.  It's good for communicating with a group of people regularly.  What I found strange was how much it cost when you want to upgrade.  They charge something like $8 per month PER USER.  That adds up.
What about paying for a Skype account?
I never have so I can't tell you how good that is.  I've only used the free Skype and for my purposes it works just fine.  I'm happy paying a relatively small monthly fee for Zoom because when I need it, I need.  Zoom is ideal for multi-person calls.
Can Skype be used on mobile devices?
Yes, it can and it works quite well.  Not too long ago I set it up on my Apple iPhone and it works very well.
Jon runs the place around here.  He pontificates about launching and growing online publishing businesses, aka blogs that make a few bucks.  His pride and joy is the email newsletter he publishes.
Hyperbole?  Maybe, but go check it out to see what some readers say.
In all seriousness, Jon is the founder and owner of a digital media company that publishes a variety of web properties visited and beloved by millions of readers monthly. Fatstacks is where he shares a glimpse into his digital publishing business.