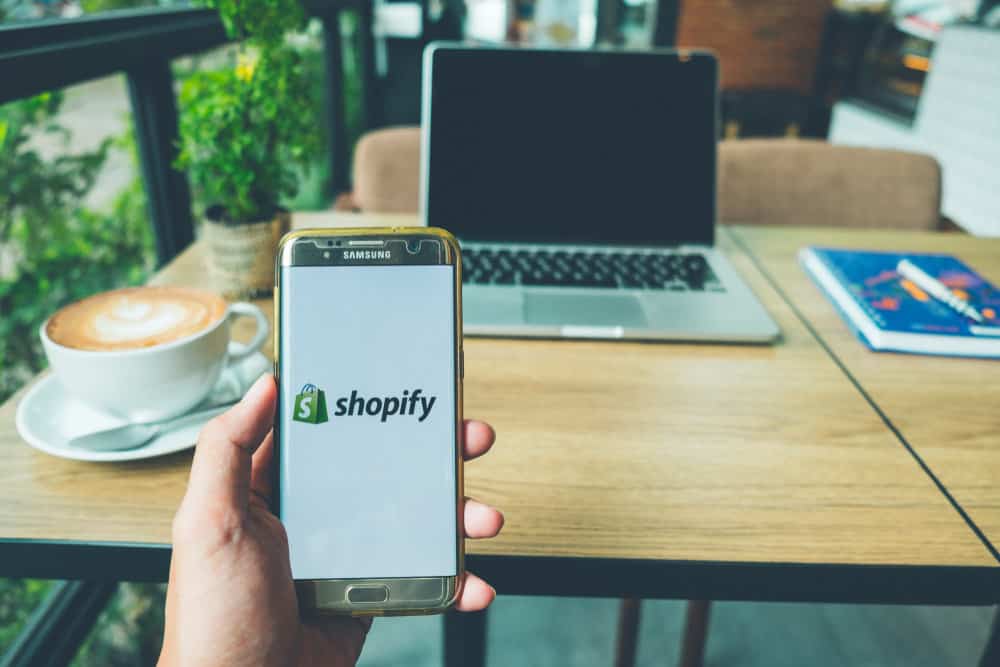 If you've been looking for a way to start an e-commerce store, Shopify may be one choice to get started selling online. The platform is cloud-based and most users claim its software is easy to use.
The software includes a wide variety of themes and designs so you can create an online store that is appealing and inviting, able to highlight your feature sale items and make the buyer experience friendly.
If you're using Shopify for a drop-shipping store, the back-end administration features are integrated with other software platforms that make administration a bit easier.
Shipping costs cut into your profits regardless of what e-commerce platform you choose, so many new online sellers opt for selling digital download items, like eBooks, software, apps, things that do not require shipping a physical product. Shopify works very well for the digital seller; you simply send a download link to the buyer's email once they've completed the sales transaction.
All of the top e-commerce platforms will work well for launching an online store whether you sell physical or digital products. In addition, they all have professionally designed store themes to choose from so you know you'll have an attractive and appealing store.
My E-commerce Enterprise
In late 2019, I, along with a partner, launched my first non-info e-commerce enterprise. It's a relevant product to my biggest niche site leveraging that free traffic.  Turns out it was a smart move to do this because we're on the cusp of earning $4,000 per month revenue.  It increases each month.  Here's a screenshot:
While we currently generate most sales on Amazon, we have a Shopify store to build the brand and generate more sales in the long run.
We chose Shopify because it creates beautiful looking online stores out-of-the-box and is ridiculously easy to use.
While we use and recommend Shopify, I get that maybe Shopify isn't your thing.  If that's the case, below are some Shopify alternatives.
1. BigCommerce
BigCommerce is another of the most used e-commerce platforms and probably Shopify's biggest rival and these are the two most widely chosen platforms for online sellers of both physical and digital products.
Pricing
Price points are very similar between the two platforms, but BigCommerce has four critical options in its basic plan that are not included with Shopify:
1. Professional reporting functionality
2. Real-time carrier shipping quotes (important for selling physical products)
3. Gift cards option
4. Built-in ratings/reviews integration
BigCommerce wins over Shopify in the transaction fees area; they charge 0% transaction fees in all plans while Shopify only offers 0% transaction fees if you use their 'Shopify Payments' system for credit card transactions, and only in select countries outside of the United States.
Conversely, Shopify beats out BigCommerce in two other important functions:
1. Sales Limits: There are no sales limits with Shopify, while BigCommerce limits sales to $50K per year in their standard plan.
2. Abandoned Cart Saver Feature: This is great feature to offer visitors who may have to leave in the middle of a transaction and come back later to a saved shopping cart to check out. BigCommerce only offers this feature in their higher-level plans.
Design Features and Templates
BigCommerce does offer great-looking free templates to build a visibly attractive online store, but Shopify offers more free templates. Both offer very professionally designed templates and variants, however, and we all know that the look and feel of an online store is very subjective, so the amount of free templates offered may not be that big of a difference.
If you're not satisfied with the free templates offered, you can either upgrade your membership level and find a paid template that's more suitable or go outside the platform and look at third-party vendors' template designs.
Blogging Integration
Today all online stores need a blog. Blogs are used to highlight features products and descriptions, promote new items or sales or provide user reviews or instruction videos about different products. Blogs also provide a way to drive traffic to your store and help increase sales.
Both platforms provide an easy way to add a blog to your online store. If you already have a blog, you can also import it into either platform.
The down side to BigCommerce's blog, it offers no RSS feeds, which can be a critical issue if you want to use your blog to automatically send newsletters or syndicate your content.
2. Volusion
Volusion has been around for almost 20 years but it hasn't quite topped its rivals in some key areas.
While it has some nice out-of-the-box features, and has zero transaction fees in any payment method, it lacks in some critical areas that are necessary for any online store.
First, it does not include SSL and there are added backup and bandwidth charges. They also do not have an integrated blogging feature and there is a steep learning curve to setting up the software.
If you only have a 100 or less products to sell, though, their Mini store option is a lot less expensive than their competitors' basic plans and the myriad built-in feature will help you generate sales.
3. WooCommerce
If you have a strong familiarity with WordPress (WP) and are looking for a relatively free alternative to start your online shop, WooCommerce may be a worthy option. Since it's basically a plug-in for WP, the start-up cost is free, but it will take some time to set up.
This alternative works well for those who have more time than money to learn the WooCommerce system.
The pros: You can find variety of free template options that are customizable, if you know how to code. With some additional plug-ins, you can customize your store for a powerful e-commerce site.
The cons: If you're a beginner with little knowledge of WP and back-end functions, WooCommerce can be rather difficult to set up. In addition, unlike competitors outside of the WP platform, you have no "official" support for any technical problems you may encounter while setting up and running the software. WP is a popular platform, so you should always be able to get help from some developers or other users of the WooCommerce plug-in.
4. 3D Cart
This e-commerce cloud-based platform was launched into the public in 2001 and recently Amazon touted it as their preferred choice for the Amazon Fulfillment program. You can sell unlimited products with zero transaction fees with 3D Cart and their pricing is lower than those of other competitors.
On the other hand, the design templates may be a bit outdated and it may have some spotty customer service and tech support.
However, 3D Cart may be the best alternative to Shopify not only for it's low price, but if you want to sell through Amazon's Fulfillment platform as well.
5. Wix
You've probably seen many advertisements for Wix for building a website fast and easily. It also has some pros and cons for use as an e-commerce platform.
A couple of the cons: If you want to sell internationally, Wix only offers a real-time shipping option in the U.S. only. Its sales confirmation emails aren't customizable either, and there is no automated tax calculator.
However, if you already have a Wix website, you can easily convert your site into an online shop relatively fast. Some of the best features on Wix are free, like zero transaction fees and a free add-on for creating customer logins.
6. Weebly
Weebly is Wix's top rival; it's simple to use and you can easily start selling online with their platform, although it's primarily meant for small online stores as it does lack some of the features necessary for a full e-commerce site.
On the pro side: For the complete beginner, Weebly is probably the easiest to learn and set up an online shop. Security – its SSL is included, so you're not charged extra like some of the other competitors.
Conversely, and necessary for larger e-commerce shops: Weebly doesn't offer a customer login option, so you don't get to know your repeat customers. Scalability is also not available, so if your shop starts growing, you may need to find a more suitable option to gain access to more advanced store features.
7. Squarespace
Known more for its blogging platform, Squarespace can also be used for a smaller online shop with seamless integration into your blog.
One of the pros of using Squarespace is the Express Checkout feature, allowing you to sell your products fast. You can also sell physical and digital products.
On the other hand, this platform isn't known for its easy of use compared to its competitors like Weebly or Wix. It's also not very good at search engine optimization, which is critical for sharing content and building traffic.
If you decide to change platforms later, Squarespace does not have an export option so switching platforms will probably be more troublesome than it's worth. If you have a blog with Squarespace already and only plan on having a few items to sell, integrating a shop may be easy, but not if you plan on expanding your online business.
8. LemonStand
This platform is open source and cloud-based and is known as pretty reliable as an e-commerce platform. LemonStand is also known for the ability to customize and you can scale it if your store grows.
Although it's open source, it's not free and the price point could be rather hefty compared to Shopify. However, the extensive features that come with the various packages may be well worth the money spent.
Some of the most useful paid features that top Shopify include:
Bitcoin accepted
Recurring orders
Customizable email templates
95+ Payment processors
Unlimited bandwidth and storage
No transaction fees
One of the major cons is its ease of use as it is primarily targeted to the e-commerce sector where store owners can afford to contract a professional developer to customize all of its features. It's not really an out-of-the-box, easy to use platform, so in addition to its monthly price fees, you need to consider paying a pro to get the store exactly the way you want it.
Jon runs the place around here.  He pontificates about launching and growing online publishing businesses, aka blogs that make a few bucks.  His pride and joy is the email newsletter he publishes.
Hyperbole?  Maybe, but go check it out to see what some readers say.
In all seriousness, Jon is the founder and owner of a digital media company that publishes a variety of web properties visited and beloved by millions of readers monthly. Fatstacks is where he shares a glimpse into his digital publishing business.