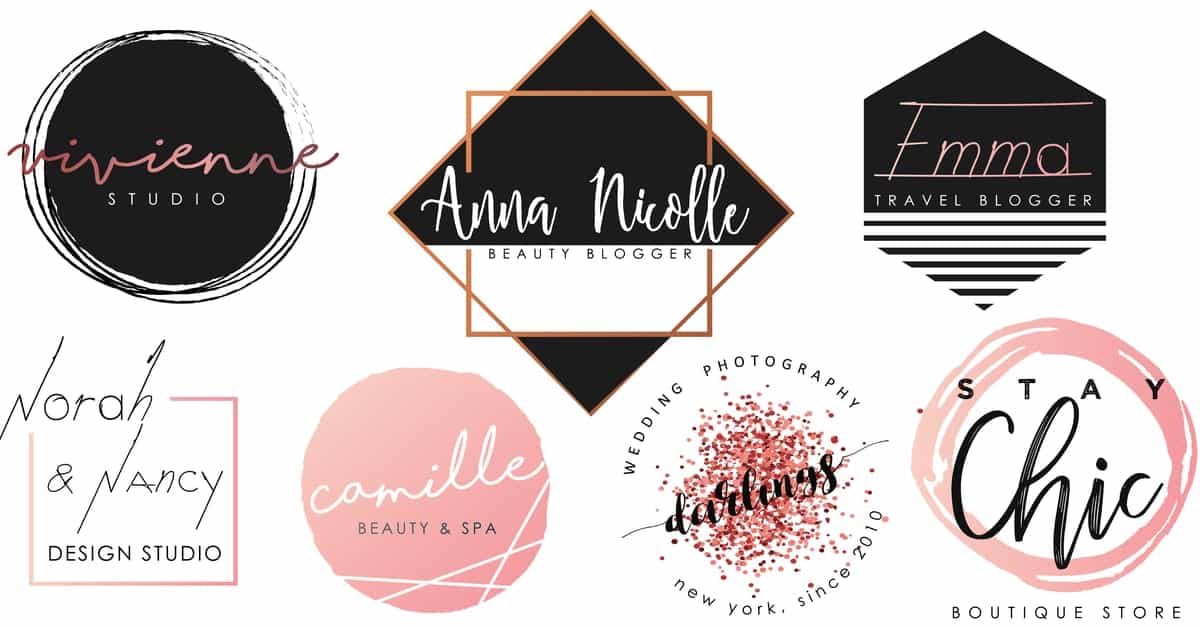 Everyone recognizes the red and white cursive of Coca Cola, the Nike swoosh, Apple Inc.'s apple, and the golden arches of McDonald's. These logos are some of the most recognizable ones in the world. What makes these logos so successful is that they can communicate the message of their business to the world without using words.
If you are an online entrepreneur and want to start your own blog or website, you might have thought of creating a logo of your own. However, major brands spend millions of dollars on marketing and design experts to create a logo that has the potential to become embedded in the minds of the public. However, as a new entrepreneur, chances are that you don't have that kind of budget; but this certainly doesn't mean you can't have an amazing logo.
Logo Design Principles (My preferences)
A great logo should be designed on the following principles:
A logo should be memorable: A successful log design creates a lasting impression and can easily help a person recall a business the next time they see it, without any words.
A logo should be simple: Overly complex logos are difficult to remember. A great logo design should be simple with smooth curves or clean lines. It also makes it easy for you to print the logo on different physical and digital media.
A logo should be timeless: A successful logo design is classic and timeless. It means that it does not need to be changed frequently as soon as certain trends change. Every few years, a brand will update its logo but these are only minor changes and do not interfere with the message of the brand. A durable long-lasting logo increases brand recognition.
You get what you pay for:  There are some free logo makers but in my experience they don't generate very good logos.  Canva can be great if you're good at designing.
My logo preferences:
White background
Simple/small: No big fancy illustrations.
You can also create good professional-looking logo designs using online logo creators that do not cost you a fortune and are often even free. All they require is a small amount of your time, commitment and creativity.
2 Types of logo creators
There are 2 types of logo creators.  One is a "start-from-scratch" design canvas where you create from nothing.  The other asks a series of basic questions and generates a series of templates that you can then modify.
There's a third type – and that's hiring someone to do it for you.  This is my preference because I have no eye for design.
Winning logo creator for my new site Cyclebaron.com:  This Fiverr Gig (see logo below).
Best Online Logo Design Creators
Below is a list of online logo creator options.
I used each one to come up with a logo for my niche site Cyclebaron.com.
1. Fiverr
I know, I know, Fiverr isn't software, but it happens to be my go-to place for a website logo.  I've tried several logo providers there and my favorite is this provider.  While it's not $5, it's reasonably priced for the quality of designs and speed of delivery.
You can check out sample logos by this creator here (if you buy the gig you'll be asked to choose one or a few samples you like).
Here's the finished logo by my favorite Fiverr logo gig.  This is the logo I went with for my new Cyclebaron.com niche site.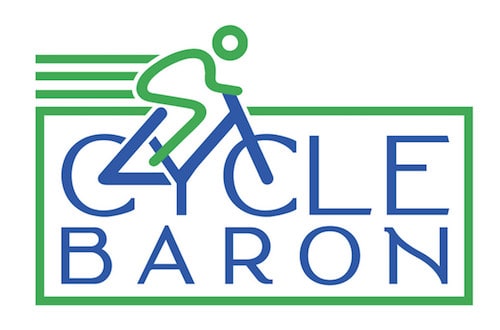 The process is super easy.  Once you pay, you'll be asked to provide the following details:

2. Hatchful by Shopify 
Shopify is one of the most successful e-commerce tools because it comes with an endless variety of features and customizable options. With Hatchful, their online logo creator, they offer the same level of quality.
Hatchful comes stocked with a huge gallery of stock images as well as a large library of alternatives. You can customize these to fit your brand image. If you already use Shopify, you might want to use their logo maker for your e-commerce site.
Here's the Hatchful Process: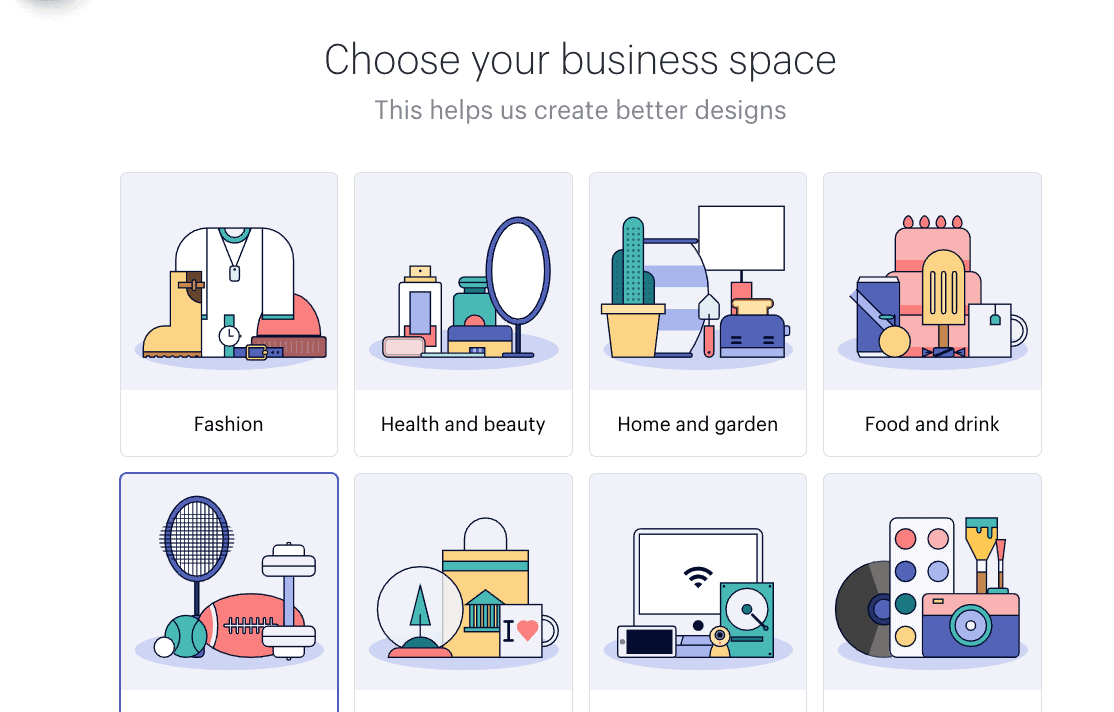 Pros
Auto-generates ideas for you (which you can further edit).
No technical experience needed to use Hatchful
You can create a wonderful logo in just a few minutes
A gallery of professional-looking logo design templates to use
Full of rich features
Cons
Since the logo templates may have been used by other businesses as well, your logo may not turn out to be 100% new and unique.
Some users may not be able to create the exact logo they need to convey their brand message because of limited logo designs.
Verdict: I don't like it and won't use it.
3. Canva 
Canva is a wonderful graphic designing tool that has many functions similar to Adobe Photoshop. However, the online tool comes with a much lower learning curve, thanks to its easy to use drag-and-drop elements. It comes with a whole host of free and paid logo templates. Besides that, it also provides free templates for brochures, business letterheads, flyers, business cards, invitations and much more.
With Canva, you can easily resize your current design from landscape mode to portrait mode and vice versa. You can use its huge catalog of free images to customize your logo designs. You can do this by playing with their colors, text, fonts, and other options so that the design conveys the message of your company.
If you are not happy with this, you also have the options of uploading your own graphics and tweaking it to design the perfect logo. The drag-and-drop feature removes a lot of technical work. The final work can be downloaded in JPG, PNG and PDF format.
Here's the process for making a logo in Canva:
Pros
Thousands of paid and unpaid logo templates to use
Drag-and-drag function for ease of use
Lots of customizable features
Support graphic uploads
Cons
Not 100% free. Some of the better designs come with the premium version
Other businesses may use the same logo template so your design may not be completely unique unless you are very creative.
Finicky design when using templates.
Verdict:  Not going to use it – too finicky.
4. DesignEvo
DesignEvo is a very fast and easy-to-use software that lets you create gorgeous logos in just a few minutes. The tool comes with over 10,000 professional-looking templates that can help you create a customized trademark in a few minutes.
This versatile online logo maker comes with millions of beautiful icons, over 100 stunning fonts and many shapes that can help you personalize your logo to your exact specifications. The tool allows you to browse through different categories, like "Animal," "Abstract," "Letter," "Business" and "Fashion," or enter keywords to find a logo template that meets your needs. Once the logo is created, you can save it to the cloud for easy access anywhere or for more future editing. It also lets you download the logo in high-def SVG and PDF files without any loss of quality.
Here's the logo making process with DesignEvo.
Pros
Over 10,000 templates available – searchable.
Millions of beautiful icons and over 100 fonts
Cloud storage for easy access and editing
Cons
As with most logo templates, your logo may not turn out 100% unique.
Costs money (IMO it's worth it – I'm impressed with the options).
Verdict: I really like this online logo maker.  I may use it (will wait for the Fiverr gig results).
5. Logaster
If you want to make a logo quickly and on the go, Logaster is the online tool that you need to use. The great thing about this software is that you do not need to have any graphic designing skills. All you need do is to enter your company name and click on the "create" button to quickly make a professionally-done logo. The designer team of Logaster also constantly moderates and improve the designs to make sure the client always get high-quality services.
With the help of Logaster, you can edit your logo, change its text, colors, and fonts, adjust its layout and add icons to it.
One of its biggest strength is that it comes with a social media kit that allows you to customize and resize your brand for all the biggest social media networks, including Facebook, Twitter, and Instagram. You can also get your logo in five different backgrounds, including white, black and white, transparent, corporate, and a negative version, with six different layouts. There is also one that comes with inverted emblems. The resulting images can be downloaded in both raster and vector formats, including PNG, JPG, PDF, and SVG.
The Logo Design Process:
Pros
Very easy to use
A great tool for creating symbol logos
Optimize logos for use on all major social network
High-def image downloaded in both raster and vector formats
Cons
Free to design but require payment to download the high-resolution version of the logo.
6. SquareSpace Logo Creator
Visit SquareSpace logo creator here.
SquareSpace logo creator is one of the most controversial tools online. If you have ever used SquareSpace to create website or blog, you already know how easy and convenient their interface is to use. The software has radicalized ways small businesses can create websites with their innovative drop-and-drag tool. Because of this, many marketers and designers have claimed the software was taking business away from them.
Now, SquareSpace is using the same functions for its logo design as well — and their logo designs are absolutely stunning. The tool comes with a search field that can help you find the shapes and design you need for your logo. SquareSpace comes with a clean and slick interface and produces logo designs that look like they come from top designers. Because it is so easy to use, you can have designed a professional logo in just a few minutes. It also shows a live preview of how your logo will look on a desktop, business card or T-shirt.
The Squarespace logo creation process:
Pros
Extremely easy drag-and-drop functions.
Live preview on how your logo will look on a variety of media.
Create a beautiful logo in a few seconds.
Cons
Comes with a watermark. Need to update to the paid version to remove it.
Design options are comparatively limited.
Verdict:  Not that great.
7. Hipster Logo Generator
Hipster Logo Generator was created during the hipster movement a few years back and its log designs emulate that style. Therefore, these logos may not be for everyone. However, those who do love hipster style, especially the younger generation, this tool can give their logo designs a boost of creativity and personality that they may not find in other tools.
The Hipster Logo Generator tool is very simple to use and all you need to do is to run through several customization options to put together a funky logo design. There is absolutely no graphic designing experience required. You can download the PNG version for free but it is relatively low quality. To download the high-definition version, you can pay a $10 fee for an SVG format.
The process with Hipster:
Pros
Zero graphic designing experience needed
Funky hipster themed designs
Hundreds of alternative designs to choose from
Allows you to create a professional log in a few seconds
Cons
The designs are targeted towards the younger generation so many other people may not like them.
You have to pay a fee to download the high-res logo.
Verdict: Not that great.
8. Ucraft Logo Maker
Ucraft logo maker is 100% free. The tool is a free app that thousands of business owners have used to create their own logos. To craft a free logo, you don't need any expertise in graphic designing. All you need to do is to follow the prompts and make a logo that reflects your business values.
The app comes with over 22,000 icons and several web templates for a great logo. It also offers free cloud hosting solutions to store the image online. The logo comes in the form of a transparent high-resolution image in PNG format that you can use anywhere. You can also use the generated logo to make some edits to it. What's great is that all of this is for free — not many logo creators will give you this file for free.
The process:
This is a very simplistic logo creator.  You start from scratch. If starting from scratch is your thing it's okay but Canva offers more design options.
Pros
100% free
Downloadable transparent PNG file that you can further edit
Cons
Some logo options can turn out a bit juvenile so make sure you know what the voice of your business is.
Customizable options are somewhat limited.
9. GraphicSprings Logo Creator
GraphicSprings is an extremely efficient online logo creator which can help you put together a stunning logo in just seconds. One of the best things about this software is that it comes with a sheer number of customizable tools that can help create terrific logos. The features that GraphicSprings is equipped with are afforded by professional paid image editing software.
If you want a great logo but don't want to create one entirely from scratch, GraphicSprings have a template library with multiple categories that you can use. The logo creation procedure is also quite simple; all you need to do is to enter your brand name and tagline, choose an image from a specific category and edit it. Aside from the basic color, text and font options, GraphicSprings come with more effects like shadow, stroke, glow and much more, to create a more refined logo.
Although you can use it free to make the logo, you will have to pay a fee to download the final designs in JPG, PNG and SVG formats. However, you can use these to make unlimited edits in the future. In fact, you can even hire graphic designers from the website to commission a logo for you.
The process:
Pros
Wide range of templates
Unlimited customizable options, many of which are found in premium professional editing tools.
Option to work with a graphic designer to create your logo.
Cons
The custom options are so many, it may be overwhelming for new users.
The software is free to use but you have to pay a fee to download the logo.
Verdict:  It's okay but I prefer more templates.
10. DesignHill
Unlike most other online logo makers, DesignHill comes with two major options to create your logo. Firstly, it requires numerous options as a free logo generator tool. It allows you to make logos with a quick three-step process, in which you can pick a logo template, tweak it according to your preferences, customize its text and colors, add icons and generate the free designs. You should also check out some other free tools as well, which include Facebook and Twitter cover makers.
The second option also provides convenient options. DesignHill has a community of artists and designers, where you can get designers to create a professional logo for you. The design tool prompts you to add as much information as possible about the type of logo you want. The more details you add, the more polished and professional-looking your logo design will be. This system functions as a contest and all designers participating will have a logo ready for you at the end of the contest period. The benefit is that you get a lot of different logo options to choose from. You can pick the one you like the best and claim the designer as your winner.
The logo design process:
Pros
Simple to use logo maker with lots of custom options
A design community that can create a whole lot of logo options for you
Cons
The Design Marketplace is a little expensive to use
Logo templates do not provide a very unique look to the logo and it may look generic.
Verdict: They're ok but not great.
11. Free Logo Services
As the name indicates, this online logo creator is free. Still, it comes with thousands of design templates that you can choose from that can be saved in the cloud storage. The pre-made templates make it very easy to design a logo even if you have no graphic designing experience. To start, you choose the industry in which you belong to, enter a text like your business name, and then edit your logo.
You have a wide range of icons, badge, initials, fonts, colors, and layouts to choose from. Once you have created a logo design that fits your brand, you can use the site to create custom business cards for you.
The design process:
Pros
Comes with thousands of different type of logo templates
You can save your logo in the cloud for easy access any time
Easy and very convenient ability to adjust different design elements to fit your brand.
Cons
Although Free Logo Services allow you to design your logo for free, you have to pay to download the high-res files so that you can fully make use of your logo.
Verdict: I actually really liked the logo this creator came up with.  However, the price is a bit high.
12. Looka (Formerly LogoJoy)
Looka, originally named as LogoJoy, uses artificial intelligence to design your logo, which puts it in our fancier category. All you need is to enter some information about your business, including the name of your brand, your preferred color palettes and the types of icons and designs you like, and Looks will generate logo designs for you based on those preferences.
If you are not happy with the final design, you can customize the logo by changing the size, shape, and color of the logo. Or you can go back and start the process all over again, this time inputting different information in the field. It is quick and easy. You do need to login to look at the generated logo designs and download them.
Looka is a bit on the pricier side as it charges $20 to download a low-res image and $65 to download a high-res package full of multiple versions of your logo. It also offers a media kit, business card design and brand guideline for $90. However, the resulting logos are of professional quality. Hence, it is no wonder this logo creator has been hailed by Google, Forbes, Tech Crunch and The Huffington Post.
Looks designs come with intricate details and are very bold. This software tool is perfect for those who want a personalized logo without doing much work, plus a complete business system designed on a single logo.
Pros
Uses artificial intelligence to gauge your preferences
Generates multiple high-detailed and bold logos
Offers a complete marketing system based on the logo
Hailed by major brands like Google
Cons
Few customization options after logo generation
Is a bit pricier than other online logo creator options
13. Logo Foundry
Logo Foundry is a logo designing app for iOS and Android that allows you to create professional log designs straight from your smartphone and other mobile devices. This logo design tool is a wonderful option if you want to whip up a logo when you don't have access to a laptop.
LogoFoundry has a gorgeous interface and comes packed with numerous features that let you make the logo design of your choice within a few minutes. The tool comes equipped with over 3,000 shapes, icons, and symbols, all arranged in a category for user convenience. It also has an easy search feature which lets you search designs and templates with the use of keywords. It has advanced text layout editing options that give you a range of gorgeous fonts as well as wavy and circular text.
Logo Foundry also allows you to restore, save and reuse logo templates with their layers. The finished logo can be downloaded or exported as flat JPG files or transparent PNG so that you can customize them further.
Pros
Over 3,000 icons, shapes, and symbols to use
Easy search function for templates
Advanced text editing and layout tools
Features on major sites like Forbes and The Next Web
Cons
Only a handful of options are free. You need to "unlock" the others to fully make use of the app.
Illustrating your brand with a unique logo created brand identity and awareness. It lets your customer know easily who you are and what services and products you market. Professional looking logos are a great way to distinguish your business from others. This is why it is so important that your logo design be unique and creative.
Good logos are simple, timeless, flexible, and memorable. However, many entrepreneurs cannot hire graphic designers due to financial constraints. In this case, these online logo makers are the next best thing that you can use to create a brand for yourself.
Jon runs the place around here.  He pontificates about launching and growing online publishing businesses, aka blogs that make a few bucks.  His pride and joy is the email newsletter he publishes.
In all seriousness, Jon is the founder and owner of a digital media company that publishes a variety of web properties visited and beloved by millions of readers monthly. Fatstacks is where he shares a glimpse into his digital publishing business.