The online market remains really competitive, which is why everyone is constantly looking for a way to stand out from the rest. There are many different ways to enhance your website so that you can create more traffic. This can include SEO, content marketing, testimonials, compelling lead magnets, and a lot more. Recently, website owners have also started using favicons as their new favorite way to stand above the competition.
It may seem like a really little thing but it is the combination of unique things that manage to make the website engaging and interesting to look at. Since there are so many businesses and websites online, you don't want to ignore small things that can enhance user experience.
If you use favicons the right way, it can help you look more credible and even create brand awareness. If users begin to associate your brand name with the attractive looking ico file, you will definitely achieve brand recognition and loyalty.
However, it can get really difficult for beginners to look for the right service that can help them achieve their goals. There are many favicon generators and WordPress plugins that you can use but all of them aren't necessarily the best options. It is important to select the best from the list or else it can hurt your website. Beginners also need a free service since they can't afford to invest in such a small thing with money. Here the best Favicon creators that you can get for cheap or free!
What Is A Favicon?
If you are a beginner, you probably don't know what favicons are since you are just starting out. They are small icons that usually appear before elements like URL pages, website address bars, bookmark lists, tab browsers, and other similar interface features. This feature is what most users will associate your website with since that is the thing they will be seeing every time they load the website.
Favicons file formats usually come in the following sizes:
16×16
32×32
48×48
64×64
128×128
Most of the web browsers use the favicon.ico file format but others may use .GIF or .PNG.
Best Favicon Generators Online
There are many ways that you can use to create amazing favicons for your website. Here are some free services that are sure to enhance the whole look of your website. If you use any of the 15 favicons below, you will be able to develop a professional, credible-looking website in no time.
1. Logaster.com
Logaster is one of the most popular and easy ways to create logos for your company. You will waste no time at all creating an eye-catching logo for you. The Favicon generator is actually responsible for 6,000,000 different organizations and businesses.
All you need to do is select the option called "Create logo" and write down the name of your company. You will have to choose the right activity type. For example, if you are an entertainment business, you have to select that. The generator will offer plenty of ready templates that you can use to create your logo.
The best part is that you will have considerable control of the customization of the logo. This will allow you to set your logo according to the colors and design you want. This will also ensure that it matches the color scheme you have selected for your company. Once the logo is finished, you can create a favicon based on the logo you just created.
2. Favicon.cc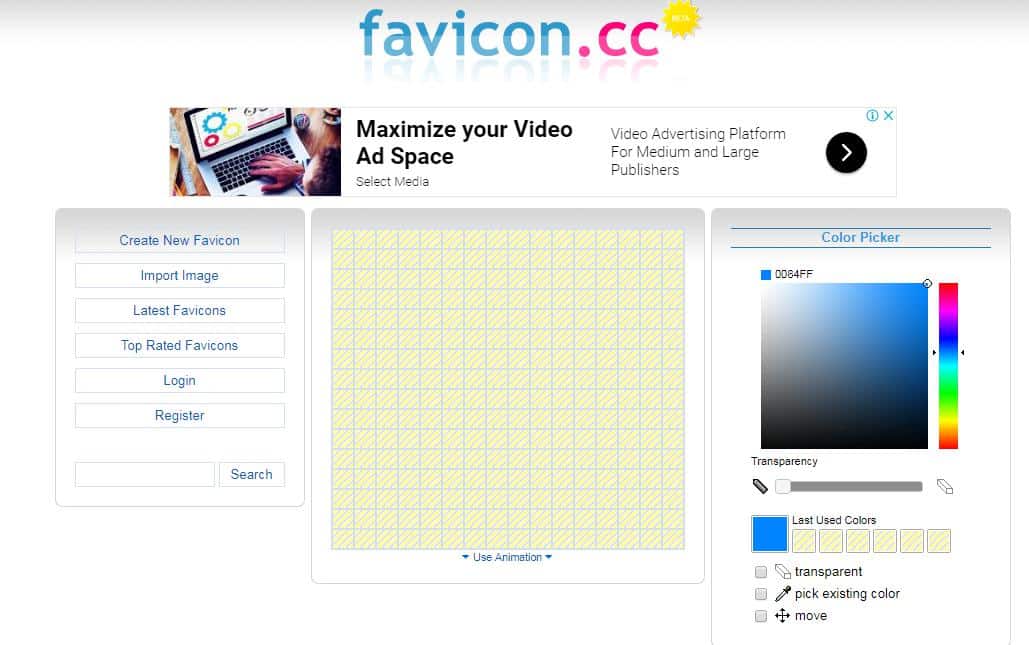 Favicon.cc is a free service from which you can create or generate favicons for your website or business. You can make your favicon from scratch if you are beginning a new website. If you already have a logo or an image that you want to use, you can import that as well. This allows older users to recreate their favicon based on their logos.
The favicon tool is really versatile since it also helps you create unique animated favicon files. If you don't know what your icon should look like, then you can take inspiration from top-rated and latest examples of favicons. You will be able to easily download the design you have created in the .ico format. You will be able to create an image file that you will be able to display on your address bar on every popular web browser such as Google, Firefox, Internet Explorer, Microsoft and more.
3. Genfavicon.com
The Genfavicon generator is a free online tool that will ensure you are able to create a professional-looking website. You will be able to convert any image of your choosing into a fantastic functional favicon. This can look great on any web page and ensure that your website looks attractive to any customer or client that visits it.
You will be able to use the tool to crop and resize the image. You can then save it on an .ico format, which you can even resize as a shortcut icon. The website also allows you to preview the favicon so that there is no guesswork involved when you are creating the best possible looking website for your business or blog.
4. Favicon-Generator.org
You can probably guess what the Favicon Generator does just by reading the name. It is built to accommodate any web browser or software such as Microsoft, iPhones, iPads, and Android. Uploading is an easy job; all you have to do is choose any image from your computer to convert into an .ico file. You can choose from a variety of options like GIF, JPG, or PNG formats. Even if you don't have an image to use, there is no need to freak out.
You will be able to browse through the extensive icon library on Favicon Generator. You can search through the images via colors, numbers, and letters. You will be able to download any of your favorite images, as well as make edits to them. The edits have enough customization options that you can make the logo your own. You will be able to match it according to the color scheme you want.
After you are done making the logo, you will be able to download the file. You can easily save the favicon to the root directory on the website.
5. RealFaviconGenerator.net
The Real Favicon Generator is one of the most powerful tools that you can find for free on the internet. It has many different features that give you the chance to create favicons for every platform imaginable. It also comes with unique features that you can use to expand your website and target bigger audiences.
For example, there is a feature which will allow you to test your current favicon and check whether the icon is doing well in the market. You can also check the favicon on your website by entering the website's URL and getting feedback for it at once.
The Real Favicon Generator is designed to use the feedback to let you know how well the favicon is doing on different browsers and operating systems. You will be able to add a missing element or remove an extra one to help the favicon do better in the market. This ensures that you can target your audiences in a more effective way.
6. Favicongenerator.com
This Favicon Generator is a really unique tool which allows you extensive control over how your website will look. All you need to do is to convert the JPG, GIF or PNG file by uploading them onto the website. The website will convert the image into an .ico format. You can also resize the image by selecting the favicon sizes you want and clicking the "Create Favicon" option.
The website will generate a professional and credible-looking file, which you can easily download. All you have to do to add the icon to the website is to follow the simple instruction given on the website.
7. Favicomatic.com
The Favic-o-Matic has really fantastic features that allow you to make really unique favicons for your website. There are two different favicon generation options, which you can use. All you have to do is upload the image you are planning to use. This can be the logo you have already designed for your website or a graphic that you are using as inspiration.
The website will convert the file into an .ico format file and save it in a root folder. You can also generate an icon from the website that works for different platforms such as Android and iOS apps. There are plenty of advanced useful settings that you can tweak to customize the favicon. You will be able to choose different sizes for the favicon, background colors, select a transparent background, and more.
8. Xiconeditor.com
You can use the Xiconeditor to create your most favorite icons ever. It is a fantastic tool which allows you to design the perfect favicon from scratch. You can let your artist sensibilities run wild and create the perfect icon to represent your website, business or blog.
The website comes with many different art tools that you can create with including a brush tool, eraser, pencil tool, type tool, and many others. This will ensure that you can create the unique, one of a kind favicon that you have always wanted. And the best part is that it is all free!
In case you don't have the time to start the whole process from scratch, you can also import an icon and crop with the available tools. You can easily preview the design you have selected before you export it onto your computer. This ensures that you know exactly what it looks like just like your users will see.
9. Favicon.pro
The Favicon Pro generator allows you to revamp your web design in just a few minutes. You will be able to transform your website into a really attractive one by simply uploading a JPG, PNG, or GIF image from your computer. The software will automatically convert the file into an .ico file format, which you can use for any website you own.
All you have to do is to select the right image size you want before converting the image. The website has a range of sizes that you can avail all the way from 16x16px to 128x128px. The website also has really simple and clear instructions on what you should do once the image is created. It will guide you on how to upload the favicon to your website straight from the root directory of the website.
10. Faviconit.com
The Faviconit ensures that your browser tab will definitely look way better than it did a few minutes ago. You will be allowed to use the website to create really innovative and creative designs at your leisure. Not only this, but the website also supports apple touch icons and HTML code headers. You will be able to view all of these from any browser and device you need such as mac, Android, and Google Chrome.
You can use the free tool to upload an image in any file format and convert it to the format you need for the favicon. These advanced features, and more make it one of the best websites that you can use to create and name your favicon and favicon folder.
11. Webestools's Favicon Online Generator
The Webestools.com has plenty of handy features that you can use to create a unique and credible website. The online tool allows you the chance to upload any image from your computer. You will be able to edit it directly on the website so that it looks perfect for your online business, website, or blog.
The website also gives you the unique opportunity to start your favicon design from scratch. You will be able to create an image with the color tools available on the website. This allows you the rare chance to stand out from the pack and make your favicon something that is personal to you.
The only problem with this website is that it has limited size options since the website only allows 16x16px or a 32x32px favicon. You can still preview the results though so that you have a better idea of how the favicon will look before you download it for use.
12. Antifavicon.com
The Antifavicon.com was designed by its creators as a unique website. It is different from the other website because it works with text instead of images. You will be using text to generate you fascinating favicon so that your website is more productive and effective at targeting the desired audience.
You will have to use the text box to type in any numbers or letters you want on the favicon. In the color section, you can choose colors for the text and background so that it matches the theme of your website. The website doesn't provide users with many editing options but it is still a pretty good choice for people who want a free favicon creating tool. You will be able to create a simple design in no time even if you don't have high-level skills, tools or budget plans.
13. Faviconr.com
The Faviconr.com website is really simple and easy to use online tool. You can use it to create an amazing favicon display and all you need to do is upload an image on the computer. The file accepts PNG, JPG, and GIF formats, which makes it a versatile tool. You can even upload transparent GIF or PNG files to create a favicon with a transparent background.
However, the website doesn't have any editing tools, which is a disadvantage for users who want to customize the icon. It's a great tool for those users who have a ready icon or logo and simply need to convert it into a useable file type for their favicons.
These 13 free favicon generators will definitely allow you to build a fantastic and credible website in no time at all. You can have a great favicon in under a few minutes with all of these helpful tools.
Jon runs the place around here.  He pontificates about launching and growing online publishing businesses, aka blogs that make a few bucks.  His pride and joy is the email newsletter he publishes.
In all seriousness, Jon is the founder and owner of a digital media company that publishes a variety of web properties visited and beloved by millions of readers monthly. Fatstacks is where he shares a glimpse into his digital publishing business.